No Christmas tree is complete without a nice-looking topper. What will you pick this year? A classic star, or a knitted angel to go with your Scandi decorating scheme? Read our guide to this festive season's prettiest tree toppers.
Need ideas first? Check out our Christmas tree decorating ideas.
1. Go for a minimalist take on the classic star
Keep your Christmas tree topper light and delicate in design as part of a minimalist decorating scheme. We love the Star Tree Topper with Lights by Sirius, available from Amara.
More star tree toppers with lights:
2. Pick a nature-inspired topper with berries
If you prefer your tree topper to look like a natural extension of your tree, pick one that's decorated with fir branches and/or berries, like this very pretty Berry Star Tree Topper from Dunelm.
More berry star tree toppers:
3. Go glam with a sequinned star topper
If subtle isn't your thing, go all out on colour and sparkle with the Ombre Sequin Star Tree Topper by M&Co (the perfect match for kitsch tree decorations, if you ask us).
More sequin star tree toppers:
4. Complete a frosted decorating scheme with a white star
Match your tree topper to the rest of your tree decorating scheme for an elegant finished look. We love the way the Iridescent White Star Christmas Tree Topper from The Contemporary Home completes this pearlescent decorating scheme.
More white star tree toppers:
5. Swap the star for a delicate-looking snowflake
Have enough stars? Get yourself a shiny snowflake instead. Our pick is the Metal Snowflake Tree Topper from Sainsbury's Home.
More snowflake tree toppers:
6. Pick a 3D Christmas tree topper design
Add a bit of interest to the classic star topper with a three-dimensional design. The Tangle Star Christmas Tree Top by Stelton is very sophisticated and made from brass-brushed stainless steel. Available at Black by Design. The perfect match for a Scandi Christmas decorating scheme, we think.
More 3d Christmas tree toppers:
7. Create atmospheric effects with an LED star topper
To complete a dreamy and atmospheric tree decorating scheme that will look especially stunning at night, pick an LED-lit tree topper. We love the Colour Changing LED Star Tree Topper from B&Q.
More LED tree toppers:
8. Go crazy with a feather-tailed bird topper
If you're going for a kitsch Christmas tree decorating scheme this year, then anything goes in terms of your tree topper. How about this delightfully OTT Peacock Tree Topper from TK Maxx? It's more than a little Copacabana, and we love it.
9. Complete a Scandi decorating scheme with a felt topper
Can't get enough of Scandi Christmas? Top if all off (see what we did?) with the Nordic Angel Tree Topper from The Contemporary Home and hope that Christmas will be as peaceful and cosy as your tree.
10. Give Santa a nod with a knitted Santa hat topper
Santa's hat and the top of the Christmas tree are a marriage made in heaven. Our favourite is the very festive Santa Hat Christmas Topper by Three Little Loops, available from Etsy.
More Santa hat tree toppers:
11. Go for a minimalist copper wire design
Going for a minimalist, contemporary Christmas tree decorating scheme this year? The key is to keep things simple, and that applies to the tree topper. For an elegant and unfussy finishing touch to your tree, try the Star! Christmas Tree Topper by The Letter Loft, available at Not On The High Street. They also make the tree toppers in other word options.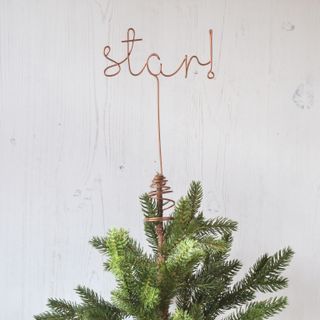 12. Get an all-singing, budget-friendly option
Doing Christmas on a budget? We bet you won't be able to resist the Wonder Star Tree Topper from Wilko. It's nice and glittery, and it's £2.50. What's not to like?
More Christmas tree decorating ideas: