No Christmas trees are complete without Christmas tree toppers right? And we think maybe this year is the year to upgrade from the paper fairy one of your kids made and pick out a stylish new decoration to sit atop your tree.
There are lots of decisions to make when choosing Christmas tree decorating ideas to fit on the top of your fir. While classic stars come in five-point designs to elaborate three-dimensional Moravian styles, choosing an angelic cherub or fairy can be just as challenging. Or, do you steer away from Navity-style decs and go for something completely novel?
We've done the hard work, so you don't have to trawl the internet or shops to find Christmas tree topper ideas to suit your style. Wise men (and women) in the form of interior experts bear advice on how to choose these fixtures and what to look out for when picking a topper to ensure that it looks great on your real or artificial Christmas tree.
Christmas tree toppers to top them all
Why you can trust Real Homes Our expert reviewers spend hours testing and comparing products and services so you can choose the best for you. Find out more about how we test.
'Conclude decorating your Christmas tree with a spectacular finale using a worthy Christmas tree topper,' says Jason Billings-Cray, partner and Christmas buyer, John Lewis & Partners.
'A Christmas tree star topper represents the protective spirit which guides us towards security and warmth. Alternatively select a Christmas tree fairy topper for a touch of magic and help attract a generous and giving nature apt for the Holiday season.'
'Alternatively, opt for an unusual Christmas topper using either a snowflake tree topper which reflects the seasonal weather or a Jolly Santa tree topper to modernise your tree with a much loved figure.'
'Stay true to tradition using a gold star tree topper or add a modern twist with contemporary designed Christmas star in silver tree topper. Whatever your choice, it will add the finishing touch to your tree and bring together your Christmas decorations.'
1. Add drama with an oversized star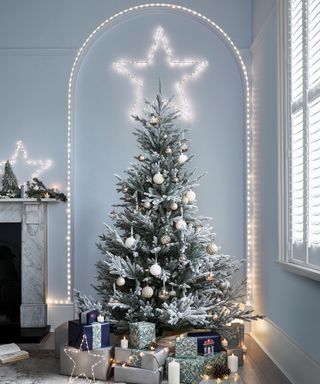 If you're a more is more sort of person – this Christmas tree topper is sure to make a statement. This is the Osby star light from Lights4fun, available on Amazon, and rather than sitting precariously balanced on top of your tree, you actually hang it on the wall behind. These lights also look fab in your tree to mix in with your decorations and fairy lights.
But if you want to go for something stand-out – forgo the fire and create an alternative Christmas tree idea altogether on the wall.
If this bright design has sparked the inspiration for bright lighting ideas, discover our pick of the best fairy lights.
2. Create a glowing ambiance with Capiz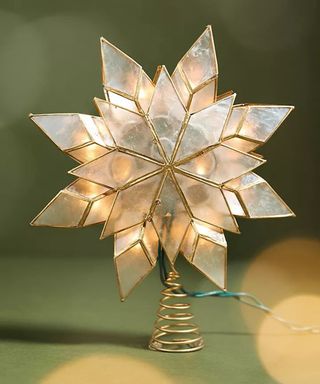 Crafted from a shimmering seashell material, this Illuminated Capiz Star Christmas Tree Topper from Anthropologie offers an illuminated finishing touch to your holiday tree. Combined with warm brass, simply plug this into a power socket port and watch it radiate in your room.
3. Pick something quirky this year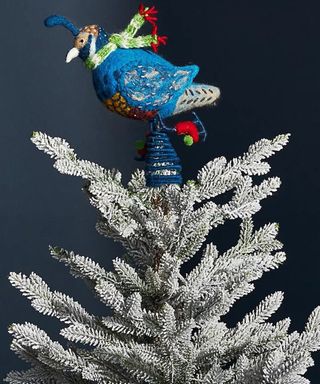 Yes, this is one of the most extra Christmas tree topper ideas we have ever seen and she's definitely an investment but who can resist this Ice Skating Partridge Tree Topper from Anthropologie? Kitschmas is back again this year and we think she would fit in perfectly if you like the quirky, retro look.
Not quite a Partridge in a pear tree, we'll admit – but it's pretty close.
4. Go for a 3D star-within-a-star design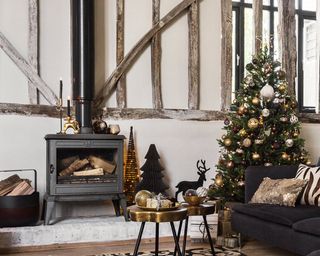 Looking for the perfect tree topper? You've found it. A real shining star, this Christina Christmas Tree Topper - Gold from Sirius, available at Amara, will look at home twinkling at the top of your tree.
Enhanced with 30 LED lights, this design can be set with a timer or controlled using the Sirius remote.
5. Create Christmas carnival vibes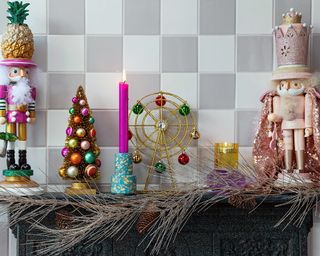 Bring all the fun of the fair to your Christmas decor with this Ferris wheel tree topper from Goodwill, available from Amara. Made from iron with a gold glitter finish, it features multi-colored baubles as the carriages. A fantastic final flourish for your tree... Or as a Christmas mantel decoration, as shown here.
6. Go for an inclusive angel design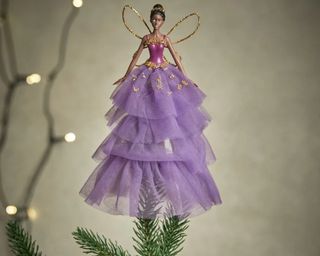 Despite being a traditionally Christian holiday, the festive holidays are a time where everyone can celebrate love and togetherness. And, in our multicultural and multifaith society, celebrate diversity. If you've been in search of an angel Christmas tree topper that doesn't represent you, well... Liberty is here to change that with their Fairy Tree Topper.
'Add the perfect finishing touch to your pine with this fairy tree topper - a sparkling completion to your seasonal space,' says Jessica Stanley, head of editorial content, Liberty.
'Crafted into fairy form, this tree topper is the finishing touch you need for your pine or fir – the purple tiered tulle dress with coordinating gold-tone sequin and beading details, and gold-tone glitter wings makes this a truly magical piece for any collection. Match with other glittering decorations for a coordinated curation this Christmas.'
7. Add warmth with a brass-colored celestial topper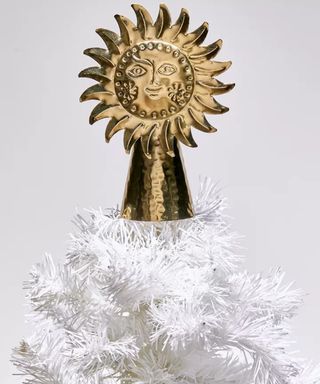 Shine bright through the whole holiday season with this Christmas tree topper featuring a celestial sun motif in a gleaming metal finish. Available exclusively at Urban Outfitters, this sunny, wipe-clean iron ornament will add warmth to even the coldest of winter days.
8. Add a modern twist with a motor-powered carousel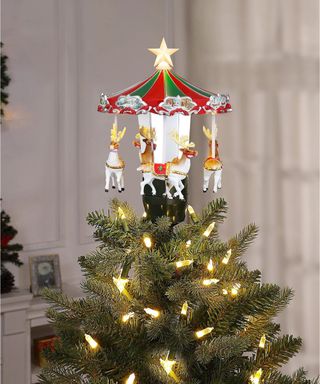 If there's a Christmas tree topper that'll make an equestrian go giddy-up – it's this!
This rotating carousel with LED lights, from Mr. Christmas, available at Macy's attaches to any tree-top, real or artificial. Alternating Current adaptor-operated with an included simple mount for easy use. This Black Friday – it's 50% off too!
9. Clip on a glam bird design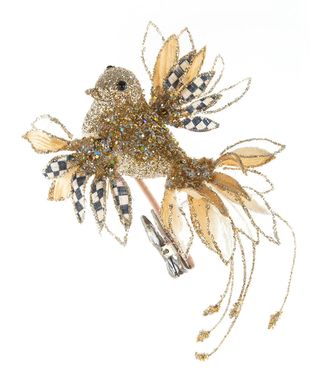 Many of us are used to a cone angel or star-shaped Christmas tree topper that has a coiled end for easy assembly. But with this bird design, you can simply clip your fowl onto your real or artificial foliage.
Add a touch of sparkle to your festive decorations this year with the Golden Hour Bird Clip from MacKenzie-Childs, available from Amara. Featuring wings of glittering wire and a Courtly Check pattern with golden glitter it's sure to add a shimmering touch to your Christmas tree.
And, if you don't fancy it as your choice of tree topper this year, it can be used on Christmas garlands and wreaths too.
10. Try traditional with a twist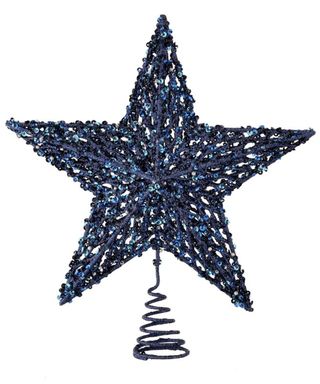 Whether you're team star or team angel – most households tend to go for these traditional Christmas decorating ideas. And, if you want to stick to the classics – don't let us deter you.
In dark and dramatic navy tone, this Sequin Bead and Glitter Star Tree Topper by The Holiday Aisle, available at Wayfair, features a glamourous metal star atop a wide spring to add a luxe finish to your tree decorations.
11. Go for a sweet, candy-inspired topper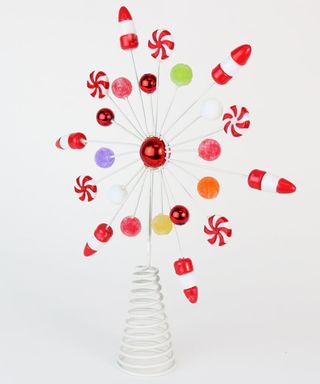 Christmas is a time where we indulge in a variety of treats – both savory and sweet. So if you want your interior taste to match with that of your culinary taste – choose this cute, kid-friendly Candy Snowflake Tree Topper design, by The Holiday Aisle® and available from Wayfair.
Decorated with sugar-coated gumdrops and peppermint candies, it'll complete your Christmas Candyland... especially when your tree is styled with candy cane ornaments, gingerbread men, and brightly-colored lollipop decorations.
12. Add a glamorous touch with a mirrored star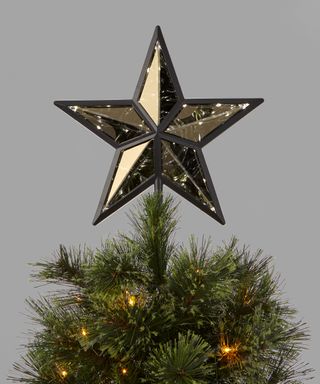 Mirror, mirror on the (tree), who's the fairest of them all? With this black-framed, reflective star... You will be. We all know how chic, Crittall-style windows can be so consider this its festive equivalent. Perfect for its light-reflecting purposes and checking your reflection in, this Lit Dewdrop Frame Mirrored Star Tree Topper Black - Wondershop™, available in gold or silver from Target is a super fancy five-pointed star.
13. Illuminate your tree with an LED topper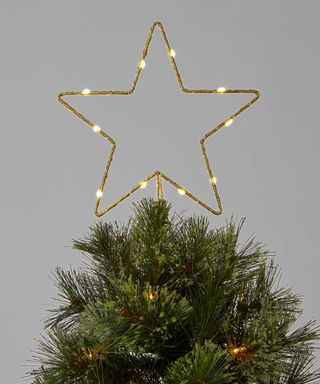 Whether you don't want the faff of untangling tree lights (hello Scouting knot memories) or want to add even more Christmas fairy lights to your tree – this 10in LED Lit Dewdrop Glitter Metal Open Star Tree Topper Gold by Wondershop™, available at Target will brighten up even the dullest of decor.
Move the tree topper freely with the battery-operated system used to power the lights.
14. Go for an eco-friendly felt angel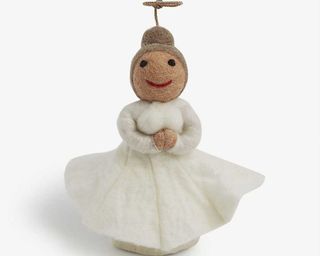 This Christmas angel felt tree topper from Selfridges is sure to do your family proud and be a worthy replacement for your tired and/or traditional angel. Made from 100% wool, with embroidered details and a metallic halo, get your little cherub to pop this fairy-like figurine on top of your tree.
15. Create a magical kids' tree with a unicorn head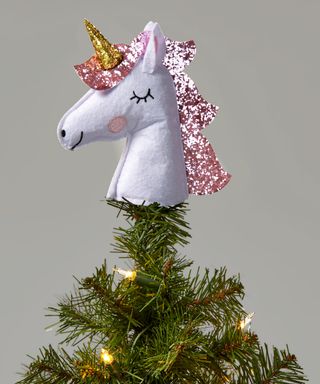 If your child is lucky to have a small Christmas tree in their room, this Unlit Mini Treetop Glitter Unicorn Head by Wondershop™, available at Target can be a fun way to let their creativity run wild... without ruining your styled tree. This white fabric unicorn head with blush mane and golden horn embellished with sparkly sequins for mystical shine is perfect for a kid's room and would look fabulous on top of a pastel pink artificial fir. And, with no wires or LED lights, it doesn't present a hazard to little hands.
At just $5, this budget Christmas decorating idea is so affordable – it's magic.
16. Or go for a literal take on a star tree topper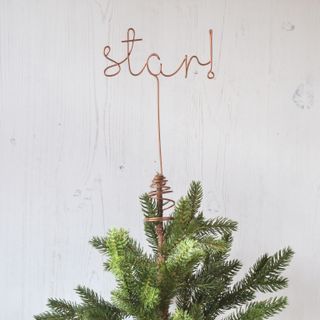 How cute is this? A quirky take on a star topper, this is the perfect dec if you like to keep things fun with your Christmas tree decor. The Star! Christmas Tree Topper by The Letter Loft is available on Etsy and you can actually personalize it to say whatever you like.
17. Adorn your tree with a crown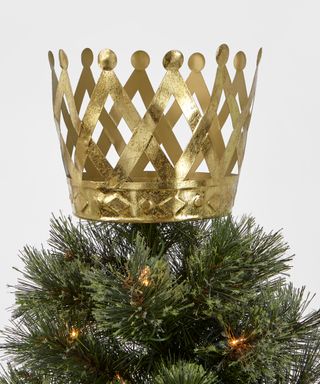 Give the top of your tree a touch of regal sparkle with this Unlit Metal Crown Tree Topper from Wondershop™, available at Target. This 11.5-inch metal crown tree topper comes in a dazzling gold hue for a brilliant, classic look, that can quickly and securely fasten to the top of your tree.
Target Red card members also get an additional 5% discount off the $20 price tag.
18. Tie a bow on top of your tree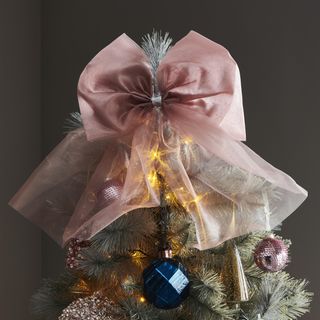 Simple, but so effective, tying a bow to the top of your tree adds an instant vintage charm. You can of course fashion one yourself but if you want it to look absolutely perfect, pick up one of these Christmas tree toppers online. Amazon has loads of styles and they are all super affordable too.
19. Take your bow to the floor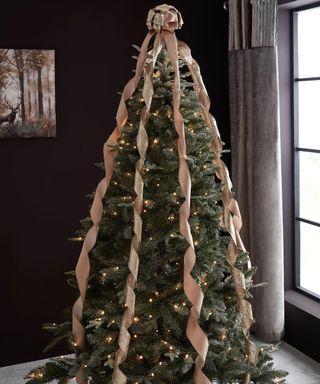 If you liked the simple Christmas tied decoration above – prepare to 'bow' down to this OTT idea. This floor-length Christmas tree topper idea from Next saves the need to wrap your tree in tinsel or ribbon, as it cascades down to the floor.
Less is more with this decor, so you'll save on baubles and other festive ornaments.
20. Show off with a seventies-style disco ball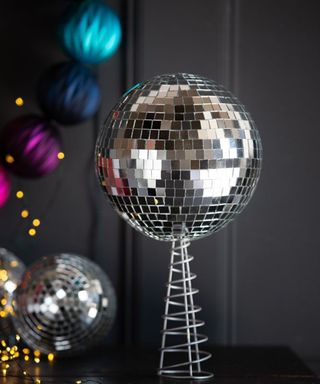 Finish your Christmas tree off with something fabulous this year. This Disco Ball Tree Topper from Rockett St George is perfect for those who like to party.
Its silver mirrored outer will reflect the lighting in your living room and sparkle around the room just like a disco mirror ball. A real showstopper and talking point,
we think it's an absolute must-have.
Perfect for dancing queens, this can add some Saturday night fever (sorry...) on top of your fir.
21. Go wild with a leopard print design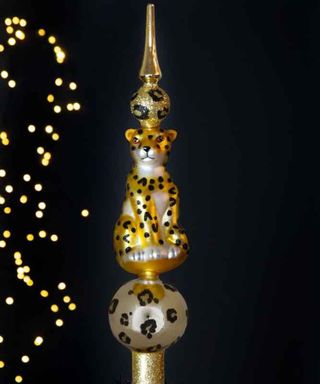 'As the final flourish to your Christmas tree, the Gold Leopard Christmas Tree Topper promises a fashion-forward style statement.' says St. George.
'Embracing the glamor of animal print, this tree topper features a regal leopard at the centre, with leopard print baubles and accents of glitter all around.'
To keep your Christmas color scheme chic and sophisticated, we'd style this topper for the Christmas tree with black and plain metallic baubles. But by all means, go mega maximalist with even more leopard and zebra print for a safari-style that's roaring with sass.
22. Make your tree look pucker with a lipstick design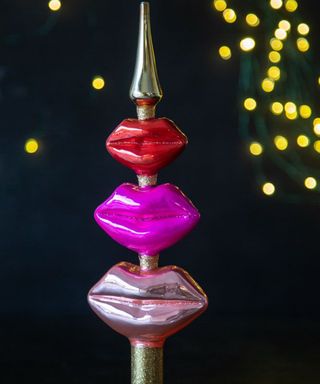 With ring lights, selfies, and filtered photos, this make-up inspired Christmas topper is totes Instagrammable! With chic pink, red and gold lipstick tones, this is one way to slay your tree or display it as a Christmas window decoration.
But, don't just pay lip service by just saying you're going to buy it. Get your credit card out bae and head to Rockett St George for this on-fleek, festive find. Because they clearly understood the assignment.
23. Go for a minimalist take on the classic star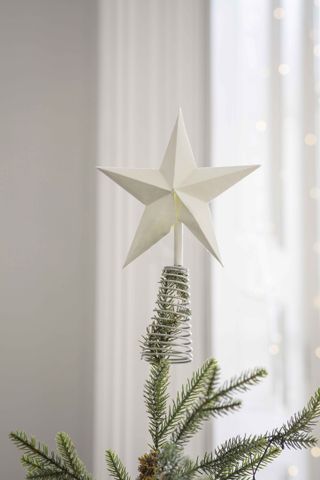 If you are a traditionalist a star with always top your real or best artificial Christmas tree. There are so many out there to choose from but our favorite this year is from Garden Trading – it's simple, it's chic and it's a great price too. There is also an inky blue version if you want something a little more statement.
24. Mark your tree as yours with a personalized star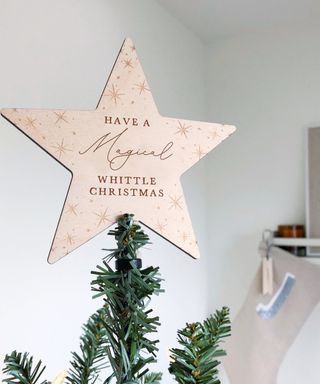 Naww, how sweet. We can see this Personalizable Engraved Tree Topper with snowflake detail becoming a tradition that brings joy year after year.
This engraved topper is handmade by StudioOne48, who are an independent, Etsy-listed vendor – we will let you handle the arguments that will come with who gets to put this on top of the tree – maybe suggest you take it in turns?
25. Go retro with a gaming character topper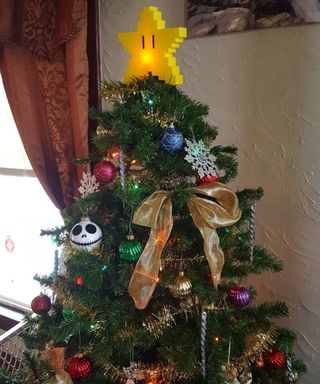 If you were brought up in the '80s or are a gaming fan, you'll be all-too-familiar with Starman, a powerful Item in the Super Mario series.
Pay homage to your classic console with this bright yellow Christmas topper. This retro Christmas decoration, available on Wayfair, also makes a wonderful gift to any Super Mario, N64, SNES or Nintendo enthusiast.
Why do we decorate with Christmas tree toppers?
'Christmas tree toppers were first used in 18th century Germany, commonly in the form of the Rauschgoldengel a shiny, golden foil angel.' explains Courtney Allison, designer, Balsam Hill.
'Eventually, these decorative accents made their way to the tops of Christmas trees across the world and became available in designs like star tree toppers, patriotic flags, and more.'
What to consider when choosing a Christmas tree topper?
'Tree toppers are a must, they are the crowning glory that will perfect the look you are going for,' says Lucy St George, co-founder, Rockett St George.
'However, it goes without saying that whilst a Christmas tree topper is the finishing touch, you have to make sure that the topper is light enough so that the tree can support its weight (after all you are attempting to decorate the weakest and most unsupported part of the tree).'

And, size does matter according to Sylvia James, interior designer at HomeHow.co.uk She says: 'It's important to choose a tree topper that is to scale with your tree. Leaving it until the last minute without any thought will result in a topper that is disproportionate and using the same one with a different tree is lazy. Invest in a few different shapes and sizes and continue adding more to the collection as the years go by.'
How to choose a Christmas tree topper?
There are many things to consider, include the shape of the tree, height of the tree, weight of the tree topper and theme.
'When choosing your Christmas tree topper, check that it complements the style and symmetry of your tree. A star or angel tree topper is a great match for a full-shaped Christmas tree, while an elongated tree topper suits the slender profile of a narrow or slim tree.' says Allison.
'Measure the clearance between the top of your tree and the ceiling to identify the size of tree topper it can accommodate. As a rule of thumb, it's best to leave at least 6 inches of space between the ceiling and the top of your tree topper. Make sure to account for any additional height that a tree stand may add.'
'Christmas tree toppers made of lightweight materials like paper, fabric, plastic, or fiber composite are ideal for most trees. Heavier toppers – such as those made of glass – may topple over if unsupported. To secure your tree topper, use fastening tools like zip ties.'
'As the crowning accent of your display, the Christmas tree topper should match your overall decorating theme. For a classic look, opt for a traditional star or angel tree topper in red, green, or gold. Minimalist star tree toppers go well with contemporary themes, as do starburst and snowflake toppers in muted hues. If your style is more rustic, consider bouquet or bow toppers for a relaxed yet beautiful display.'
How do I anchor a Christmas tree topper?
'Now that you've chosen your topper, it's time to add the finishing touch to your Christmas tree. Here are some tips on how to install your tree topper depending on its base.' says Allison.
'Many of our Balsam Hill Christmas tree toppers feature a sturdy pole stand with eyelets and zip ties. Simply insert the pole into the top of your tree and align it with the central branch. Thread a zip tie through each eyelet and wrap around the trunk to keep your topper in place.'
'Bend one of the top branches and carefully fit the cone over it. If needed, adjust the surrounding branches to support the base.'
'Insert the top branch into the coil and secure with floral tape around the spring. Choose tape in a similar color to your tree branches to help conceal it.'
'Bows and ribbons are the easiest to attach to Christmas trees since they are lightweight. Go for wired pieces that keep their shape and use pipe cleaners for added support.'
'Many high-quality pre-lit Christmas tree toppers feature a female electrical plug at the top where you can easily connect your tree topper. Simply mount your topper in place and plug it in.'
What are the common safety tips for installing Christmas tree toppers?
We've got Allison's top tips for staying safe this holiday season:
Use a stable stepladder to reach the top of the tree.
Ask a friend or family member to keep the body of the tree steady as you fix the tree topper into place.
Consider the weight of the topper before attaching it to the tree and prepare tools to secure it.
Keep fragile decorations, such as glass or crystal toppers, out of children's reach. These items could cause injuries if shattered or broken.
For pre-lit tree toppers, make sure that the wires and plugs are working properly. Always check the connections for any loose wires and inspect for any burnt out or cracked bulbs before plugging into an outlet.