A garden room doesn't just have to be a place to store unused tools or furniture; it can be a creative workshop, an inspiring studio, a practical gardener's shed, or a space to retreat to and relax. This collection of outstanding garden rooms are used by artists, garden designers, crafters and designer makers and show just how useful it can be to add some space to your home with an outdoor structure. Whether you want a place to work outside the house, or just somewhere to retreat for a coffee and a quiet read, take a look at these creative uses for outdoor spaces.
An artisan's studio
The lovely studio tucked away at the bottom of the terraced garden of Andrew Davidson's Cotswold stone cottage, is reached by weaving down a stone path. 'If one must be imprisoned for life, it has to be in a gilded cage,' he quips. His 'gilded cage' (Above) for the past 26 years has been a prefabricated studio that resembles a boathouse separated from its river, and was made to Andrew's design from pegged green oak. Windows fill all sides and it is flooded with natural daylight.
CLICK HERE to find out more about Andrew's wood carved prints
A sculptor's retreat
Sculptor Pauline Lee's outdoor room isn't just a beautiful feature in her garden, it's the workshop and studio from where she produces her wonderful ceramic pieces. It provides her with the perfect setting to observe the natural world around her, and gain inspiration for her botanical and nature-inspired sculptures.
Pauline's artist's studio sits at the far end of the garden. Made from two modified sheds, it blends into the garden landscape, with honeysuckle and clematis creeping over the roof and fragrant pink roses climbing up the walls. Inside brims with her fired stoneware sculptures, pots, figurative work and wall tiles.
A gardener's workshop
Passionate gardener Fiona Smith's beautiful outdoor workshop has not only become the centre for her gardening projects, but has become a feature of the garden in its own right. Fiona came to gardening late in life. 'I did a simple garden design course, got hooked, and followed it with an OCA garden design course (part of the Open University) and ended up tutoring and helping others when it ended. My garden is my tool and creating it has been a steep learning curve.'
A place for entertaining
Sue and Peter de Wit, owners of a beautiful 1930s house with an acre of gardens in Tunbridge wells, wanted an outdoor living space where they could entertain. This garden room stands elevated above their plant beds and a pergola provides shade for the outdoor dining table and chairs, creating the perfect area to enjoy company with friends.
Their garden is filled with such covered entertaining spaces, including a decked gazebo that bridges the garden levels, surrounded by a fringe of textural planting, and a tunnel of pergolas that turns the lawn into a corridor.
Little brick outbuilding
Louisa and Charlie Butters took on the renovation of a Grade II-listed cottage in north-east Oxfordshire. The neglected garden was re-landscaped after Charlie unearthed some photos of the garden in the 1950s. Charlie returned it to its former glory, replanting borders and trees, and reinstating the paving stones where an orangery had once stood.
The little brick garden room perfectly complements the period features of the home and is a beautiful place to view the surrounding Oxfordshire countryside.
A classical touch
Not all garden buildings need to be walled and functional. This neo-classical covered seating area provides shade from the sun in the summer, and cover from the rain when you want to sit outside. The stone structure blends seamlessly into the nine-acre landscape of this 18th century rectory in North Yorkshire.
Lakeside summerhouse
Not everyone would consider holding a business meeting in a boathouse, but Linda Kilburn's meetings are anything but conventional.
She believes that some of the best ideas originate in places of peace and tranquility, so her colleagues and clients may well find themselves enjoying afternoon tea on the sun-dappled decking of her summerhouse, instead of shuffling papers across a boardroom table.
When friends drop by for coffee and a catch-up, too, they are less likely to end up in the kitchen of Linda's 18th-century house and more likely at the bottom of her garden, sitting in comfort by the side of the lake.
A garden cabin
Latte Lodge is one of two outbuildings on the grounds of Wendy Blakeman's 240 year old farm house. The garden cabin where Wendy likes to sit and sew or chat to friends over a coffee, is an impressive space, with views right across the Derbyshire hills. Inside, in keeping with the shabby chic theme, there's a comfy sofa, a dressing table overflowing with textiles and lace and a log burner so they can enjoy the cabin all year round.
At the other side of the garden, Gull Cottage was a small tool shed that friends were throwing out, but Wendy has turned it into her very own Southwold beach hut with seemingly effortless inspiration. Shells, seaside accessories and bric-a-brac were sourced on the couple's frequent trips to the Suffolk coast and to her all-time favourite shop, Tinkers in Walberswick, which she says is a 'treasure trove of vintage finds'.
Crafter's shed
Artist Ali Ferguson's back garden studio in Roslin, near Edinburgh, is known as the 'Purple Thread Shed'. It is lined with cupboards, crates, drawers and shelves brimming with her collections of objects, from buttons of all sizes and colours, lengths of old lace and fabric and vintage bobbins to sepia photographs, giving her the perfect place to produce her complex collages of found bits and bobs.
A woodland cottage
Ceramic sculptor and painter Georgina Warne is surrounded by wildlife in the garden studio of her cottage, tucked away at the edge of a Norfolk village. A small stream babbles along beside the garden, while her workshop – nestled in the corner – has views over allotments, fields and a meadow beyond.
It is in this garden studio that Georgina creates her stoneware sculptures and prints, and it acts as the perfect setting for her pieces inspired by flora and fauna.
The stitcher's studio
Textile worker Viv Sliwka is based in her specially built garden studio, surrounded by plants and nature, yet only feet from the back door of her house. Cosy yet bright, its tongue-and-groove timber walls and ceiling give it a warm, log-cabin feel. It is stacked floor to ceiling with drawers, painted shelves made from salvaged circus benches, and patchwork hangings. The space is full to the brim with colour and texture, but organised.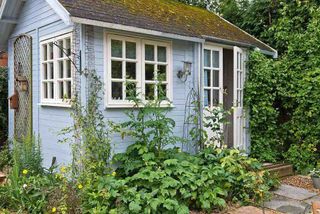 'I would find it impossible to do what I do on the kitchen table, clearing it up for dinner every day,' says Viv. 'This workroom is my bolthole, and I love spending time in my garden — it feeds me. Listening to the birds, being surrounded by nature; it's all part of what I do.'
A whimsical garden workshop
Victoria Westaway hand crafts woven willow sculptures from her workshop, a small 19th-century stone barn next to her former farmworker's cottage, perched on the crest of a hill. With far-reaching views to Hay Bluff and the Black Mountains to the west, and the Malvern Hills to the east, this beautiful spot in Herefordshire, 'an isolated garret on the hill,' says Victoria, is open to the full force of the elements. When the wind whistles through some of her figurative willow sculptures dotted around the garden, it is as if it is breathing life into their inanimate forms.
A shell-decorated interior
Just a stone's throw from shell artist Linda Fenwick's house, this atmospheric folly is used for lunches and dinners, and in the evenings candlelight reflects off the iridescent forms covering every surface. 'People find it very peaceful sitting in a room full of shells,' Linda says. 'You just imagine where the shells have travelled to and come from.'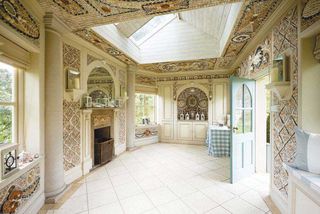 The project was a purpose built hexagonal folly in her garden, the interior of which is entirely decorated in shells. 'I worked with my joiner, Colin Thomas, and it took about four years to get the building finished, grabbing free days as and when. It took me a year altogether to finish the interior, creating and putting up each panel separately, and I added the last shell in 2010, the night before we opened the garden for the NGS,' Linda explains. 'I have always collected shells and wanted to do something with them, and I love architecture and art, so all of these things have fed in to each other and go hand in hand.'