Considering adding a garden room to your garden? Whether it's an outdoor home office, a creative space to paint or write, or simply a quiet corner to escape the stresses of the home and to catch up with some reading, a garden room can be so much more than just a store for tools, but can make a brilliant, versatile space.
From shepherd's huts to boathouses and even a shell-clad folly, many of these beautiful garden rooms are both practical and pretty, used by artists, gardeners, and crafters alike for all sorts of activites, while others make great spaces for outdoor dining or simply for moments of quiet contemplation.
1. Botanical potting shed
Tucked away at the bottom of the garden, this old potting shed had been transformed into a beautiful work and creative space which blurs outside and inside. To complement the glorious verdigris exterior, the bench is covered in a selection of botanical print cushions, and the window adorned with beautiful leafy curtains in a fabric from Jean Monro.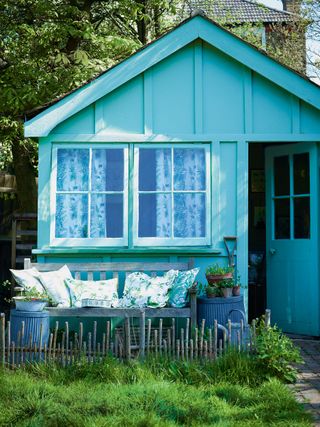 Inside, the botanical theme is continued with a lick of fresh apple green which serves as a vitality-bringing backdrop for a selection of botanical wall prints and freshly picked blooms.
Rustic and hard-wearing outdoor metal furniture is an ideal choice for a practical work space, and old apple crates are used as side tables to blur the boundary between outside and inside.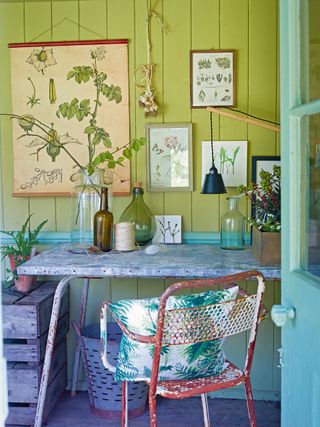 2. Shepherd's hut retreat
Set in the garden of a rural Norfolk cottage, this shepherd's hut is always ready with a pretty table and chairs for impromptu afternoon tea guests, but doubles as a great quiet space for catching up on reading.
3. The quilter's room
With plenty of glazing at the front, and a window boasting countryside vistas at the back, this summerhouse makes a lovely bright craft room for quilter Jenny Larvin. Not wanting to take down the tree, she and her husband snuggly fitted the room beneath, painting it green to complement its natural setting.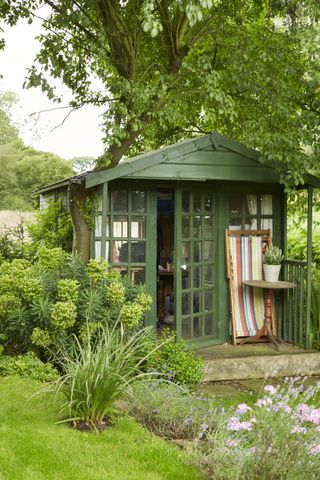 4. Vintage-style summerhouse
Complete with a pretty veranda, this quaint outdoor room is a great spot to admire the garden in the heat of the day. Styled up with potted plants, bunting and vintage planters, apple crates and watering cans, it's a masterclass in pretty country style.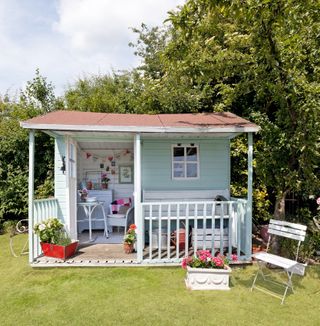 5. Summerhouse with storage
A picture of English charm with its pink roses and rustic stone wall, this pretty garden room is also packed full of clever garden storage ideas. Custom-made, the storage bench is the perfect place to stow away garden tools or craft materials, and a vintage crate serves as a mini bookcase and side table, not forgetting the ample shelving which provides plenty of surface space for those cherished collectables.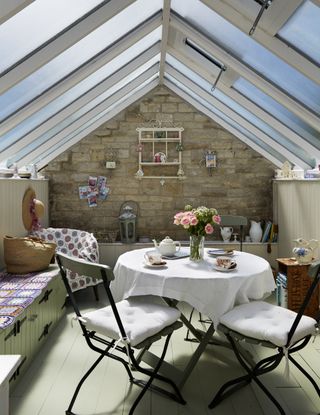 6. Oak-frame studio
This stunning oak-frame garden room has served as an artisan studio for engraver Andrew Davidson for the past 26 years. Now beautifully weathered to a silvery finish, it was constructed from pegged oak to his own design. Nicknamed his 'gilded cage', the building is reminiscent of a boathouse, but instead of river views it offers vistas across the Cotswold countryside. 'If one must be imprisoned for life, it has to be in a gilded cage,' he quips.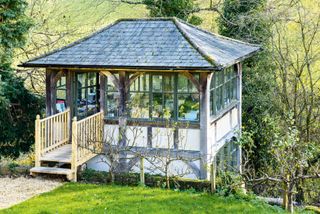 7. A sculptor's retreat
Sculptor Pauline Lee's outdoor room isn't just a beautiful feature in her garden, it's the workshop and studio from where she produces her wonderful ceramic pieces. It serves as the perfect setting to observe the natural world around her from which she draws inspiration for her botanical works.
Made from two modified sheds, it blends into the garden landscape, with honeysuckle and clematis creeping over the roof and fragrant pink roses climbing up the walls. Inside brims with her fired stoneware sculptures, pots, figurative work and wall tiles.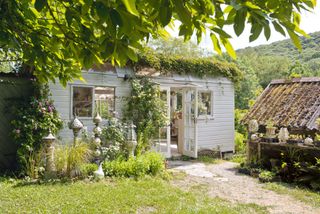 8. The gardener's shed
Passionate gardener Fiona Smith's beautiful outdoor workshop has not only become the centre for her gardening projects, but has become a feature of the garden in its own right. Old ladders, shelves and benches make great surfaces for displaying her large collection of potted plants on the veranda.
9. Little brick outbuilding
Louisa and Charlie Butters took on the renovation of a Grade II-listed cottage in north-east Oxfordshire. The neglected garden was re-landscaped after Charlie unearthed some photos of the garden in the 1950s. Charlie returned it to its former glory, replanting borders and trees, and reinstating the paving stones where an orangery had once stood. The little brick garden room perfectly complements the period features of the home and is a beautiful place to view the surrounding Oxfordshire countryside.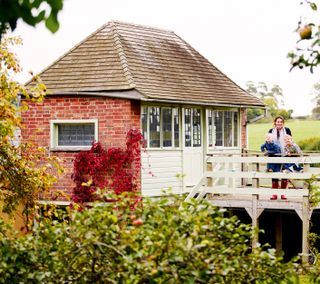 10. Lakeside summerhouse
When Linda Kilburn's friends drop by for coffee and a catch-up, too, they are less likely to end up in the kitchen of her 18th century house and more likely at the bottom of her garden, sitting in comfort by the side of the lake. Surrounded by mature trees at the bottom of her garden, this dreamy two-room summerhouse was custom-made by a local joiner and has been decorated in a calm palette of duck egg to reflect its beautiful watery setting.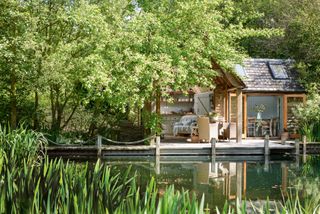 When friends drop by for coffee and a catch-up, too, they are less likely to end up in the kitchen of Linda's 18th Century house and more likely at the bottom of her garden, sitting in comfort by the side of the lake.
11. Garden hideaway
Latte Lodge is one of two outbuildings on the grounds of Wendy Blakeman's 240 year old farmhouse. The garden cabin where Wendy likes to sit and sew or chat to friends over a coffee, is an impressive space, with views right across the Derbyshire hills.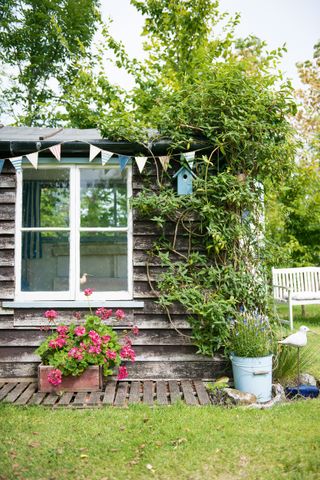 12. Coastal cabin
At the other side of Wendy's garden is Gull Cottage. Originally a small tool shed that friends were throwing out, Wendy transformed it into her very own Southwold beach hut with seemingly effortless inspiration. Shells, seaside accessories and bric-à-brac were sourced on frequent trips to the Suffolk coast and to her all-time favourite shop, Tinkers in Walberswick, which she says is a 'treasure trove of vintage finds'.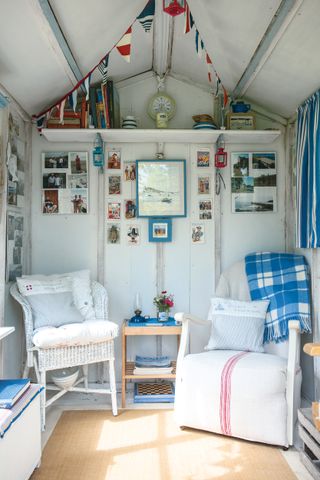 13. Crafter's shed
Artist Ali Ferguson's back garden studio in Roslin, near Edinburgh, is known as the 'Purple Thread Shed'. It is lined with cupboards, crates, drawers and shelves brimming with her collections of objects, from buttons of all sizes and colours, lengths of old lace and fabric and vintage bobbins to sepia photographs, giving her the perfect place to produce her complex collages of found bits and bobs. Her love for vintage even spills outside, with old suitcases and Singer sewing tables used as decorative features.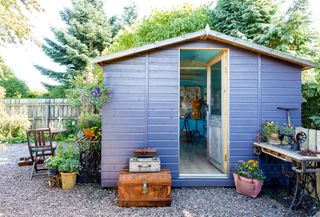 14. The stitcher's studio
With its pastel blue weatherboarded walls this pretty shed has a New England feel. Studio to textile artist Viv Sliwka, inside it is cosy yet bright and stacked floor to ceiling with drawers, painted shelves made from salvaged circus benches, and patchwork hangings.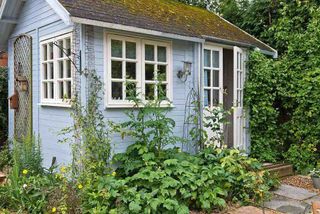 'I would find it impossible to do what I do on the kitchen table, clearing it up for dinner every day,' says Viv. 'This workroom is my bolthole, and I love spending time in my garden — it feeds me. Listening to the birds, being surrounded by nature; it's all part of what I do.'
15. A shell-decorated interior
Just a stone's throw from shell artist Linda Fenwick's house, this atmospheric folly is used for lunches and dinners, and in the evenings candlelight reflects off the iridescent forms covering every surface. 'People find it very peaceful sitting in a room full of shells,' Linda says. 'You just imagine where the shells have travelled to and come from.'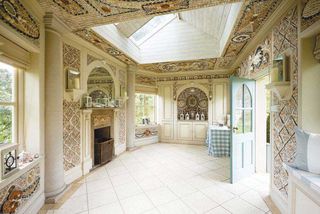 The project was a purpose built hexagonal folly in her garden, the interior of which is entirely decorated in shells. 'I worked with my joiner, Colin Thomas, and it took about four years to get the building finished, grabbing free days as and when. It took me a year altogether to finish the interior, creating and putting up each panel separately, and I added the last shell in 2010, the night before we opened the garden for the NGS,' Linda explains. 'I have always collected shells and wanted to do something with them, and I love architecture and art, so all of these things have fed in to each other and go hand in hand.'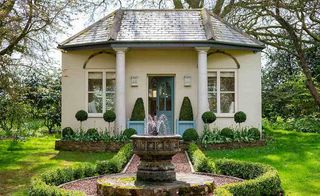 16. Little chapel
For the ultimate in quirky design, look no further than Love Lane Caravans' tin tabernacles. Inspired by the prefabricated iron structures used as mission halls and chapels in the 19th century, the scaled-down, portable designs are built in Love Lane's Cornish workshop using corrugated tin and reclaimed materials. Pictured is its latest H360xW500xD230cm model, £27,950, fully wired complete with salvaged windows, a porch, decorative bell spire and oak detailing.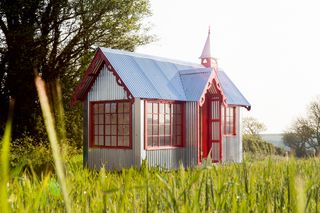 17. Creative conversion
This ingenious, self-supporting steel structure started life as a commercial shipping container before being converted into a home office by Green Roof Shelters. Eco-friendly in more ways than one, the offices come with deep sedum roofs planted with wildflowers, and have attached nesting places to help make your garden a haven for wildlife. From £28,680 for a similar H290xW650xD290cm glazed container, including wiring.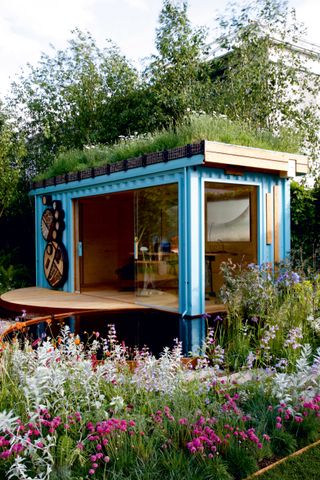 18. Treetop hideaway
Like living the high life? This bespoke, luxury treehouse by Blue Forest features a spacious deck, wired interior complete with wall-mounted TV, zip wire, rope bridge and sunken trampoline, making it the ultimate chill-out space. The exterior combines warm cedar cladding with green roof tiles to blend with the tree. As the treehouses can be built with supporting stilts, having a sturdy tree is not essential.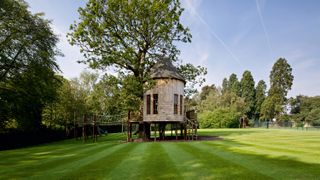 More inspirational gardens: