Not everyone would consider holding a business meeting in a boathouse, but Linda Kilburn's meetings are anything but conventional.
She believes that some of the best ideas originate in places of peace and tranquillity, so her colleagues and clients may well find themselves enjoying afternoon tea on the sun-dappled decking of her garden summerhouse, instead of shuffling papers across a boardroom table.
When friends drop by for coffee and a catch-up, too, they are less likely to end up in the kitchen of Linda's 18th-century house than at the bottom of her garden, sitting in comfort by the side of the lake.
The property
Owners: Linda Kilburn, who owns a property renovation business, and her husband David, who runs a builders' merchant
Property: A waterside summerhouse in the grounds of the couple's late-18th-century house, in a Conservation Area not far from Hull, East Yorkshire
Essential repairs: An extra room was added to the wooden structure
Layout: The original summerhouse featured a kitchen and living area, and the extension provides space for parties and meetings
Landscaping the garden
Linda's hideaway is a beautiful two-room haven surrounded by mature trees, a clear water stream and a timber jetty — perfect for an English summer. Yet this delightful corner didn't exist when she bought the property with her husband David 20 years ago. 'The garden sloped away to a field grazed by horses and cattle, with woodland at the back,' says Linda. 'After a few years we decided to incorporate it into the garden and create a small lake fed by a beck that runs along the bottom.'
Landscape gardener Stephen Bean created the lake, using a bulldozer to dig out the crater. The four-foot-deep hollow was lined, and water from the beck redirected into it at one end and out again at the other. The excavated soil was used to create a small amphitheatre overlooking the lake, then Stephen designed and built a decked walkway and jetty along with a lakeside path and small pebble beach. 'It was beautiful, but I felt it needed something to finish it off,' says Linda. 'I had the idea of a boathouse, complete with a little rowing boat that I could pile up with cushions and lie in, drifting on the water, watching the clouds go by.'
The summerhouse
After sharing her ideas with local cabinetmaker Albert Thundercliffe, however, Linda decided to create more than just a boathouse, so asked him to build a rustic wooden summerhouse with a cedar shingle roof, containing a small kitchen area and comfortable seating. Albert added Velux windows in the pitched roof to draw in plenty of natural light, and built large glass doors across one wall so it can be opened up to the decking in summer. He then painted the wooden floors, walls and ceiling in Farrow & Ball paints, which were mixed to create the exact shades Linda had in mind.
For a while, the property was used as a conventional summerhouse, but Linda liked the idea of creating an extra room so they could sleep there if they wanted. 'Unfortunately, David wasn't so keen on that idea, so I decided to build an extension that could be used as either a dining room or a meeting room instead,' says Linda.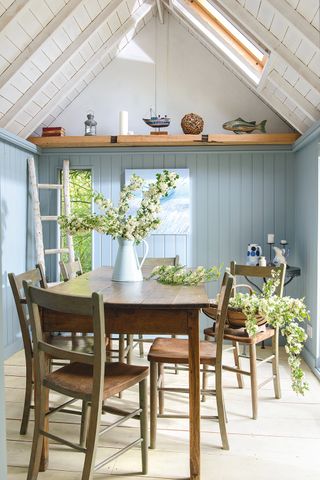 The second phase is designed to complement the original building, with a pitched roof and a period-style latch door joining the two. Albert made another set of fold-back doors so that the entire frontage can be opened lakeside.
A graceful overhang from the original section creates a sheltered eating area in case of rain, while a woodburning stove keeps it warm and cosy even when it's snowing outside.
A place for relaxing
It has proved the perfect spot for intimate social gatherings, and Linda's friends love to share lunch overlooking the lake. 'I had a small kitchen built so we could make drinks and heat up food in the microwave, but if I'm doing anything more than that I put everything I need on a golf buggy and bring it over from the house,' she says.
Linda furnished the summerhouse with pieces she already had, including a second-hand sofa, antique French farmhouse table, old school chairs and collectables. She keeps it stocked up with fresh flowers and foliage from the garden, and buys vintage crockery for afternoon teas.
'I come here on my own when I need some peace and quiet and time to think,' says Linda, who has seen otters, minks, herons, water voles and all kinds of small birds making their home in and around the lake. 'It's so peaceful here that it's an ideal location for creative thinking. One day I'm going to write my novel here — I can't think of anywhere that would inspire me more.'
More on gardens: