Looking for shed storage ideas? A disorganized shed with tools, mowers, compost, pots and more stashed haphazardly makes finding what you need time consuming, and getting it out to use a matter of removing a whole lot of other items first rather than grabbing and going.
But if you want to be able to get on with the gardening easily plus fit everything into your garden storage, shed organization is a must-do project – and we're here to help. We've put together our favourite garden shed storage ideas, so you can give everything you need to keep in there a home.
We'll take you through all the steps you need to take to start over with your shed storage, and we've found brilliant solutions from shelving to tool racks and crates to caddies so you create a place for items large and small. Oh, and don't worry if yours is a compact number. We've included small shed storage ideas, too, so you can fit in more and keep it neat.
To get started on your shed transformation, all you need to do is scroll down.
1. Start by emptying your shed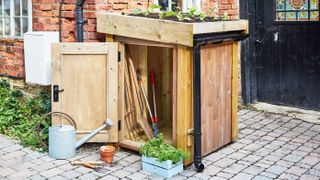 Before you use our storage ideas for shed, a clear out is in order so you can see exactly what needs to be tidied away in there. Choose a sunny, or at least dry, day so you can drag everything out and lay it in the garden and start sorting. Be ruthless when deciding what to keep and be realistic about what is going to fit in your shed without it becoming a death trap. Do you really need three rakes? Have you ever even used that rototiller? What does it even do?
2. Group your items to make shed storage easier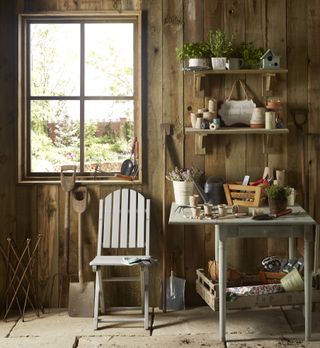 Organize the items that have survived the cull into groups. How you do this is up to you, but it might be based on product type and purpose, on how often you use the item, or on how its size will work best for your space.
Top tip: If you're not sure where to start, choose a big item, like the lawnmower, and plan how you will fit everything else around it.
3. Plan your shed storage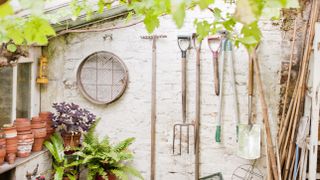 An empty shed is a rare thing. Take advantage of this and evaluate the space, then consider what garden shed storage ideas are open to you. If you have plenty of sturdy wall space then a whole wall of shed shelving (whether wall-hung or floor-standing) could be a good option. If space is tight then you may want to line the walls and ceiling with hooks and tool racks, and use stackable boxes instead. Whichever you choose, ensure the shed's structure can take the strain.
4. Add a potting table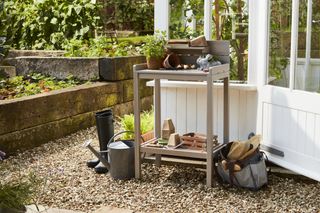 One of the items you might want as part of your range of shed storage is a potting table – and you might equally have dismissed it as something you don't have the space for. But there are compact versions available that can allow you to make like Monty Don despite the fact that your shed storage is not as generous as Monty's.
For a neat solution, check out this Acacia Potting Table from Dunelm. You can work on the top surface and put all the necessary for your task below.
5. Keep frequently used items accessible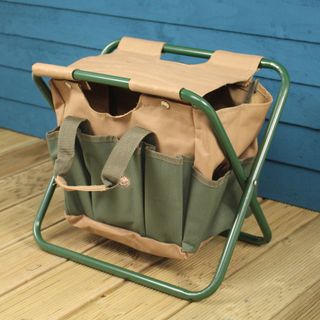 Create a group of the smaller items you use most often, and plan to keep them to the front of the shed, so you can grab them easily and get gardening instantly.
This handy canvas tool storage has plenty of pouches to store all your smaller garden paraphernalia and will take up minimal space. It also doubles as a stool for tackling that unruly buddleia.
6. Use adjustable shed shelving ideas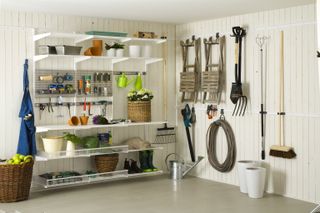 Maximize your square footage by getting as much as you can off the ground and on to shelves.
This shelving unit from Elfa is one the best shed storage ideas we've seen. It's completely customizable and includes different types of storage for hanging, stacking and suspending. Ventilated shelving (have a look at these wooden shelves from B&Q) are also a good option as any dust and dirt will fall through rather than accumulate.
7. Shed storage ideas to organize the small stuff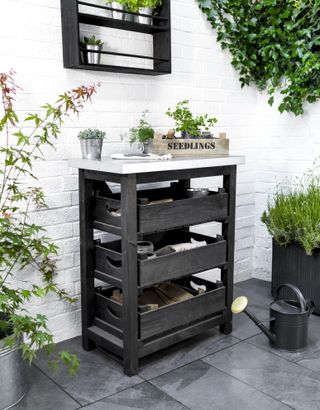 Smaller items need shed storage ideas that suit their proportions as it's easy to lose track of them even if your shed is tiny. Remember, though, that for the very smallest items you might need to subdivide again within a drawer or cubbyhole. If that's the case, take advantage of smaller containers, old jam jars, and so on.
This Moreton Shed Unit from Garden Trading has room inside for everything from gardening gloves to tools, plus it doubles as a potting bench – or an extra storage surface if you prefer.
8. Keep seeds safe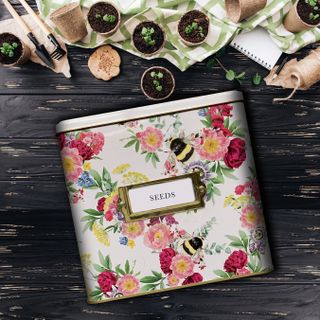 As for the even smaller stuff you need to store in your shed, we might be talking seeds. If you're keeping these in there, it's best to put them in an airtight container that will also keep them in the dark, so add one of these (or more, for the keen seed planter) to your range of shed storage items.
And while a seed tin could be a utilitarian item, there's no reason why you can't adopt pretty shed storage ideas, and stashing things in attractive containers can help make them easy to find, too. Like the idea? This Botanical Bee Seed Tin from Lola Design Ltd fits the bill perfectly.
9. Hang your tools on tool racks
Long-handled garden tools are best stored somewhere accessible but still out of the way (let's avoid any Chaplin-esque re-enactments, please). Attaching a sturdy tool hanger to one of your shed walls is one of our favorite garden shed storage ideas because it will get them off the floor and neatly lined up.
Burgon & Ball's tool rack has easy to use grip slots that will fit most garden tool handles and holds up to 3kg. The grips are also adjustable so you can make room for bigger items.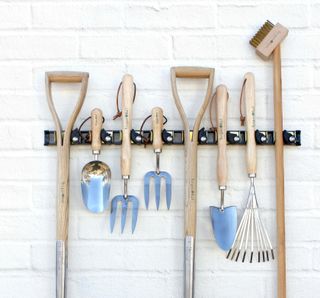 Top tip: Magnetic strips such as this tool bar from B&Q are great shed storage ideas and can hold your DIY tools along with garden hand tools if you need more stash space for these.
10. Save space with a peg board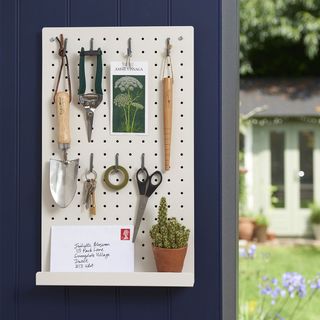 This is one of our nifty small shed storage ideas but it's also a great addition to a large garden shed. We have sung the praises of peg boards many a time for kitchens and home offices, and they are just as handy as garden shed storage.
The Hang it Peg Board from The Worm That Turned comes with eight hooks and one shelf. Hook yours on a wall, to the side of shelving or the back of a door and adorn it with small secateurs, plant wire, keys, labels, you name it.
11. Make use of your shed doors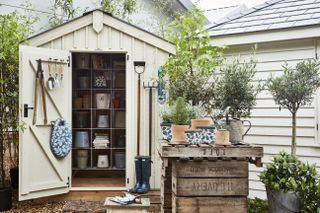 Speaking of doors, don't neglect them in your search for shed storage ideas: put that otherwise wasted space to good use. Hang hooks and baskets on the inside panel to stash items that you always want to be accessible; use wire baskets to make the most of a compact shed or try adding hooks; or hang narrow shelves – just don't overload it.
Find similar storage ideas at Wayfair.
12. Keep your shed clean
After spending so much time turning your shed from a chaotic mess into a gardener's dream, why not dedicate some time to it each week (or month, more likely) to having a quick sort out? This way you can avoid having the dreaded annual overhaul next time, and enjoy a tidy shed all year round. Use our tips on how to Marie Kondo your garden to get yours sorted efficiently.
13. Pick out a shed tidy
Looking for a storage container that looks good while helping you keep track of all the shed sundries? A spray painted storage caddy is perfect. The Shed Tidy is up to the task, with divided sections for all your shed's bits and bobs.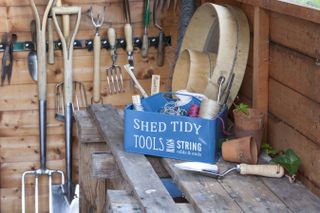 14. Garden storage bags are your best friend come harvest time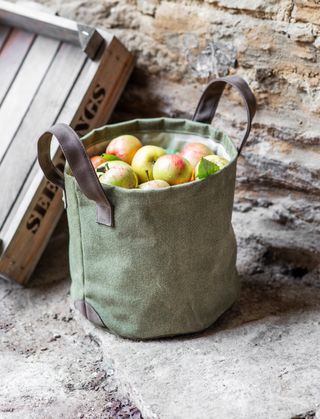 Still storing your freshly picked fruit in crates? Try this storage bag from Garden Trading instead: it will hold up to 15 litres and take up less room than stacks of crates in your shed.
How do I maximize my shed storage?
To maximize shed storage the answer is to use every inch of the space. So, that's walls plus floors, and even the door. Plan shelving – whether freestanding or fixed to the walls – that goes as high as possible, and make sure you organize it so the least frequently used items go on the highest shelves if these are going to be hard to reach.
Hang tools rather than propping them and, for hand tools, position one rack above another to make the most of each wall section.
If your hose isn't a space-saving expanding version, consider adding a wall hook to avoid leaving it coiled across the floor.
What should you not store in a shed?
There are some items you should never store in your shed. Bear in mind that temperatures will fluctuate in a shed, plus there's moisture to contend with so anything that will be affected by these factors should not be kept in there.
What do people tend to put in their sheds that definitely shouldn't be there? Paint and glue are often found, but temperature fluctuations will make them unusable, so keep them elsewhere. Don't put canned food or wine in there either (yes, we know, but people do).
Other no-nos? Fabrics of any sort, paperwork and photographs, electronics, and anything else you can think of that shouldn't be in a damp atmosphere nor one that can get very cold and very hot.
Bye cobwebs!