As the name would suggest we do a lot of living in our living rooms, they are probably the most used room in the house. It's therefore no surprise that we become accustomed to the comfortable feeling of our spaces and stop noticing we have become so safe with our living room design choices. But, we say be brave in your living rooms. Be bold! Paint that wall dark grey, buy that mustard yellow sofa. If you need a little push to be more adventurous just check out these gorgeous statement living rooms.
For more living room ideas, go and check out our gallery next.
1. Add style with Mid-century modern furniture
Whether you lived through it (and loved it) the first time or you are only recently jumping on the Mid-century modern bandwagon, it's definitely a trend that's making a big come back. You don't have to go all out creating a Mid-century modern living room, you can mix it up with other styles. We love how the modern touches in this living room look against the most traditional back drop of Farrow & Ball's Tessella wallpaper.
2. Go for a pattern clash
When it comes to fashion we tend to play to safe – gingham and leopard print? Please, no. But in our living spaces we don't have to be so self-conscious, so take advantage of that and introduce some clashing patterns. Don't go overboard, try to start with a blank backdrop and layer up your patterns from there. We know this is going to be a love/hate thing, but we personally we don't see what's not to love about a gold leather chair and colourful striped cushion.
3. Be bold with a statement ceiling
Why should your walls have all the fun? Ceilings are so often overlooked but they are great for those incorporating those out-there trends that might look a bit much on four walls. Rather than keeping it magnolia-blah, try painting your ceiling in a moody inky shade – on the walls this can be a risky move but on the ceiling it can add a ton of height to a room. Or you could choose a bright living room paint colour and match it to a bold modern wallpaper as seen below.
Top tip: When adding a statement ceiling, we recommend balancing out the room by bringing some of the ceiling colour into the floor area with cushions, throws and rugs.
4. Add personality with a gallery wall
Gallery walls are a design trend that aren't going anywhere. They are such a great a way to add colour, patterns and texture to a blank space. Don't limit yourself to just pictures, gallery walls have developed into a whole different beast – plates, mirrors, plants and lighting can all be incorporated into a gallery.
5. Create a dark and dramatic living room
Who says traditional dark coloured living rooms can't feel welcoming? Just make sure to use rich, textured accessories to warm up your space. Here the blush-pink velvet sofa livens up the otherwise moody forest green but still fits perfect with the overall colour scheme.
6. A minimalist living room can still make a statement
Trying to design a statement living room on a barely there budget (in which case see our frugal but fab living room ideas on a budget)? Or maybe you are decorating a rented flat and your options are pretty limited? No worries, a statement living room doesn't have to empty your bank account, and you don't need to loose your deposit over this. This living room may not have all the frills of our other examples, but we think the minimal, clean aesthetic is just as dramatic.
7. Choose statement lighting
Striking living room lighting is a great way add a load of interest to your living room – an eye catching standing lamp, an incredible chandelier or an unusual table lamp can make an instant statement in your living room (no new brightly coloured sofa or crazy bold wallpaper needed.)
West Elm have an amazing selection of statement lights similar to the ones below.
8. Try a monochrome colour scheme
When designing a statement living room you can't really go wrong with monochrome. But what we love about this living room is how so many different textures have been introduced, softening the over all look and making the contrasting colours look less cold.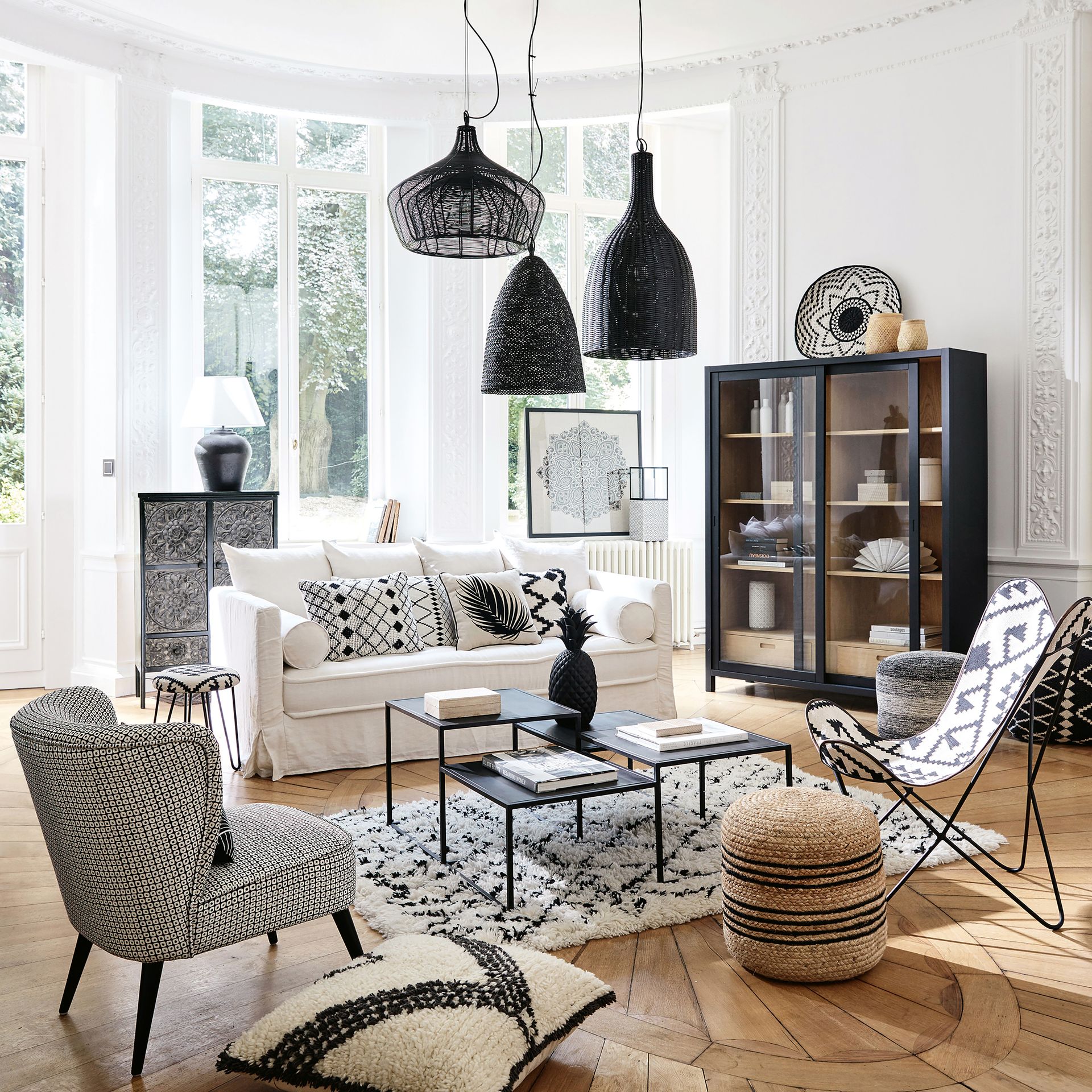 9. Liven up your living room with eclectic pieces
Nothing makes a statement in a room quite like a (healthy) mix of unusual furniture and a smattering of pieces from different eras. Go with an unoffensive neutral backdrop, as can be seen here, try to stick to a colour pallette and then go to town adding unusual shapes, patterns and textures to the space.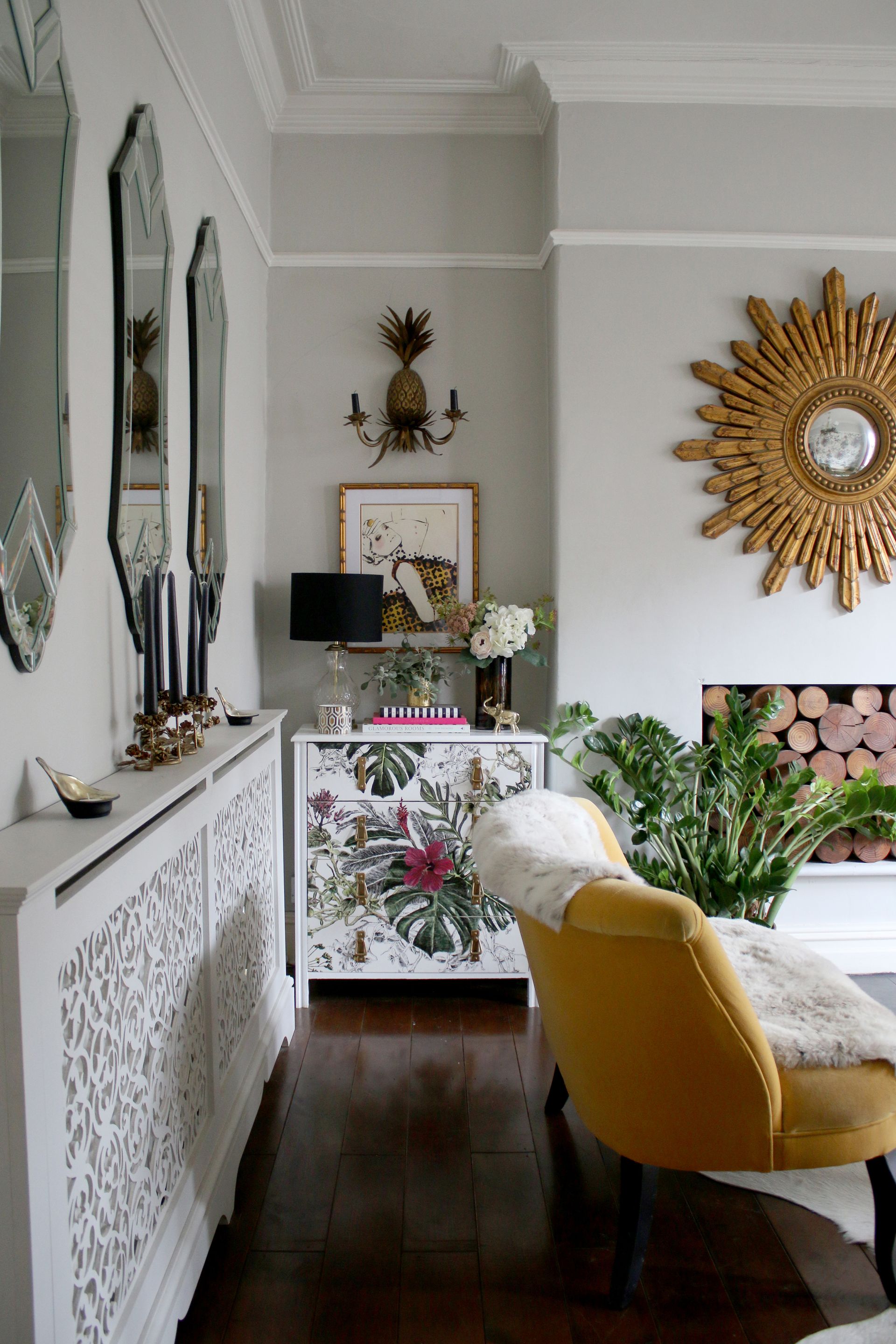 10. Pick out non-traditional living room furniture
So you've got your sofa, armchair, coffee table, TV... but try and think out of the box and add in some furniture you wouldn't expect to find in a living room – a hanging swing chair or a day bed can make a statement alternative to your standard three seater.
Want more living room inspiration?