On the hunt for some living room ideas on a budget? As the name would suggest, we live hard in our living rooms. It's where we relax, entertain, drink coffee every morning (and wine every night). It's where we shamelessly eat dinner off a tray and stay up all night bingeing on boxsets.
But if you're designing a new living room and your budget is pinched, where do you start? We'd suggest here: with our affordable living room ideas and tweaks that are small on spend and big on style.
From popping up a roll of wallpaper to painting your existing furniture, there are plenty of easy DIYs and cheap switches you can make to your living room without having to spend a ton. Most of the ideas you find here come in at under $100 and can be achieved in under a weekend, so just keep scrolling to be inspired...
1. Rearrange the furniture
Before you buy, re-envision what you already have. Refocusing the layout could allow you to update your living room without splashing out. So, rather than following the same traditional layout in your living room – coffee table in the middle, sofas pushed up against either wall, TV at one end – why not try something more interesting, like pulling your furniture away from the wall; or using a piece of artwork as a focal point (rather than the TV); or even just de-cluttering and clearing out some furniture to make the living room feel larger.
2. Shop your own home for living room ideas on a budget
Before you go blowing your tiny budget on new pieces, look around your house and see if you can borrow anything from other rooms. You may find that a piece of furniture lingering in your bedroom would work so much better in your living room or take a look in your loft or garage to see if any neglected pieces could be put to use again.
Top tip: If you come across a great find but it doesn't quite match your existing living room, painting furniture will bring it in line with your scheme.
3. Update your walls with artwork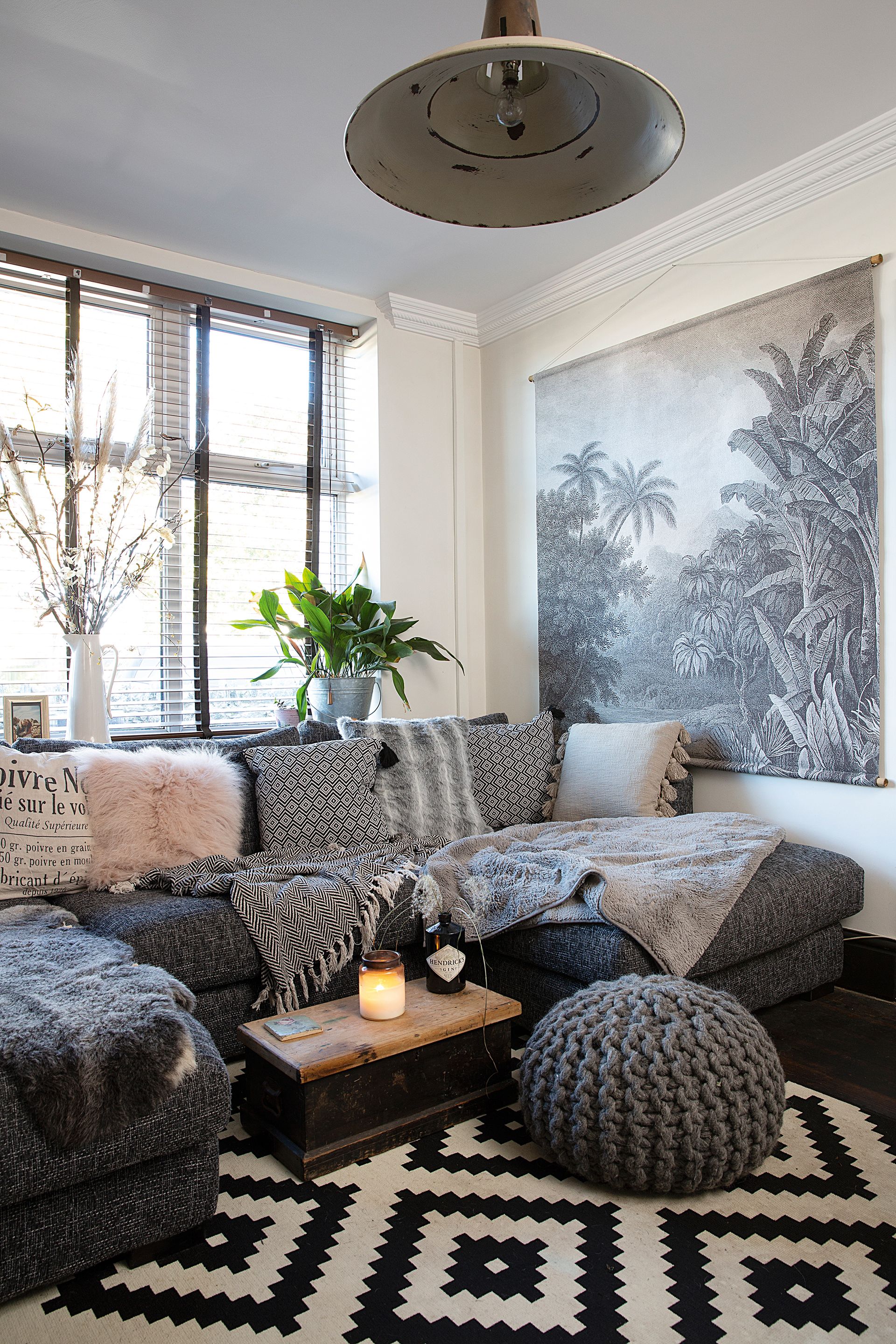 Want an alternative to displaying photos and pictures? Fabric wall hangings are a quick and cheap way of brightening up your standard-issue blank wall and of add an on-trend bohemian flare. In the case of wall hangings, you might not even need to buy anything new if you have an attractive bed cover lingering in a drawer somewhere.
4. Add greenery with house plants
Plants are an easy win to add to your design arsenal. They add color, shape and (literally) life to a space. There are some great places you can pick up inexpensive, high-quality foliage: Ikea have a great selection and are small budget-friendly. Larger house plants can however still be expensive so to create the illusion of your room being filled with lots of greenery, arrange groups of small plants at different heights.
Thinking of adding some common house plants to your space? Check out our guide and to create a full-blown indoor garden, we can help too.
5. Believe in the power of paint
One of the easiest living room ideas on a budget is to don your DIY dungarees and get painting. There is loads of good-quality, low priced paint out there, but if you really want to save you could just buy a small pot and paint one wall or alcoves for a pop of color.
6. Put up (then take down) removable wallpaper
For interior commitment-phobes or renters, removable wallpaper is a game-changer. Now you can get incredible wallpaper, cover your walls in it, remove it a couple of years later and still walk away with your deposit.
Etsy is a great source for peel and stick wallpaper; they have a plethora of different prints and loads of sizes to suit the space you are covering.
7. Or quickly add a mural
A great cheap living room idea is to incorporate a wall mural. This needn't mean spending ages pasting one to your wall or painting one yourself, you will find loads of large-scale prints you can just hang up in minutes. Plus wall murals are great if you are decorating a rented home since they aren't as you can pick an option that isn't as permanent as wallpaper or paint.
8. Create a gallery wall
A trend that has truly stood the test of time, gallery walls are a great way to cheaply fill a blank wall and give a room much needed personality. Use photos, record covers, prints – you could even frame fabric cut-offs or spare bits of wallpaper.
Desenio have a great service on their website, which helps you plan the layout of your gallery wall and choose prints and frames which work in your space.
Top tip: If you're renting your property and hammering hundreds of holes into the wall isn't an option, command hooks are a good solution or go with a picture shelf for minimal wall damage.
9. Switch up your cushions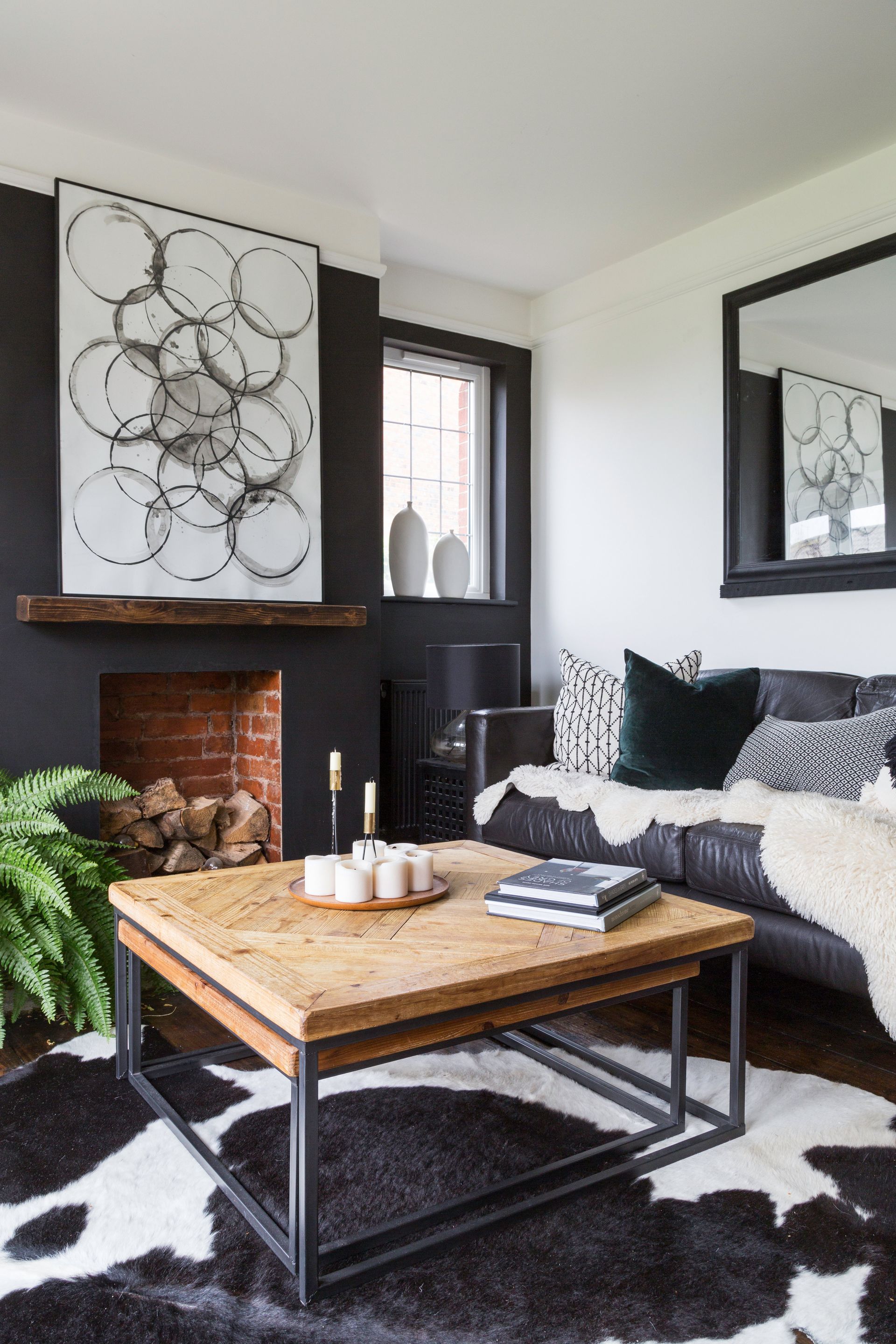 Cushions: the most versatile of soft furnishings. Available in so many different sizes, shapes, colors and textures, a few new cushions could be all your living room needs to feel refreshed.
10. Layer up rugs
Rather than spending money on re-carpeting your living room, copy this budget living room idea and hide the numerous red wine stains with layers of rugs. Rag rugs, jute rugs, Persian rugs, sheepskin rugs – more-is-more seems to be the rule. Mix up textures, colors and patterns to add interest to the space.
To keep the right balance between edgy-bohemian vibe and full on carpet shop, stick to a simple color palette and use neutral rugs, such as jute, as a base.
11. Give tired furniture some TLC
Nothing perks up a sad piece of furniture like new upholstery. Re-covering or reupholstering can completely change the look of old sofas and armchairs and is a great cheap living room idea. Reupholstering large pieces of furniture can be pricey, so a really inexpensive solution is to drape throws over sofa cushions, as seen below.
12. Mix up the lighting
Living room lighting is something that can be updated really quickly and doesn't have to cost a lot of money. Avoid making your room feel like an over-lit operating theatre by going for floor or table lamps at different heights; layering your lighting this way will create cozy pools of light that can quickly change the mood of a room.
13. Paint the floor of your living room
Okay so maybe this isn't a five minute job, but it's still a great budget-friendly living room idea. Painting floorboards is an easy weekend project that won't cost you too much and can completely change the look of your space. If you are brave enough we love love love the black floorboards in this living room and they are so on trend at the moment.
14. Update a living room with handy (but lovely) storage
Practical storage may not be the most exciting cheap living room idea, but containing your clutter and using your storage to add personality can really transform a space. If you don't already have the perfect living room storage, check out our ideas buuut if you do have some kind of bookshelf or open shelving use these to update your living room.
Regularly switch out what you keep on them, add artwork, photos, plants, books and magazines to create a new focus to your living room.
15. Splurge strategically
Invest in pieces that are the center point of your space, pieces that you can build the whole room around. It could be a pricey mustard yellow sofa that you've fallen hard for or an amazing piece of artwork. If you love it and it's going to completely transform a room then, hate to say it, it's probably worth it.
16. Match your wall colour to your furniture
SUCH an easy trick: matching your wall colour to your most dominant piece of furniture, if not exactly, then in the tone at the very least, creates an expensive look, on a budget. This trick tends to work best with neutral or muted schemes – don't expect bright purple walls and matching furniture to carry off the expensive vibe...
17. Curate interesting displays
A really easy budget living room idea, is to shop your own home and create displays that reflect your style and personality. Hunt around in thrift shops too for quirky pieces and find prints you really love to invest in.
18. Hang fresh new living room curtains
You get so used to how your living room curtains look, you probably haven't noticed that they have slightly faded, or that they don't match your space anymore. Switching out your curtains for something lighter, can make a lot of difference – making the room feel brighter and just so much fresher.
Top tip with curtains, hang them a couple inches above your window frame to add some height and make the window appear larger.
19. Go secondhand
Not only is buying secondhand furniture and decor usually cheaper, it's also such an easy way to bring some instant personality into your living room. Keep an eye of on places like Etsy, eBay and even Facebook Marketplace for pieces that speak to you.
Don't get carried away, keep a list of pieces you are on the look out for and note down the measurements you need to. Again, remember what a lick of paint can do to, so look out for shapes you love rather than colors.
20. Curate a coffee table display
Want an instant way to make your living room feel more expensive (on a budget)? Create a coffee table display. A nice candle, a stylish coffee table book, a vase of flowers, a couple of cute coasters and voila, the focal point of your living room now looks like something that came straight out of Pinterest but you've only spent a few bucks.