Into design but living in rented accommodation? It's easy to assume, as a renter, that your options for home design are limited; that living in a property you don't own means suffering at the hands of a landlord's poor taste in décor. However, that doesn't have to be the case: we have identified eight easy steps designed to help you refresh your rental property, all of which can be achieved over the course of a long weekend.
By the way... these quick, easy and affordable design tips will make a home you own look pretty tasty, too.
1. Start with a deep clean and declutter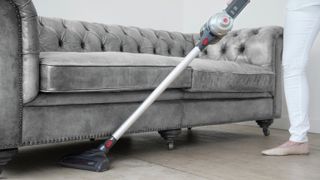 Before any real headway can be made, renovation-wise, it's time for an almighty clear-out. Yes, this means waving a fond farewell to the fancy-dress costumes accumulated during your university years; the spiralizer that's collected dust following your realisation that courgetti is not a legitimate substitute for pasta and the odd socks that lost their pairs long ago.
If you find the prospect overwhelming, take inspiration from Marie Kondo, author of 'The Life-Changing Magic of Tidying,' whose mantra 'does it spark joy within you?' has gained cult-status amongst wannabe tidy-uppers.
2. Reconsider how you use your space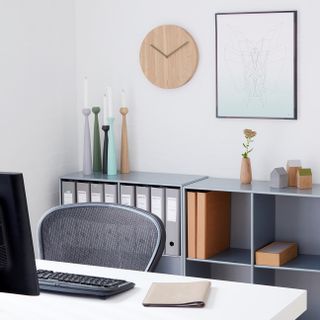 If, like many renters, you're a little space-poor, you may benefit from taking a moment to consider exactly how you use (or would like to use) every corner of your home. Whilst you can't pluck a home office, or a home gym out of thin air, you can create a zone within your home that serves this purpose.
So if you've always dreamt of a home office, but your reality is a desk in a corner of your living room, think about taking steps to refresh this space, transforming it into a functional and motivational work zone.
This can be achieved through the addition of small features: a noticeboard for inspirational images and a place to store your ideas; a wall planner that forces you to plan your days effectively; a desk that maximises your space; a new storage system to keep everything in order and a pot plant or two for a sense of zen, even in your most stressful moments.
3. Include the latest interior trends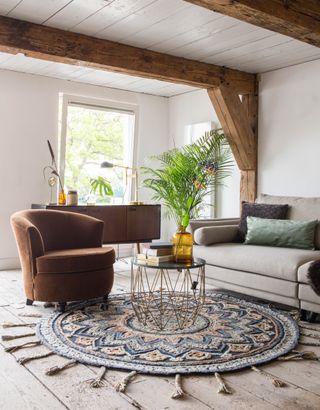 Whilst bold coloured walls may be on trend this season, they are probably best avoided when it comes to a rental property (good luck trying to convince your landlord otherwise!). So, keep walls neutral and use accessories to reflect seasonal trends; you'll be surprised how an update of your bedding, cushions and other soft furnishings will instantly refresh your space.
Whether it's embellishment, tropical themes or mixed metallics that have caught your eye, you're guaranteed to find furnishings that reflect this. We love this Dutchbone Round Pix Rug with Tassels, £349, from Cuckooland.
4. Install a picture ledge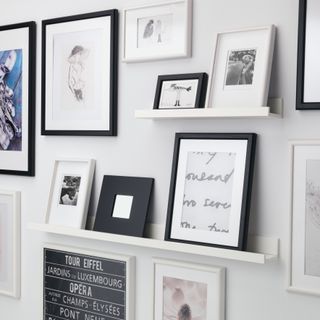 If you've always liked the idea of a gallery wall, but the prospect of hammering nails left-right-and-centre fills your landlord with terror, we have the perfect compromise. Installing a picture ledge, like this one from IKEA, can achieve the same impact as a gallery wall, but with less interior damage.
They're cheap, easy to fit and can be left behind when your tenancy comes to an end. If you like the idea, but don't know where to start when it comes to selecting prints and images, see our how to fit a floating shelf guide.
5. Give old furniture a burst of new life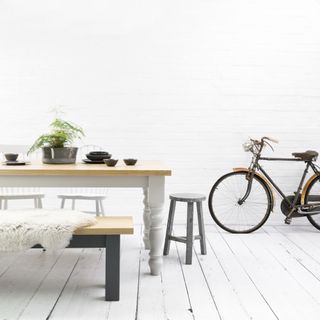 For those to whom DIY does not come naturally, the prospect of repurposing, up cycling or any form of furniture alteration, for that matter, seems potentially tricky. But take our word for it, this is an idea that anyone with a brush, a tin of paint and a desire to give an old piece of furniture a new lease of life can achieve.
Start by reading our guide to painting furniture and, with the help of some grey toned paints, you'll be on your way to achieving something like this Oak Dining Table, available from Farmhouse Table Company. You'll be amazed how giving an old piece of furniture a lick of paint can instantly transform it into a space defining piece (and for next to no money).
6. Banish bathroom blues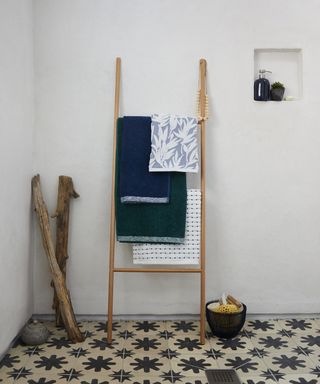 If the prospect of time spent unwinding in your bathroom makes you shudder, it's time for change. Whilst changes to fixtures and fittings may be limited in such a short time frame (and without a landlord's input) there are steps that can be taken to restore your faith in a relaxing tub-time.
Think about picking out a new shower curtain, investing in fresh towels, benefitting from the calming properties of plants and setting the mood with ambient candle lighting. We'd recommend taking a look at Dunelm's Zen Bathroom collection.
7. Bring the outdoors in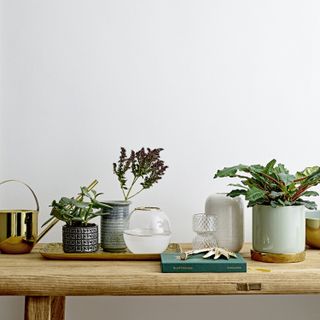 If a garden is but a distant dream (as is often the case in the renting world), that doesn't mean you should live without the calming properties of plants; in fact you should actively welcome them into your home!
If you're worried that a large house plant will overwhelm an already small living space, grouping smaller species together in assorted pots can be an effective alternative. These decorative Blue & Gold Stoneware Planters from Beaumonde make the perfect addition to any coffee table. Equally, if the idea of an oversized cheese plant appeals, we applaud you!
8. Create the illusion of space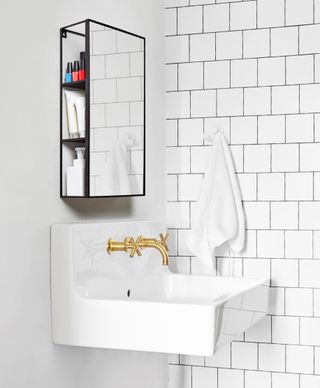 The addition of a mirror to a small or dark room is an easy way to make it feel instantly more spacious. Some, like this Umbra Cubiko Wall Mirror from Hurn & Hurn, even come with additional storage options, ensuring that space is maximised. Whilst in this instance this mirror is used in the bathroom, it would be equally suited to other areas of the home.
More ideas for making your (small) house a home: