Simple garden ideas have the potential to quickly transform your outdoor space without dedicating too much time, money or energy in the process. You might think this a challenge but, in fact, there are lots of easy tweaks you can make to your outdoor space – be it a small garden, balcony or big patio area you're working with. Plus, you won't need to try them all to see a significant difference, and create a chic space to be proud of.
A speedy and easy garden upgrade is usually on the cards when you're on a budget, working with a rented garden or just completely stuck for time. We spoke with Chris Bonnett, founder of GardeningExpress.co.uk who revealed some simple garden improvement ideas that will make a big difference to whatever outdoor space you have. 'Dilapidated sheds and crumbling walls that are an eyesore can be painted in wash away chalk for special occasions and bold outdoor ornaments can be used to draw the attention away. Those not wanting to spend a fortune on a rented space can plant in boxes or containers and bring in bold accessories to make the space their own. Renters should sick to non-permanent changes in the yard, but if something big needs changing it is worth getting written permission from the landlord.'
1. Paint old plant pots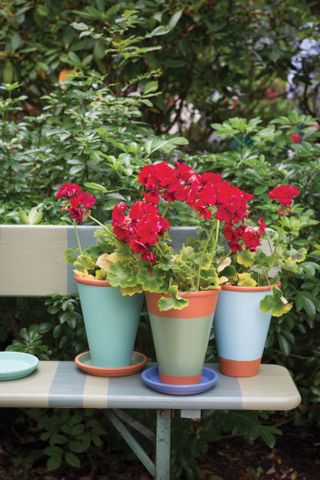 If you're into container gardening, you'll know that terracotta pots can begin to look a bit shabby over time. Painting them is a great way to liven up your garden. What's even better is you can use any paint you want on them, including indoor paint. These pots have been painted with Farrow & Ball paint.
Bonnett adds 'Those reluctant or unable to put down roots – both literal and metaphorical – in a rented property should opt for bit pots, If you have no soil to plant directly into, containers are a great alternative and will provide the conditions needed to grow flowers. Containers are a great way to let your personality shine. For the eco-conscious you can use an old wellington boot as a container or find a bright yellow pot to add some happiness and colour to the space.'
2. Sow seeds into cracks in paving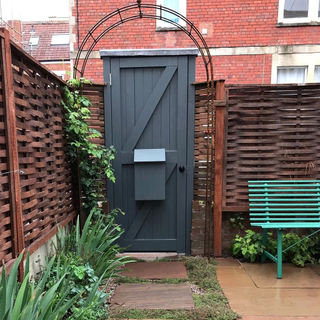 They're unsightly but you can make a feature out of cracks in paving. Or perhaps you're fed up with weeding the joins in the paving on your patio? Choose a low-growing, hardy perennial like thyme. It produces a scent as you walk over it and has pretty purple flowers, which will make bees happy, too.
3. Throw a seed bomb to grow a wild flower garden – fast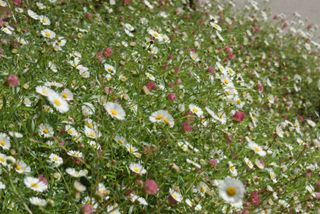 Want to grow flowers in your garden but not sure how? The easiest way to get started is to get a wildflower seed bomb and simply scatter the seeds in a designated area of your garden. Wildflowers pretty much take care of themselves, needing just sun and the occasional water. Besides, you'll be helping to create a bee-friendly garden this way, too.
4. Clean your patio or deck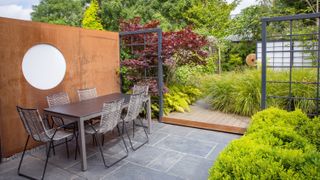 The overall look of your garden is hugely affected by the state of your garden paving and decking. Lichen growing all over deck? Patio covered in algae? Get to work with a quality patio cleaner or decking cleaner – you'll be amazed how much better your garden will look when you're done.
5. Put up a sun shade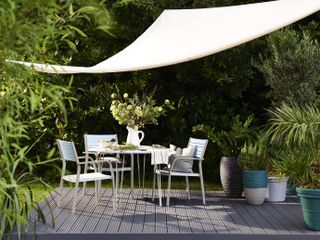 A sun shade can do more than just create a sheltered spot in a sunny spot: it will focus attention on a seating area, can provide privacy and can even block a terrible view. Of course, you can buy sun shades designed specifically for the purpose, but any washable fabric will work – the brighter the better.
6. Hang solar-powered fairy lights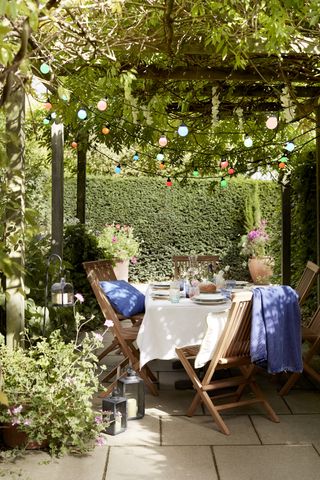 This is really the quickest update of them all – and one of the most effective come evening. Fairy lights add a cosy and romantic ambience to any garden, and distract from any features that are less desirable. Choose solar powered garden lights for an eco-friendly, super-fast update.
7. Freshen up your garden furniture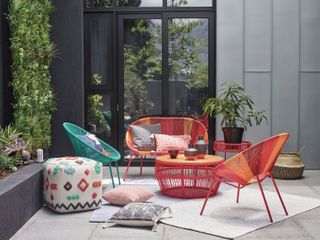 Garden furniture looking drab? Consider painting it – a simple job that can be done in a weekend – painting metal garden furniture is a quick and easy way to upgrade the look of your space.
Sometimes, though, what's holding your garden back from looking great is not the condition of your furniture, but its style. If that's the case, give your garden some oomph with the best garden furniture that's a bit more modern, more colourful, or even just more lightweight – or all three of those things.
8. Add detail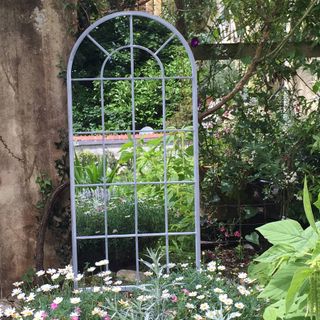 Detail is key with all small garden ideas especially if you've no time or energy to do an extensive update. Get a large mirror suitable for the outdoors and position it so that it reflects your tallest plants. The effect will be visually space-enhancing and charming. Note how the Outdoor Arched Window Mirror by All Things Brighton Beautiful reflects the luscious garden border in this garden.
9. Edge the lawn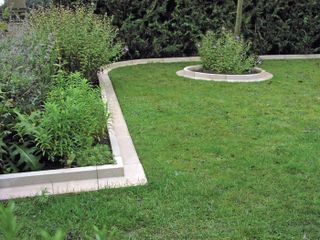 Lawn edging is an easy and effective solution for scruffy-looking borders, and for generally adding definition and poise to your garden design. There are lots of materials to choose from, and most lawn edging can be installed in under an hour.
10. Add garden cushions to make your outdoor dining area comfy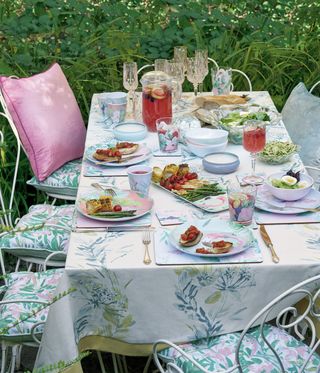 Get a couple of nice outdoor cushions, scatter them over your garden furniture – hey, presto, a brand new look for your garden. They're great for upping the comfort level of your al fresco dining, too, especially if you have a bistro set. This outdoor dining areas has been updated with cushions by Laura Ashley.
11. Feed the lawn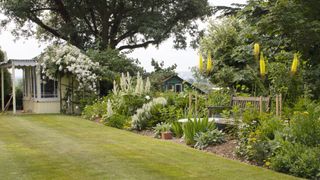 Feeding your lawn with appropriate fertiliser is essential for preventing excessive weed and moss growth, and will help the lawn recover better from mowing. Potassium, iron, and magnesium are especially important to healthy grass, so look for those when choosing your fertiliser. You can also add some rusty nails to your watering can (if you have a small lawn) – the iron in the nails will infuse the water.
12. Encourage wildlife with a bird feeder
It's true that it's very easy to make a bird feeder out of an old plastic bottle; but then you can get some that look like a work of art. Plus, the wildlife that will come with it is a bonus.
13. Create a mini vegetable garden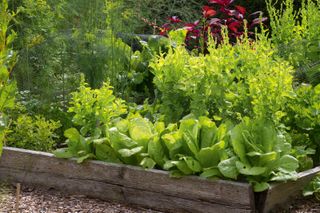 Got a patch of garden that's not doing anything? Why not start a vegetable garden? It's very easy and great gardening for beginners which can even be done within containers; fresh veggies on your dinner table will be a bonus, too.
14. Plant up window boxes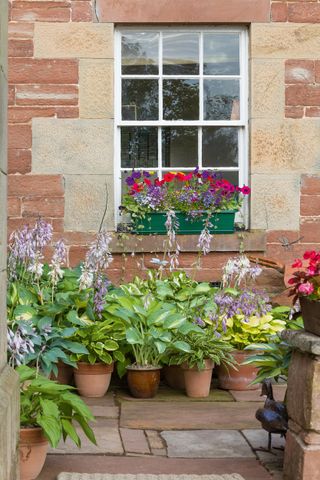 If the only outdoor space you have is a small balcony, or even just a window sill, you can still freshen up the area by planting up window boxes. Many plants don't need much room to thrive in and will add colour to your home's exterior.
15. Just add herbs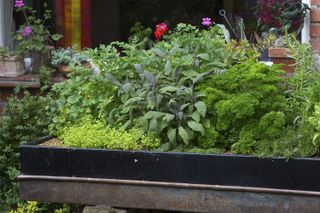 'Herb plants are perfect for beginners, or gardeners with little outdoor space, as they thrive on a windowsill or just outside the back door. Adding more flavour than dried alternatives, fresh herbs can give an added boost to many home cooked meals. If you're planting a few herbs at once, make sure they each have enough space to grow.' Says Bonnet, making them a simply brilliant addition to gardens that need a quick and easy update.
16. Do a little weeding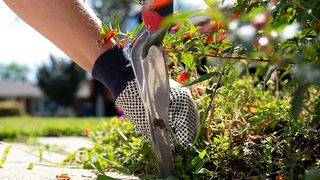 A little weeding will go a long way so it's worth taking an hour or so out of your day to pull up those plants that are in the wrong place. 'Weeds sprouting between paving and in lawns can instantly make an outdoor space look unkempt. Renters might have to start weeding from scratch, but it's important to keep on top of them when enjoying your space. You can create your own weed killer without chemicals by mixing vinegar, water and soap. For some weeds, one spritzing should be enough to kill them, but others may need spraying a few more times until it works.'
17. Accessorise your outdoor space with brights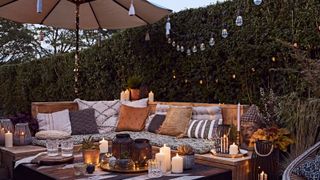 You don't need to spend loads of time or cash to make a cozy outdoor living room space super gorgeous and inviting. Focus on brights and a mixture of textures for the best effect. Bonnet adds, 'Renters will be amazed how quickly they can make their garden look inviting by adding a few accessories and a dash of colour. Hang some bunting or a chic picnic blanket and some throw cushions if the furniture budget is tight. Get the landlords written permission first but repainting a fence will take any outdoor space from drab to fab in no time.'
18. Zone your space with what you have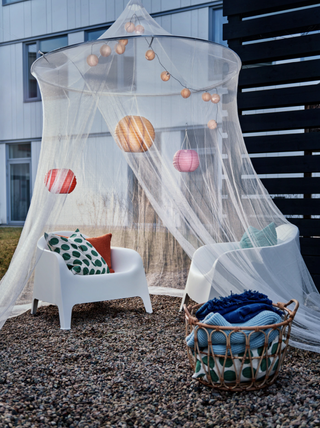 A quick layout change inside works as a great refresher with minimal effort so, why not do the same outside? Work with what you have 'Zoning the space by moving items around could give a rented garden the illusion of extra space, without drastically changing a thing. Move pots and plants to one area and create an alfresco dining space in one corner by moving all outdoor furniture, BBQs or tables.' You could even use different garden screening ideas and dividers to create the illusion of rooms – simply.
19. Update your planting scheme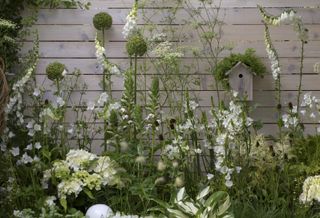 Tired of your flower borders looking the same every year? Update them with some colourful annual or perennial plug plants. For best results, choose a single colour, white or purple, for example, and organise your new planting scheme around it.
20. Paint fences and the shed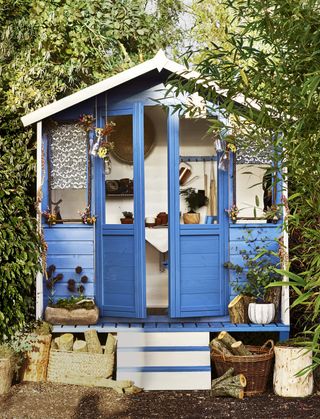 Another easy garden DIY project with lots of visual payoff: paint your shed. You can't go wrong with a lovely pale blue or duck egg shade for an instantly on-trend look. This shed has been painted with Garden Shades by Cuprinol. And while you're at it, you might as well repaint your fence as well. To make the job (much) easier, use a paint sprayer.
21. Add a quick and easy water feature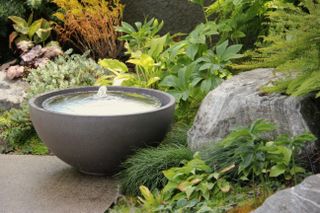 A garden water feature will instantly up the design game in your garden – and you don't need a massive garden to accommodate one. Choose a solar powered water bowl water feature – no costly or fussy installation, and no energy bills, although you may want a battery backup in case there isn't enough sun to generate the energy for the pump that moves the water around.
22. Add height with vertical gardening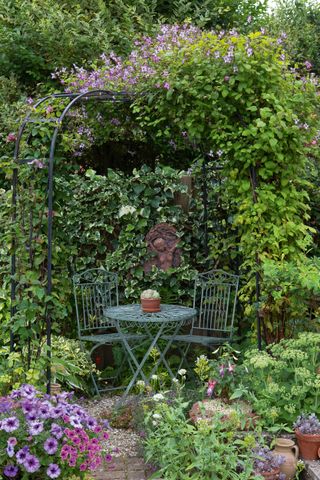 Use arches over pathways and wigwams and obelisks in borders to give the garden height. Why? Vertical gardening will make the garden as a whole feel greener and bigger – and taller planting can provide you with added privacy, too. Grow climbers like roses and sweet peas over your new structures.
23. Plant succulents in walls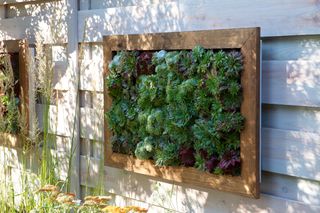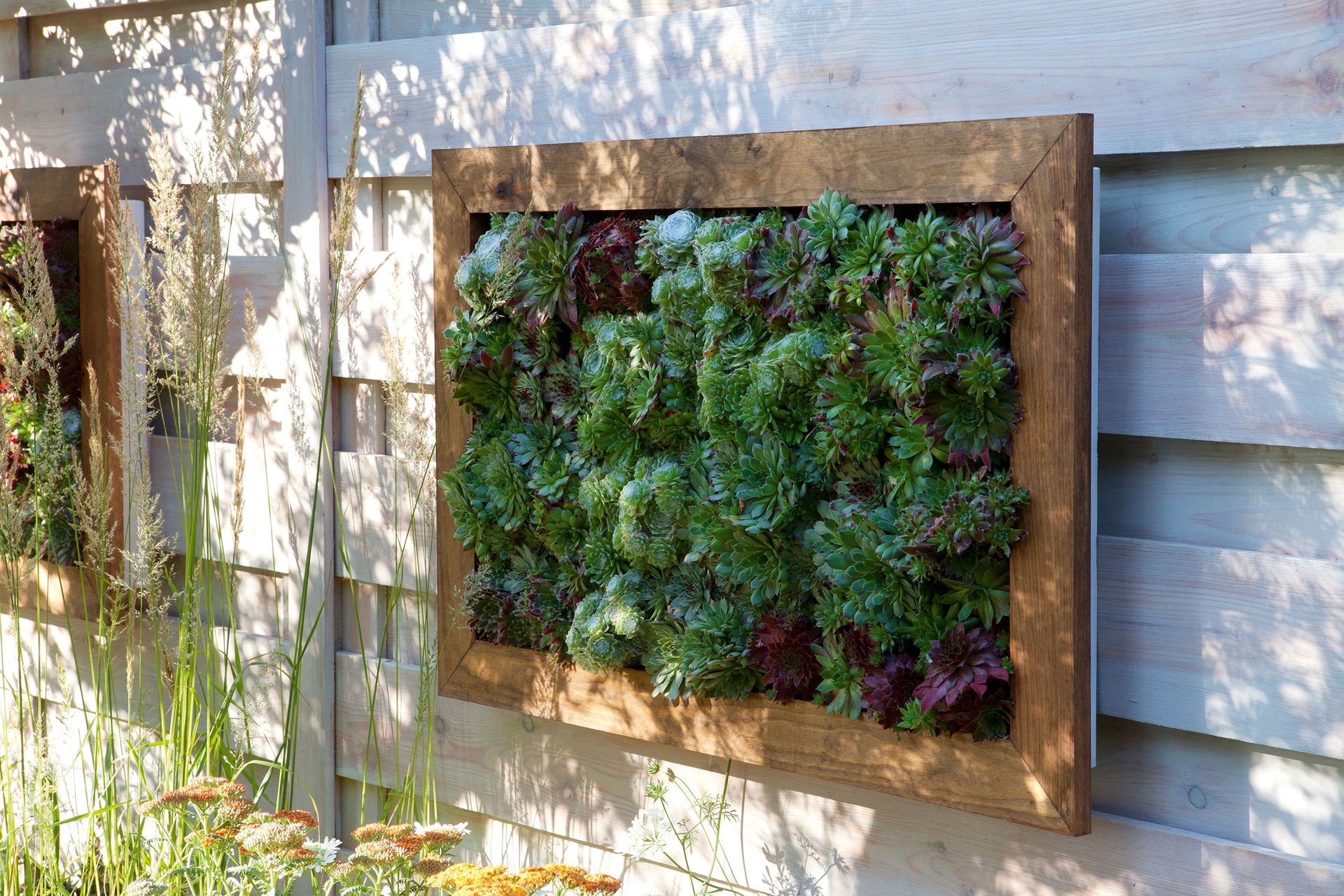 If your brick garden walls are showing their age, send succulents to the rescue. These pretty plants are also quite undemanding and will thrive even in gaps in your brickwork. To plant your succulents, push them in gently, first prepping the holes with a bit of grit or vermiculite. Then just leave them to it, as they don't need any watering. You can also plant them up in a frame and hang it up on your fence (shown below) to create a pretty focal point.
24. Line steps with containers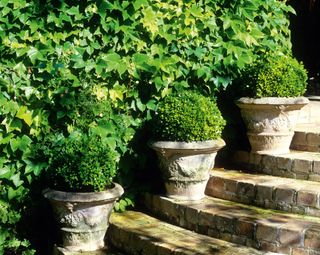 Use containers for creating a formal design scheme along your steps; a symmetrical arrangement will give tired garden steps an instant 'lift'. Lining steps will also draw the eye up the garden, which in turn can make a small garden feel larger.
25. Group pots around patio doors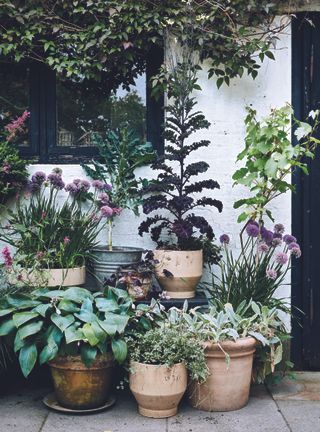 Another great way with containers is clustering them outside your patio doors or windows. This means you can enjoy them from inside as well as out and it will help to blend your indoor/outdoor spaces. Plus, even if the garden isn't lush with planting beyond the doors or windows, it will look it from indoors. Use a garden bench to add multiple levels and mix and match garden pots of different sizes and shapes.
26. Prune overgrown plants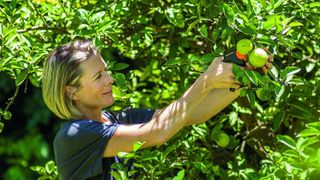 Another easy weekend job that makes a massive difference to any garden. Trimming your hedges and overgrown trees and bushes will instantly make your outdoor space look neater. You will need the best hedge trimmer and other tools for the job of course.
27. Mulch containers and borders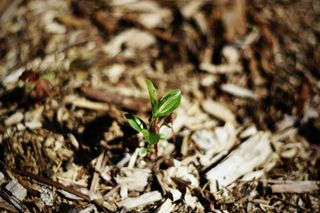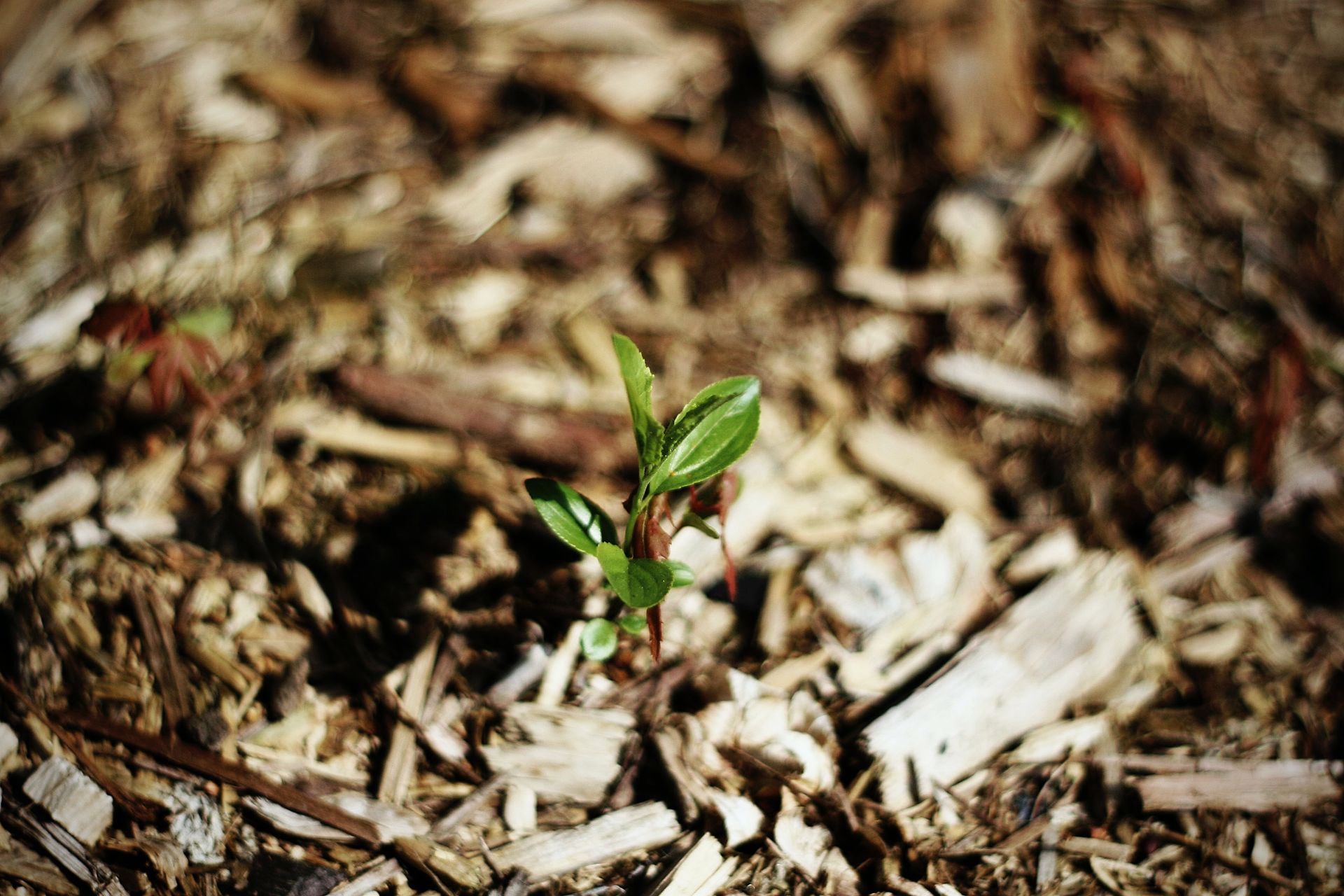 Mulching may seem like an unexciting task, but it's really great for keeping your garden in top condition and it can make borders look really smart really quickly. Mulching helps lock in moisture around the plants' roots and protects them from pests, so if there's a heatwave, your garden is much less likely to wilt and should need less watering, too. Bonus. Use wood chips, bark, or old leaves for your mulch.
28. Create a focal point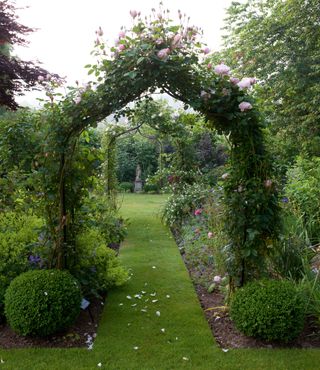 Larger gardens really come into their own with a focal point or special feature, for example a pergola. Pergolas, arches and arbours are very easy to build yourself because they usually come in kit form. And once you've built your pergola/arch/arbour, cover it with climbing plants and/or hanging baskets to create a shady spot for reading or picnics – or just to frame a view.
29. Add a DIY outdoor cooking station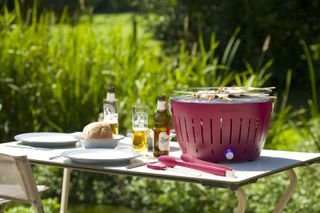 What better way to enjoy your garden than entertaining and feeding guests/yourself? And you don't need to spend a fortune or lots of time to create an outdoor kitchen space. Just grab a BBQ, your favourite garden chairs and you're done.
30. Heat it up with a fire pit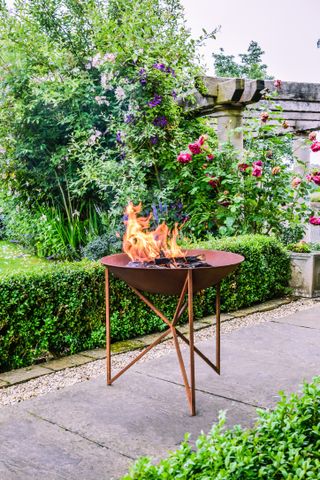 Fire pit ideas needn't be complicated. Choose a basic design, and during the day it's an attractive focal point for the garden but when the sun goes down, a fire pit can work magic, tempting partygoers to stay outside just that bit longer to bask in its warm glow. For safety, don't place it on decking or other combustible surfaces. This one burns wood or charcoal, and is not recommended for cooking.
Simple ✔️ Stylish ✔️