Need to paint a large space quickly? The best paint sprayer will help do the job. Paint brushes are good, rollers are great, but if you're painting your whole house, a paint sprayer is hard to beat.
Offering quick coverage and an even finish of the best paint for furniture, not to mention less risk of aching wrists or stray paintbrush hairs in your otherwise flawless gloss, paint sprayers can be indispensable to home DIYers and contractors alike. So sit tight while we help you find the best paint sprayer for the job at hand, then see the best paint brushes – the perfect tool to complement a sprayer.
What is the best paint sprayer?
Why you can trust Real Homes Our expert reviewers spend hours testing and comparing products and services so you can choose the best for you. Find out more about how we test.
Our pick of the best paint sprayer you can buy is the Wagner WallPerfect Flexio 585. It has a large capacity, it's easy to use and it's suitable for use with several different types of paint. A no brainer if you're asking us.
The best paint sprayers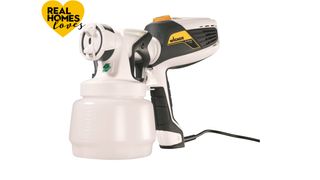 If you've got a large surface area to cover, this Wagner paint sprayer could make a very useful ally. It has the largest capacity tank of any sprayer on our list, meaning less stop-and-start action once you get into the swing of painting.
Its PerfectSpray attachment is suitable for use with gloss, wood stain, varnish and other solvent-based paints, and it also boasts a two-pattern adjustable jet, allowing you to easily adapt between spraying vertically and horizontally – plus there's variable air flow for a responsive, controlled spray. For its overall ease of use, it's the best paint sprayer on our list.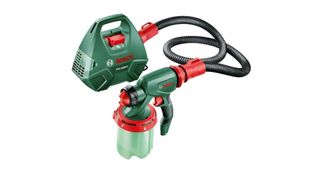 This paint spraying system from power tool aficionados Bosch is one of the most versatile on our list thanks to its ability to be used with a range of different paint types and a simple colour-coded swap-in system.
As well as the usual nozzle for thin wall paints, it comes with a separate interchangeable nozzle for use with thicker lacquers and glazes, and reviewers found it easy to fill, easy to clean, and simple to operate.
As an airless sprayer, it's understandable that some reported difficulty with indoor use, but for fences and outdoor furniture this is a great option. Also, we think it's the best emulsion paint sprayer you can buy.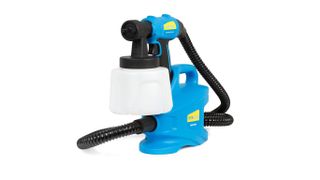 While the tank might be on the smaller side, making this Sitemate paint sprayer kit a better bet for small jobs than larger undertakings, its versatility makes it an endlessly useful tool to keep around, especially for whole-house projects using a lot of different materials.
It's said to be ideal not just for solvents, but for water-based paints, stains, varnishes, primers, wood preservatives and even automotive paints – so if your bike or car needs a touch-up, confident DIYers could even consider trying their own hand. Add adjustable flow rate regulator and three-pattern spray nozzle into the mix, and you have a very versatile little tool.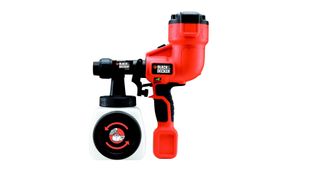 Another big name in the DIY world has turned their hand to paint sprayers, this time drill specialists Black + Decker. The company's expertise in the interiors realm has clearly been applied to this handy tool, as it's been designed with ease of use and the chopping and changing of jobs in mind. The unique flow control indicator and knob let you set the flow based on the type of paint you're using, and there's scope to adjust the spray pattern, as well as a setting for repeat application. The best feature, however, is inarguably the side-filling canister, which eliminates mess and fuss.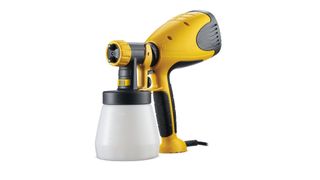 Stating suitability for all wood and metal surfaces, and compatibility with everything from undercoat to preservative, this Wagner paint sprayer is designed to suit DIY jobs indoors and out, although with the smallest capacity on our list, it's undoubtedly better for touch-ups than for huge projects.
The ability to fully adjust the paint volume gives you unrivalled control over the job at hand, and three spray patterns – namely vertical, horizontal and detailed – as well as that overspray-reducing HVLP technology, help towards a neat finish. Best of all, the Click & Paint handle makes refilling and cleaning a breeze.
How to buy the best paint sprayer
Type
The majority of the best paint sprayers above are HVLP paint sprayers – that's high volume, low pressure, referring to the amount of air the sprayer lets through, and with how much oomph. The low pressure output means less mess and waste, making these the best paint sprayer options for interiors. However we've also included one airless paint sprayer, the Bosch PFS 3000-2 All Paint Spray System, which uses a higher volume to create a wide spray for lots of coverage and an even finish. This makes it great for using paint in the garden on surfaces such as fences and decking, or large indoor areas, like when you're painting ceilings.
Capacity
Ranging from 800ml – 1.8 litres, the paint sprayers on our list can be used for large and small jobs alike. Be mindful of what you'll be using the machine for though, and how often, when choosing a machine based on its capacity, as some jobs are better suited for small areas, and vice versa.
Power
The higher the pressure doesn't necessarily mean the better the machine. The ones on our list range from 280w to 700w, however, our top pick of the best paint sprayer has just 370w of power. Depending on what you're using it for, you don't necessarily need a machine with a huge amount of power.
More paint recommendations: