Window boxes are both the perfect small space gardening solution for urban homes with only a balcony as outdoor space but, they make a classic addition also to the windowsills of country cottages with rambling plots.
Better still, the best window box ideas are easy to plant up, even for beginners, and you can choose a huge variety of plants that are sure to thrive and look beautiful in the space you have, depending on your window's orientation. Plus, they needn't be high maintenance. You can of course grow pretty seasonal blooms in window boxes, but frost-proof perennials can look smart, too. Whether you want to DIY your own or buy one new, use our guide below to plant up and secure your window box properly.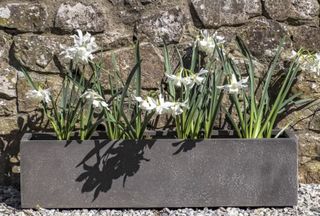 Window box planting essentials
1. Decide on the look you want
The first thing to think about is what style you'd like your window box to be, and to choose plants accordingly. Will the garden plant ideas you choose for your window boxes be elegant and formal-looking or are you going for a rustic feel with pretty flowers and trailing plants? Think of this as the early design stage for your window box display.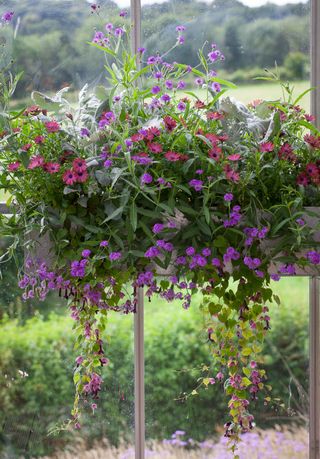 2. Consider maintenance
Next, you'll want to consider how much maintenance you want to give your window box. Fruit, veg and some herbs, plus seasonal flowers take up more time than perennials, for example.
3. Scale up and get the aspect right
Next, consider the shape and scale you'll create with your window box planting. The labels in plant pots or on the back of seed packets will tell you the growing habit of the plants (upright, trailing, etc), as well as their height and spread. Plants that grow very tall and upright won't suit a window box and may need more soil around their roots, so always stick to plants that are described as having a 'compact growing habit' or that can be pruned into a shape and size that is a suitable scale for the window box it's in.
Consider the location too, north-facing or south? This will help determine the best plants for the space.
4. Purchase or DIY your window box
Finally, choose the window box(es) that suit the look you're going for and your needs too. Window boxes themselves come in a wide variety of finishes, but are typically elongated rather than round, to fit onto windowsills. As a general rule, matching, rectangular-shaped troughs create a more formal look, and oval-shaped troughs or mismatched window boxes gives a more relaxed look. Remember too that DIYing your own is a great way to add character to all types of small space.
The best window boxes for your window garden will depend on your preference for materials, but also on how heavy you're prepared for your window boxes to be. Stone and Italian terracotta look amazing, but weigh a lot, so if you don't think you'll be able to move your window boxes, you might be better off with plastic or metal window boxes. Plastic also has the benefit of holding on to water better, which can be a benefit if you won't be able to water your plants regularly. Rattan or wicker window boxes will also be light, but you will need to change them every couple of years, as they will not be weatherproof.
5. Settle on your plants
With all of the detail decided, you'll now be aware of the plants you can have, making it easier to select the flowers you actually want. Flowers with a compact growing habit or trailing varieties look wonderful in window boxes. Lobellias, petunias, fuchsias, daisies, pansies, and pelargoniums all make for a wonderful window display, but you needn't stick to flowers of course, as herbs, evergreens and more will make for a cool and varied finish.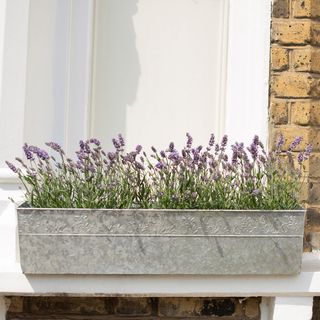 6. Prepare to plant up your window box
Planting window boxes is essentially the same as planting up any garden pot or container gardening (and many people mix pots and window boxes in their window gardens anyway).
Some window boxes are more like planters so it will just be a case of placing individual pots in there. If it's a more traditional window box then you'll need to think about drainage and potentially lining your box.
7. Drainage and lining
Ideally, all your window boxes should have drainage holes in them, but many on the market do not, in which case it's advisable to line the bottom of the window box with gravel, or chips from a broken terracotta pot to prevent water logging in the soil. Or, safely drilling a few holes in the bottom.
If your window boxes do have a lot of drainage, or if you have a wide gapped slatted design but still want to fill it with soil, you'll want to consider lining your window box.
8. Fill your window box
As you would with a container, fill your window box, lined or not, with your soil of choice. If there is a lot of good drainage and if you live in a warm climate, you can mix vermiculite into your compost to stop water evaporating too quickly. Leave room for the root balls of your plants and tuck them in carefully covering all the roots with soil – giving them the right amount of room as indicated.
9. Position your window box(es) in place
Some window boxes will be sturdy enough to stand alone on your window sill if it's wide and sheltered enough. But, if your windowsill isn't wide enough to hold a window box – or you don't have one at all – hanging a window box by fixing it to the exterior of your house with brackets, will be your best option. Bear in mind that you will have holes in your brickwork, and, if you live in a flat, your window box may be a safety hazard for the people below, if the brackets ever came loose.
To fix your window box with brackets, you will need a masonry drill bit, to protect your brick. Watch this handy step-by-step guide that demonstrates how to drill the holes and attach the brackets.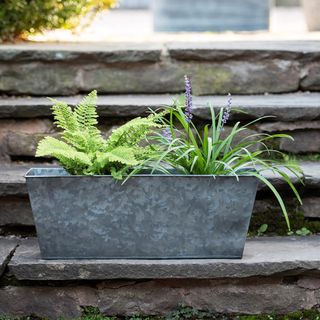 10. Care and maintenance
Try not to forget about watering your plants and trimming them if needed, especially if your window planter is attached to a balcony which gets direct sunlight as the top soil is likely to dry out pretty fast. Take care of what you're growing and you'll enjoy a year-round beautiful display.
What do you put in the bottom of a window box?
Window box liners can be used to prolong the life of your window boxes. Typically made from plastic or coconut fibre, window box liners create a buffer between your window box and the wet soil, preventing your container from cracking, discoloring, or rotting. Always choose the same size of liners as your window box or trough, and make sure the drainage holes align.
Then you can add an additional layer of gravel, small stone chips or bark to help with drainage as noted in the method above.
Plant up!