Learn how to clean a patio properly and transform your outdoor space almost instantly. Sprucing up patio slabs goes a long way to make your yard a far more appealing place to be, so it's well worth putting in the time and effort to remove all of that dirt and algae, built up over the winter months.
Algae, mold, and organic stains all affect patios over time, especially if you live in a rainy climate with cooler winters. An annual clean come spring is a must if you want to keep these problems at bay and enjoy the natural color of your slabs, whether they're made from stone, cement, or concrete.
With just a bit of effort and the right equipment, most patios can look as good as new in a matter of hours. There are lots of different ways to tackle your patio, post-winter, from buying the best patio cleaner to taking on the job with a power washer and more.
How to clean a patio
If you want to get the most out of your patio ideas this summer, you will want to learn how to clean patio slabs in the most effective way, preferably without too much elbow grease.
The best way to tackle a dirty and stained patio will depend to some extent on what state it's in following the winter's onslaught. A patio that's only a tad grubby can probably be cleaned with soapy water.
If you're looking for an eco-friendly approach, then our household favorite vinegar is a possibility and can do sterling work outside the house just as it does in kitchens and bathrooms.
Prefer to use a specialist product? There are some brilliant options out there, including biodegradable and pet-friendly versions. However, before you invest in a patio cleaner, you should make sure you understand what type of dirt you're dealing with. Deni Ivanov, the co-owner of Royal Cleaning, recommends 'determining what's the cause and whether or not the spots are made of algae or mold. Once you determine that, you can choose whether to use a fungicide or an algaecide cleaning
agent.'
The best pressure washer could help you turn your patio from marked to marvelous again, too, although this method is 'the preferable option if you're going to do it regularly and won't allow black spots and algae to build up over time.'
Here's the detailed lowdown on each method.
1. Clean a patio with soapy water
If your patio has come through the winter in fairly good shape, a soap solution might be all that's needed for your patio cleaning task and can return it to its former glory. Tidy away any furniture that's spent the winter on the patio first, then brush loose debris from the surface, and pull up any weeds.
In a bucket, make up a soap solution with warm water plus dish soap or soda crystals. Pour the solution over the patio and use a stiff brush to clean the stains away. You can rinse with clean water when you're done, using the hose or a pressure washer on a low setting (see below) if it's easiest.
2. How to clean a patio with vinegar
More set-in stains might need the extra power of vinegar to lift them and clean the patio thoroughly. Although vinegar is eco-friendly, do bear in mind that it is acidic, so clearing the patio of furniture or pots before you start is vital. As with using a soapy water solution, use a stiff broom to brush the patio clear of debris before you begin as well.
Make up a 50:50 vinegar and water solution, and apply to the paving – using a watering can will help you get even coverage. Leave the solution to soak for around 20 minutes, then use a stiff brush to remove stains. Once you're done, mop with clean water. Leave to dry before you put anything back on to the patio.
Patio particularly stained? Use more vinegar than water in your cleaning solution.
3. Clean with a classic patio cleaner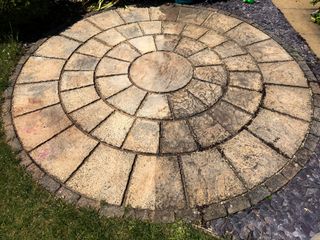 Prefer the idea of transforming a stained and slippery patio with a product made for the job? Our number one is Ultima-Plus XP Ultimate Patio Cleaner. You'll need to keep an eye on the weather forecast when you use this cleaner as it shouldn't be applied when rain is expected within eight hours. As well as cleaning, this product promises to prevent re-growth for up to six months. You can use it on decking, fencing, roofs, sheds, greenhouses and more as well. It's safe around children and pets once the area is dried, and it's biodegradable.
For an organic cleaner, try Algon Organic Path & Patio Cleaner. Again, you'll need to get your cleaning in when there's no rain expected and the patio is dry. Simply make up a solution according to the instructions, and apply to the patio with a garden sprayer, soft broom or paintbrush. This cleaner doesn't need scrubbing or rinsing. Be patient, though. Results should be apparent within a week or so and it will stay active for months to come, the manufacturers say.
Do take into consideration what your patio is made from when you're buying a patio cleaner. Some contain acid which can damage some types of stone used for patios –particularly natural stones like limestone, travertine and some sandstones. Colored concrete can also be affected by acid. If you're not sure what your patio pavers are made from, test an inconspicuous area before going ahead.
4. Clean your patio with a pressure washer
A pressure washer can be an extremely effective – as well as easy – way to clean your patio. Bear in mind that some suppliers don't recommend using a pressure washer on their paving, and if you're not sure yours will stand up to this treatment, do test somewhere inconspicuous first.
Clear and sweep the surface before you start. Start with a lower setting and increase pressure carefully as needed; avoid using a high pressure on any chipped paving. Use a low angle and a fan setting if available. Clean section by section so pressure doesn't become concentrated in some areas.
5. How to clean a patio with baking soda
If you want to know how to clean patio slabs but don't have any vinegar handy, you can try baking soda. Cleaning expert and author of Germinator Tricia Holderman shares a tried-and-tested method: 'Add a cup of baking soda to a gallon of water, let stand on the patio for 30 minutes, longer if stains are harder. Rinse with water.' This method is especially good for patios that have organic stains on them – think splatters from your best bbq or dog wee. Baking soda will have some limited effectiveness for algae and mold, so you'll just have to see if it works for your slabs.
How do you clean a patio without a pressure washer?
If you want to clean a patio without a pressure washer, you'll need to opt for one of the methods above. A soapy solution can be all that's required for patio cleaning, and if you're not sure what's best, why not start with this method, as you'll likely have everything you need to get on with your patio cleaning right away.
Most of us have vinegar in the store cupboard as well, so this is the cleaning remedy to try if stains remain after you've used soapy water and a stiff brush. Worried about the smell if you use vinegar? Don't be. It will disperse rapidly after you've rinsed the patio.
A specialist patio cleaner is your friend if these methods don't cut it, but always check it's suitable for the material from which your patio is constructed (see above).
How to remove green algae and how to clean a patio with bleach
Yes, you guessed it, removing green algae from a patio does often require bleach.
In fact, using bleach is a simple way of solving what might look like a big problem of a patio that's turned green. All you'll need is the type of household bleach you probably have already. However, it's best to avoid a product manufactured to stick to a toilet bowl as the aim is to spread the bleach evenly over your patio to clean it.
To use bleach put water into a bucket or watering can, then add an equal amount of bleach. Apply evenly to the patio, and be careful not to get any on surrounding plants or grass – rinse thoroughly if this happens.
Leave the bleach solution to work for a few minutes, then rinse the patio thoroughly with clean water. Don't forget to rinse your watering can or bucket.
Be aware that you may need to repeat the treatment if the algae is stubborn.
How to prevent algae from growing on your patio
If you feel like you're fighting a losing battle with algae on your patio, you will need to up your cleaning regime. You don't need to use a cleaner every time, though: what you really need is a stiff brush or broom, and to brush away dead leaves very thoroughly. Algae feed on decomposing organic matter, so keep your patio debris free. Once it's off, choose one of the slow-working patio cleaners on our list and use it for effortless results. These work over time to prevent regrowth, too.
Will bleach damage my patio slabs?
Bleach can be effective but it is a harsh cleaning agent and should only be used as a last resort. Ray Brosnan of Brosnan Property Solutions warns homeowners that bleach can damage 'certain types of slabs, namely block pavers and man-made colored concrete. If used repetitively, the bleach can fade the color of the slabs. Also be careful if your slabs are located around any greenery or plants, if the bleach solution comes into contact with any of this plant life it will shock and kill it.'
How do you deep clean patio slabs
Whilst you can clean patio slabs using a patio cleaner for a thorough clean your best bet is to use a pressure washer. These offer incredible, instant and very satisfying results, and you need only go over your patio once or twice a year, weather dependent. You can also pair a pressure washer with one of these solutions, if compatible, for a deeper clean, to remove bacteria, deodorize and to prevent moss and lichen.