These low-maintenance garden ideas will make a big impact on your outdoor space without requiring much upkeep. If you're not particularly green-fingered but still want to enjoy a stylish outdoor space, fear not: it's not really necessary to have a complex and high-maintenance planting scheme to create a beautiful garden. In fact,  plenty of patios and decking areas don't have many plants at all and still look great. These tips will help you get there – and then sit back and relax. 
From artificial plants to statement furniture and minimalistic styling, we've compiled the key ways to create a low-maintenance garden – a space that's beautiful all year round, with absolute minimal effort. You can thank us later.
For more garden ideas, head over to our full feature next. 
1. Go faux for a lawn that's always luscious 
A fresh green lawn is the stuff of dreams for many of us, but the upkeep can be more than a little bit taxing. If there are a thousand and one things you'd rather be doing at the weekend than lugging your lawnmower out the shed again, faux is the way to go. Advances in technology mean that artificial grass, such as the above from Carpetright, looks and feels more like the real deal than ever before. And whatever the weather, it always looks perfect, creating a solid, luscious base for the rest of your scheme to work around. 
2. Choose classic decking for a no-nonsense space
Decking can sit back in both a contemporary and traditional style gardens, and this, along with its easy maintenance, makes for an increasingly popular patio choice. The latest technology means that decking is now UV resistant, preventing bleaching, and rot repellent, so the only upkeep necessary is the occasional sweep with a soft broom. This plank layout is timeless, but chevron and herringbone patterns are creeping into our gardens too. Watch this space, as we expect to see much more of this in 2021. 
For more decking ideas check out our full feature. 
3. Create an artificial living wall for those natural vibes
Love plants? Course you do! Tired of killing them? We hear you. If you're a notoriously bad plant parent, this doesn't mean you can't get that back-to-nature look in your garden. This living wall is made up of artificial wall mounted plants  that you can use indoors and out, giving you all the relaxing feels that plants bring to a space, without the challenge and responsibility of keeping them alive. 
4. Add colour with furniture, instead of flowers 
Low maintenance gardens needn't be dull. If you want a bright pop of colour, without the risk and upkeep of fragile flowers, look to your garden furniture instead. This Ipanema four seater sofa set from Argos comes in a vibrant coral, which brightens up this simple, modern garden instantly for a fun and friendly space. Add extra interest and texture with patterned cushions, and even an outdoor rug, to make your garden feel more like another room of your home. 
Find more of the best garden furniture in our buying guide. 
5. Go minimal with hardy materials and clean lines
A less-is-more approach to a garden scheme is both stylish and practical. Using slab tiles such as these from Tile Mountain throughout your whole space means maintenance will be kept to an absolute minimum. This is a great opportunity to create a seamless flow between inside and out by matching up your exterior and interior tiles. Installing angular high-rise borders and built-in seating ensures a fuss free space that's tranquil, sleek and easy. 
6. Use outdoor lighting to create a cosy ambience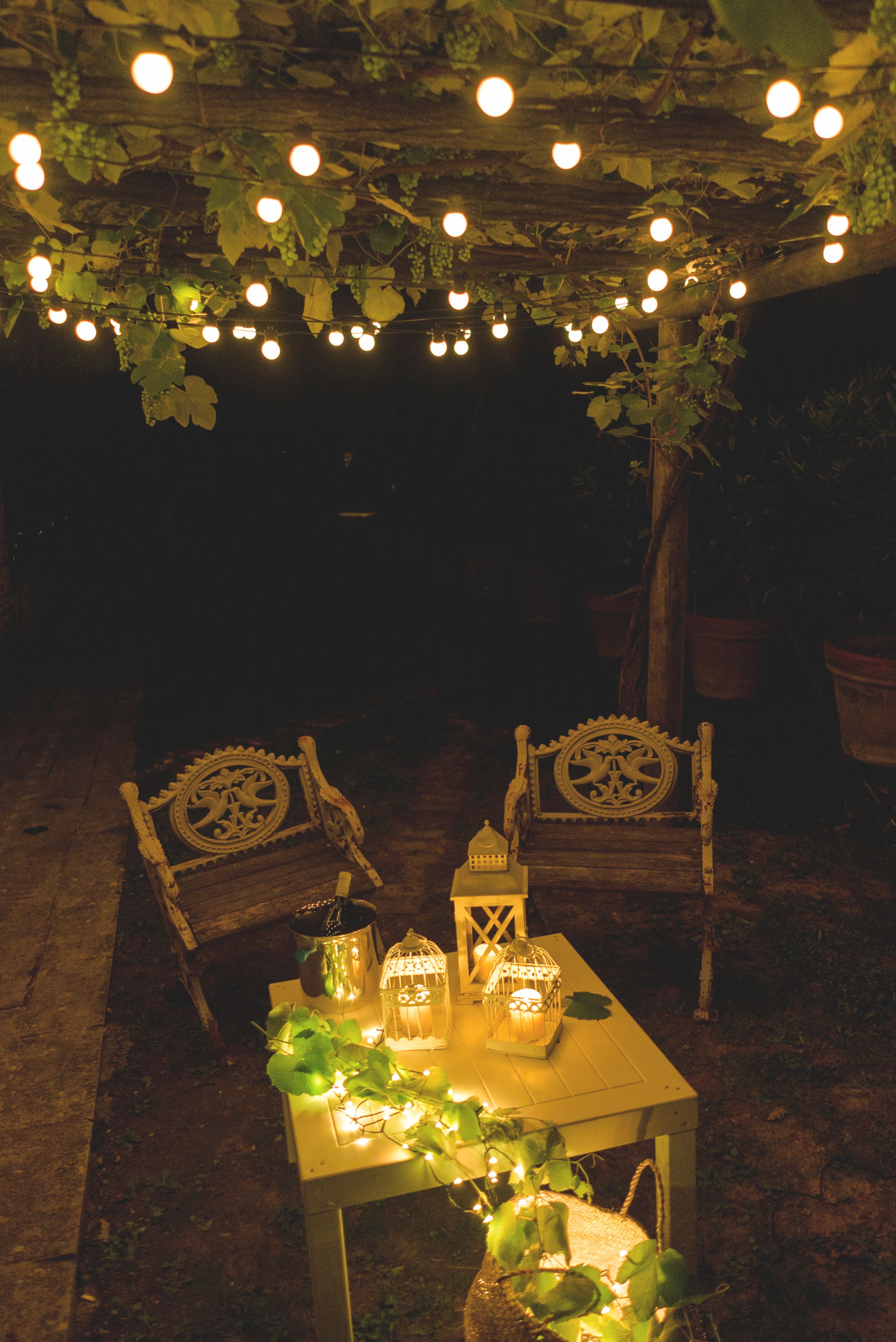 Garden lighting is one of the easiest low-maintenance garden ideas that anyone can experiment with. Solar lights are the most low-maintenance option – you don't even need to remember to switch them on and off – but if you want to adorn a shady spot in the garden, consider Twinkly LED lights that can be controlled remotely from your phone. Even a simple string of festoon or fairy lights will make a huge difference to how your patio area looks in the evenings. 
7. Create interest with a water feature
Water features are low maintenance but high impact additions to any garden, but they really come into their own in small courtyards and patios where there isn't space for many plants. Most water features recycle water, so you don't really need to maintain them. For a stylish, contemporary effect, consider hiring a landscape designer or architect to install a permanent, built-in water feature, like this beautiful cascading fountain by My Landscapes. Or, read about garden water feature ideas in our guide, which includes tips on getting a freestanding fountain. 
Read more: