If you're looking for the best microwave for your home, take a look at our top picks from Russell Hobbs, Swan, Sharp, Panasonic, and more. We've featured a range of microwaves for any kitchen, meaning you'll be able to kit out your space with a multifunctional grill microwave combo, or simply cover the essentials with a small but mighty model.
We've stuck mostly to the freestanding options, which will be suitable for renters and homeowners alike, but for those who want a built-in, we've also included our top pick. We're working on reviewing the complete list below, but for those that aren't fully reviewed, we've based our ranking on user ratings and popularity at online retailers, while bearing in mind their price tags. For more kitchen essentials, check out the best air fryers with reviews of some of the top options available right now. For more of the best microwaves though, keep reading...
The best microwaves to buy in 2023
Why you can trust Real Homes Our expert reviewers spend hours testing and comparing products and services so you can choose the best for you. Find out more about how we test.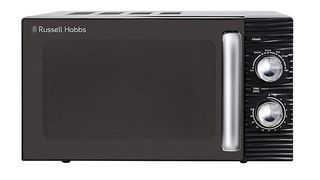 This compact microwave from Russell Hobbs is one which can match your kettle and toaster. Brilliant, eh?
What can it do?
This model is ideal for households who need a quick and easy-to-use microwave, without being too accurate with the timings. It has five power settings: low, defrost, medium low, medium, medium high, and high — which can all be selected by turning the designated dial.
Specs
It has a handy 17-litre capacity, which is large enough to put a plate of dinner in for reheating, and is powered by 700 watts. It comes in a choice of black or white in the Inspire range so you can match it with your decor, too.
Our verdict
Our appliances editor found this microwave super easy to use and keep clean, although fingerprints did quickly build on the door and side panel. It doesn't take up much space on the countertop either, which makes it a good choice if you have a small kitchen.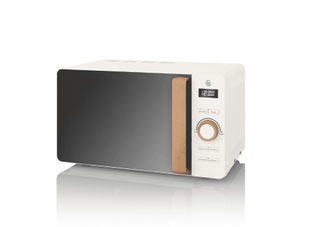 Looking for a microwave that won't be an eyesore in your kitchen? This small microwave from Swan is ideal for those going for a Scandinavian vibe or a minimalist theme in their kitchen.
What can it do?
The Swan Nordic Digital Microwave features six different programmes to choose from. These include a defrost option, an express programme for fast cooking, a micro power setting for blasting foods such as rice and leftovers, and many more.
Specs
Ideal for small families or those who don't heavily rely on their microwave, this Swan model has a 20-litre capacity and it has 800 watts of power behind it. We particularly enjoyed learning about all the different functions when testing. The manual is very thorough, which made using it a breeze!
Our verdict
We loooooooove the design of this microwave. Its soft-touch wood effect door handle and microwave control are gorgeous and the fact it comes in white and dark grey makes it a winner in our eyes. Also, it's not outrageously expensive! Result.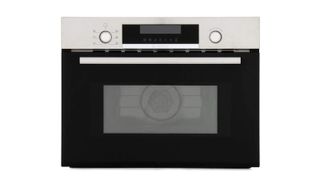 For those who don't have much counter space but have a big family, this integrated option from Bosch (who also do many of the best hobs and best ovens) is the perfect solution, and the best built-in microwave in our guide.
What can it do?
This microwave oven from Bosch features 15 pre-set programmes including hot air cooking; hot air grilling; pizza function; autopilot; four defrost programmes and fast heat performance.
Specs
Featuring a 44-litre capacity you can expect this microwave oven to make cooking for the whole family a whole lot easier. With a grill and 900 watts of power, you can rustle up anything from a quick afternoon snack to a full slap-up meal in this bad boy.
Our verdict
It's integrated, so it won't stick out like a sore thumb in your nicely decorated kitchen. Also, the fact it's an oven, microwave, and grill is very handy. It's big enough to use as your only oven.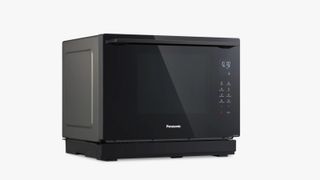 This 4-in-1 microwave from Panasonic is a great gadget to buy if you don't have a lot of space in your kitchen.
What can it do?
This all-in-one appliance combines steam, microwave, grill and combination oven functionality to offer fast, fresh gourmet cooking at home. It also features the brand's unique Genius Sensor technology and a wealth of Panasonic's additional USPs including Inverter Technology, Junior Menu Functionality and 36 convenient and family-friendly automated programmes which are included for easy and quick mealtimes at any time of the day. Also, due to the fact this appliance features a flat bed instead of a turntable, you get an extra 29% cooking space for larger dishes.
Specs
This microwave has a capacity of 31 litres and it comes with 36 auto cooking programmes so you can cook anything at the touch of a button. It also powers at 1,000 watts.
Our verdict
If you're looking to make healthier dinners fast but don't have the space to add a steamer to your kitchen counter, this microwave is the best combination microwave for you. All things considered, it's good-looking, easy to clean, and has a no-fuss exterior. Power? Check. Multi-function? Check. Looks good? Check. What's not to love?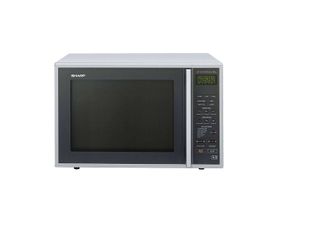 If you want to cook more than one thing at one time, then this is the best microwave for you, as it will allow you do so comfortably. And it can grill anything from frozen pizzas to meats. Students, we're looking at you!
What can it do?
It has two shelves and works as a convection oven and grill. It also has a defrost function and the grill is perfect for cooking pizzas from frozen.
Specs
With a large interior (40 litres) which is also easy to wipe clean, it's the closest you'll get to an oven, without it actually being just an oven. It runs at a decent 900 watts, too.
Our verdict
The perfect microwave oven for anyone with a small kitchen, because it saves the space of having a microwave and an oven. Put it on the countertop and leave cabinet space for storage.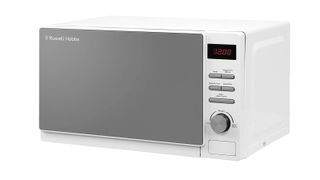 This sleek white small microwave from Russell Hobbs gets our vote for the best compact microwave, and for good reasons too.
What can it do?
This compact microwave is loved by users for its ease of operation, with no extra features or buttons bulking it out. It does, however, have a good range of automatic programmes to help you cook your food to perfection, and if you often buy frozen food, this microwave also has a special function that thaws food both quickly and hygienically.
Specs
At 800 watts, it's impressively powerful for its size. Despite its compact nature, its interior is surprisingly large – there is enough room to fit a standard-sized dinner plate. It is also easy to clean.
Our verdict
A great all-rounder and our pick for the best mini microwave...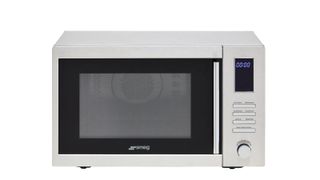 The style-conscious will love this modern combi microwave from Swan. And it's great for families thanks to its range of features, high wattage, and great-sized capacity.
What can it do?
The Smeg 34 Litre Combination Microwave Oven has modes to grill, microwave, and convection cook food. It can also defrost, and all of these modes are front and centre with buttons to select the best setting for you.
Specs
With 1000 watts of power, the Smeg 34 Litre Combination Microwave Oven is one of the most powerful models we've featured. It has dimensions of (H)31.4 x (W)51.9 x (D)50.7, so this isn't the smallest microwave on the market. It will be perfect for families though, especially on holidays when you need extra cooking space in your kitchen.
Our verdict
For those who are looking for both aesthetics and functionality, this combi microwave is ideal.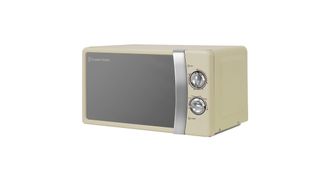 Available in black, cream, red, or rose gold, this compact microwave from Russell Hobbs is our pick of the best microwave for those after something that has no frills and gets the job done.
What can it do?
This manual microwave pretty much does what it's supposed to do. It's not an oven combi and can't grill, but it can warm up your food with ease in minutes. It also has a choice of five power settings and a defrost function.
Specs
It's one of the least powerful picks on our list at 700 W, but users have said it's great for reheating dishes as and when needed. It could make a good choice of microwave for a studio flat or maisonette due to its small size (although bear in mind the interior capacity is only 17 litres). The glass plate, however, is 25cm in diameter, which should accommodate most standard dinner plates.
Our verdict
Its cute, retro design might be just what you're looking for. If you're after something to simply get the job done, this is it.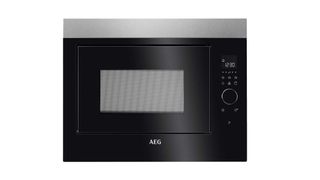 Need a built-in microwave for your kitchen but after something a little bigger to fit more food or larger plates? This is the best microwave option for you.
What can it do?
This integrated microwave has five different programmes and five different power levels. And it comes with a range of automatic cooking programmes, too. Cleverly, the machine lets you save up to three of your favourite settings to access them at the push of a button.
Specs?
Although the capacity isn't huge (26 litres), this microwave has a 32.5cm turntable for large dinner plates. Also, thanks to its decent 900 watt power level, your food will be cooked efficiently.
Our verdict
If you're after a larger sized built-in microwave then this is your best bet. However, it's worth bearing in mind the price tag difference from the Hotpoint MWH122.1X Built In Microwave and seeing if it's worth it.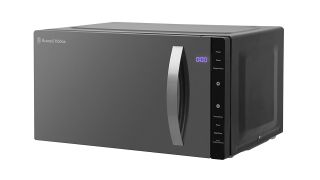 The Russell Hobbs Flatbed Digital Microwave is a great budget buy for those who want a sleek looking addition to their kitchen that simply microwaves the basics.
What can it do?
This microwave has five different power levels to choose from, as well as eight auto cook menus. This microwave can also defrost.
Specs
A smaller capacity (23 litres) and wattage (800 watts) than most, but the sleek black design with mirror door and clean lines puts this microwave high in the style stakes – but for a snip of the price of many similar options on the market.
What we think...
Although it doesn't feature the classic turntable inside, which allows for larger rectangular dishes to be placed within, we just love how easy it is to use. Without a doubt the best microwave buy for modern kitchens, and it's friendly on the purse strings, too.
Real Homes review process
Millie Fender is head of reviews on Real Homes. She oversees all of our review content, making sure that we're testing the latest and greatest products for the world of microwaves, coffee machines, and more.
Millie tested the Swan Nordic microwave, which impressed her with its value for money and its tactile finish.
What to consider when buying a microwave?
Where to buy the best microwave
Here are a few factors to consider when you are choosing the best microwave for your home and lifestyle.
Wattage
The higher the wattage, the quicker the cooking. Anything less than 700 watts and you may as well use the oven.
Capacity
A 20-litre microwave is small but will do. For cooking larger dishes, 35 to 40 litres is a better option.
Size
The average for a small microwave is 30 cm x 35 cm, but always check the inner capacity and whether your dinner plates will fit in.
Integrated, combi or freestanding?
If you are looking to free up kitchen space, opt for one that's integrated or has microwave, oven and grill functions (these are known as combis).