Don't fancy slaving over a hot stove? Fancy a quick bite? Buying the best microwave oven for your kitchen is a good move. This small appliance is a handy piece of kit: you can use it to heat up last night's dinner, make a quick bowl of morning porridge or to warm up a hearty lunchtime soup. Not to mention tonight's ready meal. We've found the best microwaves on the market, from budget options to top of the range models that boast some fantastic features.
If you're on the look out for more kitchen appliance recommendations, head to our appliance hub page for plenty of advice.
What to consider when buying a microwave oven
Wattage
The higher the wattage, the quicker the cooking.
Capacity
For basic microwaving needs, 20 litres is small but will do. However, for cooking larger dishes, we've found that a capacity of around 35-40 litres is a better option. Many larger microwaves don't have a traditional turntable to allow for big dishes to fit inside; these shouldn't compromise on even heat distribution.
If you are looking for a microwave to free up kitchen space, opt for one that has an integrated oven and grill.
Price
If you're looking for a good multi-function oven, some of the most technologically advanced microwave ovens will set you back around £200+. If you just want a high quality microwave to heat up your soup, there are plenty of options under £100 that look great and won't break the bank.
The best microwave ovens
1. HOTPOINT ULTIMATE COLLECTION MWH 2734 B COMBINATION MICROWAVE
It boils, air fries and steams foods; this is the best microwave oven you can buy
Specifications
Best for: All-rounder
Wattage: 800W-1700W
Grill: Yes
Oven: Yes
Capacity: 25ltr
Reasons to buy
+18 auto cooking programs+6 auto defrost programs+5 auto reheat programs +Can boil, air fry and steam+Sleek design
Reasons to avoid
-Not ideal for those who are looking for something basic
Need a microwave that can cook even meringues and chicken nuggets to perfection? This Hotpoint combination microwave can boil, steam, air fry, oven cook and grill your food – and it's been designed with taste in mind. The Multiwave technology ensures even cooking results; the Dynamic Defrost function helps your food to defrost as safely and quickly as possible; the Dynamic Crisp feature gives your food that golden crisp from top to bottom; and Crisp Fry technology fries your food using air frying, meaning it's much healthier for you. It has a generous 25 litre capacity, a huge range of cooking programs and six power levels to choose from. A bargain buy for those who want their next microwave to have all the best features.
2. Panasonic Freestanding 4-in-1 Microwave
Steam and grill with this microwave for fast and easy dinners
Specifications
Best for: Steaming
Wattage: 1000
Grill: Yes
Oven: Yes
Capacity: 27L
Reasons to buy
+ Steamer and grill + Auto-cook function
Reasons to avoid
- Expensive
This 4-in-1 microwave is a great gadget to have if you don't have a lot of space in your kitchen. It works as a steamer, a grill, an oven and is also perfect for defrosting foods, too. So if you're looking to make healthier dinners fast, but don't have the space to add a steamer to your kitchen counter, this microwave is the best combination gadget for you. It comes with 15 cooking programmes so you can cook anything at the touch of a button. All things considered, it's good looking, easy to clean and has a no-fuss exterior. Power? Check. Multi-function? Check. Looks good? Check. What's not to love?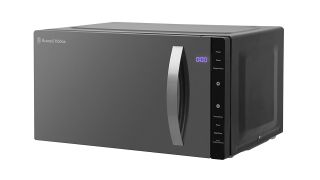 3. Russell Hobbs Flatbed Digital Microwave
No frills, but looks the part and doesn't cost the world
Specifications
Best for: Basics
Wattage: 800
Grill: No
Oven: Yes
Capacity: 23L
Reasons to buy
+ Affordable + Easy to use
Reasons to avoid
-Sometimes an uneven cook -Smallish capacity
The Russell Hobbs Flatbed Digital Microwave is a great budget buy for those who want a sleek looking addition to their kitchen that simply microwaves the basics. Although it doesn't feature the classic turntable inside which allows for larger rectangular dishes to be placed within, we just love how easy it is to use. A smaller capacity and wattage than most, but the sleek black design with mirror door and clean lines puts this microwave high in the style stakes but for a snip of the price of many similar options on the market. Without a doubt the best microwave oven for modern kitchens, and it's friendly on the purse strings, too.
4. Sage by Heston Blumenthal Quick Touch Crisp
A smart microwave oven with handy pre-settings for a quick and even cook
Specifications
Best for: Multiple cooking functions
Wattage: 900
Grill: Yes
Oven: Yes
Capacity: 34L
Reasons to buy
+ 'Crisping' function + Custom cooking settings
Reasons to avoid
- A bit too high-tech
It's safe to say that anything created by Heston Blumenthal is going to be a bit 'out there', and the Quick Touch Crisp Microwave is no exception. This microwave oven has a million and one features (not literally) that people seem to either love or loathe. We think it's great for preparing our favourite quick dishes with the utmost precision by using pre-set functions such as 'baked potato', 'grilled cheese', 'melted chocolate' and 'baked beans'. You can also use the 'crisp' function to get the perfectly crispy baked potato or cheesy pasta bake, or set your own custom functions for your favourite dish. The perfect microwave for gadget lovers, and the best option for anyone who has other Sage by Heston appliances in their kitchen as it follows the same design cues as the rest of the range.
5. Bosch Built-in Combination Microwave Oven
A combination microwave ideal for big families
Specifications
Best for: Families
Wattage: 900
Grill: Yes
Oven: Yes
Capacity: 44L
Reasons to buy
+Distributes heat evenly+15 pre-set programmes+Large capacity
Reasons to avoid
-Expensive-Has to be fitted
For those who don't have much counter space but have a big family, this built-in combination microwave is the perfect solution. Featuring a 44 litre capacity and 15 pre-set programmes, you can expect this microwave oven to make cooking for the whole family a whole lot easier. With a grill and 900 watts of power, you can rustle up anything from a quick afternoon snack to a full on slap up meal in this bad boy.
6. Whirlpool Absolute Built-in Microwave
Save counter space with this built-in microwave
Specifications
Best for: Space saving
Wattage: 900
Grill: No
Oven: No
Capacity: 22L
Reasons to buy
+ Anti-fingerprint finish + Saves counter space
Reasons to avoid
- Pricey for standard microwave - Small capacity
If you are renovating your kitchen and are thinking of ways to save space, then consider investing in Whirlpool's built-in microwave. A basic integrated microwave without any combination settings, the model heats food fast and has a Jet Start function which is perfect for reheating foods at the optimum temperature. It also has a sleek design with an anti-fingerprint surface so that your kitchen will always look gleaming. There are a lot of integrated microwaves on the market with more functions that the average person needs; this Whirlpool option is the best microwave oven for those who are after something which is simple, looks great and does the job.
7. Sharp 40L Combination Microwave
Cook in high quantities with this high capacity microwave
Specifications
Best for: High capacity
Wattage: 900
Grill: Yes
Oven: Yes
Capacity: 40L
Reasons to buy
+ Two shelves + Cook multiple things at once
Reasons to avoid
- Sometimes an uneven cook
If you want to cook more than one thing at one time, then the Sharp 40L Combination Microwave will allow you do so comfortably. It has two shelves and works as a convection oven and grill. It has a defrost function and the grill is also perfect for cooking pizzas from frozen. With a large interior which is also easy to wipe clean, it's the the closest you'll get to an oven, without it actually being just an oven. The perfect microwave oven for studio flats or anyone wanting to get food cooked fast, without waiting for the oven to heat up!
8. Swan Retro Digital Solo Microwave
A basic but stylish microwave for a retro kitchen
Specifications
Best for: Style
Wattage: 800
Grill: No
Oven: No
Capacity: 20L
Reasons to buy
+ Stylish + Affordable
Reasons to avoid
- A bit small - No grill or oven
For those who are looking for both aesthetics and functionality, this Swan Retro Digital Microwave is ideal for a gadget that will look good on your kitchen countertop. Although it only has a small capacity, it's basic and gets the job done nicely for all of your favourite quick and easy meals. Available in a range of different vibrant colours, you're bound to find one to match your décor perfectly. It may not blow your mind with any cool functionality like the Sage option in our list but, if you have a colour themed kitchen, this microwave comes in blue, green, orange, cream and many more colours; perfect for style-conscious home owners.
9. Hotpoint Curve Solo Microwave
A small microwave that won't take over your kitchen counter
Specifications
Best for: Compact design
Wattage: 700
Grill: No
Oven: No
Capacity: 13L
Reasons to buy
+ Compact + Affordable
Reasons to avoid
- Basic - Small capacity in comparison
If you have a small kitchen but can't afford the Whirlpool Built-in Microwave, then this is a great alternative. The Hotpoint Curve Solo Microwave is the best microwave oven for small kitchens on our list. Although small on the outside, its 13 litre capacity can fit a standard sized dinner plate comfortably and gives a powerful and even heat. Although not as fancy as some other models, it is reliable and will stand the test of time, plus, its curved exterior makes it ideal for putting in corners - so whilst it is not a corner microwave, it will tuck neatly into the nooks of any kitchen spaces.
10. Hotpoint MWHF206B
Struggle to fit some crockery in your microwave? Opt for this HotPoint model for all the space you need
Specifications
Best for: Extra cooking space
Wattage: 800
Grill: Yes
Oven: No
Capacity: 20L
Reasons to buy
+Eco mode+Auto clean +Auto cook
Reasons to avoid
-Some may prefer a microwave with a turntable
This Hotpoint microwave features Flat Bed Technology to create more space for your plates, dishes and other crockery, and although it only has a 20 litre capacity, it actually has the same usable space as a 25 litre capacity microwave because it doesn't have a turntable. It features an auto cook function to take the guesswork out of cooking everything from veg to fish, and it also has an auto clean function and an easy wipe interior to make your life a little easier. As well as reheating and defrosting, the microwave can grill and crisp food, including tray bakes – your dinners, now made easier.
MORE COOKING APPLIANCES: