Redesigning a kitchen from scratch is one of the most ambitious and important of home improvements you can make, and getting its style just right so that it fits with your property's period and your interior decor is vital. So, if you're planning on redesigning a kitchen for an old home, whether you want an authentic or contemporary look, start here, with our comprehensive guide.
Where to start designing a kitchen for an old home?
Begin by taking a good look at your existing kitchen. 'Consider carefully how you use the space and how everything is organised,' says Tony McCarthy from Crown Imperial. 'Are items accessible or do you spend most of your time struggling to reach them?'
As well as what you'd like to improve on, to keep, and to upcycle, note your kitchen's positive points. Then, pull together all your ideas and collected images to create a wishlist.
Include in your wishlist big things, such as an open plan space or a central kitchen island, as well as smaller elements, such as smart cabinet interior fittings, more power points or a Belfast sink. Take how you use your kitchen into consideration to create your kitchen wishlist.
Kitchen wishlist ideas for…
Families: breakfast bar and kitchen island seating or seating area, American-style fridge-freezer, utility room, homework/play area, toy storage, curved cabinets, rounded handles.
Entertaining: open-plan kitchen-diner, freestanding kitchen island, statement range cooker, dimmable lighting, quiet extractor fan, concealed appliances, garden access.
Keen cooks: pantry cupboard storage, pan drawers, integrated kitchen storage for knifes and chopping boards, area with marble worktop for making pastry, multifunctional range-style cooker.
Once you have figured out how your kitchen should function and the features you'd like, you can begin to work out how big of a change you need to make to achieve it.
If you don't have the space for everything you want, or certain individual items are impractical or pricey, then it doesn't mean you can't have any of your must-haves – take your wishlist to a kitchen designer, who will help you work out where you can compromise.
Which kitchen style for a period home?
When making your wishlist, start building a mood board (online or in a notebook) of the overall feeling you want to create. There is an art to creating a kitchen that marries modern functionality with period looks. Many period homeowners don't even try, and instead prefer an honest approach – mixing contemporary minimalist cabinetry with a rustic shell.
To help you focus your thoughts, it is worth browsing various cabinetry styles, from traditional family-friendly kitchens; classic country kitchens; Shaker-style kitchens, which are versatile enough to suit homes of all eras; Georgian or Victorian style kitchens, with their intricate raised and fielded panelled doors creating a sense of grandeur befitting larger homes; and farmhouse kitchens, to more contemporary approaches, such as retro-style kitchens or vintage kitchens – or indeed minimalist glossy, handleless units, which give a contemporary contrast.
'As well as the overall shape of your kitchen, the elements that stand period homes apart can become integral features of the kitchen design,' says Tori Summers from Benchmarx Kitchens and Joinery. 'High ceilings, chimney breasts, exposed brick, alcoves, beams and cornicing can be incorporated for dramatic effect, so it's worth bringing in a kitchen designer early on.'
'If you have wooden beams on show, teaming these with solid wood worktops effortlessly pulls the kitchen and room themes together,' continues Tori. To further highlight beams, use pale cupboard shades, which will lift the whole scheme.
'To make the most of beautiful coving and ceiling features, don't feel you have to add cornicing for a period feel,' adds Tori. 'Using crisp lines and curved cupboards can give the room balance and texture.'
Now is also the time to consider whether you might like to paint kitchen cabinets to give an update to existing cabinetry or certain elements that are otherwise sound; think too now about kitchen paint colours.
Bespoke or off the shelf kitchen cabinetry?
A kitchen comprised of handmade solid hardwood in-frame cabinets – which are made using traditional jointing techniques and have doors that sit within a frame – is the ultimate type for most period homes.
Not only do they look the part but they can be tailor made for awkward spaces and wonky walls, and their design can take their cue from original features already in the property.
The cabinets may be treated to reveal their natural wood finish or are painted in any colour, and be fitted or, in keeping with more traditional style, freestanding.
You cannot fully recreate the look of an in-frame kitchen with off-the-shelf flatpack cabinets – which have doors mounted on to the front using hinges screwed into the chipboard – but you can still create a classic design, using solid wood or Shaker-style moulded door fronts and décor panels, as well as other decorative elements.
The units generally come in a choice of standard sizes and configurations, with filler panels or areas of open shelving making up gaps when the sizing doesn't perfectly fit the space.
Planning a kitchen layout in a period home
Once upon a time, the 'work triangle' – where the sink, hob and fridge are evenly sited at key points around the cook in the centre – was the main factor when designing a kitchen layout.
While this theory is still useful, it was developed when cooking was a solitary task and kitchens were smaller, and doesn't take into account how home life has evolved.
If you're designing an open-plan kitchen, diner and living space, check out our feature to get a successfully cohesive, well-laid out room and be inspired by these open-plan kitchen-diners. It's likely an open-plan space will need to include extra seating or a play space, so the way the layout is planned has to be adapted, but with care in a period home so that the original bones of the house aren't compromised.
'The most up-to-date kitchens feature separate zones,' says Vincent Glue from Smallbone of Devizes. 'The trend is for a more informal freestanding kitchen and space to gather, so layouts are designed to fuse cooking with entertaining.'
A kitchen island is one of the best solutions, as it acts as a divide while allowing the cook to be sociable, but also consider how seating and larger furniture is arranged, and include clear walkways.
Storage solutions for a kitchen in an old home
Good storage is a must-have for any kitchen, but in an old home or period property, you're going to have to make allowances for angles that might not be perfectly square or simply quirky – and this may mean having storage solutions created for you, rather than buying off-the-peg. Before you create your kitchen storage wishlist, take the following into account:
The starting point for good, space-efficient design is always the size and quantity of units.
Cramming units in wall to wall can make the space feel cramped. Instead, break up runs of wall units with open shelving, plate racks or at the very least use glass-fronted cabinets for display pieces.
'Choosing a larder over a conventional unit can be a great way to make the most of a smaller kitchen,' says Smallbone's Vincent. 'A bespoke, built-in design can store the equivalent of eight wall cabinets.'
Often the larder unit, or other tall cupboard, and an American fridge-freezer are fitted side by side to form a wall of storage, thus freeing up valuable space in the working part of the kitchen. This also avoids too many long runs of cupboards.
'Internal cupboard storage is key to maximising space without detracting from the period feel on the outside,' says Tori Summers from Benchmarx Kitchens and Joinery. 'Integrated carousels, swing-out corner shelves and pull-out larders are all excellent.
You can also make the most of every inch with internal drawers, pull-out wire shelves and storage baskets.
Adding the finishing touches to your kitchen
Details such as worktops, tiles, sinks and taps, and the appliances, are often the first things people notice.
Choosing the right worktop material is important; it needs to be durable and practical as well as good-looking. Solid wood and granite are the most popular options for period homes, and can beautifully complement each other when used together – for example, a granite island and wood everywhere else.
Tiles vary hugely in price depending on whether you are going for a stylish but simple option, such as a metro design, or characterful handmade tiles. You don't have to fill every wall with tiles, and can instead opt for a statement design over the cooker, for example, and use worktop upstands elsewhere.
A Belfast or butler sink is the classic choice for a period home. Reclaimed versions are highly prized, but will need some TLC before they can be fitted to remove stains. If you want to make more of a statement, opt for a rustic copper sink.
There is a wide choice when it comes to taps. Swan-neck designs are practical and lend classic elegance. Bridge taps are more ornate and work in more characterful schemes. Bib or pillar taps are less practical than mixer taps, but lend a simple, retro look. Don't be afraid to add a modern twist to the kitchen with a striking contemporary design, perhaps a sleek shape in a warm rose gold finish.
Finally, make sure your appliances are in-keeping with the scheme. Range cookers are the real heart of the kitchen, and modern designs are more practical then their predecessors. When it comes to fridge-freezers, the best options are to hide them in cabinets or opt for a statement design, such as an American-style fridge-freezer, or a retro model.
Getting kitchen lighting right in a period home
Lighting in a kitchen can make or break the mood of the room, so it's worth spending time researching fixtures:
Introduce daylight from as many directions as possible, including rooflights. French, sliding or bi-fold doors that open onto the garden will also add to the light levels.
Make sure you allow for enough lights during the 'first fix' electrics.
Buy light fittings as early as possible, and keep boxes and receipts so you can take them back if necessary – it is difficult to judge what will work until you position it.
If fitting recessed spotlights, ensure they do not puncture insulation or airtightness systems as this can create draughts.
Recessed spotlights can be problematic in old buildings without enough space in the ceiling void. Ask an electrician for advice.
Pick a variety of lights from task lights to light washes. Think if you'd like dimmable ones. Wire fixtures on different circuits so they can be switched on separately.
Investigate low energy and LED lighting, which are more environmentally friendly and will save you money in the long run.
How much does a new kitchen for an old home cost?
The cost of a new kitchen for a period home varies, depending on the quality of the units, appliances and finishes, and how much work is entailed in the installation. As a rough guide, you should look to spend between 3 to 5 per cent of the overall value of the house.
Though highly desirable, handmade kitchens demand a premium, with prices tending to start at around £15,000 for furniture only.
Some companies offer more affordable alternatives made of softwood, such as pine, which are still made in the same way but may not be as hardwearing. Prices start from around £4,000 for furniture only.
It's important to decide the maximum amount you are prepared to pay for your kitchen and make sure the supplier understands. Ensure you budget for appliances, installation, electrics and plumbing, as well as finishes such as tiles and worktops.
Expect to pay the following amounts for the kitchen's various elements:
Off-the-shelf MDF 60cm base cabinet: from £50
Solid softwood 60cm base cabinet: from £150
Bespoke solid hardwood in-frame base cabinet: from £500
Solid wood worktops: from £100 per 3m run
Granite worktops: from £60 per m2
Composite worktops: from £100 per 1m run
Laminate worktops: from £50 per 3m run
Tiles: from £20 per m2
Installation: average £1,000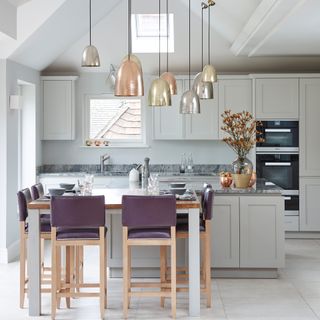 Save money by updating an existing kitchen
If you are on a tight budget, there are a number of ways to save money on the cost of a new kitchen that are perfect for creating a traditional look, such as upcycling salvage yard finds or repurposing original cabinetry. Or if you don't have the budget to change everything right now, there are a number of quick and easy kitchen updates that can transform your kitchen.
For example, if the cabinet carcasses are in good condition, you could change the door fronts and fascias and update tiling, worktops, and perhaps the sink and taps.
Alternatively, you could paint the existing door fronts and fit new handles.
Working with a kitchen designer
If you know exactly what you want, you may be tempted to design the kitchen yourself, but you will likely end up happier with the finished space if you consult with an experienced professional.
A good designer will think of solutions you may not have considered, spot potential issues and help you to get the most out of your budget.
At the very least, take your wishlist and a plan of the room, showing dimensions, to a couple of kitchen showrooms and pick the brains of the designers there.
Many retailers offer a free design service, but for a large-scale project, you should consider independent kitchen or interior designers, as they will be able to recommend different suppliers to get the exact finish you want and can project manage the work if required. Expect to pay in the region of £500–£1,000.
Adding a kitchen extension to an old house
If your current kitchen isn't big enough to include all the elements you would like in the new design, then consider extending sympathetically to gain more space.
One of the most popular extension projects is to add a kitchen/dining/living area which opens out to the garden through wall-to-wall doors. Assuming they meet certain criteria (check the Planning Portal), such projects often do not require planning permission.
Alternatively, you may be able to create a large open plan space in an old house by removing a non load-bearing wall between the kitchen and dining room.
If these options aren't viable, then there are plenty of design solutions for maximising a small kitchen space.
More on kitchens for old houses: