It happens every winter: many of us find it difficult to cope day-to-day as the nights draw in and the temperatures drop. And no wonder: it's dark when we get up and dark again as we get home; it's wet and windy (cue soggy feet and colds); and, for many of us, the lack of colour and greenery is enough to make us feel down. Sounds familiar?
Falling prey to the winter blues isn't a given: with a few simple decorating ideas, tiny tweaks to your daily routine and some clever home improvements, you can banish the winter blues, for good. Follow these easy steps, and winter may well become a season to enjoy rather than endure.
Find more design ideas to make your home brighter, whatever the season.
1. Switch up your room schemes so they feel warm
You may love that cool, minimalist scheme in summer but, come winter, it can feel chilly and unwelcoming. Why is why switching up your decor – particularly in your living room where you might spend most of the time while the sun is (ahem) up – makes good sense. The bedroom, given a new look, will lift spirits, too, and because you mainly see it lit by warm lamplight, you can afford to choose a cooler shade, such as the green (above).
Of course, painting the walls in a warm, earthy tone like this colour below by Dulux, is going to have the biggest impact, but redecorating isn't the only option – even swapping cushion covers in cool tones out for ones in warmer colours or adding a throw in a hot colour to an on-trend grey sofa.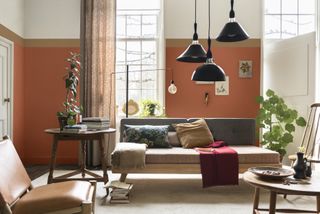 You can even make a difference in the evenings by switching lightbulbs with cool tones with ones with a warm, welcoming tint. See more warm room schemes to make your home feel cosy in our design gallery.
2. Maximise light indoors with clever tricks
Take a look at our guide to designing north-facing rooms to get all the tips you need for making your dark room (north-facing or not – even south-facing rooms can suffer from dinginess in winter) feel brighter. Want a few tips right here right now?
As seen below, hanging mirrors can reflect tons of light – and as a gallery wall will add bags of character too (find out how to create a gallery wall in our design guide). Here's what else to try: decluttering windowsills; replacing net curtains with window film designs; ensuring heavy curtains can be pulled right back beyond the window frames; painting window sills and frames in a white gloss; picking light flooring; investing in low-slung furniture... all these ideas will make your rooms feel lighter.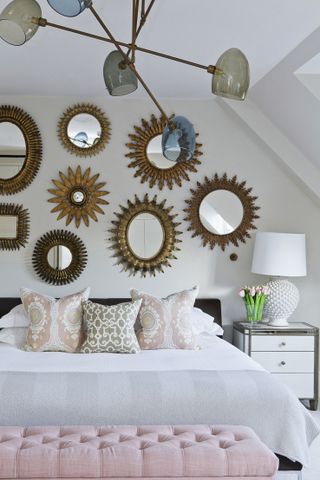 3. Create a focal feature that's designed to look welcoming
Okay, so a stove is going to totally nail that cosy focal feature – check out our guides to buying a stove and the latest stove designs to get your pick just right – but it's not the only way to make a room feel cosy with just one clever change.
We've talked decorating – but if you want to employ less elbow grease and more design know-how, the trick is to pick one major element within the room, whether the bed, the sofa, the coffee table or even a kitchen island, and to dress it for a warm feel. This might mean, for example, piling candles and pretty house plants on a kitchen island; dressing the bed with piles of warm-coloured cushions and the sofa with a stroke-able faux fur.
Take a tip from these cosy Scandi room design ideas to get your focal feature just right.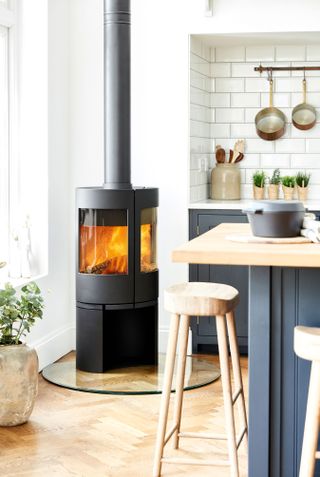 4. Ensure your sofa is welcoming
We're not just talking adding the odd throw or cushion here – in winter, you're going to spend a lot more time on your sofa than you are during the warmer months. So, if yours is lumpy, uninviting or stylishly minimal but as welcoming as a bread board, why not save up to buy one in the sales – check out our latest cheap (but chic) sofa deals; it's a page we update every week so you can find a real bargain.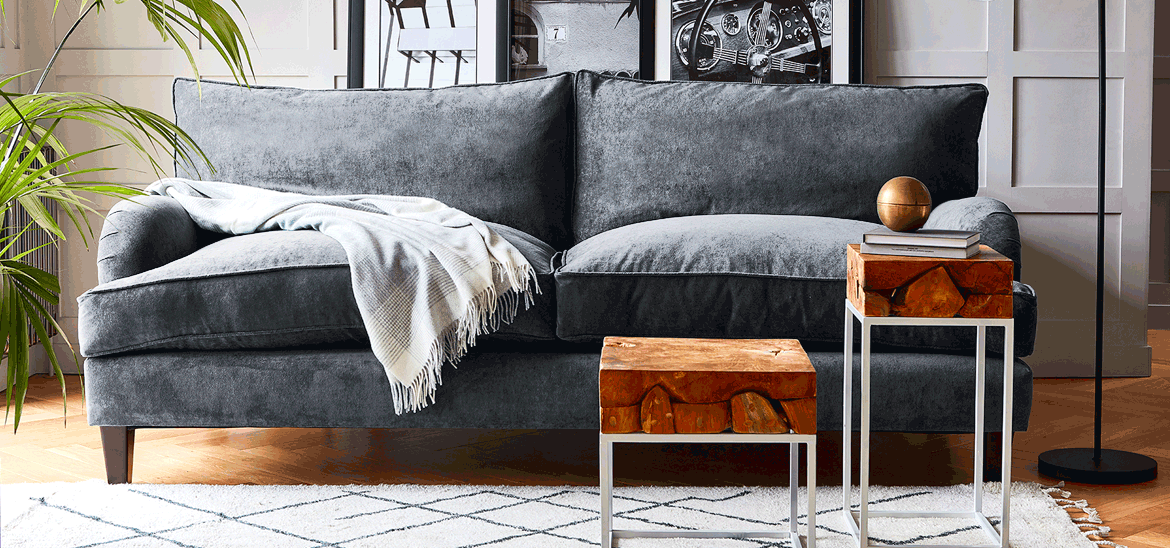 5. Invest in a great mattress
Just as you need a comfortable sofa in winter, you need a very comfortable bed, especially in winter when your bedroom might be chillier than usual. Good sleep is important, and never more so than in winter, since it helps keep our immune systems working well, regulates our mood, and even assists weight loss (important during the season when we're all a bit tempted by that extra slice of cake). And while all the advice about switching off your phone and reading a book is useful, we can guarantee that the great night's sleep will not happen without a comfortable mattress. Think of it as the foundation of good sleep on which everything else rests.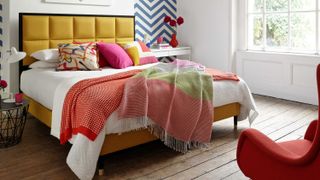 Wondering how to choose the best mattress? It's not an exact science; we say, read as many of our mattress reviews and buyer's guides as you can, test out a bunch of mattresses in store, but also bear in mind your preferences. If you love a traditional sprung mattress and dislike foam, don't be swayed by clever marketing from what you know you like. Or, if you are ready to experiment a bit, go for a hybrid mattress, which will give you a bit of everything in its fillings.
Still having trouble sleeping? Use our how to sleep well guide.
6. And don't forget the winter duvet
Once you've chosen your perfect mattress, pick a winter duvet. Bar few exceptions, we advise not bothering with all-season duvets. At the very least, you need two different duvets, one for warmer and the other for colder weather (a duvet per season is ideal, although not practical for everyone).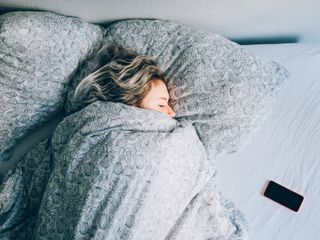 What to look for in a winter duvet? Well, it's not just about the high tog. What you don't want is feeling clammy and overheated (bad night's sleep guaranteed). So, if you do love your fluffy down duvets, be prepared to spend a bit extra on a really high-quality number. Goose down is an expensive natural material, so beware of bargain down duvets. Not only are they unlikely to give you the quality of sleep you are looking for, but there also are serious issues around animal welfare with cheaper down products. The Natural Collection Siberian Goose Down Duvet from John Lewis is an example of a great-quality, responsibly made natural duvet.
If you want more options, including synthetic duvets, have a look at our top 7 winter duvets. Or find a duvet bargain in our latest bedding deals update.
7. A smart wake-up light will solve that Monday morning feeling
Winter is tough on our bodies, not least because our patterns of waking up and going to bed are not aligned with the rising and setting of the sun, as they (more or less) are during the summer. This has implications for the hormonal activity in our bodies (you've probably heard about serotonin and its link to wellbeing), which gets so out of whack for some of us that we feel low and unable to get up in the mornings. If this is the case for you, look at getting a smart wake-up light which simulates natural daylight, and helps you wake up as you would with the sunrise.
The Lumie Bodyclock Luxe is an impressive, if expensive, option, but there are cheaper alternatives in our buyer's guide to the best wake-up lights.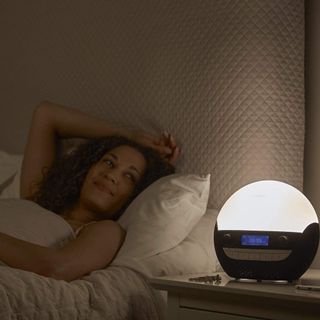 8. Curl up with a great book and a cosy light
Feeling really low on energy, to the point where the thought of activities fills you with dread? There's a time-tested solution: a great book. Whether it's a big, immersive novel (try Elena Ferrante, if you haven't already), or a thoughtful poetry collection, a book can really help take yourself out of yourself, and help you get a fresh perspective on things. And, of course, the right atmosphere for reading is very important. We recommend you start by getting a cosy bedside reading light.
We have 12 lighting ideas for bedrooms that include perfect reading lights.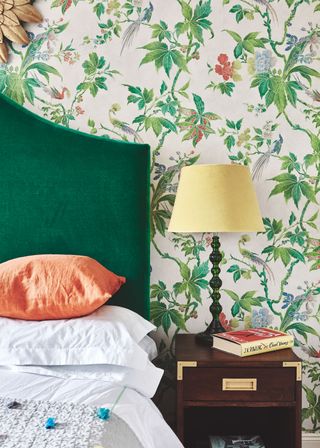 9. Declutter and organise to promote wellbeing
With winter come two things: Christmas presents and sales bargains. We love both, of course, but they do tend to lead to new piles of clutter that hadn't been present before. And a cluttered house is proven to make our stress levels rise. So, we say have a good sort out, declutter if you can (giving to charity can make you feel good, which is a bonus), and sort out your storage options to get every room nice and neat by spring. Want a little help? We've got tons (and tons) of clever storage ideas in our dedicated hub.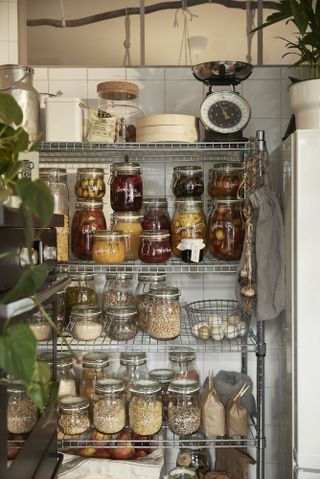 10. Create a relaxing spa appeal in your bathroom
As far as we're concerned, the bath is definitely one of the peaks of human achievement. It can really transform what is the simple need to keep clean into a luxurious self-care ritual. Of course, a spa-like pampering session is easy in a great-looking bathroom with a freestanding tub and bags of attractive decor.
But, it's also perfectly possible to unwind and enjoy yourself in a small bath. You will just need a nice bath oil, but look for one with high essential oil content, like the excellent Aromatherapy Associates range. While essential oils won't fix a serious depression, they're just the ticket for alleviating winter blues.
Want an even more relaxing (and beautifully scented) atmosphere? Have a look at our pick of the best home fragrances. And don't miss our budget bathroom design ideas for cheap but chic transformation inspiration.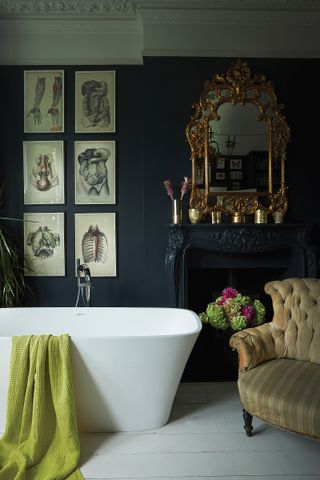 11. Make cooking tasty, healthy meals easier
We know what it's like: you get home from work at the end of the day and either there's nothing in the fridge, there's nothing in there that you fancy or there's nothing in there that's quick to cook. So why not invest in just a few pieces of kit to make healthy, hearty eating that much easier? We'd avoid anything faddy or strict New Year's diet-related and stick to buys that will be rewarding now and year-round. Our favourite buy: slow cookers; you can pile ingredients into them in the morning (or the night before) and come home to a yummy dinner after work.
And if Bake Off has infected you with the baking bug, then look no further than our guide to the 11 things every Bake Off fan should buy for a winter weekend indulgence. A little of what you love never hurts.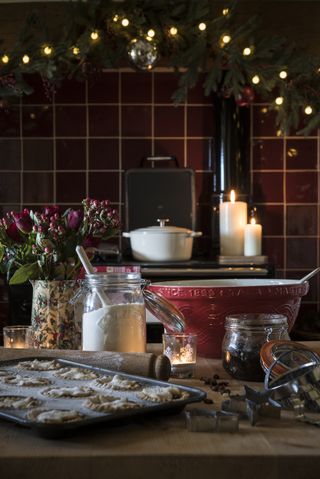 12. Take up gardening (indoors or out)
Being around plants is good for the soul (do an internet search, there's scientific proof out there). Not only do plants look great in the garden, but being outdoors and doing a bit of physical activity can really help a case of the winter blues. There's still plenty to do in the garden throughout the winter months; for example, why not plan a winter garden by adding winter interest plants? Have a small space? Try container gardening.
No garden? Why not start indoor gardening this year? We've got tons of house plants you'll love too.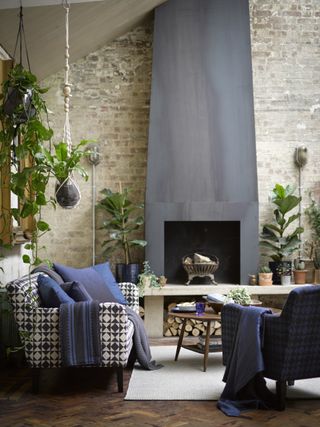 13. Plan a project (to match your budget)
Forget the New Year's diet – that's something much better tackled in spring and summer when the weather's warmer. Instead, channel your energy into planning a project now. As liberating and as exciting as planning a holiday, considering a home improvement large or small, will give you a guaranteed lift.

We've got lots of advice, from planning a single storey extension to living room design to upcycling furniture with paint. Take your pick, according to your ambition and budget.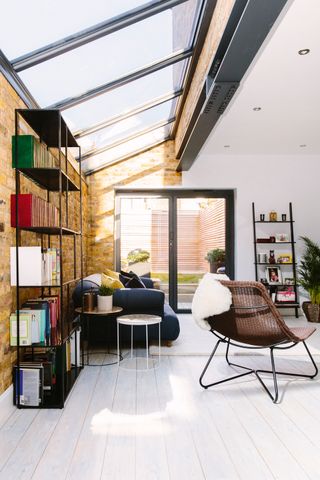 14. Invest in your own well-being
Yoga is an amazing way to keep fit while also keeping well. Unlike punishing gym routines focused entirely on body fitness, yoga pays equal attention to your spiritual wellbeing, and there are types of yoga practice suitable for everyone, even if you have an injury or health condition that prevents you from more strenuous exercise. Nor is it necessary to join an expensive class, with lots of great yoga routines available for free on YouTube. All you need is a nice yoga mat and a suitable, body-hugging outfit (we've tried doing yoga in our pyjamas, and it was not so good).
To make a start, have a browse through our pick of the best yoga mats.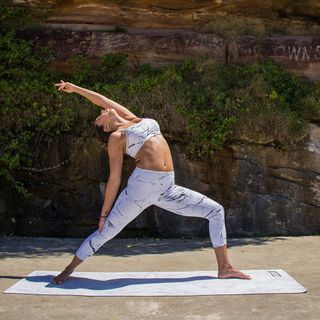 15. Fall back in love with music
There's nothing like a great song for instantly lifting the spirits. It's a bit less impactful, though, when you're listening to music through tinny laptop speakers. If you want to really immerse yourself in the sound of your favourite songs, invest in some proper speakers. Or a good pair of headphones, if you like your music on the go. Bye, winter blues!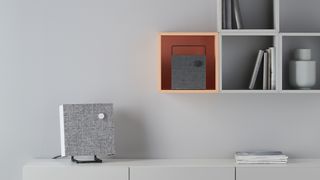 More tips for cosy, blues-free winter living: