Want in on the Ninja Black Friday and Cyber week sale? You'll be pleased to know that there is no open sesame or secret passcode needed because we've served up all the savings you could want, right here.
For real, Ninja has released its Black Friday deals early this year, so grabbing a gourmet gadget now before they go out of stock (because you know they will) would be a smart move.
Not only that, but we've even spotted competitive prices at Amazon. So whether it's a Ninja air fryer or the sought-after Ninja Creami that's been on your wishlist for way too long, there are a bunch of discounts available right now, so you needn't wait until the 25th of November.
Having already reviewed a healthy glut of appliances, we're totally sold on the Ninja Foodi brand. From the best air fryers for quick meals to top-rated blenders for shakes, smoothies, and sauces, they deliver on all levels.
And sure, investing in a Ninja Foodi appliance might usually feel like a tall ask, but with price points looking this good... Foodies, walk this way.
Ninja Black Friday and Cyber Monday deals to shop in 2022
Keep scrolling for the best early Ninja Black Friday deals that are live right now. We'll be sure to update this page as more offers come in. Otherwise, here's where to shop for your Ninja appliances on sale, just below.
Ninja air fryer deals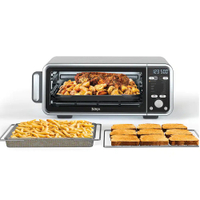 Ninja® Foodi® 13-in-1 Dual Heat Air Fry Oven, Countertop Oven | Was $299.99 Now $240 (20% off using code CYBER20) at Ninja
This 1800-watt countertop convection oven creates restaurant-worthy charred pizza crusts, and can even cook up to six chicken breasts at once. And, when it comes to washing up, it even has a removable crumb tray... Sweet!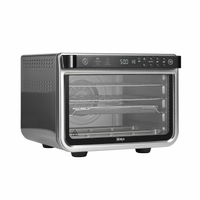 Ninja® Foodi™ 10-in-1 XL Pro Air Fry Oven | Was $329.99 Now $264 (20% off with promo code CYBER20) at Ninja
We haven't managed to get our mitts on this yet, but that doesn't mean you can't! With its air fry, roast, whole roast, grill, bake, pizza, dehydrate, reheat, toast, and bagel functions, all of your other kitchen appliances will become obsolete. 2-level cooking means you can cook a main and sides without fighting for shelf space. Fit a 5-lb chicken and a sheet pan of vegetables, two 12-inch pizzas, or a 12-lb turkey inside this bad boy!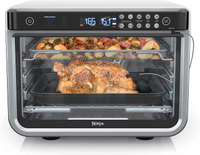 Ninja Foodi 10-in-1 Smart XL Air Fry Oven | Was $329.99 Now $229.99 (save $100) at Bed, Bath & Beyond
Ninja's smart oven promises 10 times the power of a standard convection oven, and it's roomy too. With two racks, it can fit a 5-lb chicken plus a sheet pan of vegetables at the same time, two 12-in pizzas, or a 12-lb turkey. The 1800w countertop oven boasts the ability to air fry, air roast, bake, whole roast, broil, toast, bagel, dehydrate, reheat, and perfect pizza. Plus, the integration of the Foodi Smart Thermometer means you'll know exactly when your food is ready! Cool!
Ninja blender deals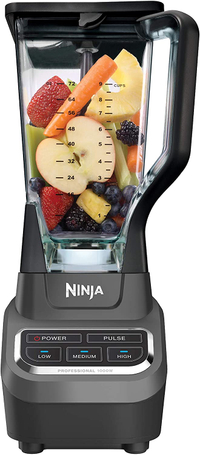 Ninja BL610 Professional 72 oz Countertop Blender | Was $99.99 now $89.99 (save $10) at Amazon
Save 30 per cent off Ninja's highly-rated blender! The generous 72-ounce pitcher is just what you need to feed a crowd for the Fourth of July. The pro-level blender offers 1000 watts of power to blend, crush, pulse, or chop whatever ingredients you choose to liquefy.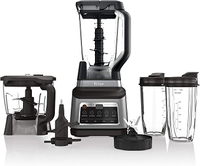 Ninja BN801 Professional Plus Kitchen System | Was $219.99 now $149.99 (save $70) at Amazon
With 1400 watts of power and Total Crushing® Blades, the Ninja Professional Plus Blender perfectly crushes ice in a full-size pitcher for protein shakes and smoothies or ice cream and frozen cocktails if you're feeling fancy!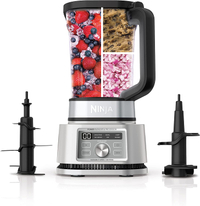 Ninja Foodi SS201 Power Blender & Processor | Was $139.99 Now $129.99 (save $10) at Amazon
Use the Ninja SS201 to make everything from dips to doughs and sauces. It has six pre-set programs for smoothies, frozen drinks, bowls, spreads, chopping, and dough. Put it in the dishwasher once done, otherwise, it comes with a brush for easy hand washing.
Ninja coffee maker deals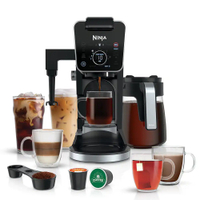 Ninja® DualBrew Pro Specialty Coffee System | Was $229.99 Now $159.99 (save $70) at Amazon
Is there anything that this coffee machine can't master? If you want a quick hit of caffeine, just know that this model can brew a coffee pod faster than a leading Keurig coffee maker upon startup — impressive! Are capsules not your thing? This gadget can also take grounds. Includes a keep warm function, delay brew program, fold-away frother, paper filter kit, 12-cup glass carafe, Ninja pod adapter, and Ninja Smart Scoop™.
Ninja CREAMi deals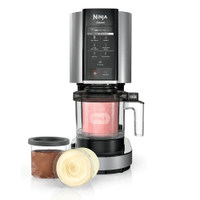 Ninja CREAMi Ice Cream & Frozen Dessert Maker | Was $229.99 Now $148 (save $81.99) at Walmart Forget what everyone says — frozen desserts are for every season. Available in silver, blue, red, rose gold, or white, have fun making your favorite flavors of sorbet, gelato, and milkshakes and choosing your own mix-ins. The containers, lids, and paddle are top-rack dishwasher safe so you won't be left with a sticky mess to clean up afterward. We gave it a four-star review and this set comes with three tubs for your creations. It currently has 35 percent off!
Read our Ninja Creami review for our verdict.
Ninja kitchenware deals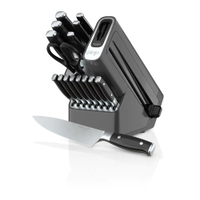 Ninja™ Foodi™ NeverDull® Premium 17-Piece Knife Block Set | Was $349.99 Now $280 (save $$69.99 using promo code CYBER20) at Ninja
If you're still trying to cut meat, fruit, and veg with a set of blunt blades — sharpen up your ideas and buy this cutting-edge collection. Made from German stainless steel, these knives are comfortable to grip, and are rust-resistant and the block has an easy-to-use built-in sharpener. Feels expensive at first, but these do have a 10-year warranty.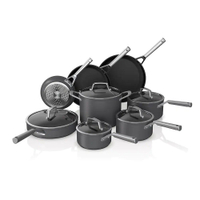 Ninja™ Foodi™ NeverStick® Premium Complete Cookware Collection | Was $399.99 Now $320 (save $79.99 with promo code CYBER20) at Ninja
Sick of food sticking to your cookware? If you've had your fair share of ruined pots and pans — it might be worth investing in a set that's a little nicer this year. You know what they say "Pay cheap, pay twice", so put your money where your mouth is, and get a proper scratch-resistant, dishwasher-friendly set that won't chip, flake or peel. They even have a max manufacturing temperature of 30,000°F!
Ninja grill deals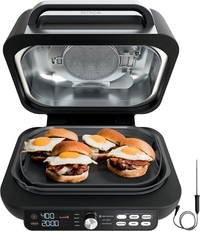 Ninja IG651 Foodi Smart XL Pro | Was $299.99 Now $169.99 (save $130) at Bed, Bath & Beyond
Though Black Friday and Cyber Monday have passed, there's still a whopping 43% off this Ninja appliance today! It's perfect for cooking everything from steaks to nachos, hamburgers, and even veggies. It's essentially an indoor grill that can also air crisp, roast, bake, broil, and dehydrate. It's excellent for using for parties, on game day, and think of the use you'll get out of it over the holidays. Don't worry about the smoke as it has a control system, and it comes with a Foodi Smart Thermometer included, too.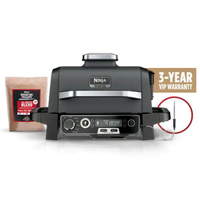 Ninja Woodfire™ Pro Outdoor Grill with Built-in Thermometer | Was $459.60 Now $429.60 (save $30) with promo code GRILL30 at Ninja
If you enjoy cooking in the backyard, this bundle is for you! With this 7-in-1 appliance you can grill, smoke, roast, bake, dehydrate, air crisp, and Broil. This premium package comes complete with a built-in thermometer so you can ensure food has reached a safe temperature to eat, as well as two crisper baskets, woodfire pellets, a recipe book, and three free gifts (a grill cover, veggie tray, and roasting lifters)