Wondering what to get your friends for Christmas this year? Perhaps one of your pals has a birthday coming up, that's way too close to Christmas (snooze) and you're stuck with what to buy. Something cute, thoughtful, and above all else, totally inexpensive. Of course, we'd all love to splurge and get our family and friends a luxury present they so obviously deserve. But costs are higher and budgets are tighter this year — the more we can save, the better.
This is why the Black Friday sales are worth making the most of. And luckily for me (and you), there's one thing currently on offer I know all my girlfriends will love this year: a silk pillowcase. Yes, cheap, but totally chic, they're the perfect gift to show you care.
The LilySilk 100% Mulberry Silk pillowcase from Amazon (opens in new tab), in particular, is my favourite and it's on sale with almost 25 per cent off for Black Friday, making this slice of luxury just £18 a pop. If the thousands of reviews aren't enough reason to buy, I've slept on some of the best silk pillowcases on the market myself, and I can confirm that this one is soft to the touch, and has had huge benefits on my skin, hair, and sleep. It comes in a range of colours too, to suit everyone's bedroom on your gift list.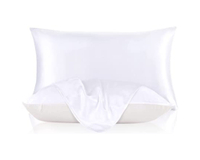 (opens in new tab)
LILYSILK Real Mulberry Silk Pillowcase | Was £24.99 Now £18.99 (save £9) at Amazon
(opens in new tab)This silk pillowcase may be relatively cheap in comparison to others out there (and even more so for Black Friday), but this slip pays no sacrifice to quality. Rather, it's made of 100 percent non-toxic OEKO-TEX certified Grade 6A mulberry silk, to effectively stop the friction between pillowcase and hair, working to reduce hair loss. Only 5 percent of silk in the world meets this standard!
What are the benefits of silk pillowcases?
As a beauty sleep advocate, a silk pillowcase is simply essential. Prior to resting my head on one of these silky smooth surfaces, I didn't quite get the gimmick. Sure they're cute, and make a pretty little addition to your bed, but what is all the fuss about? Well, it's safe to say that I won't be going back to sleeping on a regular cotton or linen pillowcase again, never mind polyester for that matter.
Returning to a scratchy surface is really noticeable. But why? Well, silk is a less absorbent fabric than cotton or other, which means your hair doesn't become tangled in the night, nor does your skin become irritated. Even cotton for example is more abrasive against our skin's natural barrier. All in all, this helps your skin and hair stay healthy when you wake up. They can also be cool to the touch, which often helps with getting to sleep easier.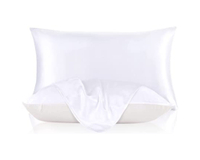 (opens in new tab)
LILYSILK Real Mulberry Silk Pillowcase | Was £24.99 Now £18.99 (save £9) at Amazon (opens in new tab)
Don't miss out on your beauty sleep! Treat yourself, or someone else to a silk pillowcase for under £20.
You can find offers on new pillows, perhaps a duvet, or even fresh sheets, to go with it in the Black Friday bedding deals still on over Cyber weekend. For anything else, you can see our best Black Friday home deals roundup.