Go bold or go home — the debut Tuckernuck Home tabletop collection manages to do both.
The brand has segued into new territory, bringing the sophistication and vibrant prints from its closet along for the ride, just in time for the holidays. As the festive season gets underway, we find ourselves making frequent grocery runs and organizing seating charts, so of course gorgeous dining accessories are a warm welcome to our checklist.
For those who are dreaming about a new look for Thanksgiving or perhaps planning to top off their annual Christmas set up with a gorgeous tablecloth, Tuckernuck Home will definitely offer fun additions to your collection of hosting essentials.
The stunning debut Tuckernuck Home tabletop collection
Tuckernuck's tabletop drop does not disappoint with its range of necessities: reversible and wipeable floral placemats, scalloped dinner napkins, and cotton tablecloths, to name just a few. Not only is the passion project stylish, but it's functional and can withstand messes from kiddos and the like, so you won't have to stress about keeping things stain-free. (A lovely hosting hack.)
"We designed this collection in-house, and it's meant to be practical, versatile, and styled from day to night — you can mix and match a lot of the patterns," says Libby Parrish, a member of the Tuckernuck brand marketing team. "It's great to see it all come together."
Now that we have our tablescaping ideas in check, we have to get our cookware ready to go so the meal tastes as delicious as the setup looks. (Fingers crossed.)
Tuckernuck Home Tabletop buys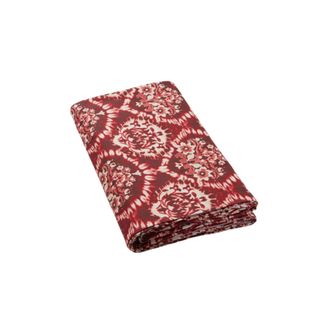 Rectangular
1. Scarlet Damask Tablecloth
Price: $128
Dimensions (in.): W86 x L106
We'll set the scene this Thanksgiving (and beyond) with a warm, tie-dye-esque floral topper that captures the coziness of the season. Even better? It's machine-washable and durable.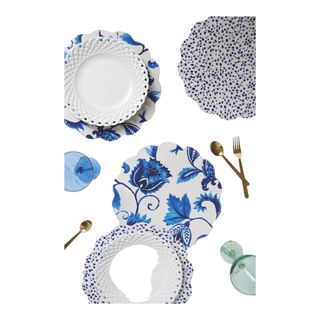 Set of Four
2. Delft Blue Reversible Placemats
Price: $98
Dimensions (in.): 15
The perfect complement to our burgundy and blue tabletop, these wipeable and reversible placemats — which boast a floral motif — will come in handy when sides trickle off plates and drinks spill.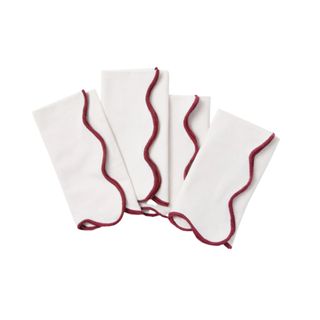 Classic
3. White and Red Cotton Slub Scalloped Napkins
Price: $78
Dimensions (in.): L20 x W20
There's an air of elegance thanks to these feminine and festive scalloped napkins. Take the fancy feeling up a notch and have them personalized!
Other Tuckernuck home buys
Although the tabletop collection is new, Tuckernuck does work in tandem with other brands to offer shoppers great entertaining picks, such as dinnerware sets and glasses. Here's what we're snagging this year.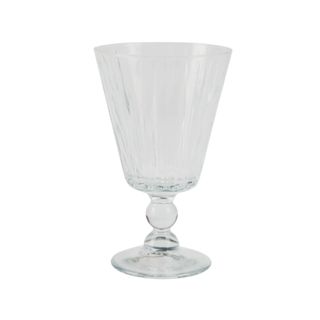 Etched Italian Glass
4. Vietri Natalia Aperitivo Glass
Price: $39
Cheers to these gorgeous glasses that are a necessity come New Year's Eve. Though they're dishwasher safe, it's recommended to hand wash these delicate items. Each glass is sold separately.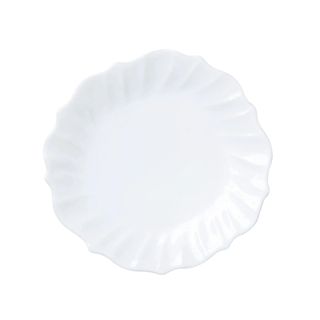 Handcrafted
5. Incanto Stone White Ruffle Dinner Plate
Price: $60
Dimensions (in.): 11.25
The Italian-inspired dinner plate looks gorgeous while we're piling on our main and sides. In addition to aesthetics, this stoneware offering is microwave, oven, dishwasher, and freezer safe.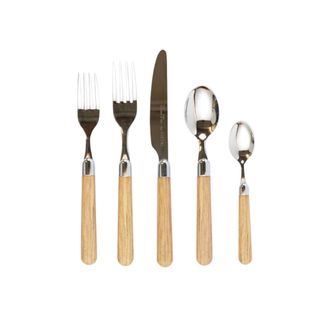 Dishwasher safe
6. Albero Oak Five-Piece Place Setting
Price: $98
Ready to dig in? These utensils of 18/10 stainless steel with wood handles will help you get the job done.
Although we're awaiting Thanksgiving and figuring out how to get ready for Christmas, we can't help but wonder what's next for this delightful line.
"For the future of the collection, patterns are very important to our brand," Parrish notes. "In the summer, we're definitely coming out with some new prints and anchoring in those key [seasonal] moments of hosting."
We'll be here, ready to add to our cart.
---
If Tuckernuck's new launch piques your interest, you'll want to step away from the kitchen and into the living room with the brand-new Hill House Home interiors collection.