Yes, October isn't just about Halloween and autumn leaves, it's also about getting your best sleep yet. And the current deal on at Eve is sure to have you sleeping soundly. We've got all you the info on how you can bag up to 40 per cent off a new hybrid mattress.
Believe us when we say that this is a deal worth checking out. We've tried and tested a few of Eve's best-sellers, including their premium hybrid mattress that features in our best mattress guide. A hybrid option is especially fit if you're wanting something better than your current pocket-sprung mattress, if not, then there are plenty of other mattress sales worth browsing.
Still, Eve has applied the discount for you – so all you have to do is add a new mattress to your basket, no code even required. Your order will be delivered to your door for free, rolled and packaged in a box for easy moving. And with a 100-night trial on too, you can get return it and get a refund if you're not keen. Investing in your sleep couldn't be simpler.
Eve mattress deals this month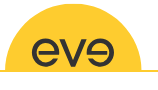 Eve mattress sale | save up to 40% on hybrid mattresses
Jump on our bandwagon (of sleeping on the Eve) for less with this eve discount. Save 40 per cent on hybrid mattresses and find yourself sleeping the best you've ever slept.
Why buy an eve mattress?
We've tested the Eve Original Foam mattress and the Premium, plus the mattress topper and some other bedding. Our reviewers were impressed. Really impressed. Both got over 4.5 stars out of 5.
The quality of materials is brilliant, as is the mattress thickness and availability of sizes. Plus both options come with a 10-year guarantee; free returns after 100 days and excellent, and speedy delivery.
See below what our review had to say:
Our head mattress reviewer, Linda had has slept on just about all the mattress brands' offering you can think of. So you can trust her verdict..
She's rated the eve Original foam mattress 5 stars in her review. In a nutshell, 'it is fairly priced and wins on temperature control and support, plus movement is a breeze.' Linda's eve Premium Hybrid mattress review gives the mattress a slightly lower 4 stars, recommending it to those who love a firmer sleep surface: ' It's designed to suit all type of sleeper – front, side or tummy and, as long as you prefer a firmer mattresses, I'd say the Premium Hybrid delivers on all fronts'.
Anything else?
'One of the (many) lovely things about eve mattresses is that they are making sure that they're impact on the planet is kept to a minimum. The UK company are aiming to be FSC (forest stewardship council) certified by the end of the year, and they refurbish or reuse all the used mattresses which are returned to them. Every mattress matters to these guys so when you buy an eve mattress, all eventualities have been carefully considered.'
Jen has tried a few toppers in her time. In her eve mattress topper review she highlights it's a great value buy to maximise comfort of a bed or sofa bed:
'If you're not quite ready to part with your mattress then I feel the Eve mattress topper is a great buy. It is towards the higher end of foam mattress toppers, granted, but for an instant relief from an uncomfortable mattress and disrupted sleep, this one is worth the extra pounds.
The best eve mattress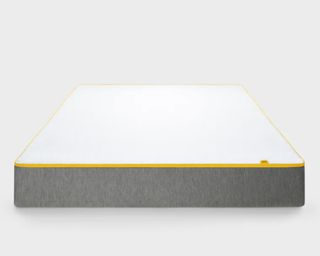 More Eve mattress deals: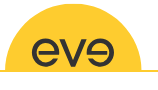 Fancy 5% OFF?
Eve is offering 5 per cent off if you sign up for their newsletter. Subscribe and get a code sent straight to your inbox.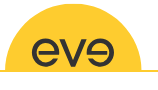 1 year trial
ALL Eve mattresses come with a free 1-year trial, so you can sleep on it and see how you feel. Not satisfied? Contact Eve and they'll pick the mattress up for free and you'll receive a full refund – no fees, no hidden charges. Other products such as The Topper, The Baby Mattress and The Original Pillow also come with a 30-night free trial, too.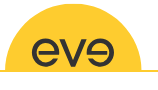 10-year warranty
Although buying a mattress online makes your life a lot easier in terms of getting it from the store to your bedroom, it can also be nerve-wracking if you're worried about durability. Luckily enough, Eve offers customers a huge 10-year warranty to ensure you that their mattresses are built to last.
Eve sleep mattress accessories...
Believe it or not, eve sells a large range of other products apart from their best-selling mattresses. Some of them make our best guides, and others we'd love to get our hands on to try. See our top bedding buys below. Because why shop anywhere else?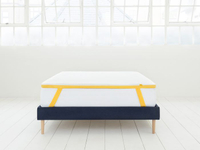 Eve The Topper | from £135 - £220
It looks like there's a small discount being applied here...give your mattress a refresh with the eve mattress topper. It's made from pure foam and has a cover on top for easy cleaning, and it's available in single all the way up to super king sizes. An ideal solution to an uncomfortable mattress if you don't want to spend an arm and a leg...
When it comes to the best mattress toppers you can buy, eve gets our vote for the best memory foam topper too!

Eve Pillows | from £39 - £59
If you're you in two minds about choosing the right pillow, then you have THREE to choose from at eve sleep; one mini pillow for children or travelling, a microfibre pillow and a memory foam version.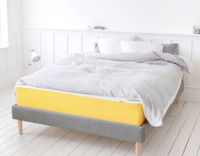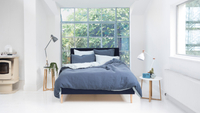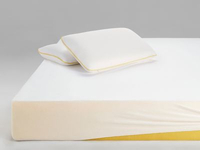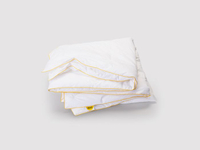 Black Friday Eve mattress deals
Had your eye on an Eve mattress, but can't find the deal for you? Then it's worth waiting until Black Friday. Take it from us, you'll find the best deal of the year if you just hold off for a little longer. Until the 25th November in fact. We're expecting big savings across investment items for your home, including £££ off a new mattress. With discounts continuing through to Cyber Monday on 28th November too, they'll be offers on your favourite bedding brands, including eve (hopefully). So if you need a new mattress, or a topper, mattress protector or pillow too, then Black Friday is your time to buy. So if you pop back in a few weeks time, we're sure to have updated this page with all the Eve Black Friday mattress deals we can find. Until then, happy snoozing!