Wave goodbye to that expensive gym membership you've been paying for all of those months, and hello to the convenience of working out in front of your TV. In fact, we use this bike while catching up on The Bold Type on Netflix. Seen it? You need to. You're welcome!
You can head straight to buy the Ultrasport F Bike from Amazon now, or read more of our thoughts below. Spoiler alert: they're all good things...
Head to our best exercise bikes and spin bikes guide for more top recommendations, whether you are on a budget or not.
Ultrasport F Bike – why do we love it so much?
Why do we love this Amazon exercise bike so much? For so many reasons:
1. It's compact
This exercise bike is indeed foldable, which means that after use you can fold up the legs and pop in the pin to store it anywhere with ease. It will fit inside a wardrobe, behind a door or even tucked behind a curtain. It also boasts an impressively small footprint once folded, so it won't be taking up any precious floor space in your home.
2. It doesn't need to be plugged in
Hurrah! An exercise bike that doesn't need to be plugged in – finally. This is especially great if you want to use your exercise bike in a specific area of your home (e.g. in front of the TV) but you don't want to be tied by a cord. This is also great if you have pets that love to chew wires, too.
3. It comes in five colour options
Not just that, but you can even choose an exercise bike based on the colours that feature in your home. Or, you could go bold with a green or pink one to make a statement. Other colour options include black, silver and light blue.
4. It has eight resistance levels
Though this bike is, admittedly, not the most powerful option out there, it is great for beginners. And, you can always up the resistance all of the way and push yourself to pedal faster. It has a rotating dial in the middle of your knees, just below the display, to control the resistance with ease while you are pedalling.
5. It has a compact monitor
It even, surprisingly enough, has a compact monitor for tracking everything from time to distance, speed, calories and more. Though a little hard to navigate, this is undoubtedly handy. I use my bike along with my Fitbit, to track my progress through there.
6. It can track your pulse while you ride
There are pulse readers on each handlebar so that you can take note and keep track of your pulse as you up the resistance.
7. The seat is super padded
Unlike lots of other exercise bikes, the seat on the Ultrasport F Bike is surprisingly padded – and super thick. This makes it more comfortable to spend long amounts of time on there.
8. You can adjust the seat depending on how tall you are
No matter how long your legs are, this exercise bike can be adjusted to suit you, so that it's comfortable while in use. There are XX levels to choose from when moving the seat.
9. The handlebars are padded
Another bonus of the Ultrasport F Bike – its handlebars are super padded and very comfortable when gripping them tightly and pedalling fast. They also sit at an ideal height and position so that your spine stays straight throughout your workout.
10. It's really simple to assemble
You can have this Amazon exercise bike up and running within about 10-20 minutes. It also arrives in a pretty compact box that can fit through all doors and walkways.
11. It's super quiet when in use
As previously mentioned, this exercise bike is great for using while watching TV, or even listening to music or watching along with a YouTube fitness video on. It's completely silent so you'll be able to hear every word, too.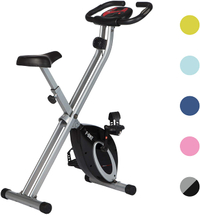 Ultrasport F-Bike and F-Rider Fitness Bike Trainer | £99.68 at Amazon
A great buy for beginners or someone who is looking for a lighter, less intense workout than that of their spin class, this exercise bike is fab. It's also foldable after use and it comes in five colourways. Buy it now to score a saving and cancel that expensive gym membership once and for all. Working out at home is so in, and it's easy to understand why everyone is going it when gym equipment is this affordable.
What do reviewers say about the Ultrasport F Bike?
Rated 4.3-stars out of five by almost 7,000 reviewers, the Ultrasport F Bike is definitely one to add to your compact home gym. Or to use in your living room or bedroom, to tuck it away after use.
One reviewer claims "If you're looking to get started with exercise and don't have a gym membership, then this is a great way to start. The resistance isn't super hard and I keep it on around 7 out of 8, but put a spin class on YouTube and I promise you'll be fine!". Don't just take our word.
Who is the Ultrasport F Bike best suited to?
This Amazon exercise bike is definitely best suited to beginners, or for those who are searching for something to use twice or maybe three times a week. It's not made for everyday use, and it only has eight resistance levels. It would also be ideal for someone elderly or even someone who is recovering from an injury.