Take if from me: If there's anything I can do to spice up my space for the season, I will. I often have friends and family come to stay on my sofa bed and love nothing more than being the best host. This means I'm usually out shopping for anything to make my guests feel that little bit more at-home. But, I am on a budget. Don't get me wrong, I could easily overspend on decor, accessories, and little touches that are, well, extra. So when I find them at an affordable price, I can't help but scream and shout about it.
Which is somewhat on-topic for the irresistible pumpkin casserole dish from Staub. Perfect for serving up stews, soups, and other seasonal dishes, as well as making a delightful centerpiece for the table, I can't find enough uses for this Halloween homeware piece. Only £29.99 for the 15 cm size (or $36 on Amazon if you're in the US), they make great single-serve pots for pies, pasta bakes, and more — especially if you find yourself making meals for one, like I do.
Household name Le Creuset has its own take, which is a pricey £269, but the Staub pots are the original cast-iron and ceramic dishes you can cook, bake, and serve with. Oh, and they're dishwasher safe too.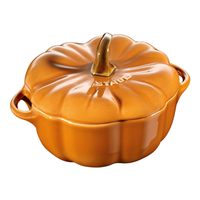 STAUB CERAMIQUE15 CM PUMPKIN CERAMIC COCOTTE CINNAMON | £29.99 at Staub
A great value buy that's MUCH cheaper than Le Creuset's take on the trend, but just as good in quality. Choose from 12cm or 15cm versions in either a black or cinnamon color.
I've got both the black and cinnamon colors and love using the matte black one as a Halloween treat bowl of sorts. I've filled it up with sweets and goodies for trick-or-treaters, guests, and myself to help themselves to.
If you like the look of this dish, I've shopped around for plenty more chic but cheap Halloween decorations that you can buy last minute to get your house ready for spooky-season. But, beware! You might want to buy them all.