If you need items for a garden project, then you need to check out these Amazon garden buys. While Amazon is traditionally known for tech over tools, it can also be a one-stop shop for all of your gardening needs and offers some very competitive prices.
Whether you need something pretty or practical, Amazon stock everything from birdseed to barbecues, and garden forks to garden furniture. What's more, you'll likely be able to get whatever you buy delivered in no time at all – great if you have a garden makeover planned for the weekend.
Plus, Amazon Prime Day is now just around the corner, which promises some even better deals on garden buys. Check out the Real Homes team's pick of all the best bargains in our Amazon Prime Day deals round-up, including appliance and decor essentials for the home.
The best Amazon garden buys to shop
If the garden is your focus, these 14 Amazon garden buys could be just what you're looking for; from an outdoor mirror to a garden rug, lovely lighting, and much more, they're the perfect way to spruce up your outdoor space on a budget.
1. Buy some solar lighting to hang from your pergola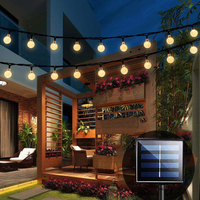 (opens in new tab)
Usboo Solar String Lights Garden | £11.95 at Amazon (opens in new tab)
This solar lighting is 24-foot long so it can cover a large space, whether you plan on hanging it from one end of your garden to another, or draping it over a pergola. One string features 30 crystal balls, each with built-in battery lights inside. A cheap way to add light and style to your back garden.
2. Invest in an outdoor mirror to make small gardens appear bigger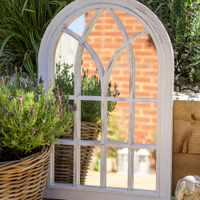 (opens in new tab)
Creekwood Wall Mirror | £33.90 at Amazon (opens in new tab)
This wall mirror makes a smart addition to a small garden and is an easy win for making a compact outdoor space look larger. The timeless design can also be used indoors or out – your choice.
3. A pressure washer – to give your patio, furniture and the kids' toys a good clean down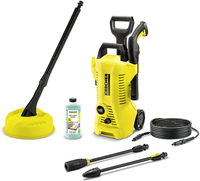 (opens in new tab)
Kärcher K2 Full Control Home Pressure Washer | £124.99 £100 at Amazon (opens in new tab)
Now on sale with almost £25 off, we think this is one of the best pressure washers out there. Great for giving your patio, decking, furniture, and even BBQ a good clean, it's an easy way to give your garden a new lease of life.
4. What about some in-ground lighting to make a statement?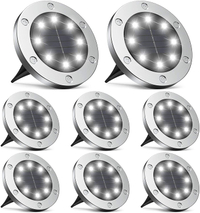 (opens in new tab)
Infray Solar Ground Lights | £25.98 £22.08 at Amazon (opens in new tab)
You can pop these in-ground solar lights anywhere from around flowers or buried around stones. They come in your choice of cold white or warm white, and are made from weather-resistant stainless steel to last in your garden year after year. Affordable and convenient, they can make a statement with ease.
5. Pick up an outdoor rug to add some cosy to your space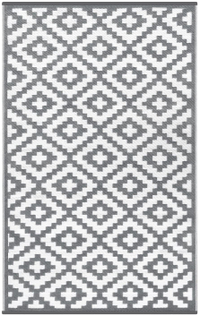 (opens in new tab)
GD Home Lightweight Indoor/Outdoor Reversible Plastic Rug | £59 £49 at Amazon (opens in new tab)
Group your outdoor furniture around this geometric rug to create a focal point and add some cosiness for bare feet. Made of plastic, it's waterproof and super easy to clean, plus it's reversible and UV-resistant. Not just for outdoor use, you could also use it indoors or take it to the beach or park for picnicing.
6. Sit pretty on this stylish rattan-effect corner sofa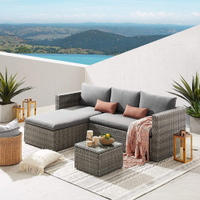 (opens in new tab)
Evre Malibu Rattan Garden Furniture Set | £399.99 £339.99 at Amazon (opens in new tab)
Ideal for a smaller outside space, this compact garden corner sofa comes with built-in chaise, cushions and glass-topped coffee table included. There's also the option of adding an outdoor furniture cover to your purchase to protect your investment.
7. Water for birds? Easy with this solar-powered fountain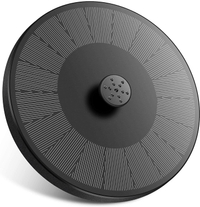 (opens in new tab)
Gocheer Upgraded Solar Fountain | £29.99 £10.99 at Amazon (opens in new tab)
Pop this solar-powered fountain in a pond or birdbath to encourage flying guests. It can hit around 60cm in height on sunny days, or 30cm on cloudy days, while it comes with seven different nozzles so you can choose from a range of water features. Not just great for the birds, but good for the environment and impressive to guests.
8. Invest in some pruning shears for cutting back withered plants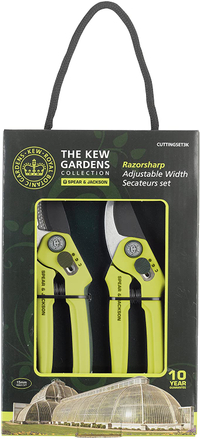 (opens in new tab)
Spear & Jackson for Kew Gardens Razorsharp Cutting, Set 3K Bypass and Anvil Secateurs Set, Green | £33.99 £23.58 at Amazon (opens in new tab)
The team own and love this set of secateurs from Spear & Jackson. They're from the brand's Kew Gardens range so have pro written all over them and are perfect for a variety of pruning jobs. The anvil pair is for thicker stems and small branches, while the bypass is perfect for deadheading and tidying delicate plants.
9. Buy a tiered plant stand for space-savvy storage purposes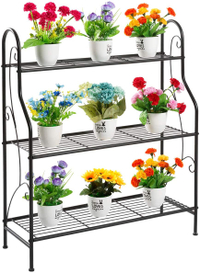 (opens in new tab)
DOEWORKS 3 Tier Metal Plant Stand | £33.99 at Amazon (opens in new tab)
This three-tier metal plant stand makes the perfect place for your herbs to live. It's also great for smaller gardens, and it can easily be used for storing more than just plants – kids' toys and garden shoes could finally have a home.
10. Enjoy your morning coffee alfresco with this Acapulco-style bistro set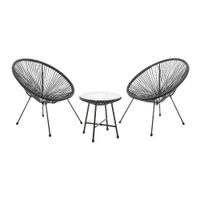 (opens in new tab)
Evre Goa Acapulco Style Bistro Set | £159.99 £135.99 at Amazon (opens in new tab)
Perfect for the patio or balcony, this set of two Acapulco-style bistro chairs is accompanied by a small glass-topped table that's perfect for perching a morning coffee or evening sundowner. Opt for monochrome black for a stylish look or bright yellow for tropical summer vibes.
11. Buy some fake ivy to cover an otherwise boring wall or fence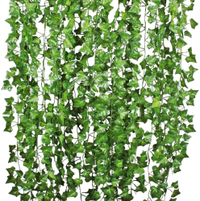 (opens in new tab)
YQing 84 Ft-12 Pack Artificial Ivy Leaf | £12.99 at Amazon (opens in new tab)
Need a quick fix for an unsightly spot on the patio? This artificial ivy can be used to hide an ugly wall or not-so-focal fence panel in your garden. It looks real, you needn't take care of it with any pruning and it's easy to hang – not just that, but it's also very inexpensive.
12. Buy a few solar lanterns and nestle them beside your furniture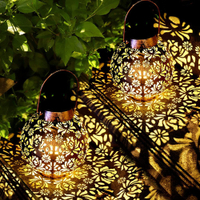 (opens in new tab)
2 Pack Outdoor Solar Lanterns | £32 £22.94 at Amazon (opens in new tab)
Add some atmosphere to your outside space when dusk falls with this set of two decorative solar lanterns. Available in black or bronze, the metal holders feature a floral cutwork pattern that will cast beautiful shadows across the decking or lawn as night draws in.
13. This complete seed garden kit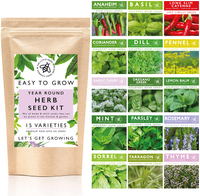 (opens in new tab)
The Little Trees Bees & Seeds Company Store Herb Seeds for Gardening | £10.99 at Amazon (opens in new tab)
Fancy starting your own herb garden? This kit makes it easy – and it comes with 15 seed varieties included. In the packet also comes 15 plant markers and a guide. This would also make a lovely gift for someone who is looking to get into gardening.
14. A decorative wooden insect and bee house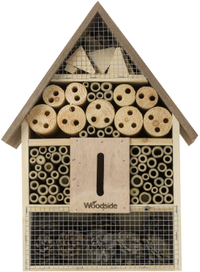 (opens in new tab)
Woodside Wooden Insect & Bee House | £14.99 at Amazon (opens in new tab)
This Amazon garden buy gives back – it's an insect and bee house that needs to be placed outside in your garden to offer them a safe place to stay. It's made from 100 percent natural materials, and you can either wall mount it or place it on a surface. Cute!
Looking to invest in new patio furniture? Head to our round-up of where to buy the best garden furniture for plenty of inspiration