Looking for some affordable pampas grass to add a little something different to your Christmas tree this year? Well, I am in the exact same boat, and I am working with an artificial tree that has definitely seen better days. But, instead of making a trip to the dump and throwing away a tree that could be restored with a little effort, I'm taking a new approach this year. I've seen this all over my Instagram, and even on Stacey Solomon's stories, which was nice as it's proof I'm not totally losing it (as per what my husband thinks). The pampas Christmas tree look is bang on trend for 2022 and will be the hot new Christmas tree theme this December. Don't say we didn't warn you!
How to construct such a wild idea? Well, you're gonna need a whole load of determination, plus a really great vacuum for the mess it's gonna cause, and some pampas grass. I am planning on using this bunch from Amazon, which I bought way back, and it's still kicking around on my coffee table, looking pretty. Simply enough, I'll be poking it into my tree, trying to get it to look even all around, whilst keeping my fingers crossed that my dog doesn't mistake it as a fluffy toy. Anyway, I'll keep you updated with the process, but for now, don't miss this incredible Black Friday saving.
This bunch of pampas currently has a lovely 26% off at Amazon, making it only £16.99 for 40 (!!!) stems right now. This is just one of the cute Amazon home decor finds we've spotted, and that we're totally obsessed with. Don't miss your chance to buy a couple of bunches to decorate your tree, your coffee table, or elsewhere on a budget.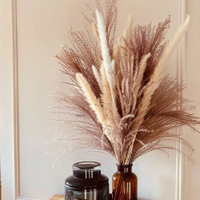 Pampered Pampas Natural Dried Pampas Grass | Was £22.99, Now £16.99 (save £6) at Amazon
This large arrangement is pretty impressive in size considering its price tag. In the box, you will find 15 white stems, 15 cream stems, and 10 reeds (darker ones). You can either display these all in one vase or separate them out to get three arrangements. You can trim the stems at the bottom if they are too long. The total length of each individual stem is around 58 cm to 65 cm.
Now on sale for Black Friday, this is a total steal.
This Amazon pampas grass is 100% natural and non-toxic. Meaning you can place it within reach of pets as it's not harmful to them or children.
When your pampas grass arrives, take it out of the box and packaging immediately. Then, take it outside and shake it to make it fluffy. Pop it in the sun for a few hours or use a hair dryer on low power and low heat to make it fluff a little more and just pop it in a vase. No need for water. Lightly spray with hair spray to maintain its fullness.
How to use your pampas grass post-Christmas
This dried pampas grass arrangement is large and inexpensive, and it transformed my living room. Before, I was having to constantly buy bouquets of fresh flowers for the centre of my coffee table, but now I have this dried pampas to do the job of bringing the outdoors in, and it blends in with my colour scheme perfectly. Just be sure to buy a sizeable vase to pop it in as it's pretty large. You could also separate this bunch into two or three lots and place each arrangement in a different room, whether in a dining room in the middle of a table, in a hallway in a large floor vase, or in your bedroom on a bedside table.
Why buy dried pampas grass?
Dried pampas grass is the interiors trend that doesn't seem to be going anywhere any time soon, and we are hardly complaining about it. In fact, you'll find plenty of pampas grass inspiration on Instagram with over 600,000 photos uploaded tagged with #pampasgrass.
Pampas grass isn't just for decorating your home — it's ideal for including in baby shower decor, using for wedding flower arrangements, and much more. In other words: pampas grass has endless uses. It goes beyond the world of coffee table decor.