Just because you have a small garden, that doesn't mean you can't have big ideas. In fact, being ambitious for a small garden can make it way more interesting – and spacious-looking, if you know what you're doing. 
What not to do? Don't think small garden ideas are about packing out your space with tons of furniture and features. Ideally, you need just a few clever, impactful ideas that will make it look larger (think: visual tricks) and more interesting (think: space-stretching design features). Here, we've got just a few of our favourites...
For more great garden ideas, go to our dedicated page.
1. Swap borders for raised beds for an uncluttered look
The straight lines of raised beds create a neat garden design that will look more spacious simply because of its uncluttered approach. Plus it'll be easier to look after. Better still? The raised beds give you the opportunity to create more height with your planting than if it was at ground level, which will again bring more drama to the space. So, even if you're not packing out your raised beds with fruit and veg (and we really would), think about them as an alternative to lots of containers dotted about: the result is far more space-enhancing. 
Use our guide to find out how to make raised beds.
2. Build planting pockets into seating areas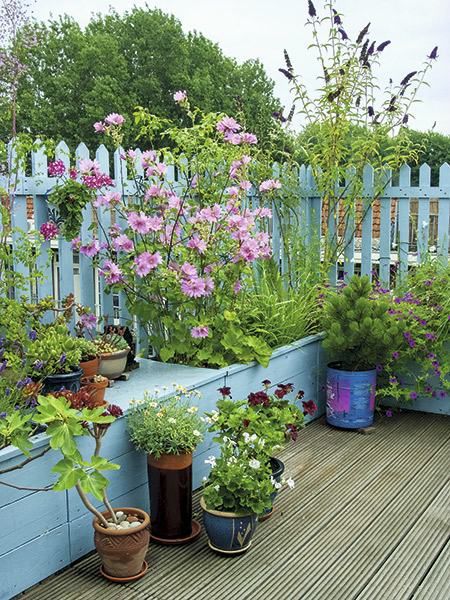 Built-in garden seating that hides storage beneath lift-up lids is SUCH a good idea, honestly. Even better if it's painted to complement the rest of the garden's paintwork and/or your planting. But what about creating little planting pockets, like in the corner of this seating arrangement? It's a clever way to combine space for plants and people, softens the edges of the seating's construction and looks fab.
3. Hang a garden mirror to double your space
What do we do to make a living room/bedroom/bathroom look bigger? We hang a big, light-reflecting, space-stretching mirror. And the same trick works in gardens, bringing light to a dark corner, reflecting a nice view and tricking the eye into seeing a false view that lengthens or widens the garden. Clever. The ideal? Let greenery lap over the edges of the mirror, so that the visual trick is as convincing as possible. Pretty lighting hung up in front helps make the most of it in the evening, too.
4. Create horizontal lines with fencing, paint them white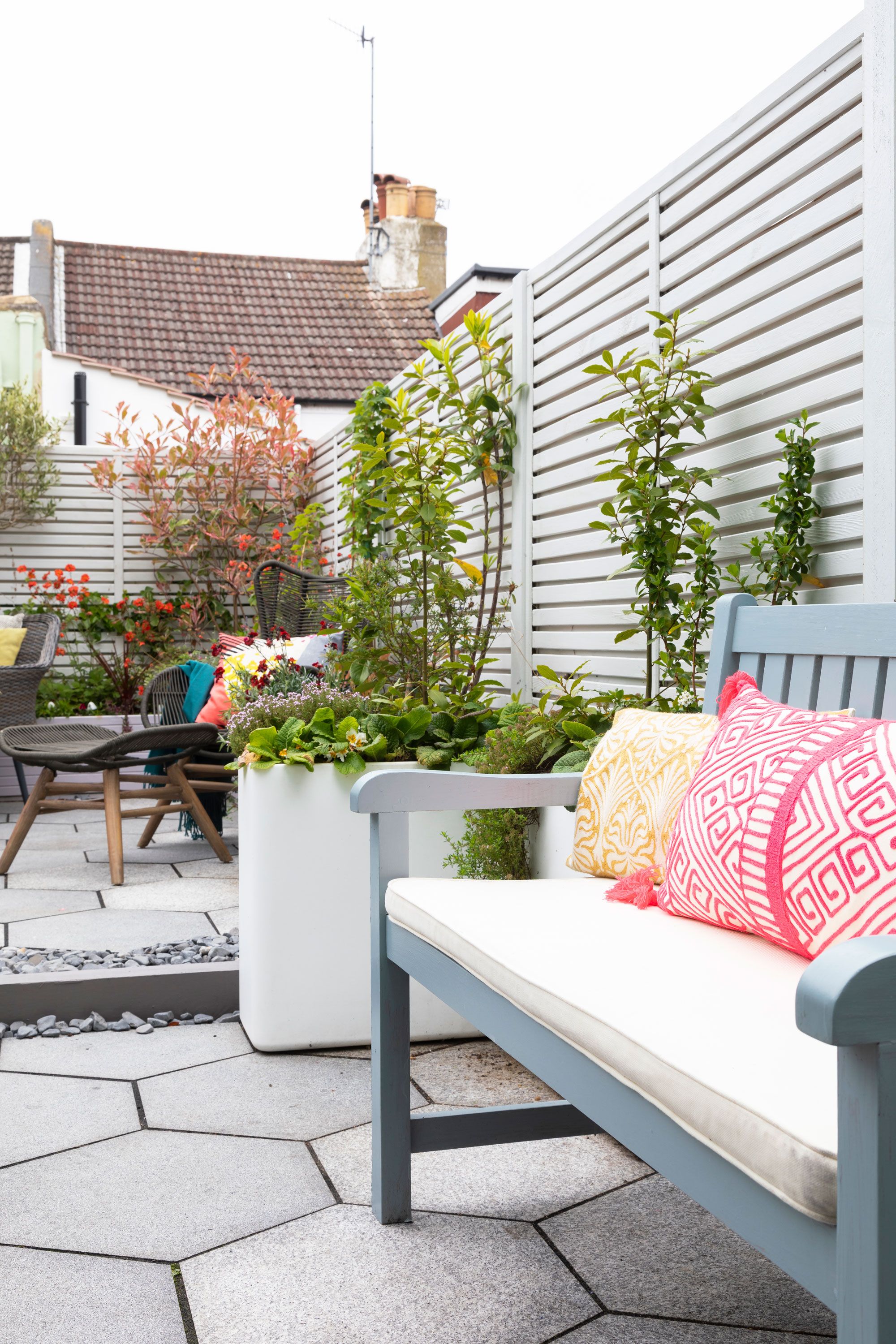 Small gardens are often overlooked, so we can understand the desire for a tall fence around them. BUT... tall fences only serve to make an enclosed space feel still more enclosed, which is where fencing panels with horizontal lines like these come in. The lines trick the eye into seeing the garden as wider and longer than it really is and counter-balance the effect of the tall fence. Paint it white and you'll minimise that even more and reflect lots of light about.
Find more fence ideas in our gallery.
5. Go in for vertical planting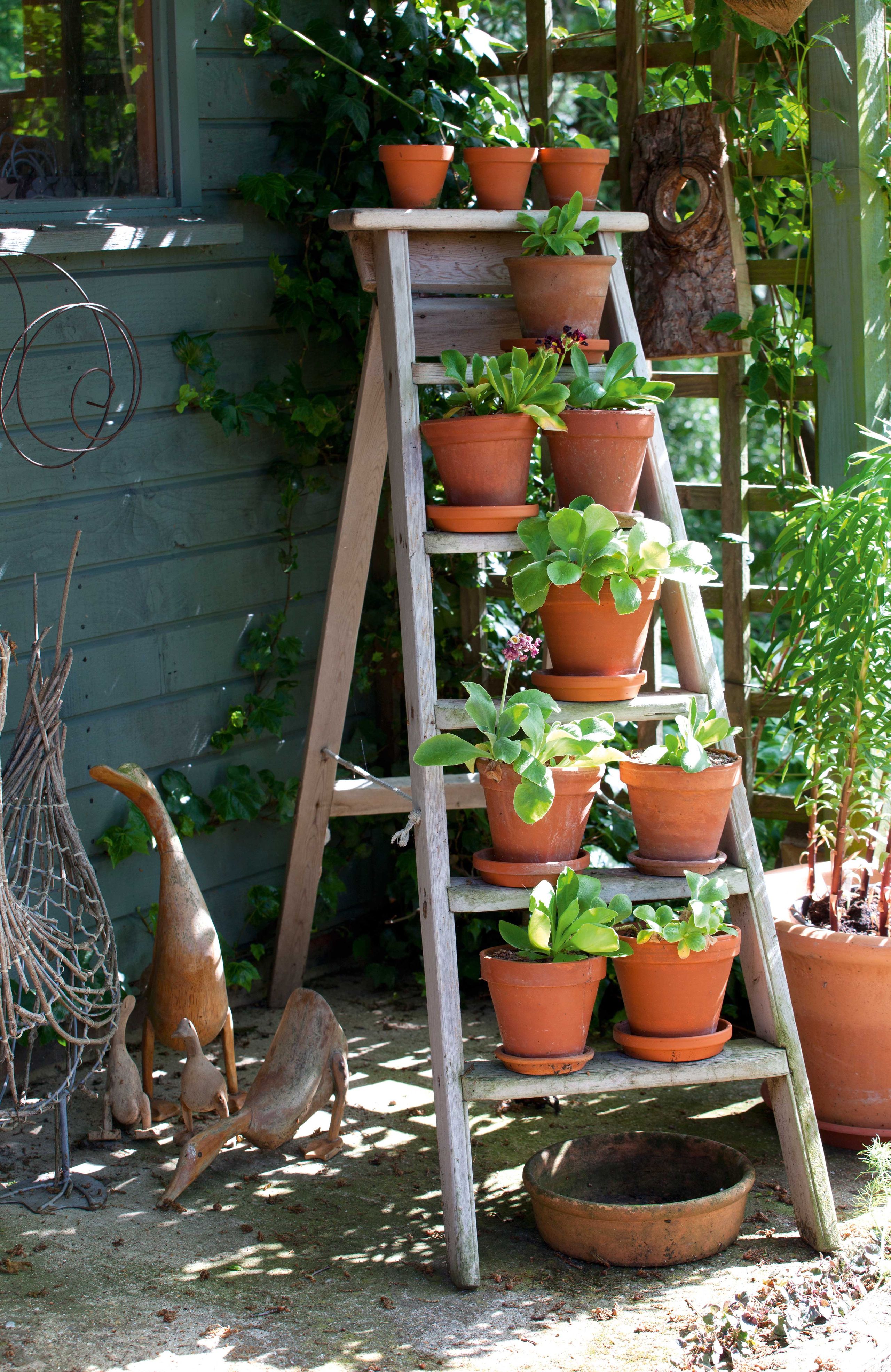 LOVE this idea. Vertical planting is a good way to get greenery into a small garden without taking up floor space. Of course, there are wall-hung pots, living walls, hanging baskets, climbers, trellis... all serve to bring greenery (and wildlife) into a small garden, but the odd clever styling detail like this go a lot further in terms of adding character.
Find out how to create a living wall in our feature.