The garden is inseparable from our ideas about traditional home life and The Good Life. For most of us, an outdoor space, however small, offers invaluable opportunities for socialising, relaxing, and tending to plants. 
Traditional garden design schemes are less about precision landscaping and more about creating a natural, unfussy look – good news for beginner gardeners, or those who are designing a garden on a tight budget. We take you through some of the most attractive traditional garden design schemes, whatever the size and main purpose of your outdoor space. 
Visit our garden ideas hub for more inspiration and advice for your outdoor space.
Once you're set on a look you like, find out how to plan and cost your garden design
1. Create a secluded spot with a garden bench 
For maximum privacy, create a secluded relaxation spot by positioning your garden bench in semi-shade between a hedge/fencing and some tall plants – the positioning of the bench and planting may be something you have to plan into your new garden scheme, so always consider these details carefully from the outset.  
Find out more about how to improve privacy in your garden, and find the best garden bench in our buyer's guide.
2. Achieve a formal, sculptured look with box hedges
Box hedge, or Buxus Sempervirens, as it is known in Botanist's Latin, is an absolute must if you're going for a formal, manicured look in your garden. Let your imagination run wild: you can go for a maze-like effect, or mix up the formal look with a more relaxed planting scheme. 
Find more inspiration for choosing plants for traditional gardens in our guide.
3. Enjoy a rustic look with gravel paths and relaxed borders
Prefer a fuss-free, country-garden look? You're in luck: it's as easy to achieve as it looks. All you need is to break up your outdoor space with some gravel paths, and then plant the borders with low-maintenance herbaceous perennials such as rosemary and lavender. 
Feel up to doing it all yourself? Find out how to lay a gravel path in our guide; and find out how to choose the best gravel in our advice feature. 
4. Mix and match containers for an eclectic look
A traditional container garden is all about variety – think different heights and shapes of plants, but also a selection of pots in different colours and finishes. Try a few bright glazed pots (Heritage Pots by Woodlodge are great) mixed with some matt, patterned ones – and avoid a matching scheme if you want a relaxed finish or go for co-ordinating pots if you're aiming for a more formal feel.
Find out more about container gardening for small spaces. 
5. Create a romantic dining spot with a bistro set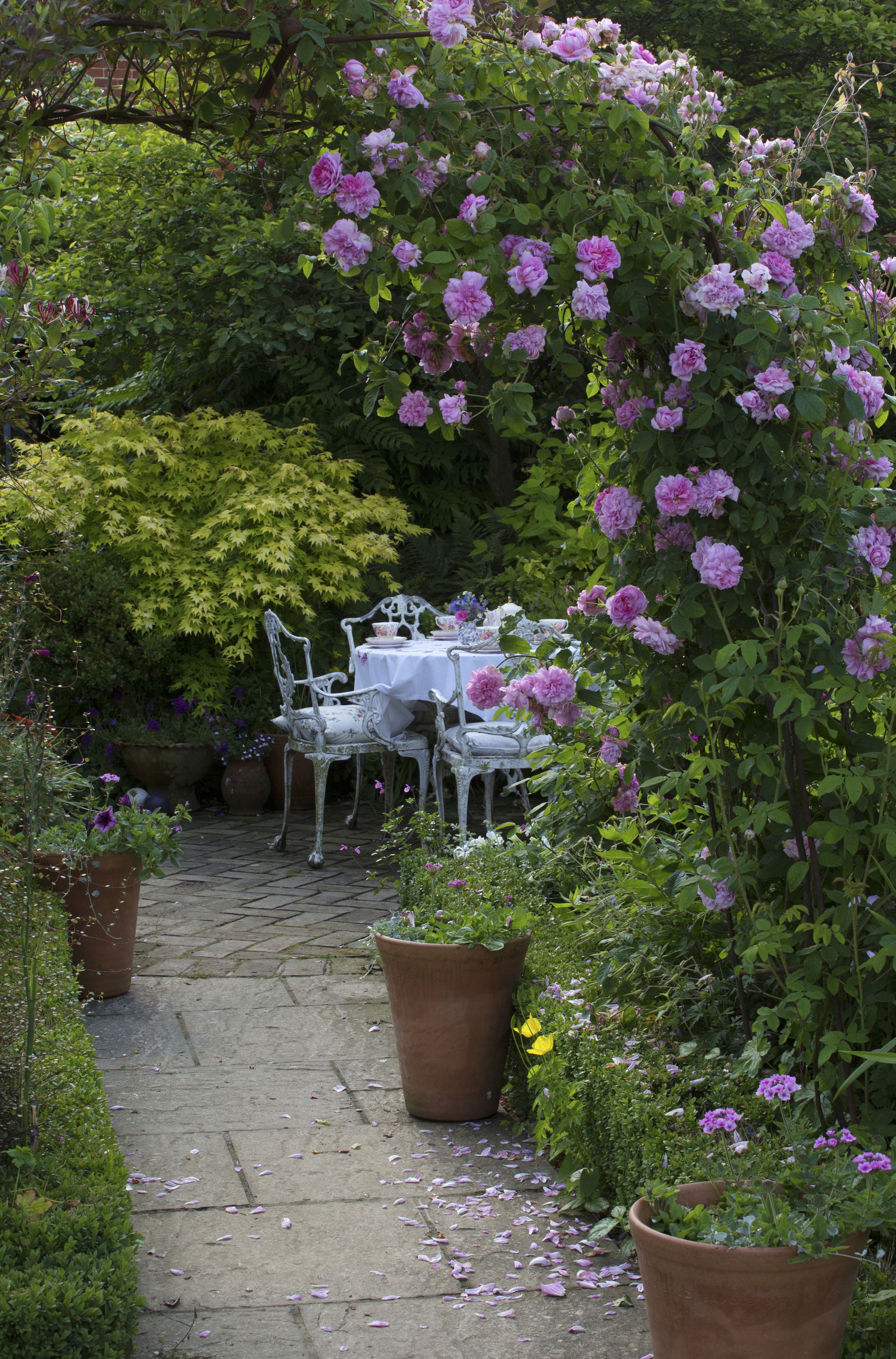 For traditional garden afternoon tea (think a beautiful porcelain tea set and Victoria sponge to serve), you need a lovely bistro garden furniture set. Buy new or upcycle a vintage metal set by painting it. 
Find our how to revive metal garden furniture in our guide; and find new metal garden furniture in our buyer's guide. 
6. Create a summerhouse retreat
Blessed with a larger garden? Why not install a garden room or a summerhouse? The difference between them is mainly that a garden room is better insulated (and hence more suitable for working or spending substantial amounts of time in), while a summerhouse is just perfect for cooling off in the shade during summer lunchtimes. Get some comfortable furniture and soft furnishings inside yours for maximum comfort. 
Think a garden room is what you need? Follow our expert guide to adding a garden room. And be inspired by these beautiful garden rooms and summerhouses.
7. Get garden deckchairs to soak up the sun
If your traditional garden scheme includes a decking area that gets the sun, why not take advantage of the sunny days (however few they may be) and invest in some lovely deck chairs? Our advice is sticking to traditional canvas and picking simple, light-coloured designs for a classic look that will blend in with your traditional garden scheme. 
Check out our amazing decking ideas for more inspiration. And if you're up for a bit of DIY, find out how to install a deck.
8. Go big on colour in your traditional garden
Traditional gardens are first and foremost about celebrating the natural beauty of plants, so don't be afraid of really going big on colourful blooms. Alliums help make this traditional garden look gorgeous during early summer. 
To get more of an idea of what you should plant, follow our guide to finding a colour scheme for your garden.
9. Make the most of a patio with containers and comfy seats
A traditional patio design should have a good balance of furniture and container plants – aim for a look that's busy, but in a good way. It's best to choose seating that has soft padding, for both comfort and looks. 
Find out how to create the perfect patio – and use these ideas for inspiration for your summer lounging area. 
10. Choose rustic furniture for a country garden
Our top tip for choosing furniture for a traditional garden is to go with what the rest of the garden reflects. If yours is a relaxed, rustic or seaside-style garden, then choose furniture that will harmonise with that look. Chunky, unpainted wood will work best.
Find out more about choosing garden furniture in our guide. And find the best wooden garden furniture buys, too.
11. Include steps in a sloped garden design
If your garden is uneven in height, you have a great opportunity to add design interest with some steps. Hiring – or at least consulting – a landscape architect is a must, even if you end up laying the steps yourself. 
Find out how to make the most of a sloping garden. 
12. Paint your garden furniture to achieve a romantic look
Want to give your patio an update, but also want to keep things traditional? Paint could be the answer – there's nothing quite like a fresh coat of paint to give your outdoor furniture set a new lease of life. 
Find out how to paint furniture in our guide. 
13. Create a cosy nook with printed soft furnishings
Add softness and design interest with printed cushions and a tablecloth. The colourful soft furnishings used in this garden are made with fabrics from Vanessa Arbuthnott. 
We have more outdoor living space design ideas for you to browse.
14. Create a cottage garden look with rambling plants
The traditional cottage garden is many a gardener's ideal garden look. How to achieve it, even if you don't live in a cottage? Cover outbuildings, walls, and fences with free-growing, rambling plants, such as honeysuckle, ivy, and rose. 
Get more advice on how to create a cottage garden in our guide. 
15. Cultivate roses to add colour and traditional charm
There is no other plant that's as closely associated with traditional garden charm as the rose. Pick rambling or climbing varieties to create the most natural look. Some varieties will also do well in containers – perfect for your patio or front garden. 
Find out how to grow a rose garden. 
16. Invest in a garden statue for an elegant look
For an elegant, patrician effect that will impress anyone entering your garden, invest in a beautiful garden statue. Quality garden centres will have beautiful new statues; alternatively, look in antique shops for a vintage statue you could restore yourself.
Follow our advice on how to restore a garden statue for best results. 
17. Install an arbour or pergola to add structure
Arbours and pergolas make great additions to traditional gardens – they support additional plants, add structure to your garden design scheme, and provide shade on hot summer days. And – pergolas are perfect DIY projects for experienced DIY enthusiasts. 
Find out how to build a pergola.
18. Install a classic water feature
Looking for a final special touch to your traditional garden design? Water features add an extra sensory dimension – and plenty of design impact – to a garden. The Athenian Wall Fountain in this garden is from Haddonstone.
Find out everything you need to know about garden water features. 
19. Add some wildlife-friendly plants 
What traditional garden is complete without busily hovering bees and butterflies? To attract pollinators to your garden, plant bee- and butterfly-friendly plants such as poppies, lavender, and buddleia. 
Get more advice on creating your own luscious wildlife garden in our guide. 
20. Add drama with tall plants
Another classic planting tip for traditional gardens is mixing up plants of different height. Ideally, you want colour and texture in the foreground, background, and middle ground, layering the plants as you position them. For extra height in the background, try tall plants such as hollyhocks and lupins. 
Find out more about vertical gardening in our guide.
21. Invest in a timeless rattan garden furniture set
If the primary purpose of your garden is relaxation, then all you really need is a classic, well-build rattan set. 
We love the timeless elegance of the Harrington wicker range from Neptune.
For more options, check out our buyer's guide to the best rattan garden furniture.
22. Choose folding metal garden chairs for impromptu gatherings
If you like to use a different part of your garden depending on your mood/how many guests you have, then portable, foldable metal chairs will be your best bet for garden furniture. 
The powder-coated steel Bistro Chairs from Garden Trading are coated in a range of attractive colours and come with optional seat pads for extra comfort.
Have a look at our pick of the best metal garden furniture. 
23. Choose bench seating for barbecues
If you love a classic summer barbecue, and regularly have lots of friends or family over, you'll need to think how you'll accommodate everyone. A couple of sturdy, long benches may be a more practical option than lots of seats. 
The Harmen outdoor table and bench are by Rowen & Wren.
And why not take a look at the best charcoal BBQs, too?
24. Make outdoor dining a feast for the senses
There's nothing quite like the pleasure of al fresco dining in the summer. To encourage your dinner party to go on for hours, up comfort levels with great seating, beautifully presented food, and a proper tablecloth. 
Get more advice on creating an outdoor dining area in our guide. 
25. Create an inviting atmosphere with garden lighting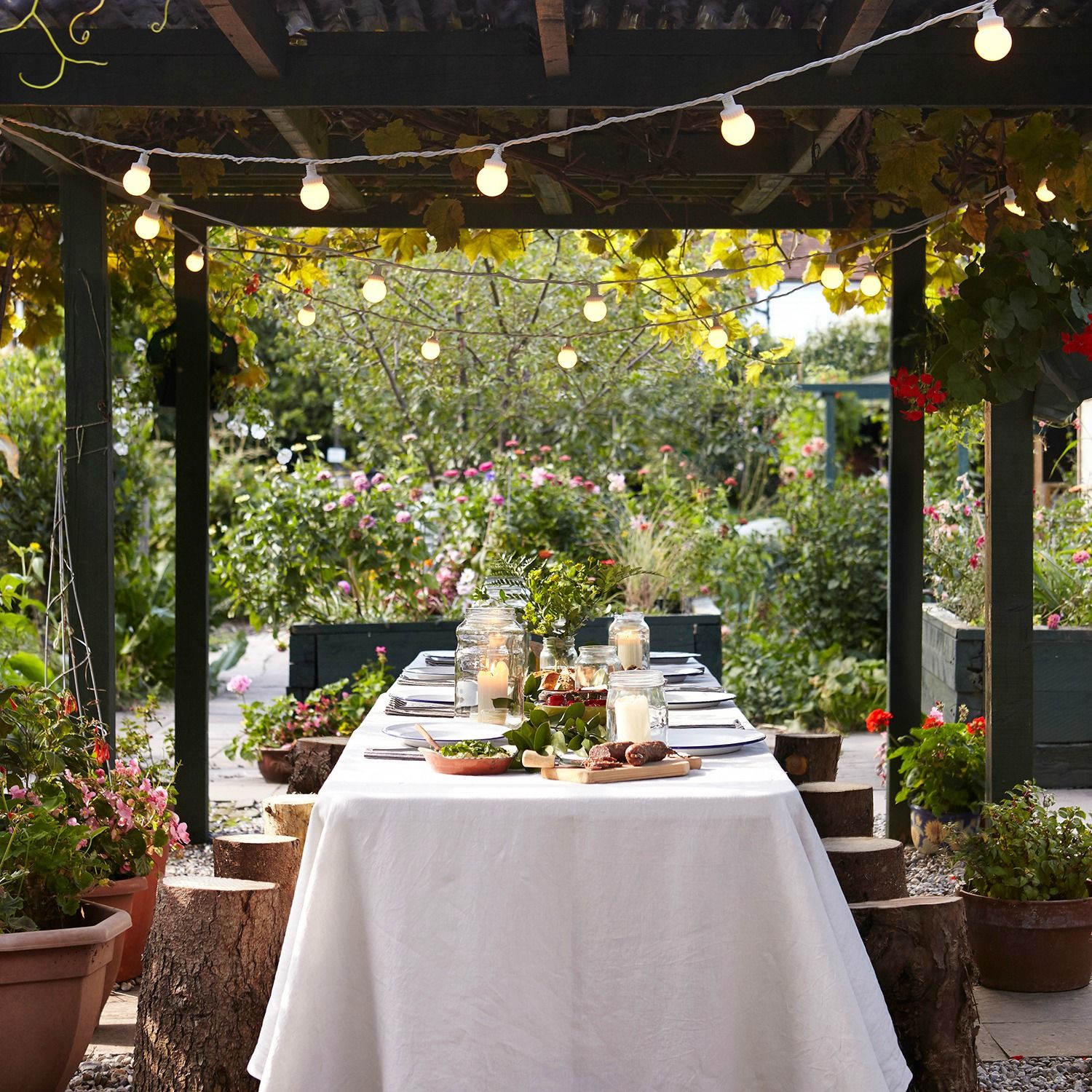 Our top tip for using lighting as part of a traditional garden design scheme is to keep it simple: fairy lights and lanterns are usually all you'll need to light your garden in the evening. 
Want to try something a bit more elaborate? Follow our advice on how to plan your garden lighting. 
26. Get together around a fire pit on colder nights
Chilly nights can still be outdoor nights – the trick is to invest in a firepit. They're great for toasting marshmallow/roasting chestnuts, too. 
Or – go a step up and invest in a chimenea. We have a buyer's guide to the best chimeneas to heat up your outdoor space. 
27. Go for classic trellis fencing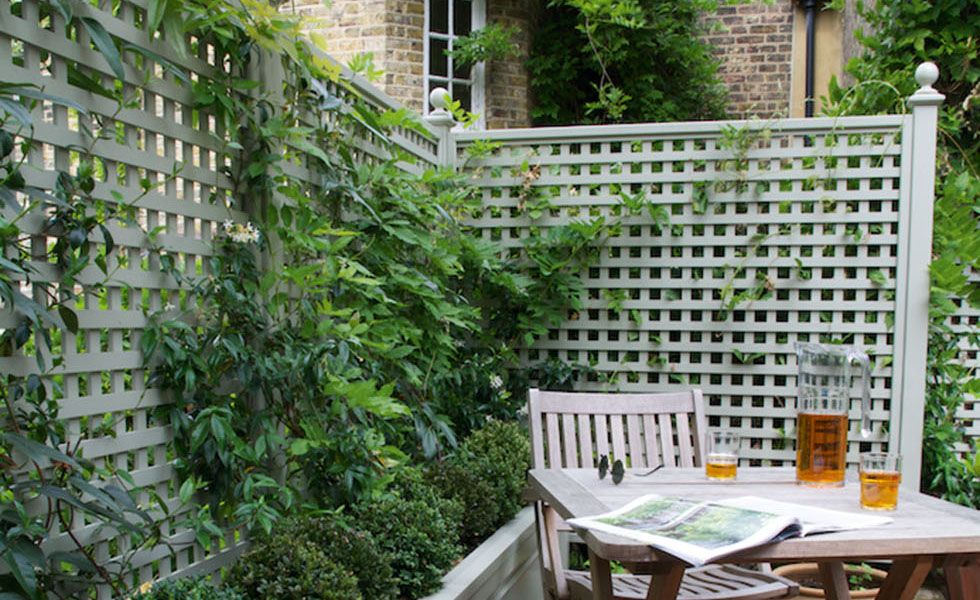 In a traditional garden scheme, the fencing should blend in seamlessly with the rest of the garden design. Best way to achieve this? Choose trellis fencing, then plant fast-growing climbers such as jasmine and honeysuckle to create a natural green wall effect. 
This square-lattice painted trellising was custom-made by The Garden Trellis Co. Bespoke projects are priced on application, and off-the-peg options cost from £20 for a H30cm x W180cm panel. 
We have more garden fencing ideas for you to browse.
28. Get a traditional garden shed
Appropriate garden storage is a must in every garden; in a traditional garden, you don't need to go for fancy concealed storage options – just go for a well-built, classic garden shed. 
This tool shed from Scotts of Stow has plenty of shelves and hooks to maximise storage potential. The Sentry Shed also comes with log storage.
We have more space saving garden storage ideas for you to browse. 
29. Set a reflective mood with a mirror
Conjure up the atmosphere of days long gone by placing the table before an elegant traditional garden mirror (find a similar one at Primrose). A fresh coat of wood stain draws attention to the shapely table legs and decorative chair backs. Now all you need is a lace tablecloth, pillar candlesticks and your favourite china and glassware.

Want more garden design ideas?