Looking for mirror ideas to make your home look not just bigger and brighter, but more stylish, too? From standout gallery walls created with prettily framed mirrors to minimalist-inspired mirror design ideas, our stylish spaces will provide plenty of inspiration for displaying mirrors, whether contemporary buys, antique finds or vintage pieces.
See our best hallway mirrors shopping edit for inspiration when it comes to buying a new mirror. Find tons more design inspiration on our dedicated hub page.
1. Create a focal gallery wall with mirrors
Mirrors make the perfect addition to an on-trend gallery wall and can help give the appearance of a larger and lighter space – especially helpful if you're using a dark paint shade as the basis for your gallery wall.
This vintage-style room proves that aesthetic appeal and practicality can join hands to form a stylish yet functional gallery wall inspired space.
Like this as an idea? Browse our top tips for guidance on how to hang a gallery wall.
2. Lighten a dark hallway with the mirror idea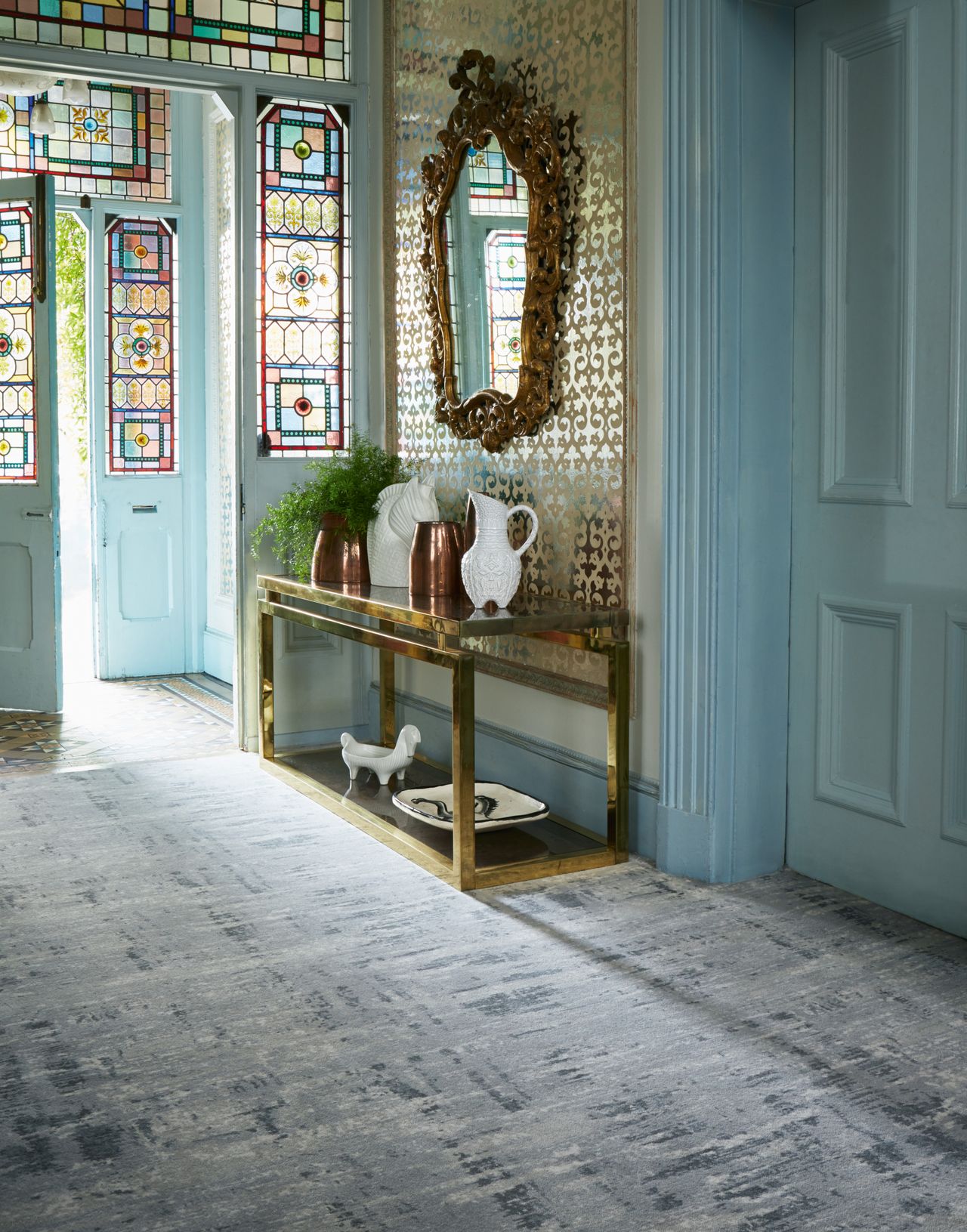 A dark hallway is always a good spot for a mirror. If you're a lover of vintage or period style, look for one with an ornate frame that will create a real impact on the decor of the hall. Here, a gold-framed mirror is matched with reflective wallpaper to add a brightening effect.
For more tips on how to lighten a dark hallway, take a look at our feature. We've got lots more lovely design ideas for hallways, too.
3. Create a feature wall with a display of mirror frames
A gallery wall devoted entirely to mirrors doesn't just brighten and enlarge a space visually; it also creates a visually striking focal point, and is effective at opening up a space. This bedroom design is the perfect example of one of our favourite mirror design ideas.
We like this mirror idea if you have a collection of slightly mismatching, antique mirrors. The key to success? Don't position your mirrors too uniformly or too far apart, and avoid perfect symmetry – laying them out on the floor first can be the best way to get a feel of what works best where.
Find more gallery wall inspiration in our design feature – we've covered everything from plates to plants to prints.
4. Hang mirrors on the ceiling (really)
If you're blessed with high, sloping ceilings, you might also consider taking advantage of them with the addition of this mirror idea, which will enable you to make the most of an awkward space. Here, the mirrors brighten a dark spot in a hallway and add bags of interest to what's usually an under-used space.
5. Position long mirrors horizontally
Hanging mirrors horizontally on the narrowest wall of a room – at around head height – is ideal if you're trying to achieve the effect of a wider space. This design trick works particularly well if mirrors aren't perfectly aligned with furniture – an effect which also adds interest to a space.
Opt for a mirror with a slightly softer, rounded edge if you're designing a room with a Mid-century or vintage inspired feel.
6. Add mirrors to the mix in a picture-led gallery wall
Mirrors with softly rounded edges make the perfect addition to a Mid-century inspired space and are particularly desirable when designed as part of a picture-led gallery wall.
We love the brightening effect of pairing a mirror with this teal green wallpaper from Farrow & Ball. If you're looking for more green living room design ideas, be sure to take a peek at our gallery. We've got plenty of Mid-century modern decor ideas, too.
7. Pair a statement gold mirror with a sunny scheme
If you're working with a warm-toned metal mirror, for example something that's copper or gold, consider this mirror idea and pair it with similarly sunny yellow and orange shades.
In addition to making a space more welcoming, research suggests this combination of warm, sunny tones has the ability to enhance the mood of a room.
8. Create a minimalist-inspired design feature with a frameless mirror
If you're looking for a mirror idea that will create a unique feature, but don't want to sacrifice your distinctly minimalist style, consider going frameless. In a bathroom with a more traditional or luxury feel, antiqued glass is perfect for adding character.
Browse more lust-worthy luxury bathroom design ideas.
9. Choose vintage frames for a laid-back mirror idea
Opting for vintage frames effectively complements the laid-back feel of minimalist or Scandi-inspired schemes, adding subtle interest to a space and further enhancing the light and bright feel synonymous with this interior style.
If (like us) you can't get enough of Nordic inspired spaces, you'll want to browse our cosy Scandi room design ideas.
10. Maximise the light enhancing properties of a simple, round mirror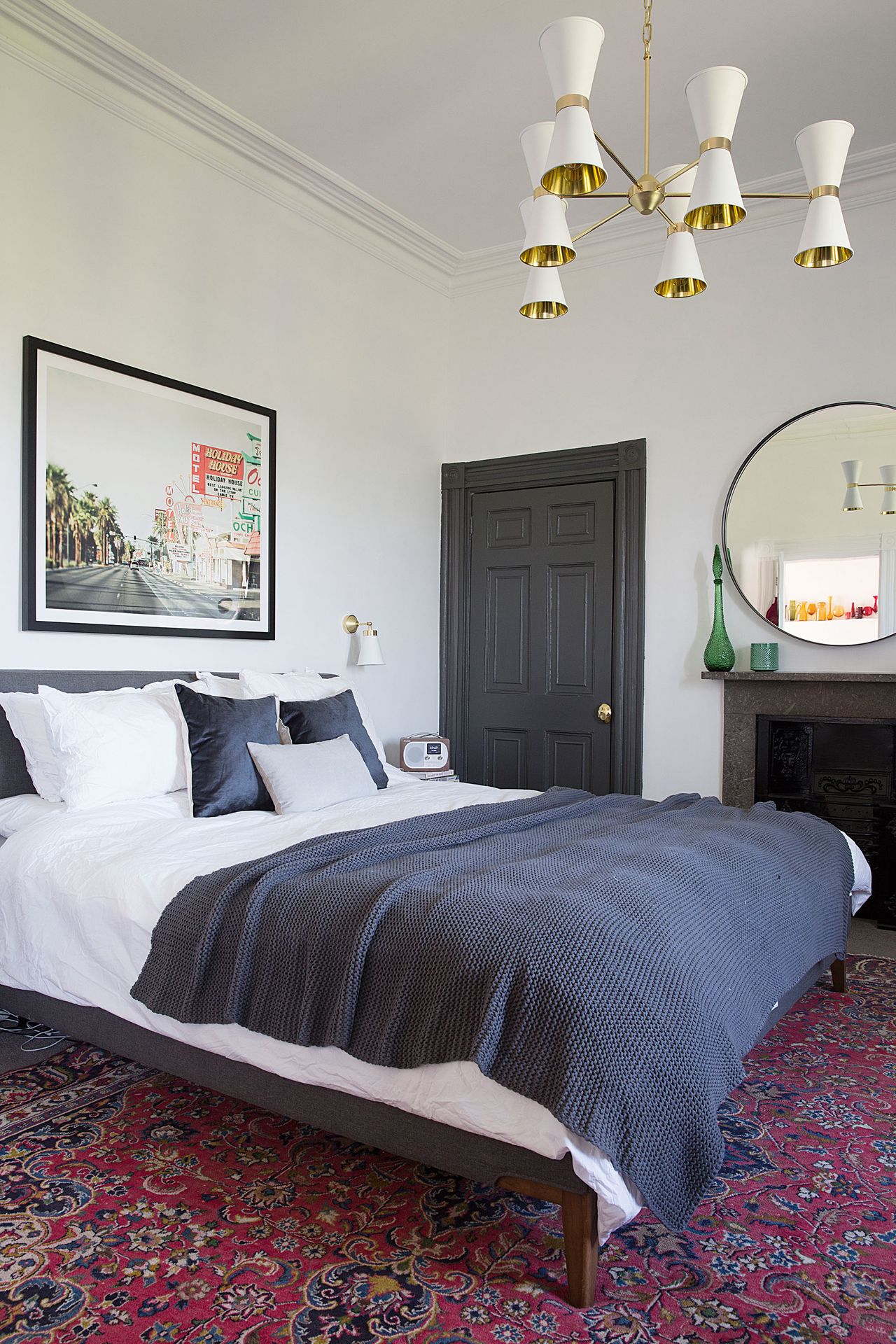 If your priority is to design a space that feels larger and lighter than it really is, you need a large, round mirror in your life. Position it so that it can been seen on entry to a space effectively draws the eye and creates the feel of a larger and lighter space.
Opt for a model with a slim frame if you're a fan of understated, minimalist interiors and position above a similarly elegant console table for a hallway that feels spacious and welcoming to guests.
11. Create a focal point above the fireplace with mirrors
Positioning a statement mirror (or collection of mirrors) above a fireplace draws the eye, creating a focal point within a space and is one of our favourite mirror design ideas. The taller the mirror – or collection of mirrors – the greater the impression of a high ceiling in the room.
Styling a grey stone fireplace with antiqued silver mirrors and other glass accessories creates a strikingly subtle finish. The odd well-placed, house plant is a welcome addition to an otherwise cool toned, silvery-grey scheme.
Plants are perfect for adding life and colour to a cool scheme, for more house plant help and indoor garden inspiration, we can help.
12. Open up a traditional home with an understated mirror idea
If your interiors taste is more traditional, opt for this understated mirror idea as part of your scheme. Pairing a white frame with a white scheme is a particularly subtle approach that will effectively open up a small space.
Pair with an unfitted, freestanding unit and open shelving to create the perfect, welcoming boot room. Explore more of our fabulous ideas for boot rooms. And, if you're looking to create a new scheme for an entrance to a period home, check out our traditional hallway design ideas.
13. Source antique mirror-doors for a boho feel
Stylishly complementing a boho inspired space, we love the idea of sourcing antique mirror-doors, which can be propped in a corner to enlarge a space. You could also DIY your own version of this mirror by sourcing a reclaimed door or shutter and mounting on a mirror.
If you fancy a DIY project, revamp an existing piece of furniture with the help of our guide to how to upcycle furniture for a vintage look.

14. Lean a large, antique-style mirror against a wall
If you're designing a space with a laid back, unfitted feel, leaning a large, antique-style mirror against a wall can be an effective way to display mirrors. It will expand the space instantly plus give a traditional vibe to any room.
15. Or... use a floor-standing mirror as relief in a dark-painted room
If (like us) you're a big lover of the dark and atmospheric interiors trend, but are concerned about it making a room feel too small, you might consider offering relief from your use of inky shades with the help of a large, floor-standing mirror in a pale shade.
16. Use a mirrored wall to double the size of a bathroom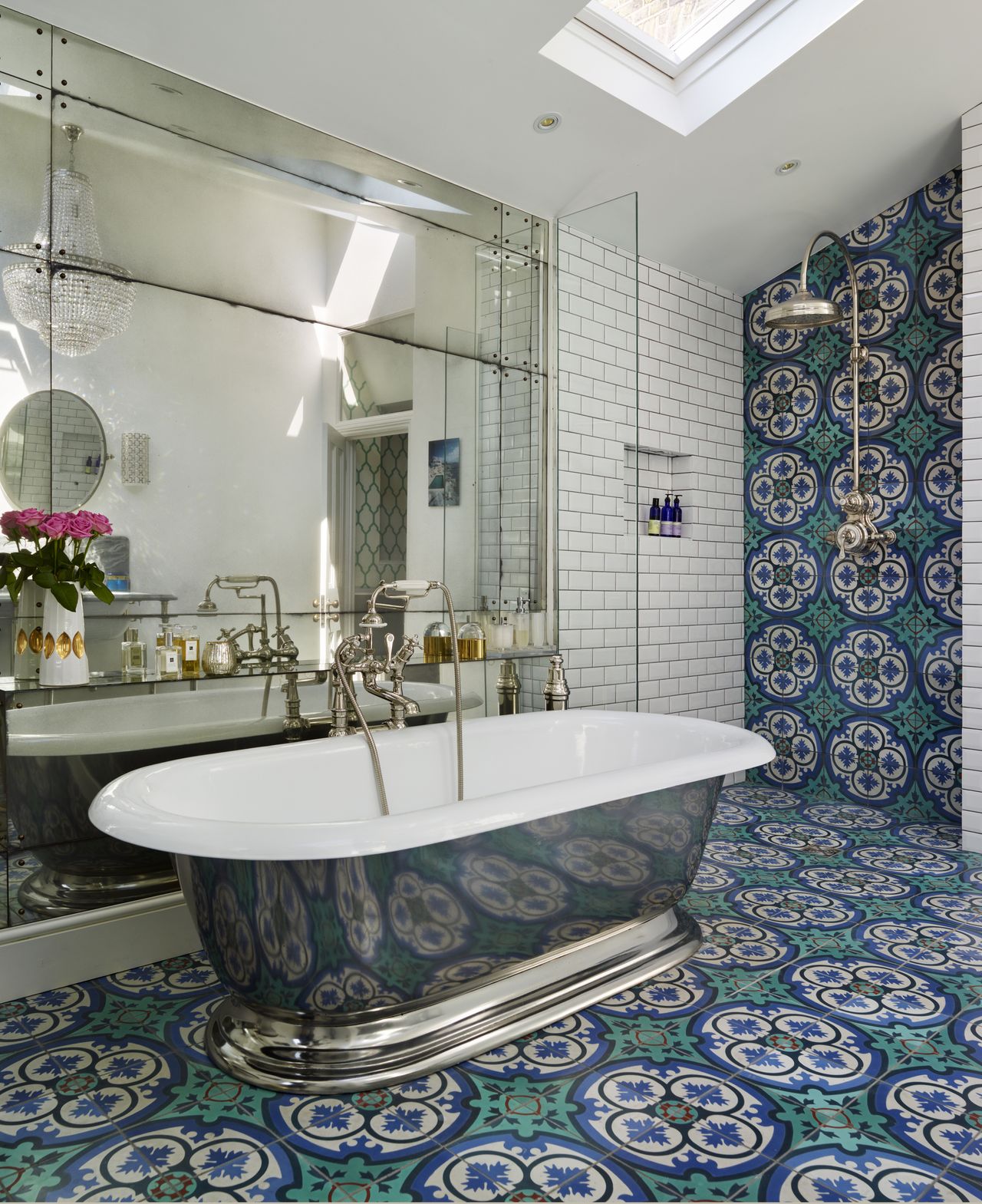 In addition to making a space feel larger, incorporating a mirrored wall into a bathroom is an effective – and waterproof – alternative to tiles.
We love this combination of large distressed mirror panels with bold patterned tiles. This (almost) matching Tamar Cast Iron Skirted Bath Tub from Drummonds perfectly finishes off the look.
For more stunning patterned floor tile inspiration, browse our design guide. We've got traditional freestanding bath designs, too, if that's what you're after.
17. Swap tiles for a mirrored splashback to lighten a dark kitchen
Similarly, for a stylish addition to a modern kitchen, we love this mirror idea of opting for a reflective splash back – especially if it's in an on-trend copper or brass finish.
For more kitchen splashback ideas, browse our design guide.
18. Display a collection of small, ornate mirrors with prints and other ornaments
Using a large, frameless mirror as a base, we love the idea of creating a display using a collection of small, ornate mirrors, as well as prints and other ornaments. This technique creates a stunningly intricate focal point, which is enhanced by the reflection from the large mirror.
19. Channel the ceramic gallery wall trend
Using ceramic plates to create a stylish gallery wall has been a popular trend over the past couple of years. With this trend mind, we like the idea of channeling the look with a display of patterned ceramic mirrors.
20. Get showy with a window mirror
Brilliant in larger rooms and hallways, a window mirror is the best of both worlds: practical, so you can quickly check your lippy before you head out for the day, but also beautiful. Choose from wooden and metal versions for a stand-out piece with an industrial edge – and they work well as part of a collection of pieces, as you can see in this homeowner's maximalist abode.
21. Bring a luxury vibe into a bathroom with mirrors
Lucky enough to have two sinks in your bathroom? Try a couples-style set-up, where two mirrors are hung next to each other so you and your significant other can get ready in the morning without breaking out into a fight. Only one sink to share? The multiple mirror effect still works elsewhere in the house: try hanging two or three identical mirrors in a line in your hallway or dining room.
Psst – this interior designer's home has plenty of other decorating ideas to steal, too.
22. Create shapes with statement mirrors
There are so many creative designs out there that it'd be rude not to experiment with something a bit more 'out there'. If you're looking for an investment piece, push the boat out and go for an unusual mirror like this retro bubble design. Hexagonal, octagonal, diamond, square: the mirror design world's your oyster if you're willing to have a look around.