Everyone knows how much difference a mirror can make if placed in the right corner of a room and how important it is to use the right mirror for your space. Living in a small(ish) apartment that's naturally quite dark in some spaces, I pretty much use mirrors — small, round, full-size, or standing — as my secret weapon. They're my safety net when it comes to decorating an otherwise empty wall. The only issue I face? Mirror trends come and go fast. This means that if you are investing in a new mirror for your space, you'll either want to play it safe with something plain, or you could push the boat out and go for something that's currently on trend.
Personally, I say that you're best to do both. Having a bang-on-trend mirror in a bedroom or living room can really refresh your space while having old-but-gold styles you'll use for years is smart for the sake of your wallet. If you're going to take a walk on the wild side and go for a mirror that's circulating everyone's social feeds RN (I mean, life's too short, right?) then I've been doing some research into the latest mirror trends. And you're gonna wanna see what I found.
Right now, there are two trending styles for you to choose from for 2023 —depending on your home decor style, that is. Whether it's a mirror for your entryway or a bathroom mirror, these all scream style and they'll be sure to add a touch of luxury to your space. Whether you rent or own your home, you can hang these or lean them against your walls for maximum effect.
The organic-shaped mirror
Why you can trust Real Homes Our expert reviewers spend hours testing and comparing products and services so you can choose the best for you. Find out more about how we test.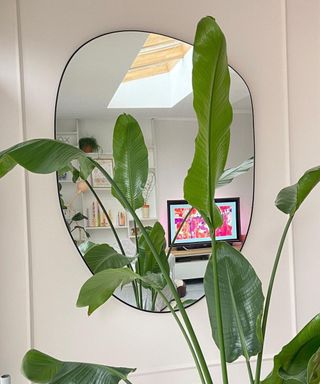 Let's kick things off with an organic-shaped mirror. I pretty much fell in love with every single one of these and I am desperate to get one for my bedroom. The real question is: frame or no frame? Go for this style if your space is neutral, minimalist, or modern. It'll blend right in while bouncing making sure your home looks even more bright and airy.
The wavy and ripple mirrors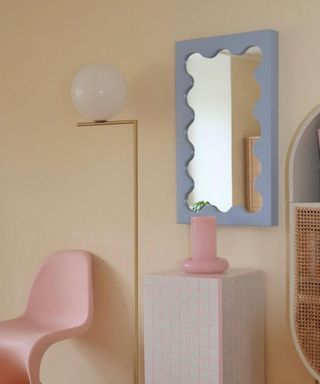 Yes, wavy mirrors and ripple mirrors are having a moment. And quite frankly I am here for it. These mirrors remind me of bubblecore (a BIG hit for this year's home decor trends) and while you can stay safe with a neutral color, I say the more fun the better — right? If your home is retro or your decor is colorful, this is the mirror for you. Alternatively, if you really want to make a statement, then go for one of the below. You won't regret it, promise.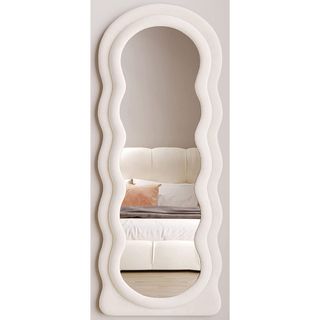 Honyee Full Length Mirror
Size: L63" x W24"
This one's for renters as it has a stand to sit upright on the floor — no need to get out your drill or ask your landlord.
Up next: These rugs are seriously trendy RN — here's where you can get the look