If you're looking to introduce new garden seating ideas to your garden, look no further than these clever takes. Some are built-in and will need a competent DIYer or builder to complete – but will last forever and make a small garden or patio space feel larger; others are simple paint jobs you can complete yourself in under an hour; others are free to make with found materials...
So, keep scrolling for great garden seating ideas you can copy for your garden to make it the staycation haven you know you want it to be. For more great garden ideas, don't miss our guide.
1. Make your own garden seating with pallets and loose cushions
How simple is this idea? The homeowner simple took old pallets, piled them up (with the odd screw to secure them together) and piled cushions and throws on to them to make them comfy. The back rest? More pallets. See the rest of this gorgeous garden – and the house – (it's really worth it) in our feature. And find out how to make pallet furniture in our simple step by step guide.
2. Create a view with a garden arbour covered in blooms
The upsides of garden seating like this? You don't need a big garden to fit it in because its footprint is tiny; it can make a small garden and a large garden feel well designed because it can be a focal point that's pretty to look at from indoors; it creates a shady spot that's lovely to sit in; and it's the perfect structure for growing climbers over. Convinced? Find tons of lovely garden arbours like this on Primrose.
3. Build in garden seating for a streamlined space
Sooo much to love about this garden seating: its wraparound, built-in construction makes it really space efficient in a small garden – or on a patio that you want to look neat; it's built with cheap but good looking materials; and it's perfect for a family or social gatherings. 
See more of this garden and house in our feature. 
4. Paint a basic garden bench to match your scheme
Need we say more? It doesn't take much budget, time or paint to transform a basic bench like this. The trick is to choose a colour scheme that complements not just your garden woodwork or furniture, but the pots and planting, too. If it can co-ordinate with the colours in the room that leads on to the garden, all the better too. 
See more of this Moroccan inspired urban oasis in our feature. Find a bench like this at B&Q.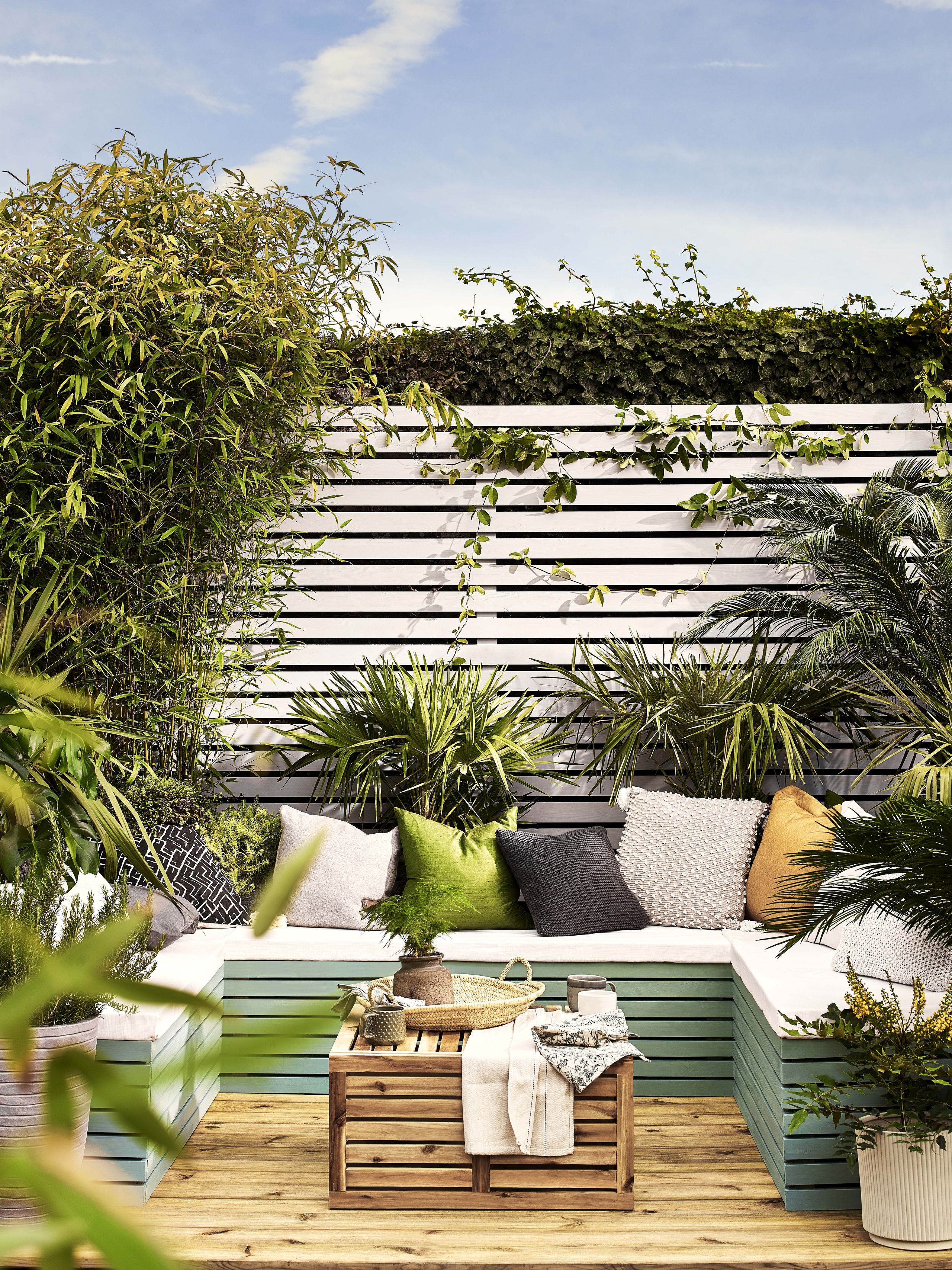 Built using fencing materials, this garden bench arrangement is perfect for small gardens, patios and decks, but actually hides away a ton of storage space under the lift-up lids of the bench seating so that the space can be kept neat – especially if you don't have a shed or space for a storage box. Clever, eh?
For more garden storage ideas, don't miss our guide.