When I moved out of my parents, I thought I was going to be that boujie gal who got her windows cleaned professionally... until I saw the price that professional cleaners charged. But, let's be honest, how "I've-got-my-life-together" do clean windows look? But ain't nobody got time (or money) for that, so I bought the Vileda WindowMatic to work its magic. As someone who suffers from a lot of condensation and doesn't want a dehumidifier to be an eyesore in her living room, this was a game-changer.
Having settled down in an affluent area, we often find ourselves trying to keep up with the Joneses — and that means keeping a clean house inside and out. Our panes of glass are pretty large, so it's essential we keep them free of bird poop and hard water streaks. Able to clean windows, de-streak shower panels and tiles, and get grubby fingerprints off high-gloss kitchen cabinetry, this cool gadget works super hard around the home. It's also a dream for when guests come over and you want to clean toothpaste and hard water stains off your bathroom mirror (What?! Don't act like you have no idea what I'm talking about.)
Lyndsey Crombie (aka Lyndsey Queen of Clean) and Mrs Hinch know the score when it comes to cheap cleaning hacks. They're my muses for finding budget-friendly solutions, including vinegar and baking soda. So when I saw them both use the Vileda Windowmatic, I was literally influenced by cleaning royalty. This Black Friday, this three-volt electric window vac is under £40 on Amazon right now.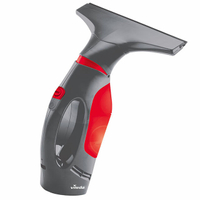 Vileda WindoMatic | Was £47 now £38.99 (save £8.01) at Amazon
Sweep up this deal before it goes! This battery-powered bagless vac can add shine to windows, shower panels, mirrors, and kitchen cabinetry. The flexible neck means you can get into every nook and cranny. It's perfect for spring cleaning and seasons in between. It cleans up to 120 windows on one full charge and has a removable water tank so the water doesn't go smelly or mouldy.
Made with dishwasher-friendly parts so cleaning this cleaner couldn't be easier!
How does the Vileda WindowMatic work?
Learn how to use the Vileda WindowMatic before you buy. In just over a minute, you'll see how this budget pick can benefit you. Just remember to charge the lithium-ion battery beforehand so you get the full 40 minutes of runtime. You can use it with water alone or some of our recommended cleaning products.
Do you need a Vileda WindowMatic?
If you want your rental to be revitalised, then yes, buy this shower squeegee on steroids. It's cheaper than a Kärcher and will make cleaning your bathroom a breeze. However, if you have condensation on your windows, you may need to invest in a good dehumidifier. Failure to take care of this problem might result in mould, which can be dangerous for your health and your landlord could take a cut out of your deposit for negligence.