A garden tops many people's lists of dream house features. Lots of us love nothing better than spending a lazy summer afternoon at a garden party, or looking after plants. But a luxury garden... now, that's a whole new level of dream living. What would yours have? A swimming pool? Or a day bed that looks like it belongs at a resort in the Maldives? We take you through the most covetable – and copiable – luxury garden design ideas we would definitely incorporate into our gardens – if money were no object.
If our gorgeous gallery inspires you to really go for it and redesign your garden, find out how to plan, design and cost your garden transformation.
1. Go for a sleek contemporary design for a small space
A luxurious contemporary design that makes a small or urban garden feel larger and lighter is all about clever use of materials, proportions, and lighting. Think light wood, stone or concrete with architectural planting to draw the eye and to contrast with the streamlined garden design. And ensure your design is space-efficient, with vertical garden elements incorporated to allow for as much available floor space as possible.
This stunning contemporary design makes the most of a small outdoor space in London with blonde decking and lit-up bench and water feature. The garden design is by My Landscapes.
Find out more about creating a vertical garden or living wall in our guide.
2. Create a focal point with an outdoor fireplace
Let's face it: most evenings out in the garden (and many days) will be chilly if you live in the UK. The solution? An outdoor fireplace. The bigger yours is, the longer you'll want to stay out. However, if yours is a smaller space, even a small faux chimney breast and fireplace can create a cosy focal point in a garden. This gorgeous outdoor fireplace is by Modus Fireplaces.
Small garden? Swap out a fireplace for one of the best chimeneas from our pick.
3. Use a large outdoor space for a swimming pool
Have a lot of outdoor space to work with? Consider adding a swimming pool. There will be a lot of practicalities to sort out, including drainage, whether your pool will be heated or not (if not, you probably won't get to use it very much), a covering system, and how and by whom the disinfecting and cleaning will be done. With all that in mind, what could be more luxurious than your own pool?
4. Create a chic light stone courtyard
Light stone or concrete are the perfect materials for a contemporary luxury garden design scheme. Easy to maintain, and perfect for linking indoor and outdoor spaces to make both feel bigger, you should really take the time to work on the small details with your designer or landscape architect.
This courtyard in Chelsea uses two levels of pale limestone paving and is by Charlotte Rowe.
Find out how to employ a garden designer.
5. Zone an ultra-modern garden design
Our top tip for a successful luxury garden design is to be mindful of what suits a garden of your size. Tiny courtyard space? Go for a unified, simple, yet striking design. Large space? Tease out its potential by creating multiple zones – just like you would indoors. Doing so adds interest but also helps you define what each area's purpose is. Think a seating area, a paved area, and a grass-covered area like this. Don't be afraid of getting creative with breaking up the space into different areas – if it's big enough, it can take it.
6. Include decking to make the garden versatile
Decking has been a hallmark of luxury garden design for several decades now. It can really unlock the potential of your garden, allowing you to use it in new ways, with areas for dining or sunbathing. Installing decking in a sloping garden is also the cheapest way to add new, level zones. Surround each area of decking with plenty of plants for both privacy, interest and character.
This decked town garden in Stockwell, London is by My Landscapes.
Check out our amazing decking ideas for more inspiration; find out more about creating privacy in your garden; and discover how to design a sloping garden.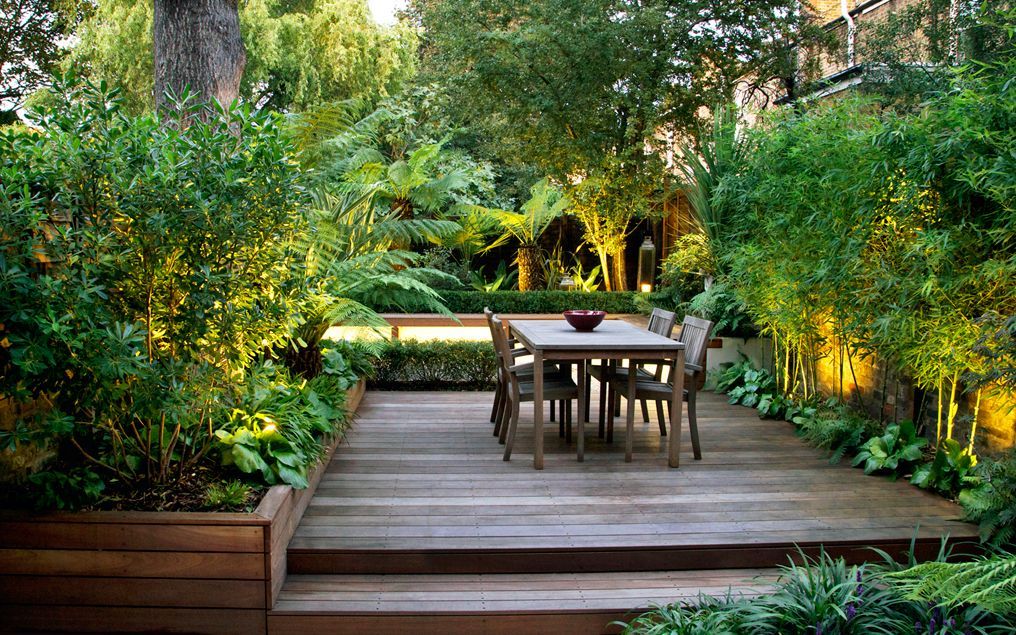 7. Create an outdoor lounge space with a daybed
A luxury garden design is all about maximising its use and the level of comfort while you are using it. So, if you're planning to spend hours in the garden during the summer months, invest into high-quality seating that can also be used for lounging and napping. In fact, why not go all-out and get a daybed with a canopy? The Pavilion daybed is from Tribu.
Want more ideas for those lazy summer afternoons? We have some brilliant patio ideas for summer lounging.
8. Add interest with a garden water feature
What type of water feature is best for a luxury garden? We say pick contemporary shapes and luxurious materials; Zen-inspired water feature also work very well. Best of all, you needn't have tons of space to create this look.
The Water Bowl Scuppers are from Solus Decor.
Find out everything you need to know about garden water features in our guide.
9. Make your garden feel wild with a natural swimming pool
Not a fan of chlorinated swimming pools? Natural pools use dirt-filtering plants to create a pleasant and clean swimming experience. A landscape designer is a must for creating this feature in your garden.
This natural swimming pool was presented at the 2015 RHS Flower Show by Jo Thompson.
10. Pick a minimalist day bed for fuss-free relaxation
Luxury garden daybeds come in all sorts of configurations and looks. If you like your outdoor space streamlined and fuss-free, go for an ultra-modern day bed design, such as super-sleek San outdoor bed by Manutti. It's great for massages, too.
Get more advice on how to choose garden furniture.
11. Invest in a gorgeous outdoor dining set
If you love al fresco dining, then a really lovely dining set is a must. The devil is in the detail, from the quality of the materials to the finesse of the design; don't settle for anything that's not perfect. We think the Arc garden furniture by Point ticks all the boxes. Available at Go Modern.
For more options, take a look at our pick of the best outdoor dining sets.
12. Transform a rooftop terrace into a comfy lounge
If your outdoor space is on a rooftop or balcony, you might not have much space for lots of plants, but you do have an opportunity to create a comfortable and luxurious outdoor living space. Think comfy furniture (which thankfully won't get muddy), a coffee table, and plenty of soft furnishings.
Find out how to design a rooftop garden. And use these design ideas for a balcony or terrace to make the most of your space.
13. Set up a luxurious outdoor kitchen
Cooking outdoors can be a joy on warm summer days – but you need proper equipment to make the most of it. Aim to have as many of the elements of an indoor kitchen as possible, including a quality preparation area and sink. This gorgeous outdoor kitchen is by Thors Design.
Get more info about how to design an outdoor kitchen.
14. Build an orangery
Whether you want to use your orangery as intended and cultivate a glorious citrus garden, or you simply want a space that feels like it's part of the garden, but is protected from the elements, an orangery is an excellent addition to a luxury garden design. This orangery is by Vale Garden Houses.
Find out more about building an orangery in our guide.
15. Make fencing a design feature
Fencing has the obvious practical functions of creating boundaries and privacy, but there's no reason it shouldn't look great, too.
Browse more garden fencing ideas.
16. Add classic elegance with a traditional fountain
Love a formal, traditional garden design? There's nothing quite as timelessly elegant as a stone water fountain. The Athenian Wall Fountain is by Haddonstone.
17. Combine outdoor living with an outdoor kitchen
If you love garden parties – and cooking – then why not transform your garden into a space that's both equipped for outdoor cooking and outdoor entertaining? This Instagrammer's beautiful outdoor space combines functionality with top-notch design, perfect for a garden party.
We have more gorgeous garden party ideas in our gallery.
18. Invest in timeless garden accessories
There are garden pots that are just nice and cute, and then there are pots that look like antique sculptures, and that you'll want to pass down the generations. The Directoire Centrepiece Urn by Violet Grey definitely falls into the latter category – and has a price tag to match.
19. Get a garden room you could spend days in
Garden rooms open a whole new range of possibilities for using your garden: they can be used as home offices, or as relaxation rooms. You could even have a mini-spa in yours, if you really wanted to.
For more advice, follow our expert guide to adding a garden room.
20. Or a summerhouse to chill in on summer afternoons
Summerhouses are the simpler, more easy-going cousins of garden rooms. Typically, they will be less insulated than garden rooms, and hence are best for a summer afternoon spent cooling off from the sun.
21. Invest in a luxurious bespoke garden gate
Think of your garden gate as the equivalent of a house's hallway: it's not usually the first consideration when designing the garden, but it is the first thing you and your visitors see when entering it from the outside. So, we advise to invest in a gate that's as beautifully executed as everything else in your garden.
This bespoke Japanese-style garden gate is by Zeterre Landscape Architecture.
22. Create a relaxation area with sun loungers
Maybe you have a pool, or just a lovely decking area that soaks up the sun – if you love catching the rays, good-quality sun loungers are a must. The Monte Carlo sunbeds by Alexander Rose look great, too.
Find our pick of the best garden recliners, however luxurious your space.
23. Invest in a luxurious garden furniture set
What should a really luxurious garden furniture set have? We say: touchable, high-quality upholstery; a refined frame; a light, neutral colour that will blend into a contemporary garden design scheme. The Beaufort wood and fabric armchairs by McKinnon and Harris have all of these qualities; we adore them.
For more choice, browse our buying guide to the best outdoor chairs for your garden.
24. Take rattan garden furniture to the next level
If you like the familiar quality of garden rattan, but want a design that will take your garden to the next level, you could do a lot worse than the chic Pimlico garden furniture collection by Indian Ocean.
We have more of the best rattan garden furniture in our buyer's guide.
25. Go all-out on garden lighting
Carefully positioned garden lighting will add drama and atmosphere to your garden, a delight both if you're staying out, and if you're looking out onto your garden from the inside. Spotlighting is the most effective way to create subtle accents – a garden designer should be able to advise you on the best places for your lights.
Want to do it yourself? Find out how to plan your garden lighting.
26. Make your container garden extra luxurious
Container gardening offers plenty of opportunities for getting creative – or putting the finishing touches to an already coherent garden design scheme. To create a luxurious look, invest in impressive containers (stone or Italian terracotta will work well) and choose plants that look sculpted and neat. This Instagrammer's container garden looks elegant and contemporary thanks to the tightly trimmed plants.
Find out more about container gardening for small spaces.
27. Add natural luxury with high-impact plants
Last but not least, consider the plants you want in your garden. Of course, the choice of plants is always subjective: what looks 'luxurious' to you may not look it to someone else. As a general rule, however, we advise to choose plants that pack a real visual punch: think wisteria, or a magnolia tree.
Get more advice on how to choose plants for your garden.
Want more gorgeous garden design ideas?