Searching for grey paint for your home? Of course you are – because even after many a discussion about whether you should be brave and pick a mustard yellow or a deep teal for your walls, you just keep coming back to trusty grey. Grey paint, with its versatility, its ability to be both crisp and warm, feathery light and atmospherically deep. It was always going to be grey paint. Now just to the all-important decision of which grey paint to choose...
Well fear not, because whether you are looking for a barely-there grey to paint your entire house with, or a dramatic charcoal for your kitchen cabinets, we've rounded up the best grey paints out there – and we show you some inspiring ideas for how to use them.
For more inspiring paint ideas head over to our dedicated paint hub page and peruse away.
How to choose the best grey paint colour for your room
Why you can trust Real Homes Our expert reviewers spend hours testing and comparing products and services so you can choose the best for you. Find out more about how we test.
Be inspired by more grey room ideas
South or west-facing rooms are obviously a joy to decorate, and most grey paints are going to come to life in sun-filled spaces. Choosing the best grey paint for a south-facing room really just depends on your style. If you like a clean crisp look, stick with a cool light grey paint (with bluish tones) but if you prefer a more relaxed vibe choose a softer warm grey (with yellowish or pinkish hues). Easy peasy.
Designing a north- or east-facing room on the other hand can be... tricky. But you needn't always try to fight with nature; instead work with it and choose a dark grey paint that will embrace the darkness and accentuate it. If you do want to make the room feel lighter and more inviting then pick greys that have a warmer undertone – a yellow base works best.
Make sure when choosing grey paint that you consider it under both natural and artificial light, and you'll always want to test a paint colour in your home so you can see how it changes through out the day. Order a tester pot, paint on to A3 sheets of paper (or the wall) and stick them up on all four walls. That's the best method for seeing what it looks like IRL.
The best grey paint colours
Here's our selection of the best grey paints, with recommendations of what to use where.
1. Dulux Goose Down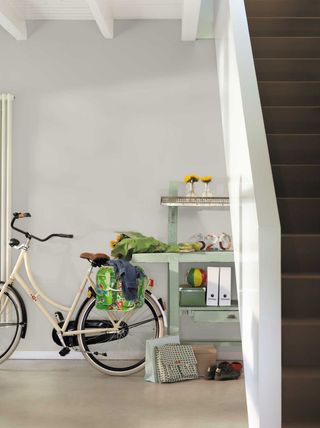 It's easy to see why Goose Down is one of Dulux's most popular grey paints. It's an airy, elegant, light grey paint that will lift any space, but would work particularly well in a south- or west-facing room as it is on the cooler side. It's incredibly versatile and would suit both traditional and contemporary spaces.
It works beautifully with crisp whites, and because of its cooler tones you could mix in a few light blues or greens too. If you are after a more dramatic look, try contrasting Goose Down with a few touches of charcoal or dark wood.
Love this hallway? Go and check out our guide to some inspiring hallway ideas too. See more hallway paint ideas, too, for further inspiration.
2. Farrow & Ball Railings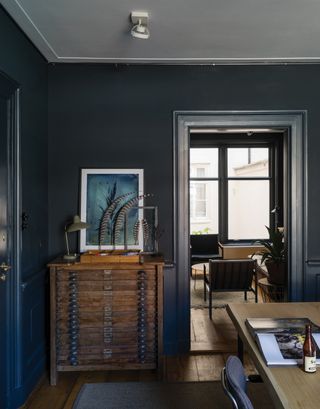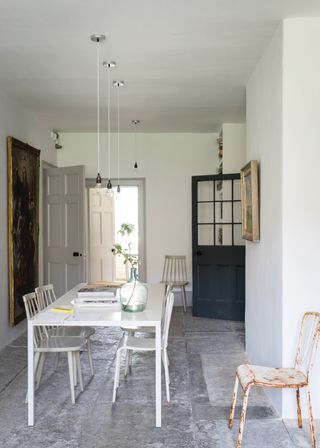 An interior design favourite, this blue toned charcoal is one of Farrow & Ball's bestselling paint colours. Sure, it's a strong colour, but it definitely has softness to it and when used in warm, sunlit rooms, it has a wonderful velvety quality to it, that makes it a more relaxed colour.
Not quite brave enough to paint a whole wall in this dramatic dark grey paint? Try just painting your woodwork in Railings. An all-white room with just the skirting or the door frame painted in a different, darker shade is less of a commitment but still makes a bold statement.
If you are feeling inspired to embrace the dark side, head over to our atmospheric dark decorating ideas for more inspiration.
3. Little Greene Grey Moss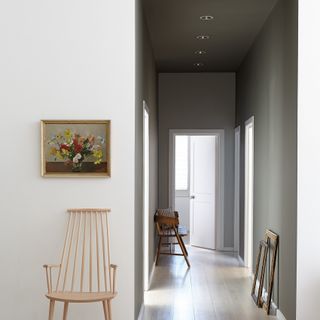 When it comes to using a dark grey paint, most people's fear is that it will make your room feel smaller. Not true! If you pick the right, warm-toned grey, using a more dramatic colour seems to make the wall recede, with the dimensions of the room becoming unclear, making a small space feel much bigger.
Little Greene's Grey Moss has just the right amount of brown underpinning it to add warmth, but it never looks muddy. Try this out in a small bathroom design, boot room or hallway.
4. Farrow & Ball Elephant's Breath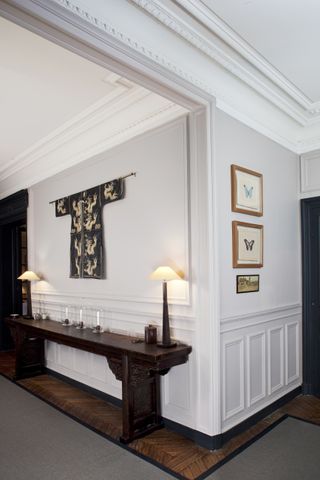 A delicious warm mid-grey, Elephant's Breath becomes almost lilac in west- or north-facing rooms, adding an instant cosiness to the space. What's gorgeous about this colour is that it evolves throughout the day: it's cooler in the morning and gets deeper and moodier in the evenings.
The softness of Elephant's Breath is just asking to be used in a variety of bedroom ideas. Combine it with white woodwork and warm, honey tones for a neutral vibe, or make the most of those magenta undertones and pair it with blush pinks and pale corals.
For more pink room design ideas, go and have a read of our feature.
5. Dulux Rock Salt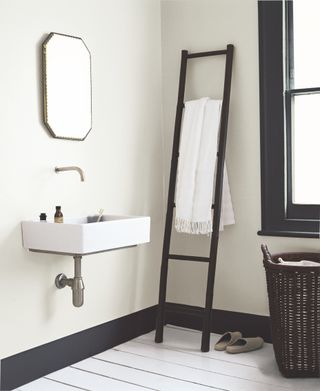 This is one of those barely-there, almost white, grey paints that only reveals its cooler undertones in certain lights. It's definitely on the grey spectrum but doesn't demand too much attention, making the perfect grey paint for smaller spaces to add just a little mood.
To make the cooler tones of Rock Salt pop, combine it work wood painted in pure white and darker greys or blacks for a crisp, clean, contrast.
For loads more small space inspiration, make sure you head over to our hub page.
6. Annie Sloan Paris Grey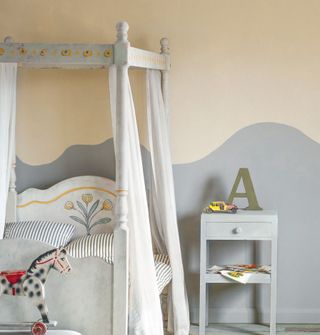 Soft, gentle Paris Grey is inspired by the painted furniture found in elegant French châteaux or old Swedish manor houses and let's be honest who doesn't want a bit of French chic/Scandi cool in their home? It comes as either a chalk paint or emulsion paint, but just like everyone else, we are obsessed with a chalky matt finish, especially a grey chalky matt finish.
We love this for painting furniture or even kitchen cabinetry – just have a read through our guide to how to paint kitchen cabinetry to find out how you can transform your kitchen with this beautiful shade. Bear in mind, it'll need a tough, varnish top coat to cope with the knocks it'll inevitably take.
7. Dulux Easycare Kitchen Deep Fossil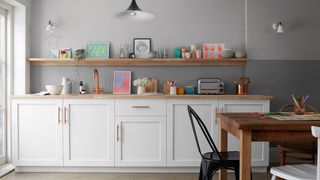 Looking for the perfect grey paint for kitchens? We love the Dulux Easycare Kitchen formula; it's engineered to stay pristine, with a greaseproof formula that resists stains and makes any marks that do appear easier to wipe off. You will find that most of Dulux's paint colours come in the Easycare Kitchen formulation but we love the look of Deep Fossil. It's cooler and a little moody, but don't worry it's not that dark, so you could definitely use it as a four wall colour.
For more of the best paint for kitchens check out our guide and have a read through our kitchen paint ideas too.
8. Dulux Easycare Bathroom Polished Pebble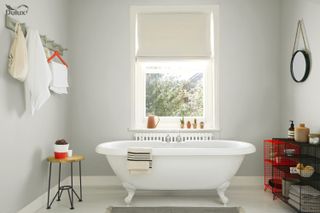 Dulux have got bathroom paint down too, and this formula made it to the top of our best bathroom paints, so you know it's good. It's been formulated to be both steam and moisture resistant, plus its MouldTec foundation protects the paint against mould for up to five years.
So boring technical bits out of the way, let's talk about this grey. We've chosen Polished Pebble as the best grey paint for bathrooms; it's light and airy and is totally lifted by lighter white shades so will work perfectly with your sanitaryware.
Check our more gorgeous bathroom paint ideas in our dedicated feature.
9. Crown Cloud Burst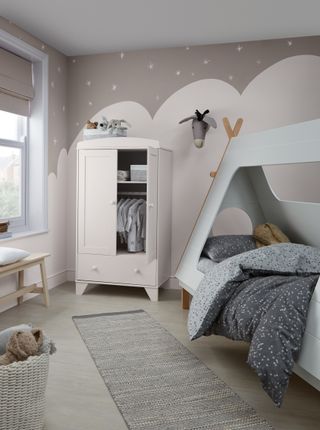 Grey is the perfect colour for a kid's bedroom as it's not a shade they are likely to grow out off quickly, which means you won't find yourself repainting regularly. A pale grey is a safe colour choice: get removable wall stickers for a bit of a design, to match their ever-changing preferences.
In terms of the shade of grey paint you choose, we would recommend going with something that's warm-toned, like Cloud Burst, especially as kids tend to get stuck with the smallest bedrooms, so brown-based greys will just add to the cosiness.
Check out more paint colour schemes for kid's rooms if you are after more inspiration, and for the best paints for kid's rooms have a read through our guide.
10. B&Q Goodhome Cleveland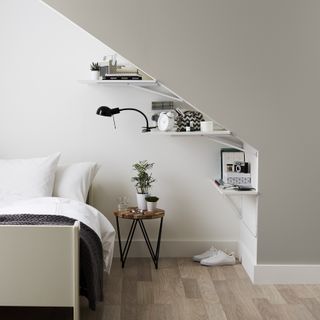 If you are after a cheap grey paint, then the B&Q GoodHome range is an absolute steal. It's only £19 for 2.5ltrs and the colour range is pretty impressive. Our favourite is Cleveland; it's a light grey paint that doesn't become too heavy or drab if it's used over larger areas – and despite its cooler undertones, it has a lived-in feel to it. It's just dark enough to work in a small space to cosy it up, but would be equally at home in a larger space too.
For more cheap paint deals head over to our buying guide.
Read more: