Designing a hallway is an important but tricky task: it's the first place guests will see, so you'll want it to look good; it needs to complement the decor of the rooms that lead off it for best effect; it's a small room with lots of storage needs and it might be an awkward, dark space.
So, we've put together a handy guide to help you get the space right, the first time. You'll also find plenty more inspiration with our handsome hallway ideas.
Consider how you use your hallway
The first step when designing a hallway is taking a moment to consider how you use (or would like to use) your space.
Is its primary function to make a statement when guests come over? If so, you'll want to think about focal points: perhaps stylish hallway light fittings; an on-trend stair carpet; stunning patterned floor tiles; or a good looking console table.
Or is it a smaller and more functional space; a spot dedicated to hanging coats and shoe storage? If so, you'll be better off focusing on hallway storage solutions and tricks for creating the illusion of space.
Once you've figured that out, the rest of our guide will help you to achieve your modern hallway.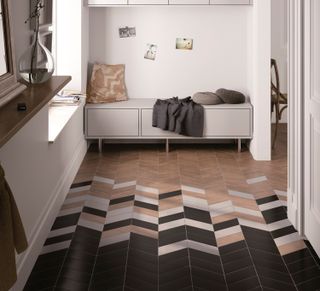 Start with hardwearing hallway flooring
Hallways typically see a lot of footfall (and muddy shoes), making a practical and hardwearing floor a must. Whether you've fallen in love with the idea of stunning patterned floor tiles; are keen to attempt restoring original tiles; would like to add warmth with wood flooring; or want to try something more contemporary, like this poured concrete flooring, what's important is choosing something that will stand the test of time, and be easy to clean and maintain.
Bear in mind that lighter colours will make your hallway feel larger and brighter; and picking patterned flooring will hide dirt and marks better than plain flooring. Choosing floor tiles? Laying them diagonally will create a greater impression of the hallway's width and length. Want carpet? Limit it to stair runners for longevity and put down a hallway runner to up the comfort factor and add colour and pattern.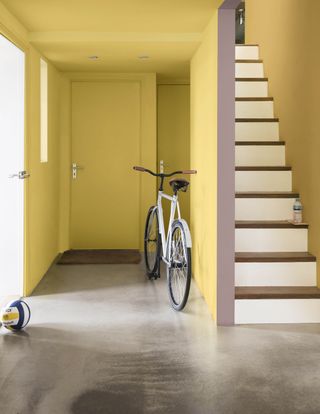 Choosing the best colour for hallway walls
Making sure you're choosing the best paint colours for hallway walls often means opting for a light colour, at least downstairs, to help stretch the space and reflect daylight. Find inspiration in our hallway paint ideas feature.
Bear in mind that the right finish is vital when picking the best paints for hallways as they have to be capable of withstanding a knock here and there, and an occasional wipe down.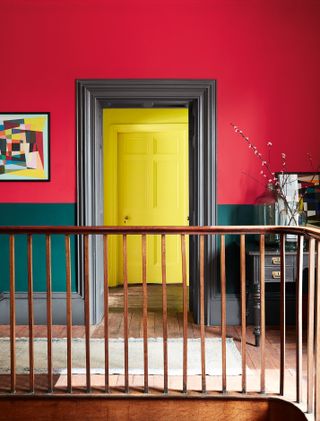 Think practically when positioning plug sockets
Despite being a seemingly small detail, the positioning of hallway plug sockets is definitely worth a moment's thought. If you don't have one next to the front door – essential if you plan on vacuuming the car or displaying twinkly porch lights at Christmas – nor positioned appropriately for a hall lamp, it will be worth getting them fitted now.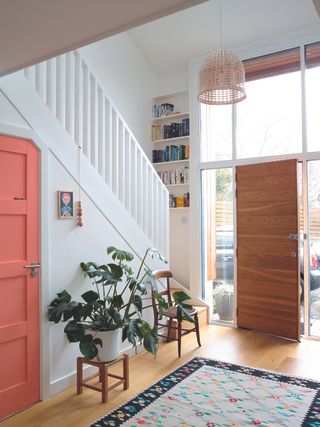 Choose a stylish hallway lighting solution
If you're keen to avoid a frantic morning searching through the dark for matching shoes, take time to choose a stylish hallway lighting solution.
Opt for understated wall uplight fittings if your style is minimalist and to create the impression of a higher ceiling (uplighters cast light upwards, hence the effect). If you have a high ceiling, take the opportunity to make a real design statement with a chandelier or large pendant fitting; or fit recessed ceiling lights to enhance space in a hallway with a low ceiling. Make a feature of the stairs with recessed skirting board lighting, too.
Whichever fitting you choose, pick daylight-mimicking LED bulbs to create an impression of daylight, even at night.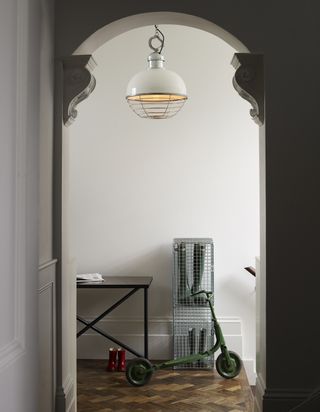 Create the illusion of space in a small hallway
If your hallway is on the small side or lacking light, space planning is an important step in the design process. Our top tip? Create the illusion of space with a large, well-positioned mirror (also great for last minute outfit checks before you leave the house).
Pair with a console table for a stylish look that serves both a practical and space-enhancing purpose, and put a lamp or two on the console so that light reflection is further enhanced at night.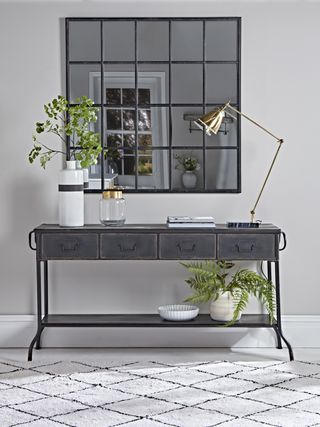 Maximise space with hallway storage solutions
Every hallway, regardless of its size, can benefit from the addition of clever hallway storage solutions, allowing you to get organised and maximise space. Instead of allowing coats, bags and shoes to takeover, find them a home of their own that's both stylish and practical – dedicated hallway shoe storage is a must-have.
A console table is useful for storage and display, but choosing seating with hidden storage for shoes, coats, hats and bags is a practical option, too.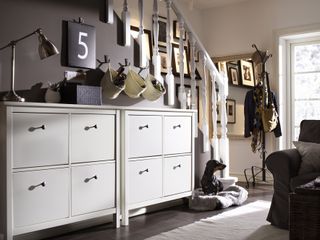 Use under stair space cleverly
Even modest sized homes have decent under stair space for storage. Make the most of yours by putting in a central door to create a spacious cupboard for large items (or lots of small ones); a door beneath the bottom steps for seldom used items; and use leftover space for a shelved-out niche, like the one below.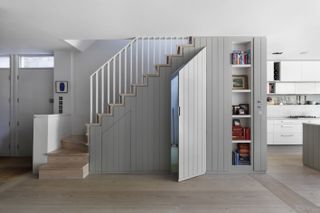 Consider staircase design options
If you want your staircase to function as the focal point of your hallway, consider opting for an on-trend patterned carpet or runner, or a stylish wooden finish.
Painting stairs – perhaps to contrast with your bannisters' paint colour – is a budget way to give your hallway a fresh new look, and it's a style that suits both contemporary homes and period properties. Choose a tough white paint colour to brighten the hallway or an on-trend grey for a dirt-disguising option.
It's worth taking a look at our more specialist feature, how to design a staircase, if you're planning on fitting a new staircase and are looking for a more practical guide.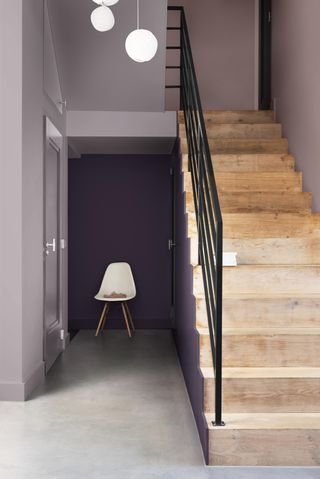 Complete the hallway with decorative details
Adding the final decorative touches is arguably the most enjoyable step when designing a hallway. However, heed this Real Homes warning: over-personalising a hallway is best avoided, so proceed with caution...
We love the effect that displaying pictures, particularly in an on-trend gallery wall style, can achieve; allowing you to inject (just enough) personality into an often soulless space. An eclectic image combination may remain eye catching for longer, however more uniform galleries – black and white photography is a timeless example – work equally effectively.
House plants make an equally welcome addition to a hallway and, dependent on the species, have varying effects on a space. If you're looking to fill a large, empty-feeling hallway, a statement species (think oversized cacti) could be for you. Short on space? A small succulent would look well placed on a console table.
Lastly, consider a curtain that complements the room's decor across the front door to keep your hallway snug and private on long, dark nights.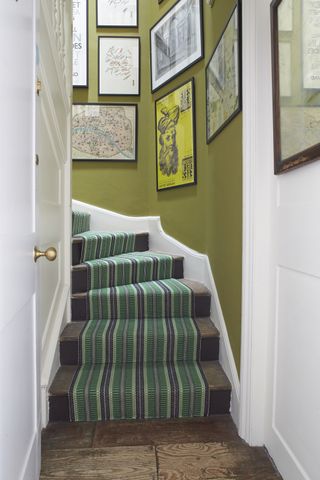 Space planning for hallways
When designing a hallway in a new-build home, it's important to decide whether or not to make it one of the main features. Either way, we'd then recommend prioritising natural light; which means lots of windows if your hallway is south facing.
From a practical perspective, and if space allows, ensure that there is enough room in a hallway as it can often become a gathering place for guests. Consider also opting for vaulted ceilings as this is an effective way of creating a more attractive and spacious feel within a hallway.
During the design stage it's also worth taking time to consider built in storage as the addition of cupboards in a recess or an entire walkway of floor-to-ceiling cabinets is a great means of maximising storage space.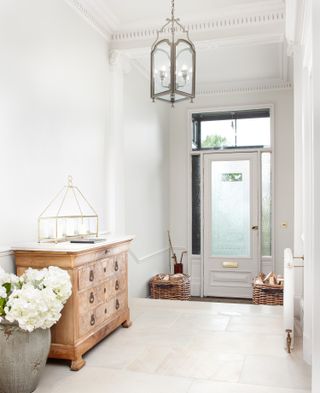 Looking for more hallway advice and inspiration?