A good night's sleep can be a transformative thing. When you get up on the right side of the bed, the sun seems to shine more brightly, the birds sing more sweetly, and there's an unmistakable spring in our step. That's why finding the best mattress to sleep better is essential.
That's also why experts say (and we agree) that finding the right mattress is so important. With all the different types out there, it can seem a bit of a minefield, but we've put together some bite-sized advice to help you pick the best mattress for your needs, and a round-up of our favourites on the market right now, to help.
Many of us will have tried a memory foam mattress in the past, and it's easy to see why they're so popular. They tend to be on the firm side, which is good for anyone who needs a little extra support, but also mould to the shape of the sleeper, so they're an easy way to a perfectly tailored night's sleep for side sleepers or scoliosis sufferers who might not get on with traditional spring mattresses.
However, as sinking into the foam insulates your body, it's not only harder to regain a comfortable position if you move during the night, it can also heat you up considerably, which many people understandably don't like.
Latex foam mattresses, while typically more expensive, are a good antidote to this. Like memory foam, they adapt to the shape of your body, but spring back more quickly, so they're good for serial fidgeters, and typically have an added cooling layer. Being hypoallergenic and antimicrobial, they're also an excellent pick if you suffer from asthma or a dust mite allergy, so you may find it's worth paying the extra to breathe, and rest, easy.
Finally, there are the springs. Pocket springs are the new standard for non-foam mattresses, as unlike traditional open coil or open spring mattresses, they offer zoned support that minimises the risk of sinking or rolling into your sleeping partner.
1. The Casper Mattress
This hybrid foam mattress offers the best of both worlds
Specifications
Best for: Best all-rounder
Type: Comfort foam / memory foam
Sizes: Single, double, king, super king
Reasons to buy
+ Hybrid foam construction + Low-risk 100-night trial
Reasons to avoid
- Edge support isn't great
Our number one mattress is supportive and adaptive for all kinds of sleepers, combining the firmness of memory foam with a breathable and cooling top layer that acts as a remedy to the usual over-warming that comes with it. As such this is the best mattress for combination sleepers.
Good for those with joint, neck or back pain, as well as back, stomach and side sleepers, it really is a fantastic all-rounder. However, if for any reason you don't get on with it, Casper operate a 100-night trial, so there's no risk.
The zoned support system in the Casper mattress means hips and shoulders are treated differently for ideal alignment and comfort. Thanks to four layers of premium quality foam there's lots of support for a comfy alignment but also enough breathability to make sure you're happy no matter the temperature.
The durability of the mattress, thanks to a strengthening base layer, will make this go the distance while the pressure-relief from pressure point support will make you never want to change. The high airflow makes this perfect for anyone who overheats but also needs the support of foam.
2. Vispring Wembury Superb Mattress
The ultimate luxury mattress, British-made and packed with natural fibres
Specifications
Best for: Luxury
Core: Pocket spring
Sizes: Single, double, king, super king
Reasons to buy
+ Very luxurious and high-quality + Handmade in Britain
Reasons to avoid
- The most expensive on our list
With layer upon layer of buoyant fleece wool, cotton and springy horsehair, this hand-upholstered Vispring mattress is the height of luxury. In fact this is the best mattress for premium quality comfort.
Lovingly made in Britain to the highest standard, each mattress is hand-stitched and tufted for an artisan feel, and its abundance of naturally luxurious fibres provide support without feeling too firm. This is a real lifetime investment, and if you have room in your bedroom budget and appreciate the ethical and traceable manufacturing, one that's well worth making.
There's a reason hotels the world over use Vispring mattresses – they're not only the best mattresses for comfort but for durability too. Plus they're super breathable for the ultimate night's sleep all year round.
3. eve Mattress
A comfortable combination of firm foam and cushioning
Specifications
Best for: Best memory foam
Core: Memory foam
Sizes: Single*, petite double, small double, double*, king*, super king, emperor, 7x7 foot
Reasons to buy
+ Memory foam support, but cooler + Cushioned cover for comfort
Reasons to avoid
- Light sleepers may be disturbed when their partner moves
This medium-firm memory foam mattress, just like our first pick, offers everything people love about memory foam while cleverly cutting out the things they hate. This is one of the first smart online bought mattresses to start that revolution and is still one of the best mattresses to order online.
The cushioned top cover offers more comfort than the average firm foam mattress, the breathable mid-layer keeps you cool during the night, and the anti-slip supportive base ensures everything stays where it should. A good buy if you're not ready for the extremes of memory foam, but like the support.
This comes vacuum sealed in a box that means ordering online is easy and installation is simple. It's also light enough to make turning the mattress a doddle so this is a perfect mattress for those with back issues or who struggle to flip a heavier sprung mattress.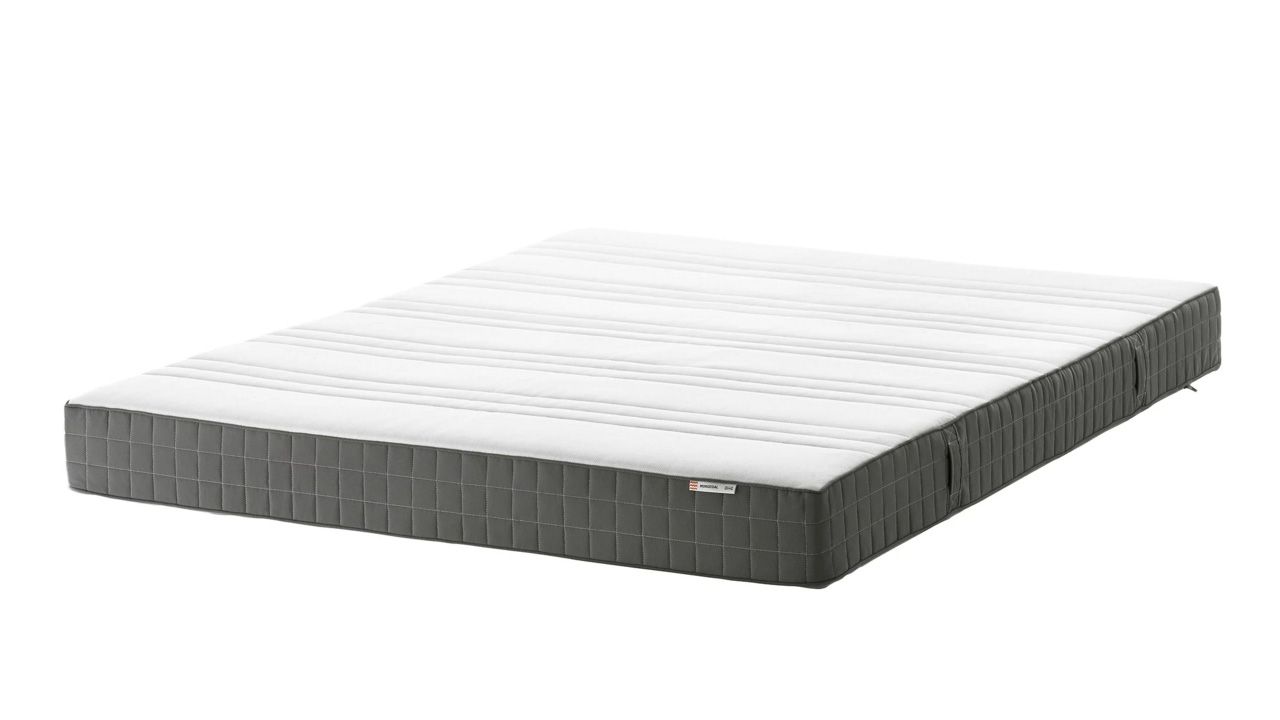 4. IKEA Morgedal
An ultra-affordable and surprisingly supportive mattress
Specifications
Best for: Best budget buy
Core: High-resilience foam
Sizes: 140 x 200 cm, 160 x 200 cm, standard single, standard double, standard king
Reasons to buy
+ Excellent value + Good for people who move in their sleep
Reasons to avoid
- Handles aren't very sturdy - careful when turning
This IKEA mattress is remarkably good for its very low price, perfect for treating guests to in the spare room, or for the kids' rooms. As such this is our best budget mattress for those who want affordable.
However, if you move a lot in your sleep, we recommend keeping it all for yourself, as the high-resilience foam core responds well to your movements, shaping and supporting with every twist and turn. It's also on the firm side, good for achieving spinal support and proper distribution of weight for a comfy night's sleep. Thanks to spinal zones you should get the support you need exactly in the right places for the perfect night's sleep.
Handles make for easy movement when the time comes and a 25 year guarantee should set your mind at rest so you sleep easy.
5. Dormeo Memory Plus
This Which? Best Buy mattress is our top pick for allergy-sufferers
Specifications
Best for: Allergies
Core: Memory foam
Sizes: Single, small double, double, king, super king
Reasons to buy
+ Good for allergies + Contours to your shape
Reasons to avoid
- It's on the thinner side
With its antibacterial and anti-microbial finish, this is hands down our best mattress for allergies.
Its trademarked Sanitized protection and carbon fibres, cleverly woven into the Florentine stitched cover, create an environment that's hostile to dust mites and fungi and locks out dust particles, to keep asthma and allergy-sufferers breathing free. But is it just right for a comfortable night's sleep, too?
You bet. It adapts to the contours of the body using clever individual pieces of foam, ideal for side-sleepers. The smart pressure relieving materials make for comfort while the memory foam will shape to you so each night's sleep is better than the last. Since this is such a great all-rounder it'll also be ideal for couples that require different levels of support on the same mattress.
6. Silentnight Mirapocket 1200
Offering zoned support and no rolling, this pocket spring mattress is great for back pain
Specifications
Best for: Back pain
Core: Pocket springs
Sizes: Single, double, king, super king
Reasons to buy
+ Good for back pain and scoliosis sufferers + Hardly any motion transfer from moving partners
Reasons to avoid
- Pocket spring construction needs quite frequent turning
The Silentnight Eco Comfort Pocket 1200 mattress is a well designed and built system that will offer a great night's sleep. Thanks to that 1200 zoned Mirapocket spring system this is one of the best mattresses for movement dampening, making it perfect for couples that turn a lot through the night.
Not only will this absorb movements but it will offer ideal support with a medium/firm rating. There is also allergen battling smarts built-in thanks to the addition of Purotex that will mean not only an allergen free mattress but a fresher one too.
For those that can't sleep, worrying about the environment, rest easy, this Eco Comfort layer is fully recyclable and breathable letting you sigh out and sleep deep.
7. Simba Hybrid
An excellent all-rounder for your bedroom or spare room
Specifications
Best for: Everyone
Core: Memory foam / pocket springs
Sizes: Single, small double, double, king, super king
Reasons to buy
+ Very comfy hybrid of foam and springs + Extensively tested on different kinds of sleeper
Reasons to avoid
- No handles for turning
The Simba Hybrid suits all kinds of sleepers, so if you haven't yet found your perfect mattress, we highly recommend you give this one a go. This is one of the best mattresses for upgrades from springs or basic foam options.
The combination of pocket springs and memory foam is innovative and best of all, extremely comfortable, as it moulds easily to your shape, enabling you to quickly find your groove again even if you move during the night. It also makes this breathable so it's great all year round.
Thanks to the Sleep to Live Institute's extensive testing on a massive sample size, it's pretty much guaranteed to be good for everyone's sleeping styles, so give it a go. From heavy to light weight this mattress will adapt to all and if you don't like it for some reason there's a free 100-day trail anyway.