Saatva Classic Mattress At A Glance
Firmness: Saatva's luxury firm falls at a "medium" or about a 5-7 on a scale to 10, with 10 being tabletop hard.
Type: Hybrid
Construction materials: GOTS certified organic cotton, CertiPUR-US® certified foams, Recycled steel coils
Sizes: Twin, Twin XL, Full, Queen, King, Cal King, Split King, and Split Cal King
Height: 11.5" or 14.5"
MSRP: $887- $2,296
If there's a mattress that has captured the internet's attention, it's Saatva.
Saatva just celebrated a decade in business, but over the last few years, it's seen massive growth in popularity, especially as people begin to reflect and think about what their mattresses are made of. We tested the flagship model, the Saatva Classic Mattress in the 11.5" Luxury Firm configuration with a 4.75" foundation, one of the most common setups.
The hybrid is designed for a wide range of sleepers, with the ability to choose from three different comfort levels: plush soft, luxury firm, and firm. Saatva is one of the few Internet brands that offer free White Glove Delivery for all of its mattresses, making setup hassle-free and making sure we were starting off on a high note.
Keep scrolling to find out what we thought, and to see if this option could fit the bill of being the best mattress for you.
.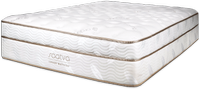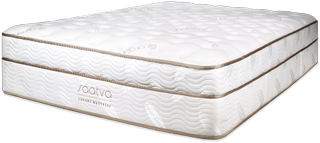 Who will the Saatva Classic Mattress suit?
All sleepers: the Saatva Classic Hybrid in Luxury Firm is a medium-firm design is designed to replicate the type of mattress you would find in a luxury hotel. Meanwhile, the firm mattress is recommended for back and stomach sleepers or heavier body types, and the plush mattress is top-rated for side-sleepers and lightweight sleepers who constantly find a mattress to be too firm.
Those with back pain: The Saatva Classic is backed by the Congress of Chiropractic State Associations and offers excellent spinal support and back and joint relief, thanks to the contouring support and cushioned comfort of memory foam.
Those who sleep warm: The Saatva Classic sleeps breathable and doesn't get hot during the night, as it uses dual coil layers that facilitate better airflow.
The environmentally-focused: Saatva's mattresses are made of ecofriendly materials including GOTS certified organic cotton, CertiPUR-US certified foams, and recycled steel coils. They're also made to order throughout the United States with independent factories and delivery partners to reduce carbon emissions.
Those who don't want to struggle with putting their mattress together: Saatva offers free White Glove Delivery and also give you the option to take away your old mattress at check out, so you can get to enjoying your mattress right away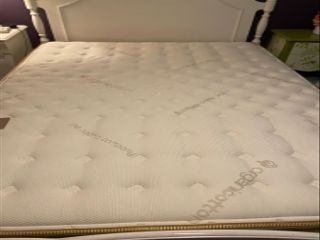 What's the Saatva Classic Mattress like to sleep on?
Because the mattress arrives fully expanded (it was never vacuum packed like bed-in-a-box mattresses) I could get to enjoying my bed as soon as the fast and efficient White Glove Delivery workers left.
The first time I plopped onto the bed, my first impression, coming from an older, firm innerspring, the Luxury Firm was slightly plush, with a gentle give that doesn't leave you feeling like you're sinking in, but rather that you're floating the top. It's a little firmer in the middle, where the extra support is to support your back, and softer at the top and bottom.
I'm always looking forward to crawling into bed at night, but I'm typically met with a sense of restlessness, tossing and turning to find that perfect sleep. Come bedtime, I really don't remember the first night I slept on my new Saatva, because I fell asleep so quickly and stayed asleep. I was cool and comfortable. So, let's take that as a good sign.
However, the morning after was a bit of a different story. My new mattress left me with a stiffness in my neck and my upper back that I've never experienced before. Sure, some mattresses have left me feeling achy around my lower back, but my neck and upper back have never previously been a concern. This continued for about a week as my body adjusted. A customer service rep explained that it can take up to a month for your body to adjust to a new mattress, especially coming from an innerspring mattress. So I kept an open mind and continued to test it out. (Spoiler alert: Things got better).
Breathability and cooling
Hybrid mattresses are much cooler right away than memory foam mattresses because the coiled support enable better airflow, and Saatva naturally sleeps cool.
When I added Saatva's new waterproof mattress protector, made with an organic cotton knit that wicks away moisture, on the second night, I did notice more heat was trapped by my lower back than I'd experienced with the mattress on its own, with the mattress feeling a little warm to the touch there the next morning.
Overall, I definitely found the Saatva Classic to sleep much cooler on its own, but the addition of the mattress protector gives me peace of mind that should I spill something in my bed or is my dog were to have an accident, the mattress is protected. The protector has a texture like canvas, and effectively clings to the bed. It's noiseless, undetectable to lie on, and marketed as breathable. If you tend to overheat in your sleep, its debatable if you'll want to opt for the mattress protector, or risk potential spills. I suggest giving it a try, since it has a hassle-free return option.
Comfort and Firmness
The firmness rating of the Luxury Firm is definitely a medium. At first, I thought it was too plush, coming straight off a very firm mattress, but it's a true medium that is the sweet spot for anyone who wants a touch of softness, without completely sinking in.
I sleep on my back most of the time, but I'll also spend time on my side. I slept comfortably in both positions. I'm not much of a stomach sleeper, but when I do, its ends up being some strange body contorted position that ends up wrapped in my many pillows, and definitely not doing anything for my back.
I invited my parents to give the mattress a try as well. They did not spend the night on it, so these are only first impressions, but those do make a big impact.
My father, who is heavyset, and prefers a firm innerspring mattress found the mattress immediately too soft. He's a back sleeper like me, and while he could imagine finding comfort on his side, he knew right away that the luxury firm wasn't offering the support he needed out of a mattress.
My mother, who is of average weight, felt like she sunk in the mattress, found it got more comfortable the longer she lay in it, as her body settled into rest mode.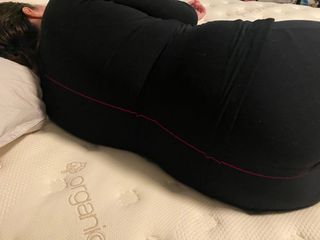 Spinal alignment and support
The Saatva Classic is marketed for its optimal spinal support and joint relief, so expectations were high. Based on the Posture Test, where we line up a laser level to our spine, everything from my shoulders to my hips appeared to be properly aligned and supported.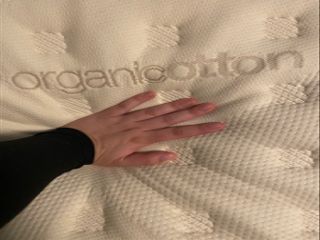 Motion Transfer
The motion isolation is good, could be better if you're expecting no interruptions (i.e., if you're used to all all-foam mattress). To get a sense of how well the Saatva isolated movements, I placed a cup of water on the side of the bed I slept on, and then sat in different places around the bed, watching the cup. The farthest I was from the cup's placement, it did not even teeter, but the closer, there were some hold my breath moments. I think that subtle tossing and turning movements by your partner will not affect your slumber, but if your partner chooses to plop down onto the bed with force, you will definitely notice their arrival. Generally speaking, if you are coming from an all-foam mattress, you'll notice slightly more motion transfer with a hybrid, while if you're switching from an innerspring mattress, you'll notice a motion transfer improvement.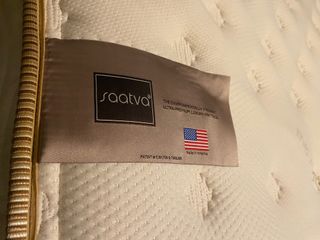 Edge support
For the pillowtop cover, I was really impressed with the edge support. Sitting on the edge of the bed, it's very firm, and the woven cord seems to stop you from rolling over. I kind of sunk into the bed from the cushion of the bed, so it took a little more inertia to sit up, but the edge was not sinking. While I sleep alone, I do tend to sleep on one side of the bed, and the edge support was not at risk of me rolling off if I got too close to the edge.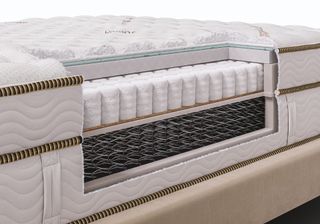 Saatva Classic Mattress design and construction
The Saatva mattress is a hybrid design meaning it utilizes both memory foam and individually wrapped coils- like you would see on a traditional innerspring mattress.
It's available in two heights, which comes down to personal preference to height and makes no difference in feel, quality or price, though the 14" has side handles and requires deep-pocket sheets.
In total, the mattress is comprised of five layers, combining a dual coil system with a responsive feel that also promotes better airflow for breathability and high-density memory foam for contouring support.
To create the different levels of comfort and support depending on if you choose plush, luxury firm or firm, Saatva uses foams with varying degrees of firmness.
Starting from the top of the bed, the 3" Euro pillow top made with pressure-relieving foam for extra comfort is wrapped with a breathable GOTS-certified organic cotton outer cover. It's protected with Guardin, a botanical antimicrobial treatment.
Below, the euro top, you'll find a layer of durable, slow-response memory foam for contouring and support to the hips and spine.
Individual comfort coils made from 14.5-gauge recycled steel respond and contour to your body's movements and minimize motion transfer.
Sandwiched between the comfort coils, is the memory foam layer where you'll find Saatva's Spinal Zone technology for enhanced back support and maximum pressure relief. In the center third of the mattress where the core of our bodies lay, active wire and a 1/2-inch layer of memory foam create lumbar support.
The foundation, or base of the mattress, features individually wrapped tempered steel, 13-gauge support coils for maximum durability, a bouncy, responsive feel, and to prevent sagging over time. The 11.5" tall Saatva has a 4" support coil layer, while the 14.5" tall version includes a 7" support layer.
Finally, for better edge support, high-density foam rails encase the perimeter of the mattress for firmer edges that prevent sagging and make it safe and comfortable to sleep or sit on the edge of the bed.
The Saatva is not organic, but uses eco-friendly materials wherever possible, including GOTS-certified organic cotton, Certi-PUR foams that are certified to be low-VOC and contain natural ingredients derived from soybean and corn oil, recycled steel coils and a flame retardant barrier made from natural thistle pulp as opposed to chemical sprays.
The mattress will work with most bed types. If you're using a traditional metal frame, Saatva suggests adding on their wood-slatted foundation, as box springs are not recommended. The mattress is also ideal for platform beds as long as the horizontal slats are spaced less than 4 inches apart and adjustable bases. Queen and larger sizes also need proper center support, otherwise the warranty could be voided.
Ordering, delivery, and warranty
The Saatva mattress is only available directly through Saatva's website. If you live close to New York City, they do have a viewing room where you can try the mattresses in person, but for the rest of us, you'll buy online. Ordering is very simple, but you do have a couple of options to choose from in terms of firmness and mattress depth. If you have any questions, a live chat is available to utilize, as well as the ability to speak to a representative, though there are plenty of extended explanations about options and the most popular combinations to help you come to a decision. You'll also be presented with the option to add on pillows, a foundation, and a mattress pad.
Each mattress is made to order. The suggested lead time was 9-21 days, but mine was ready to be delivered on the eighth day. Saatva utilizes a network of 19 factories and more than 150 delivery partners bring the brand within 60 miles of 85 percent of households in the continental U.S., which makes for efficient white-glove delivery and lowering carbon emissions. I'm based in Atlanta, GA, and my mattress was actually manufactured nearby in Rome, GA.
As soon as my made-to-order mattress was ready, I received a call to arrange a delivery date and time frame.
On delivery day, within 15 minutes max, two delivery workers had carried my mattress upstairs and set up my new mattress and foundation, and took all the plastic protective wrappings with them. Once I signed for my new mattress to confirm everything in my order was correct, I was left with nothing to clean up, and I could get right to enjoying my new mattress. In that same time period, they also brought my old mattress down to the basement. However, they will also haul away your old mattress for free. They were both covid-safe and wore masks.
Saatva now offers a lifetime warranty on its mattresses that applies to the original owner. If your mattress is deemed defective within the first two years of ownership, Saatva will send a new one to you at no charge. From year three on, Saatva will repair and recover your mattress for free, but you will be responsible for a $149 fee. Saatva will also offer a Fairness Replacement Option should your bed be deemed defective, with the option to keep your existing mattress and pay a proportion of the new mattress, also with a $149 fee.
What is the trial period
Saatva recently expanded their trial period from 180 days to a full year to get acquainted with your new mattress. If something is not right, Saatva's customer service will work with you to troubleshoot and remedy your issue. Should you decide you are unhappy with your purchase and want to return it, Saatva deducts a $99 fee to cover the cost of picking up the mattress from your mattress. Returned mattresses are donated to veterans' shelters or offered to employees and associates across their network of more than 150 delivery centers.
Hoes does the Saatva Classic Mattress rate online?
The Award-winning mattress has a 4.9 rating and over 2,000 reviews on the Saatva website with many referencing how the mattress alleviated back pain, excellent and responsive customer service, and the overall comfort level and design. Any negative reviews usually stemmed from selecting the wrong firmness level, which the customer service team works to remedy to find a way to make the mattress work, or for a hassle-free return.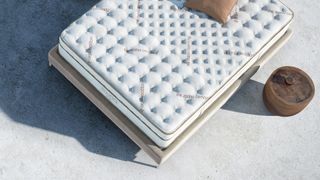 Is the Saatva Classic Mattress worth it?
There are a lot of mattresses out there, and it can totally feel daunting to limit it down to THE ONE, especially without trying before you buy. I get it, and we have quite a lot of mattress reviews that also pulled in high marks.
It'd definitely not the cheapest mattress out there, but also, not the most expensive. And still, any mattress over $1,000 is a considerable investment, so we want you to get it right the first time.
How I slept is truly subjective and influenced by the conditions around me, but if you're looking for a breathable and supportive high-quality mattress with an eco-friendly ethos and the opportunity to skip the hassle of setting up your mattress on your own, it is without a doubt worth it. Since it's a hybrid, it's also a good pick if you prefer a little more bounce and breathability than your current foam mattress is giving you.
While Luxury Firm appeals to all sleep types, Saatva also offers the Plush Soft and Firm options in the classic, as well as organic hybrids with latex, and fully latex or memory foam beds. Surely, you will find the mattress for you. For instance, heavyweight sleepers might find the most comfort and support in Saatva's HD model, a hybrid designed for those over 300 lbs.
In the meantime, the Saatva Classic transports me to the fluffy hotel beds I'd find on vacation in a time when I haven't seen the inside of a hotel in over a year. At least I can replicate that plush, cloud-like setting at home.
Where to buy
About our review – and our reviewer
Jaclyn is the US eCommerce editor across the homes titles at Future, including Real Homes, where she specializes in a variety of topics ranging from vacuums to mattresses. She spends her days tracking the latest buzzworthy releases and testing a variety of products to determine whether they are worth bringing into your home. But perhaps because she could literally nap anywhere, anytime, and really needs a full eight hours of sleep to function, the opportunity to test out mattresses for our readers brings a new definition to dream job! In what other world would she get the chance to sleep on the job!
All our reviews, as in the case of the Saatva Classic Mattress, are based on the real-life experience of using these products at home. Jaclyn slept on this mattress for over six weeks before beginning this review. The products are given to us free of charge and we test them for as long as possible before sending them back to the brand unless we are able to keep them as we are with this mattress. This means that we can continue to use the product which gives us the opportunity to return to our reviews for updating, so you can keep up-to-date with how it's fared over a period of time.
More mattress reviews