Two software engineers, who were fed up with the old-fashioned way of buying mattresses (i.e., going into the store, pressured by salespeople, and trying to figure out how to get the huge mattress home), founded Tuft & Needle. They built a company intent on the goal of offering a top-quality mattress through a simple online purchase that would be shipped to your door quickly and efficiently.
After reading the Tuft & Needle story, I was impressed and excited to try their Original Mattress. The company was founded on the idea of changing the way we buy mattresses for the better, so I figured if they put that much effort into the process, then they probably took the time and care to create a great mattress. I was right.
The Tuft & Needle Original Mattress utilizes cutting-edge technologies that foster a deep and restful night of sleep. It may have tested my patience for a few days, but the Original mattress ultimately won me over and made me a Tuft & Needle convert. It's truly earned its spot on our best mattress list.
Continue on to read my review and you'll quickly see why it's worth giving this Tuft & Needle mattress a chance.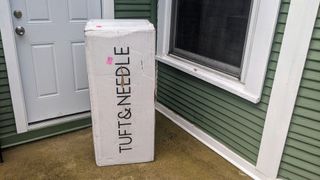 WHO WILL THE TUFT & NEEDLE ORIGINAL MATTRESS SUIT?
Tuft & Needle Original Mattress Specs
Firmness: Tuft & Needle rates it as 'medium-firm;' my rating is 7 out of 10 on a firmness scale
Type: Memory foam
Construction materials: open-cell support foam layer, Adaptive Foam, graphite, ceramic gel
Sizes: Twin, Twin XL, Full, Queen, King, and Cal King
Height: 10-inches
MSRP: $645-$1,095
Back and stomach sleepers: Although it's comfortable enough for side sleepers, this mattress is better for back and stomach sleepers.
Sleepers who like some firmness to their mattress: The adaptive foam is supportive and flexible meaning you'll enjoy support and some give.
Light sleepers with restless partners: You won't feel your partner twist and turn during the night.
Box springs or slatted platform frame owners: This mattress will work on a sturdy and supportive box spring or on platform beds with slats that are less than 5 inches apart.
Hot sleepers who need a cool mattress: Graphic and ceramic gel keep this mattress cool and comfortable all night long.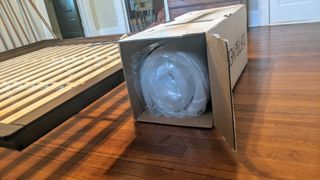 WHAT IS INSIDE THE TUFT & NEEDLE ORIGINAL MATTRESS?
The Tuft & Needle Mint mattress is comprised of two layers (three if you include the soft knit fabric breathable cover). The bottom layer is a 6.5-inch open-cell support foam layer. It's designed to be a breathable foundation that keeps this mattress working for years to come.
Above that is a 3-inch adaptive foam with a graphite layer. The adaptive foam layer was designed by Tuft & Needle to be durable and breathable, while the graphite is included to absorb heat and keep you cool all night long.
WHAT IS THE TUFT & NEEDLE ORIGINAL MATTRESS LIKE TO SLEEP ON?
The Tuft & Needle mattress arrived rolled up in a box. I carried it by myself with the box's integrated handles to my bedroom. I pulled the Original mattress out of the packaging and cut away the plastic. It didn't take long for the mattress to rise to its full height of 10 inches on my platform slatted bed.
The mattress has a soft knit fabric cover. If you look at the bottom of the mattress, it appears that part of that cover can be unzipped which might make you think you can take off the cover. Tuft & Needle advises against this, so you'll want an additional mattress protector to go over the mattress.
I discovered a piece of paper that Tuft & Needle had placed in the box with the mattress. It said that the mattress could take up to seven days to fully expand. Most mattresses come with notes such as this, but I didn't think much of it and threw it away.
When I laid on the bed an hour later, it felt somewhat firm for a memory foam mattress. I didn't lay down for long but rather waited to fully experience the mattress when I was ready to go to sleep.
To be completely honest, I slept horribly on the Original mattress the first night. While I remained cool and comfortable, I tossed and turned and woke up every few hours. The mattress was a bit too firm for me, which was surprising because I'm partial to firm mattresses. Each time I awoke, I thought about that seven-day warning.
I'd soon come to realize that I wouldn't get good sleep on the mattress for quite a few more days. The second night, I had family visiting so my mother and I slept in the same bed. Again, I tossed and turned all night and got little sleep. The one positive of that night is that I did get to experience how the mattress works with someone else in the bed. I didn't feel my mother get up or return to bed the two times she went to the bathroom at night.
The third night, I went out of town for work, so I didn't sleep on the Original mattress. I don't sleep well away from home, so when I returned home the next day, I'd been without three nights of good sleep (and my body requires a good 8 hours of sleep to function). I decided to sleep in my guest room just to get a full night's rest, so it wasn't until the fifth night that I returned to the Tuft & Needle mattress. I was a bit wary… but I'm glad to say that time and patience were what was needed to create a phenomenal sleep experience on this mattress.
I slept hard and deep on the fifth night. I only woke up once because I had gotten a bit warm in heavy pajamas, but once I changed to lighter sleepwear, I fell back asleep quickly. I woke up the next morning a bit groggy – the way you do when you've had too deep of sleep. The mattress was no longer as firm as it had been. It slightly gave way, cradling my body just enough, but not too much, whether I slept on my back, side, or stomach (I sleep all three ways).
Since that night, I've slept wonderfully on the Tuft & Needle mattress, if not extremely deeply. It's comfortable and cozy, plus it provides great airflow.
I'm not a very patient person, but I'm glad that I took the time to give the Tuft & Needle mattress a chance to fully expand and form into the mattress it was designed to be. I gave my neighbor the hybrid mattress that used to be on my bed and kept the Tuft & Needle Original mattress. It's a dreamy mattress that's made sleep even better than before.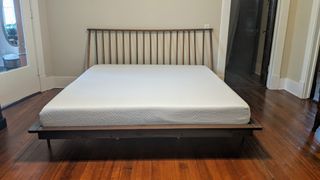 ORDERING, DELIVERY, AND WARRANTY
Ordering a Tuft & Needle Original mattress is quite simple. The biggest choice you'll have to consider is whether or not to add an upgrade: the antimicrobial protection by HeiQ. With this protection, Tuft & Needle embeds microsilver and vesicle technologies into the mattress cover. Those technologies attract and break down harmful bacteria and microbes that enter the mattress and could cause odors or break down the materials of the mattress.
Shipping is free (except in some cases for residents of Hawaii and Alaska) and arrives within 1 to 5 business days. This is incredibly fast as most mattress companies advertise 5-7 business days for shipping.
Tuft & Needle offers a 100-night trial for this mattress, meaning you can return it within 100 nights for a full refund. Note that those who live in Hawaii or Alaska will not have their shipping costs refunded and only one item can be returned per year for a full refund. This is also important: the 100-night trial is only applicable to those who purchase the mattress through the Tuft & Needle website or Huckberry. It does not apply to items bought through Lowe's, Amazon, or Crate & Barrell.
You'll be glad to know that the mattress comes with a 10-year limited warranty that covers breakdown, splits, cracks, or deterioration in the foam. If the bed sags or has a body impression greater than 3/4ths of an inch or the stitching comes undone on the mattress cover, you may also qualify to receive a repair or replacement mattress.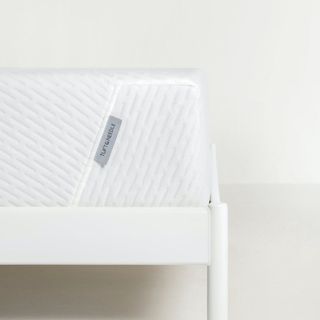 HOW DOES THE TUFT & NEEDLE ORIGINAL MATTRESS RATE ONLINE?
Visit the Tuft & Needle website, and you'll see that the Original mattress has a 4.6-star rating from 32,902 reviews. If that wasn't impressive enough, mattress buyers will be glad to know that the Google rating for this mattress is the same (4.6 stars) and includes 27,964 reviews.
After sleeping on this mattress for a few weeks now, I quite agree with this rating. The rave reviews of the Original mattress tell it all: it's a great choice for a good night's rest.
TUFT & NEEDLE ORIGINAL MATTRESS: Our Verdict
If you're looking for a top-quality memory foam mattress at a good price, the Tuft & Need Original mattress is well worth the buy. Not only is it designed to keep you cool at night, but it's incredibly comfortable for those who require that right balance of firm support and softness for a well-rested night of sleep.
I think the best feature is how it virtually eliminates the vibrations made by a restless partner. You can sleep throughout the night as your partner gets in and out of bed or moves around.
Might it take a few days for your body to adjust to this mattress as it fully expands in the first week? Yes, but as someone with little patience, I highly advise you to wait it out because it'll result in consistent, uninterrupted nights of wonderful sleep.
That said, if you are a side sleeper, get super hot at night, or like to sleep or sit on the edge of the bed, you might want to forgo the Original mattress and spend your money on the Tuft & Needle Mint Mattress. It's designed to better accommodate all these experiences, plus it is 12 inches in height and comes with anti-microbial protection.
Where to buy the Tuft & Needle Original Mattress
About this review and the reviewer
Alex's Sleep Stats
- Sleep position: I usually fall asleep on my stomach, but you could call me a Flexi-sleeper because I do occasionally sleep on my back and side.
- Insomnia: not usually, though sometimes it can take me an hour to go back to sleep if I have a lot on my mind
- Sleep problems: I have difficulty getting a deep rest with someone else in the bed. I also can't sleep on a mattress that is too soft.
- Average sleep time: 8-9 hours
Alex Temblador is one of Real Homes' mattress experts — which is a good role for someone who needs over 8.5-hours of sleep each night. The Dallas-based freelance writer has covered home, design, architecture, and art in publications like Real Homes, Gardeningetc, Home & Gardens, Dwell, Architectural Digest, Artsy, Neighborhoods.com, Culture Trip, among many others. She recently bought her first home, a green Sears & Roebuck house that's over 100 years old, sits on half an acre of land and features a stunning wraparound porch, original hardwood floors, pocket doors, and a butler pantry.
In addition to her mattress reviewing duties, Alex loves to try other products for Real Homes buying guides and reviews so that she can continue to expand the richness of her first-time homeowner life. When she's not sitting on her porch with a cup of tea and her laptop, you'll find the Mixed Latinx writer scrounging through estate sales and vintage shops looking for unique objects to bring 'The Starlight House' to life.
As with all our reviews, the Tuft & Needle Original mattress has been tested first-hand in our home, using it just as you would so you know exactly what you are buying. The products are given to us free of charge and we test them for as long as possible before sending them back to the brand unless we are able to keep it as we are with this mattress. This means that we can continue to use the product which gives us the opportunity to return to our reviews for updating, so you can keep up-to-date with how it's fared over a period of time.
MORE MATTRESS REVIEWS