Looking for the best pillows? Of course you are. Getting a good night's sleep is essential to our wellbeing, and having a comfortable place to rest your head at the end of a long day is a key ingredient in drifting off to the land of nod for deep and restorative sleep.
But, as you might already have discovered, one size doesn't fit all when it comes to finding the best pillow. The best pillow for side sleepers will be different from the pillow most comfortable for a back or front sleeper. If you have neck pain you might need a more supportive pillow, and then there are allergies and anti-snoring pillows to take into consideration.
There's also temperature to think about, and the merits of memory foam, hollow fibre, and goose down to understand.
The good news is the Real Homes team is here to help. We've been snoozing on the job putting the top pillows - and brands - through their paces, and have rounded up our tried and tested favourites in this guide.
To understand the nitty-gritty of our testing process, and a breakdown of the essential differences in pillow materials and how your preferred sleeping position will affect your choice, just scroll to the bottom of this page.
Next to the best mattress, we think finding the best pillow is essential to sleeping soundly and waking up refreshed, so without further ado, let's get on with finding the right one for you.
Best pillows: the best pillow for side sleepers, neck pain and more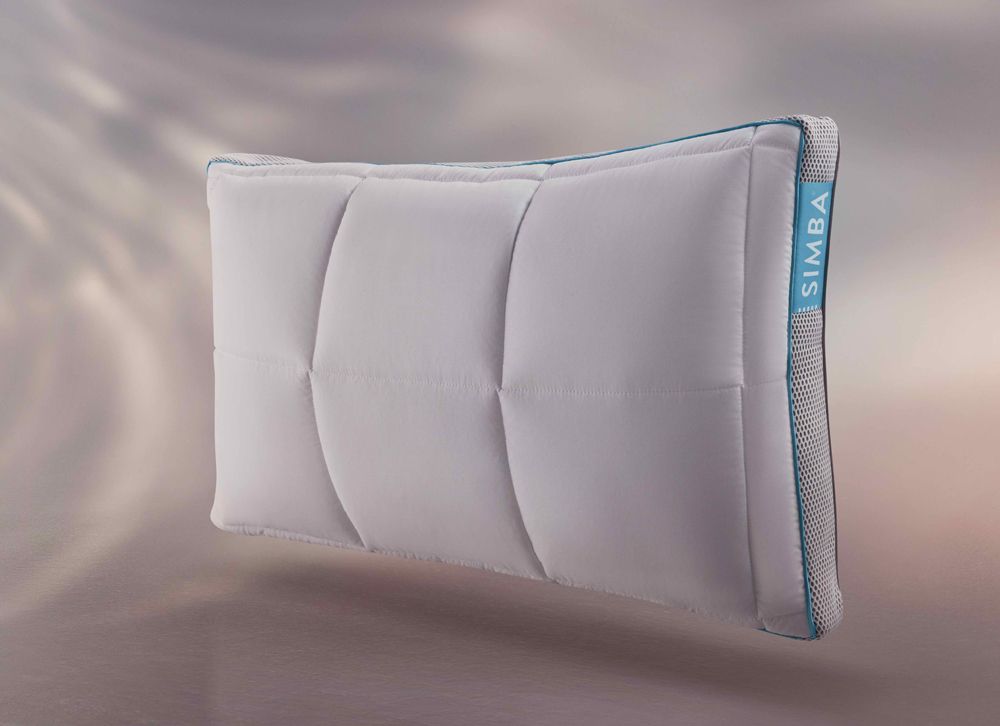 If you're after the very best pillow and are willing to invest in a good night's sleep, then we think this is the one. We LOVE LOVE LOVE it! This Simba pillow has been scientifically engineered to give you the best night's sleep, with temperature regulation and adjustable height. But forget all that; it's just really great to sleep on, particularly if you're a side sleeper.
What's it like to sleep on?
So, first, the adjustable-height feature, which should allow you to achieve perfect neck and shoulder alignment: the pillow comes with a zipper that allows you to access its interior and remove (or add back) foam Nanocubes. The more foam is inside the pillow, the higher and firmer it feels. Our tester removed around three handfuls to get the desired height and level of firmness.
What to do with the Nanocubes if not in use? Simba has provided a little bag to keep them all together so you don't lose any.
Its cotton cover is astronaut-inspired which absorbs, stores, and releases heat when you need it. Not once did our tester wake up with a hot head. And the cover is lovely and padded.
Will it suit your sleep position?
This is a firm to a medium-firm pillow that's perfect for side sleepers who like a single pillow, but because you can adjust the pillow's thickness it works for back sleepers who need a shallower pillow, too. It has more of a sink-in quality than the memory foam pillows we tested, but won't give you the same soft sensation that a down or feather pillow will. That said, unlike down or feather, it holds its shape and barely needs re-plumping. Unlike traditional memory foam pillows, it's a cool place to lay your head each night.
Ease of care
Remove the cover, pop in the washing machine. Job done.
Anything else?
Memory foam tends to have a distinctive smell but not this one. It also arrives rolled in a box, much like the Simba mattress, and takes about 30 minutes to expand - you can 'fluff' up the Nanocubes by unzipping the cover and filling case, though, for a helping hand. It's also a great vegan-friendly pillow option.
See our full Simba bedding review to get our tried-and-tested opinion on the entire range.
Real Homes rating: 5 out of 5 stars
This is a fresh take on pillow design which I, for one, have not seen before... and it's our best pillow runner-up.
What's it like to sleep on?
Dreamy. It's ideal for any sleep position which keeps its plumpness throughout the night. Being filled with 60 foam-encased pocket springs and polyester, it requires no fluffing up during the night or as you wake. It's also responsive to my movements as I switched between sleep positions and felt like my head was being really well supported.
I found it's fab at also regulating temperature which I guess is down to the increased airflow with the pocket coil system and cotton cover, which feels divine. It generally feels like a quality pillow, before you even rest your head on it, and it is surprisingly lightweight so you can easily fling it around during the night if you are having a restless one.
Will it suit your sleep position?
It'll suit side, back, or front sleepers quite happily. It's also a good option for those who struggle to regulate their temperature during the night. And if you want to do away with a second pillow because it is super springy.
Ease of care
The cover on this one can not be removed but it can be sponge cleaned - just ensure you dry it thoroughly before using it again.
Anything else?
There's some really lovely detailing to this REM-FIT pillow. It has a purple thread piped edge which is coordinated with an embroidered brand logo. This pillow also comes with a 5-Year guarantee against defects in workmanship or materials.
Real Homes rating: 4.5 out of 5 stars
The Brook + Wilde Marlowe pillow is a luxury goose feather and down insert... with a luxury price tag to match.
What's it like to sleep on?
After a month with the firm version of the Marlowe pillow (there's also a medium-density option available), it's safe to say our front and side-sleeping reviewer was hooked. This tester previously preferred the best-in-class Simba hybrid pillow but found front-sleeping on this soft goose-down insert a particular pleasure. It might have made the best pillows top spot, we just found the price point a little too restrictive.
The firm version had the perfect combination of support and cushioning for us; it really is the most enjoyable and relaxing pillow to crash down onto. It deflates beautifully on impact, with no bounceback but also a remarkable softness.
Will it suit your sleep position?
As mentioned we found this pillow particularly good for front-sleeping, but it was perfectly comfortable for back and side sleeping too.
Ease of care
Care is pretty straightforward, and washing can be done at a high temperature; gentle wash at 60°C and tumble dry with low heat.
Anything else?
People can worry about goose down being allergenic, but the science says it's actually the fact that down tends to attract dust/house mites which can set you off sneezing. The way that top-end goose-down pillows deal with this is a high-quality, tightly weaved casing, which the Marlowe has.
Goose-down can also come with ethical concerns. To help you rest easier, Brook + Wilde's down and feathers are never sourced from live animals, are not associated with animals used in the foie gras industry, and are all retraceable back to the rearing area. Their products have also been awarded the Downpass Certificate which monitors that ethical standards are met.
Is investing in luxury bedding worth the money? Read our verdict in our full Brook +Wilde bedding review.
Real Homes Rated: 5/5 stars
The one-size-fits-all OTTY Adjustable Pillow lives up to its name since it's customisable to your sleeping position.
What's it like to sleep on?
We had both a front sleeper and a side sleeper test this pillow for us, and it's definitely comfortable – although it might take you a while to get there. This is because this pillow needs to be tailored to your individual needs. You'll need to get it to the perfect loft height for a good night's sleep. If you are a side sleeper, this is the space between the end of your shoulder and the side of your face. With this in mind, our side sleeper tailored this pillow exactly to suit them, and noted great results in the form of a good night's sleep. Our front sleeper found this pillow to be most comfortable with fewer memory foam pieces inside, making it a lot thinner although still nice and cushioned. In fewer words: it's a comfortable pillow that can be used by pretty much anyone. We think it's a great addition to a spare bedroom, as guests can customise it to suit their needs.
Will it suit your sleep position?
Due to its nature, this OTTY Pillow should sleep any sleeping position, but specifically side sleepers. If you do prefer solid memory foam, then definitely don't go for this pillow as it offers a medium firmness.
Ease of care
You can take out the memory foam pieces and wash the outer cover of this pillow in your machine. Wash it at 40° for the best results.
Anything else?
With this pillow comes a bag to hold excess memory foam pieces that you might not want to use. This bag isn't the biggest, so if you're wanting to remove quite a few of the filling, then it might be a good idea to store them safely in an unused pillowcase. There are not one but two covers to ensure that you don't feel the individual pieces of memory foam as you sleep. One of these covers is made from 100% cotton and is impressively thick.
Real Homes Rated: 4.5/5 stars
Next on the list is another pillow from UK-brand Brook + Wilde. This time a cooling option. It feels LOVELY and padded and is filled with hollow fibre pockets to keep allergies at bay.
What's it like to sleep on?
As a side sleeper, I found that the pillow was okay to sleep on - well filled, cool and comfortable - and did away with the need for another pillow to keep my head supported. However, I did find that the pillow needed regular plumping sometimes even through the night.
It was tested during the summer months which meant that there were a few hot spells. My head was kept cool which I guess is down to the 'cooling technology' built-in to the pillow, helped by the fact that the cover is made from 100 percent Egyptian cotton which is naturally breathable.
Will it suit your sleep position?
If you're a side sleeper, then yes. You'll probably need a less plump pillow if you're a back or side sleeper, however.
The non-allergenic fillings would be a good choice for those who are sensitive to feathers and / or dust. And if you struggle to keep cool during the night then this is also one to consider, too.
Ease of care
The outer cover can be removed with the zipper for machine washing at 40 degrees. And the internal compartment of the pillow is also machine washable but you wouldn't need to wash this as regularly as the cover.
Anything else?
If you struggle to regulate your temperature then the Brook + Wilde Everdene Cooling Duvet can also be bought for a nice cooling effect.
Real Homes rating: 4 out of 5 stars
Designed as an extension of the acclaimed Eve mattress (see our review), this luxury eve memory foam pillow offers all the benefits of memory foam while addressing its more commonly cited drawbacks, such as overheating.
What's it like to sleep on?
The hypoallergenic foam and antimicrobial UltraFresh finish allows you to benefit from its comforting and muscle-aligning properties.
Users mostly rate it as excellent and 'like sleeping on a cloud'; others say it's too firm, but in our experience, memory foam pillows do feel firmer than any other pillow type, and take a little getting used to (we'd rate it medium to firm).
Once you've adjusted, though – if you can, not all our sleepers could get used to the initial firm feeling – you may never want to go back to traditional fillings, whether natural or synthetic. Either way, there's a 30-day trial, so you can send it straight back if you don't get on with it.
What else? The cover's durable jersey fabric is knitted, which makes it feel like it has a lot of give, and it's super soft, too.
Will it suit your sleep position?
For memory foam fans, it might take some getting used to as it's far flatter than your average memory foam pillow, which is why we've rated it as best for back sleepers. Side sleepers, look up to the Simba for the level of neck support you'll need.
Ease of care?
The cover can be removed and washed at 40°C, and it's hypoallergenic, making it a great choice for allergy sufferers.
Conceived in Norway and manufactured in the UK, this traditional Snuggledown Scandinavian Duck Feather and Down pillow (actually, 85 per cent feather, 15 per cent down) is an ideal meeting of luxury feel and affordability.
What's it like to sleep on?
As you'd expect with this natural filling, it's soft and cushioning to lie on (we'd rate it soft to medium), but supportive, too – don't expect your head to sink right back to the mattress like it might on poorer quality pillows. The air-trapping down-and-feather filling makes this pillow perfect for sleepers who get chilly at night, and can be easily manipulated for the ideal level of cushioning – perfect if you're a fidget who likes to reshape their pillow mid-sleep.
What else to like about it? The washable 233 thread count cotton cover has a luxurious feel, and the pillow itself is light and flexible enough to take on the road for comfort on a long car journey.
Will it suit your sleep position?
It's quite a flat pillow and those supportive sink-in qualities means it's perfect for
front sleepers. If you're a back sleep you'll prefer a pillow which is even flatter, and side sleeps may prefer a pillow that's a little firmer and deeper.
Ease of care
All it needs is a good shake every now and then to plump it up and improve the loft. The pillow itself can be machine washed but always follow care label instructions.
Looking for something memory foam to sink into at the end of a long, hard day? The Panda Memory Foam Bamboo Pillow is it – trust us!
Filled with three layers of memory foam and featuring a soft bamboo cover, this pillow offers the ultimate support and comfort while being temperature regulating, highly breathable and eco-friendly. What more could you want in a pillow?
What's it like to sleep on?
Designed with three layers of memory foam, the Panda Bamboo Pillow is soft at first touch but firm at its core to provide neck and back support. Its triple layer moulded memory foam fillings are all different types of visco memory foam – recommended by doctors and orthopaedic experts alike.
Will it suit your sleeping position?
While this pillow isn't a great buy for those who sleep on their front as it won't keep your spine aligned with your neck, it is a great option for side and back sleepers. The Panda Bamboo Pillow helps side sleepers fill the space between their head and shoulder to prevent a stiff neck, while it helps back sleepers rid the need of a second pillow thanks to its firmness.
Ease of care
While the pillow itself can't be washed, it does come with a bamboo cover that can be. This cover is not only antibacterial but mould-resistant too, and it should be popped on your pillow while using – along with your normal pillowcase, of course – for peace of mind when it comes to fungi and dust mites. This factor also makes the pillow a great option for those with sensitive skin and allergies.
At just over £12 for two, these Silentnight Anti-Allergy pillows are a fantastic budget anti-allergy buy.
What is it like to sleep on?
Great for allergy sufferers. The soft hollowfibre filling is antibacterial, and actively protects the pillow from dust mites. This helps to prevent allergies and keeps your pillow feeling fresh and clean. The cover is easy-on-skin microfibre polyester, and
In case you were wondering just how good they could be at the price they're selling for, Silentnight anti-allergy fibres are approved by the British Allergy Foundation, which means they have the ultimate seal of approval. Buy them for yourself, an allergy-suffering partner or the kids, to eliminate those mysterious night-time coughs and itches.
Silentnight rates the firmness of their pillows from one to 10, with one being very soft and 10 being extra firm. These anti-allergy pillows are rated as a four, which means they are of a medium comfort.
Will it suit your sleep position?
In theory, this comfort rating makes them suitable for all sleep positions. But, compared to hybrid, memory foam and plumper feather and down pillows, we think this is a very soft pillow that's ideal for front sleepers. For those in search of more support, perhaps side sleepers, or for anyone who like a pillow with more firmness, see the pillows above, or consider the Dunlopillo Super Comfort (reviewed below).
Ease of care
The whole thing can be popped in the washing machine for easy cleaning. Use our guide to find out more about how to get rid of dust mites, too.
For the allergy-alleviating properties of the Silentnight pillows, but with the firmness and support of a hybrid or memory foam pillow, give this latex Dunlopillo Super Comfort pillow a try.
What's it like to sleep on?
At night, it remains cool, dry and breathable in the summer, as you'd expect from latex; and it's naturally antifungal, antibacterial, and dust mite-free, making it a really great choice for allergy sufferers, too.
Will it suit your sleep position?
Its medium firmness and depth – it was described as 'bouncy' by some of our reviewers – make it a good choice for side sleepers who like to sleep on a single pillow, but because it's quick to adapt to your unique shape, it will suit back sleepers, too.
Ease of care
This latex pillow is covered in a luxury removable knitted cover, which makes it easy to keep clean.
Have a look at our best memory foam mattress options, too.
Those of us old enough to remember the reign of the waterbed will be (rightly) dubious about a water-filled pillow, but bear with us. This unique Mediflow Waterbase Fibrefill pillow, with its water base, thermal insulating layer, and hypoallergenic polyester fibres, ranked best for reducing neck pain and quality of rest in a sleep study at Johns Hopkins Hospital.
What's it like to sleep on?
The biggest winner for us is its customisability: simply adjust the firmness using the water level to meet your preference: soft, medium, firm or something in between.
The pillow is made with a 100 per cent hypoallergenic cotton shell encasing a sealed and insulated water pouch, which keeps the pillow at body temperature, with a comfortable Dacron Hollofil fibre layer on top. A note on the body temperature bit – if you're a sweaty sleeper or get very hot at night, this might be problematic.
How does it feel to sleep on? It's important to note that you need to ensure the water levels are right for your firmness preference and that you get all the air out of the pillow cavity before replacing the cap to avoid a 'sloshing sound' as you turn. It will also feel heavier than pillows with other fillings, even memory foam. Otherwise, the pillow was roundly praised for its neck-pain relieving properties, while others found it difficult to adjust to. There's a 30 day money-back guarantee if you can't get on with it, too.
Will it suit your sleep position?
Whether you're a side, back or stomach sleeper – or a fidget who switches positions regularly – the water within the pillow moves with your head, meaning you won't have to adjust or fluff the pillow while you half-sleep.
Ease of care
The cover can be slipped off an machine washed.
If you like the softness of down, but suffer from an animal allergy or asthma, object to using animal products, or just don't appreciate being poked by feathers when the pillow starts to wear? Try this Silentnight Just Like Down Microfibre Pillow instead.
What's it like to sleep on?
This pillow has a medium support rating, but we'd rate it as soft to medium. It's a good buy if you're an allergy sufferer, as we've said above: the 100 per cent non-allergenic, conjugated, spring hollowfibres are encased in a 100 per cent microfibre, smooth-as-silk cover. In other words, it's allergy-friendly soft support all the way. Plus, it's a budget friendly buy, so if you want the best pillow for a low cost – perhaps for a spare bed – it's a good choice.
Will it suit your sleep position?
The hollow fibre filling is beautifully soft, making it suitable for sleepers of all descriptions especially back and front sleepers. Side sleepers might prefer something firmer and deeper. Otherwise, it's great all round, if you like a soft pillow.
Ease of care
It's machine-washable.
Memory foam is definitely the way to go if you suffer from snoring or neck pain, and this neck-contouring pillow is one of the best we've found for comfort.
What's it like to sleep on?
The main advantage of this pillow is that it's less dense and firm than the majority of memory foam offerings out there, while still being supportive, which makes for a very comfortable pillow. The rise is just the right height to support the neck without being too high.
Does it help with snoring?
In so far as any pillow can help with snoring, this does help. After testing, we can say that while it won't eliminate snoring completely, it does reduce it significantly, especially if you try sleeping on your side more.
What about neck pain?
Again, the Ecosafeter Memory Contour Pillow performed very well for reducing neck tension and pain. There's something about the exact dimensions and material of this pillow that makes it just right for most necks and heads (especially smaller ones).
What to watch for
We were surprised by how small this pillow is, even though the description clearly states it's 'not a standard size'. It's not really a problem, but something to be aware of before buying.
Again, this is a memory foam pillow that's ideal if you have neck pain, but it can help with back and shoulder aches too. We loved this pillow, you really feel your head is being supported.
What's it like to sleep on?
You really sink into this pillow, and while it's firm and supportive it has just the right of squish too. It's also not too high, a problem we have found in the past with memory foam cushions, and works perfectly for someone who sleeps on their back or their side.
Does it help with snoring?
Yes, if you sleep on your side. Not really if you sleep on your back (the prime snoring position) and while this cushion suits all sleep position it does work best for back sleepers so might not be a great option for snorers who share a bed.
What about neck pain?
The EasySleeper is known for helping with neck pain, plus relieving any tension in the shoulders and back. The support from the pillow is said to gradually restore your cervical discs one sleep at a time, helping ease pain in your head, neck and back. It really helped relieve a migraine too!
What to watch for
Sales! This pillow isn't super expensive but it's not the cheapest of our picks either, however, Sleep Easy often has deals on so you can get money off so look out for them before you buy.
---
How we test the best pillows
Our pillows are each tested over a few weeks by members of the Real Homes team who then pass them around family and friends to bring you real-life opinions on what each one is really like to sleep on.
Each sleeper chosen has different preferences and sleep positions, and as a group they range in age from 12 to 52. Plus it's not a one-night opinion you're getting: each pillow is given at least a week per person, unless, of course, they find it unbearably uncomfortable.
How to choose the best pillow
Follow these simple steps to get the very best pillow for you:
1. How do you sleep?
Consider if you're a side, front or back sleeper because depending on your position, you'll need a different level of support.
Now think about where your pillow will sit beneath your head while you sleep. If you prefer it completely beneath your head, you'll get on best with a low- to medium-loft pillow; if you sleep with your pillow only partially beneath your head, you may find a pillow with a higher loft to feel supported.
2. How thick is your preferred pillow?
This is called 'pillow loft', and when you're buying new, you might see it written on the side of the packaging. Experiment at home to get your preferred thickness right. Low loft pillows are around 7cm thick; medium loft pillows are 7cm to 12cm thick; high loft pillows are 12cm+ thick.
3. Remember, it's personal
The pillows below have been rated by our experience of them, but it's vital to remember that we all have different preferences that don't necessarily relate to their sleeping position, as mentioned above. Some of us prefer to sleep with two pillows (even though sleep experts suggest that sleeping with one is the best option); others prefer the feel of synthetic fillings over natural... and so on.
4. How do a pillow's fillings feel to sleep on?
Natural fillings, including duck and goose feathers and down, feel soft and luxurious, giving you that extra-cosy sensation of sinking into your pillow. They, along with sheep's wool, are naturally heat-retaining, which makes them ideal if you get chilly at night, but not for those who are constantly in pursuit of the cool side of the pillow.
If you like the softness of down but not the heat, or you suffer from allergies or respiratory diseases, you can get synthetic fibre fillings that mimic the feel. And speaking of allergies, pillow manufacturers are very much up to speed with the needs of their users these days, so you can expect to find anti-allergy fillings and coverings, plus keep-clean machine washable constructions, for a reasonable price
Finally, for those of us who need more support in bed, or just prefer the feel of a firm pillow, there are latex, hybrid and memory foam. Helpful for sufferers of neck or back pain, they keep the spine and muscles correctly elevated and aligned for a deep sleep and a pain-free morning.
5. Are you pregnant?
When you are pregnant the best sleeping position is on your left side as it helps increase the flow of blood (and nutrients) to the placenta. If you aren't used to sleeping this way, the best pregnancy pillow will help you lie in comfort.
What is the best pillow on the market?
Let's recap... our choice of the best pillow you can buy is the Simba Hybrid with OUTLAST. You can add or remove the stuffing (foam Nanocubes, if you prefer) to suit the height and firmness level you prefer.
How to turn your bedroom into a sleep sanctuary
Investing in the best pillows isn't the only thing you can do to increase your chances of a good night's sleep.
Finding a duvet and duvet cover set that offers good temperature regulation so you don't wake up too hot or too cold can make a big difference to a comfortable snooze. You'll find our top picks of both in our guides to the best duvets and best duvet covers and bedding sets available.
And don't worry, you don't need to spend a small fortune to get a better night's sleep, our edit of the best bedding brands will point you in the right direction for finding options to suit your budget, whilst our round-up of the best bedding sales each month can save you some hard-earned cash.
Most sleep experts will also tell you that creating a calming environment in the boudoir is essential for a successful wind down in the evening, which makes the decor you choose in the bedroom particularly important. Get some inspiration in our bedroom ideas round-up, and our guide to how to decorate a bedroom.
A weighted blanket can also help to set the mood for relaxation, delivering serotonin and melatonin boosting Deep Pressure Therapy. Take a look at our tried and tested favourites in our guide to the best weighted blankets for adults.
It's also important not to underestimate the power of a calm mind. Using a mindfulness app like Headspace or Calm, or doing mindful stretching exercises like yoga or pilates before bed can all help you to train your mind and body to relax, helping you to achieve more restorative sleep.