Not getting enough shut-eye? The best pillows will help you drift off to Neverland—and comfortably too. You want to wake up bright-eyed and bushy-tailed, don't you?
If you're continually hitting "snooze" early in the morning, a variety of factors could be at play: dooming-scrolling TikTok into the wee hours of the morning, too much caffeine during the day, etc. Oftentimes, we overlook the most likely culprit, a.k.a. an uncomfortable pillow. And there's no time like the present to change that, because Cyber Monday deals are live right now.
Whether you're eyeing memory foam pillows or considering bamboo pillows — there's something out there for everyone. In fact, our team has literally slept on the job to find pillows matched to your sleep position and lifestyle.
The best pillows in 2023: how we chose, what's on sale, and more
Why you can trust Real Homes Our expert reviewers spend hours testing and comparing products and services so you can choose the best for you. Find out more about how we test.
All your sleep needs are right here. From discounted purchases before Black Friday to the best brands for all types of sleepers, our guide will put you one step closer to a restful night. (No more counting sheep!)
Amazon pillow deals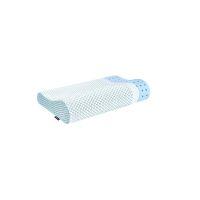 1. Polovo Memory Foam Neck Pillow | Was $39.99 Now $25.48 (save $14.51) for Prime members at Amazon
With top customer ratings for comfort, support, and value for money, Polovo's Memory Foam Neck Pillow is a favorite among sleepers who suffer from chronic neck and shoulder pain. If you need extra attention in those areas, this could be the perfect fit.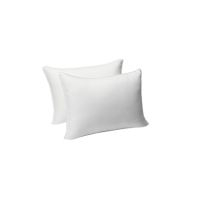 2. Amazon Basics Down Alternative Bed Pillow (2 Count) | Was $37.15 Now $27.43 (save $8.81) at Amazon
Ideal for back and side sleepers, this pick from Amazon Basics is filled with a down alternative for those who have sensitive allergies. The two-pack is available in either a soft or medium density. In March 2022, these hit a rock-bottom price of $21.62.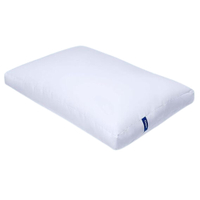 3. Casper Sleep Essential Pillow for Sleeping | Was $45 Now $28 (save $17) at Amazon
Soft on the outside and supportive on the inside, this sounds like the perfect partner for me and my bed. The long silky fibers in the outer chambers create a light, plush feel, and the short-coated fibers in the inner chamber offer responsive support. Oh, and however you sleep, rest assured that this 3-chamber pillow design is suitable for all sleep positions.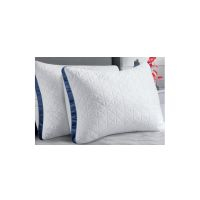 4. Slybear Pillows Standard Cooling Hotel Luxury Bed Pillows (2 Count) | Was $59.99 Now $31.99 (save $28) for Prime members at Amazon
Equal parts firm and soft, these pillow picks (now with a 47% discount) are versatile and cater to all sleepers: side, back, and stomach. It's a down alternative with a hypoallergenic fabric cover — something all shoppers can appreciate.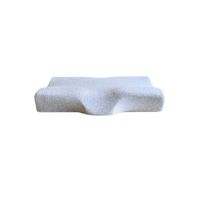 5. Slybear Pillows Standard Cooling Hotel Luxury Bed Pillows (2 Count) | Was $60.95 Now $47.95 (Prime Members save $13) at Amazon
Equal parts firm and soft, these pillow picks (now with a 47% discount) are versatile and cater to all sleepers: side, back, and stomach. It's a down alternative with a hypoallergenic fabric cover — something all shoppers can appreciate.
The best pillows in 2023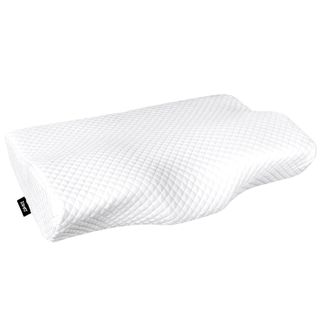 For neck pain
1. Zamat Contour Memory Foam Pillow
Filling: Polyurethane, non-temperature sensitive memory foam
Firmness: Medium
Cover: 100% polyester
Care: Machine wash pillowcase, spot clean inner
Price: $39, $29.99 on Amazon Prime Day
+ Adjustable height
+ Affordable
+ Good for snorers
+ OEKO-TEX STANDARD 100 certified
+ 100-night trial
- No warranty
- Difficult to find a cover for the shape
Christina has been reviewing this pillow for us, which is unique in shape and claims to be tailored to all sleepers. Ultimately, this pillow is suitable for side, back, and stomach sleepers (you just need to use the product in slightly different ways, as instructed in the manual). By sleeping on the wing, using the armrests, and dropping your shoulders as specified in the guide, you can optimize your sleep for more comfort and fewer flips in the night. It comes in three sizes.
Buy this pillow if:
You've got neck pain or frequently wake up with headaches (from bad sleep) and don't have a definitive sleep position. If you're on a budget, it's less than $40. It's also recommended for snorers due to its shape. It's customizable based on the way you sleep, too.
Don't buy this pillow if: You're someone who likes coordinated pillows. I haven't found a sham that is suitable for this butterfly-shaped pillow. It does come with a washable cover that fits it perfectly, though, just be aware that you can't wash the inner pillow — it can't be bleached, ironed, dried, or exposed to direct sunlight or temperatures above 104ºF. Also, avoid it if you're a more-than-two-pillows kind of person. IMO, if you're used to a lot of support, this product might feel a little thin. You can ask customer service to send extra inserts if it does feel too thin.
Real Homes rating: 4 out of 5 stars in our Zamat cervical pillow review.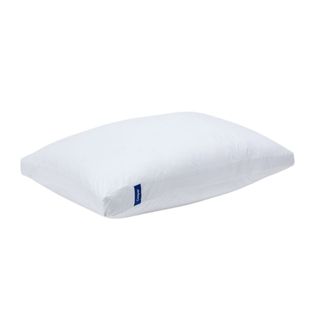 Best pick
2. Casper Original Pillow
Filling: Polyester down alternative
Firmness: Medium
Cover: 100% Cotton
Care: Machine washable and dryer-safe
Price: $65, $57 on Amazon Prime Day
+ Great for all kinds of sleepers
+ Stays plump
+ 30-night trial
+ Easy to care for
+ Hypoallergenic
- No warranty
Reviewed by our former sleep editor Louise, this Casper pillow is rated the best for more reasons than one. It's perfect for all sleepers and never needs re-plumping. Louise sleeps on her side and finds getting the right thickness of pillows difficult. This option fit perfectly in the gap between her neck and shoulder.
Buy this pillow if:
If you're a combination sleeper who switches between positions, this pillow will have you well-rested, night after night. If you, like Louise, have a partner with a different sleep style, but still want both pillows to match, you can't go wrong with the Casper. It washes well and rarely flattens. It's a fuss-free pillow that doesn't cost too much either.
Don't buy this pillow if:
You want to pick up a quick replacement set or a cheap pair to take to college. The Casper might not be the most expensive pillow we've tested, but it's not cheap cheap.
Review coming soon.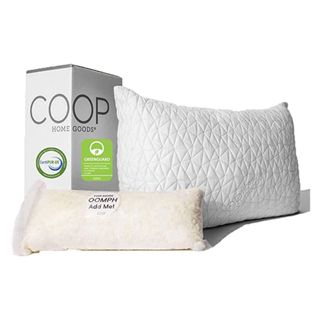 For all sleepers
3. Coop Home Goods Original Adjustable Pillow
Filling: Shredded memory foam
Firmness: Medium
Cover: Bamboo-derived viscose rayon and polyester
Care: Machine wash cold, tumble dry low
Price: $72, $57.60 for Amazon Prime Day
+ Adjustable height
+ 100-night trial
+ 5-year warranty
+ Hypoallergenic
+ GREENGUARD Gold and CertiPUR-US® certified
- Not the most affordable
As reviewed by our head ecommerce editor Annie, this large pillow is a great choice for anyone. It comes with extra filling so that you can add or remove foam as required, depending on your sleep position. Annie sleeps on her side and occasionally rolls onto her back. She had to add all of the extra filling to get comfortable.
Buy this pillow if:
You want something for a spare bedroom, or if you often change sleep positions. If you'd like your pillow to come with a trial, then this one gives you 100 nights. If you sleep warm, it's nice and breathable (but it isn't noticeably cooler). It's non-toxic and hypoallergenic, too. Both the pillow and the cover are machine washable, and it comes in two sizes, king and queen.
Don't buy this pillow if:
You're on a budget, as it costs $72, but you will get money off the more you buy. It's also not the thickest pillow ever, so if you love a deep pillow then avoid.
Review coming soon.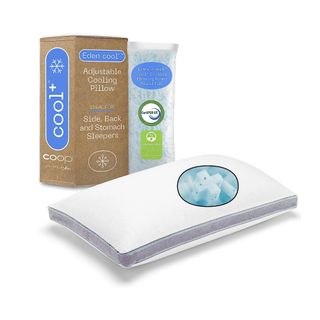 Cooling
4. Coop Home Goods Eden Cool+ Pillow
Filling: 100% virgin foam fill
Firmness: Medium-firm
Cover: Viscose polyurethane foam w/gel and polyester fiber
Care: Spot clean/machine wash and tumble dry cover on low
Price: $139
+ Adjustable height
+ 100-night trial
+ 5-year warranty
+ Hypoallergenic
+ GREENGUARD Gold and CertiPUR-US® certified
- Spot clean only
- High price
If you are a hot sleeper, like Annie's partner, then you will love this cooling pillow. He can't stop raving about it to his friends (he's younger than 30, promise!) and as someone who overheats every single night, it really has helped him keep cool this summer. It's cool to the touch and as a side/back sleeper, he added all of the extra filling.
Buy this pillow if:
You sleep warm, and you're fed up with flipping your pillow throughout the night. This stays cool and it's adjustable based on the way you sleep, plus it has two different sides to it — one firm and the other more plush. It's a really thick pillow, even without the extra fluff. It comes in two sizes (king and queen) and is a great single pillow if you prefer to sleep with just one.
Don't buy this pillow if:
You need a pillow you can wash entirely. It's spot clean only but its cover is machine washable and tumble dryer friendly, both on low. It's also quite expensive so you wouldn't really want the expense of buying two. Also, avoid if you're a cold sleeper.
Review coming soon.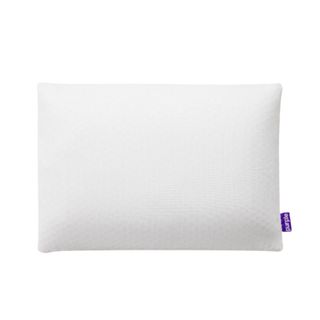 Latex
Filling: Latex
Firmness: Low, medium, tall
Cover: Nylon, spandex
Care: Machine wash cover, spot clean core
Price: $159 standard, $149 on Amazon Prime Day
+ Cooling
+ 100-night trial
+ 1-year warranty
- Pricey (but worth it)
- Spot clean core
If you're looking for an alternative to a traditional pillow, Purple's latex pick is a comfortable option. While it took our staff writer Eve some getting used to, after four weeks of sleeping on it she knew that she'd never slept better in her life. As a back-and-side sleeper who tosses and turns, she was very grateful for its ability to keep shape. It comes in two sizes and three depths. Eve tested the medium-height pillow, but stomach and back sleepers should opt for the low version.
Buy this pillow if:
You want a pillow that's cooling and supportive. Eve tested this out in warmer weather and found that the pillow stayed the same cool temperature, even on the hottest nights. She also switches positions frequently, so loved that the pillow never lost its shape. In fact, it cradled her head and neck very comfortably.
Don't buy this pillow if:
You want the feel of a traditional pillow. While Eve eventually loved the latex pillow, it took her time to adjust to it, along with the honeycomb texture. It's also a pricier choice, and if you're allergic to latex you'll want to avoid it. The brand doesn't state if it's hypoallergenic.
Real Homes rating: 4.5 out of 5 stars in our Purple Harmony pillow review.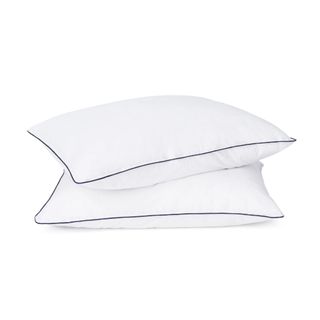 Pillow pair
6. Helix Dream Pillow Set
Filling: 50/50 microfiber and polyester blend
Firmness: Soft-medium
Cover: 100% cotton shell
Care: Machine wash cold, tumble dry low
Price: $120 (2-pack)
+ Soft plushy feel
+ 100-night trial
+ 1-year warranty
+ Hypoallergenic
- Quite thin
As reviewed by our deputy digital editor Emily, who sleeps on her front and side, she says this plushy pick is great for those who prefer a softer pillow. The hybrid filling provides gentle support with a cloud-like texture. The pillows are breathable and lightweight so may be a good choice for warm sleepers. They come in two sizes.
Buy this pillow if:
Check these out if you're looking for a light pillow that's easily moldable. They may be a good addition if you like to use two pillows as they'll make a thinner layer on top of a heavier pillow. It's wrapped in a soft 400-thread count cover, too.
Don't buy this pillow if:
These may not be for you if you like a firmer pillow or a pillow with a lot of structure. This set is quite squishy and may not hold up well if you like a really solid option or if you are a front sleeper. Our reviewer sometimes sleeps on her front but used this pillow with another pillow while reviewing in this position.
Review coming soon.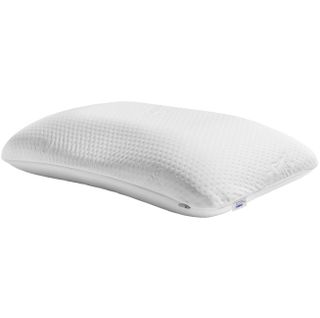 Dual-sided
7. TEMPUR-Symphony Pillow
Filling: Tempur memory foam
Firmness: Soft
Cover: Washable knit
Care: Machine washable cover
Price: From $129, $70.53 on Amazon Prime Day
+ Dual-sided for any sleep type
+ 5-year manufacturer warranty
+ Cooling effect
+ Assembled in USA
- Needs fluffing up
- Entirely synthetic
The TEMPUR-Symphony Pillow is not cheap, but when compared to the cost of our reviewer's ongoing osteopath appointments to fix her neck pain, it felt like a smart investment to make. The memory foam filling shifts to offer your head and neck a good amount of support, although it did need to be plumped up every evening before bed to make sure it didn't become too flattened.
Buy this pillow if:
You want perfect neck support. Our reviewer enjoys sleeping on one firm pillow each night and, as a side sleeper, enjoyed the thickness of this Tempur option. It gave her neck the support needed so that it was not strained each morning.
Don't buy this pillow if:
You want something a bit firmer. This pillow is soft and only comes in one firmness level, so it's not ideal for all users.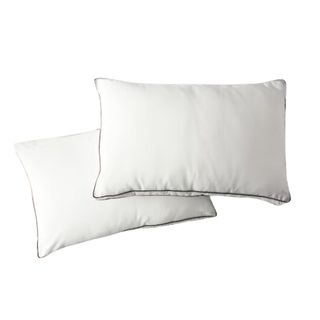 Eco-friendly
Filling: Micro denier fiber, Talalay latex
Firmness: Medium-firm
Cover: 100% organic cotton
Care: Machine wash without filling
Price: $165 (for 1)
+ Great eco credentials
+ Great for all sleep styles
+ 1-year warranty
+ Hypoallergenic
- No trial period
- Filling can't be cleaned
- Expensive
If you have a little more to spend and care about the planet, then the Saatva Latex pillow is worth its higher price tag. Ideal for all sleepers, it has everything (and more) you'd want in a comfortable pillow. It's soft and plush with the sink-in feel of latex, and it offers optimum support whether you lay on your back, side, or front. It comes in two loft options, standard for back and stomach sleepers, or high for side sleepers. Our reviewer Louise is a side sleeper.
Buy this pillow if:
You're eco-conscious. As well as great performance in terms of comfort, this pillow is made from 100% latex, which is more sustainable than synthetic microfiber or polyester fillings. It also has a 100% organic cotton cover which is breathable to help hot heads keep their cool. Latex allergy? Don't worry as this won't affect you, and it's hypoallergenic as well.
Don't buy this pillow if:
You're on a budget. This is the most expensive pillow on this list, but only because it's made from latex. It also doesn't come with a free trial like other pillows in this guide. While you can clean this pillow, you'll have to remove all of its filling before you wash it in your machine.
Review coming soon.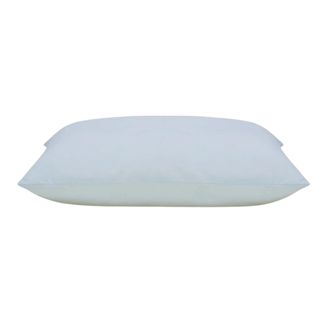 Temperature regulating
9. Slumber Cloud UltraCool Pillow
Filling: Alternative down
Firmness: Soft/medium or medium/firm
Cover: Outlast cotton
Care: Machine wash and tumble dry low
Price: $89
+ Temperature regulating
+ 60-night trial
+ 180-day warranty
+ Affordable for a cooling pillow
- Not hypoallergenic
If you can't regulate your temperature at night and it keeps you awake, then this is the pillow for you. Its cooling fabric shell is made with NASA-engineered technology that's designed to prevent overheating. While the down-alternative filling keeps you comfortable. Our reviewer Jaclyn sleeps on her back and she really loved it. It comes in two sizes and two firmness levels.
Buy this pillow if:
If you find yourself flipping your pillow throughout the night, this UltraCool down alternative pick will change your bedtime for the better. Our reviewer Jaclyn compared it to sleeping on a cool cloud. It's great for hot sleepers, but also for anyone who sleeps cold in the winter as it regulates temperature rather than staying cool. It stores heat and releases it when needed rather than wicking it away. It's also nice and affordable in comparison to the other cooling pillows we recommend.
Don't buy this pillow if:
You have allergies, as it's not super clear whether it's hypoallergenic or not. If you don't have any temperature issues, then go for something else.
What to consider when choosing a pillow
Follow these five simple steps to find the very best pillow for you, because finding the best match for your needs is essential to sleeping well. You can find more helpful details in our guide to choosing a pillow.
1. How do you sleep?
Side sleepers will need a plump, softer pillow: think cushy fill or softer memory foam. Stomach sleepers will need firmer, thinner pillows to hold their necks in perfect alignment. Back sleepers can find comfort on both sides of the spectrum with a medium-soft or medium-firm pillow or even foam pillows that align with the contours of their necks.
Think about where your pillow will sit beneath your head while you sleep. If you prefer having it fully beneath your head, you'll have the best success with a low- or medium-loft pillow. If you sleep with your pillow only partially beneath your head, you may want a pillow with a higher loft to feel supported.
2. How thick do you like your pillow?
This is called pillow loft, and you might see it written on the side of the packaging. Experiment at home to get your preferred thickness right. Low-loft pillows are around three inches thick, medium-loft pillows are three to five inches thick, and high-loft pillows are at least five inches thick.
3. It's what's on the inside that counts
Natural fillings, which include duck and goose feathers and down, feel soft and luxurious, giving you that extra-cozy sensation of sinking into your pillow. They, along with sheep's wool, are naturally heat-retaining, which makes them ideal if you get chilly at night. However, both options may need regular fluffing to maintain their loft. These aren't great for anyone who's in constant pursuit of the cool side of the pillow, though. Nor suitable for those who adopt a vegan lifestyle. For an eco-friendly, non-animal-based option, consider fillings such as cotton, buckwheat hull, Kapok seed pod, and bamboo.
If you like the softness of the down but not the heat, or you suffer from allergies or respiratory conditions, you can get synthetic fiber or gel fillings that mimic the feel. Speaking of allergies, pillow manufacturers are very much up to speed with the needs of their users these days, so you can expect to find anti-allergy fillings and coverings for a reasonable price.
Finally, for those of us who need more support in bed or just prefer the feel of a firm pillow, there are latex and memory foam to consider. Helpful for sufferers of neck or back pain, they keep the spine and muscles correctly elevated and aligned for deep sleep and a pain-free morning. However, these may have a strong odor, which will disappear once it's had time to 'air' out. On the contrary, if moldability is a priority for you (for example, if you like to fold your pillow in half), then consider a shredded pillow filling.
4. Good to know
Some of us prefer to sleep with two pillows (even though sleep experts recommend sleeping with one). Depending on whether you're team one or two — or maybe even three! — consider carefully which one you want to be your top pillow and how deep your pillow will be. Also, if you sleep next to a partner, what you find comfortable might not work for your other half. Your pillow choices can and should be entirely independent. Stomach sleepers might even benefit from sleeping without a pillow.
While not directly connected to comfort, here are some other things to consider:
How easy is it to source a sham? Some pillows (especially those that are aimed at those with back or neck pain), aren't made to fit conventional cases. If you're someone who likes their bedding accessories to coordinate, this may be an issue.
Can you wash pillows in the washing machine? The good news is that some pillows are so low-maintenance and don't need to be thrown in the washer (only their outer covers do). These removable sleeves often have a zip closure so you can remove and replace them with ease. Specifically, in the case of machine-washing memory foam pillows: don't. In 9 out of 10 cases, it's better to spot clean, hand wash (carefully), and don't even think about tossing it in the dryer. We've even got some innovative pillow-cleaning hacks for when your head support starts smelling a little sweaty.
Price: Budgets differ across households, so how much you choose to spend on a pillow is entirely up to you. Duck and goose down requires careful processing, and this is often reflected in the price. On the other hand, polyester and synthetic options are far more accessible to those with tighter purse strings. FYI, we've got a separate guide on the best affordable pillows if you're feeling the pinch.
Noise: Yes, really. While you might not immediately associate pillows with sound, rustling from pillow filling can be distracting when you're trying to drift off. If this is the case, go for a pillow with solid or densely packed stuffing.
How we test pillows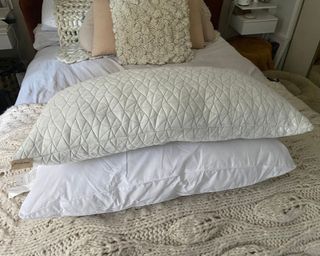 We're currently testing a whole bunch of pillows at Real Homes with help from the whole team. This way, we can get a verdict from all types of sleepers, whether they tend to sleep on their side, front, back, or even if they sleep hot or cold. These pillows are tested for a minimum of four weeks and during this time we make sure that we don't change anything else about our bedroom setup, apart from fresh sheets whenever needed, of course.
While testing these pillows, we consider everything, including price, care, how easy they are to clean, and comfort, which is key. We try to sleep on them in different positions to get a good feel. We recommend each pillow based on the way that certain people sleep, so what is good for a side sleeper probably won't be the best for a front sleeper — unless it's adjustable!
Meet our pillow testers below:
Annie has been testing products for Real Homes since 2018 and has tested 10+ pillows. She sleeps on her side mostly, as she's currently pregnant so can no longer sleep in her normal sleeping position — on her stomach. Right now, she's sleeping on the Coop Home Goods Original Adjustable Pillow and she has her husband testing the Coop Home Goods Eden Cool + Pillow. She's working her way through all of the Coop Home Goods pillows you can buy, and she has a few more on her list, too.
Emily is our deputy editor and has been at Real Homes since 2023. She tends to be a side or front sleeper and right now is testing a bunch of stuff from bedding brand Helix, including its Helix Dream Pillow Set.
Christina has been writing for Real Homes since 2021 and has tested everything from pillows to air fryers for us. She usually sleeps on her side and her front and is currently reviewing the Zamat Contour Memory Foam Pillow.
Louise was previously our ecommerce editor, focusing on sleep buys. She currently works for our sister brand Homes & Gardens. As a side sleeper, Louise has tested both the Casper Original Pillow and the Saatva Latex Pillow.
Jaclyn used to be our sleep commerce editor, frequently testing out and staying up to date on all things mattresses and bedding. As a back sleeper who needs her full eight hours, she tested both the Slumber Cloud UltraCool Pillow and the Company Essentials LoftAIRE Down Alternative Pillow for Real Homes.
Eve joined the team a few months ago but has dove into reviewing products for us. She sleeps on her back and side and often tosses and turns at night. She's sleeping on the Purple Harmony Pillow and is also testing its bed sheets and other sleep accessories.
FAQs
---
Looking to give your sleep sanctuary some TLC? Here's how to give your bedroom a refresh.