Best organic mattress: Quick Menu
If you're keen to help our environment (us too!) then you might want to consider an organic mattress. No, we aren't saying to throw out your current mattress because that would be wasteful. But, if yours is super uncomfortable or getting to the point where it's a little old to function, then upgrading to one of these best organic mattresses will leave you feeling guilt-free.
You might not have known that an organic mattress is a thing, but spoiler alert: they're rapidly growing in popularity. The best part is, you needn't compromise on comfort with an organic mattress, a few of our top-rated mattresses are organic already. "An organic mattress is one with certified organic materials, like natural latex, wool, and cotton," explains Annie Graybill, Product and Sleep Expert at Avocado.
The six mattresses we've reviewed below are all free from harmful chemicals and produced with more sustainable practices. Their packaging is kinder on the planet, too, and in some cases when you buy a mattress they'll plant a tree (or 10!). So, if it's time to upgrade your bed, an organic mattress can look after you and the earth.
The quick list
These are the best organic mattresses at a glance, for you to make sure your new bed is non-toxic and as comfortable as possible.
The best organic mattresses we recommend in 2023
Why you can trust Real Homes Our expert reviewers spend hours testing and comparing products and services so you can choose the best for you. Find out more about how we test.
From top-rated retailers like Avocado, Awara, and Birch by Helix, these are the top six sustainable mattresses, ranked in order.
The best organic mattress overall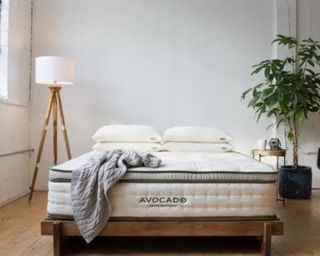 Avocado has set the gold standard when it comes to organic mattresses. In addition to being certified organic, Avocado is the first mattress brand to achieve Climate Neutral certification and is now fully Carbon Negative. And this one is a mattress in a box! If you're looking for the most responsibly made mattress you can buy from both a health and environmental standpoint, this organic mattress is it.
The eco-factor
Avocado takes complete control over its manufacturing process to ensure that every element of its mattress lives up to its high standard. Latex is sourced from Avocado's farm, wool for the mattress cover comes from a herding collective they're part of, and the mattress itself is handmade in the company's Los Angeles factory. Avocado also donates more than 90 percent of mattress returns and 100 percent of the pillow, mattress topper, and mattress protector returns.
As for the mattress itself, it's a high-quality mattress made from Dunlop latex — a product that is entirely natural, energy-efficient to manufacture, and durable. The latex layer sits atop a layer of up to 1,414 individually tuned steel coils, and the outer edge of the mattress is reinforced with a steel perimeter for excellent edge support. It's also well-rated for temperature regulation (read: it won't give you night sweats). And if you'd rather try out Avocado's Vegan Mattress, they're extremely similar except it swaps wool for organic cotton, and it is PETA-approved.
In review
Our reviewer Ann says this mattress "sleeps like a dream". It's rated medium-firm, a comfort level that's ideal for Ann as a back and stomach sleeper. Side sleepers, especially lighter-weight ones, may find the mattress to be too firm, and if you're used to a softer mattress it may take a little getting used to. There is an option to add a 2" latex pillow top to make it plusher, but that comes at an added cost between $400 and $600. Though you can't put a price on wellness, we say.
Read on about our experience in our Avocado Green mattress review
The best affordable organic mattress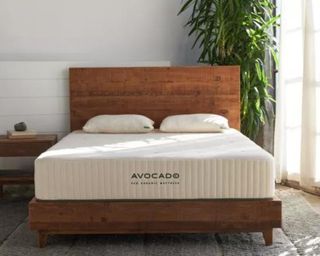 Avocado accomplished something groundbreaking with its newest mattress: it's the most affordable organic mattress on the market. Starting at $799 for a twin-size, and rounding out at $1,599 for a King/Cal King, these cost-saving moves sound almost impossible, believe us. Yes, it's not the cheapest mattress ever, but for an organic mattress, it's the most affordable on this list and probably the most affordable on the market.
The eco-factor
How do they do it? Well, they own the sheep, latex farms, and processing centers in India and Guatemala, make the springs themselves, and put it all together in their own L.A. factories— this is how they're able to keep prices low. But more about the mattress...the Eco Organic Mattress is made with up to 988 pocketed coils (made from double-tempered recycled steel) and a single two-inch seamless layer of Dunlop organic latex. It does have fewer coils than its Green counterpart and is considered to sleep softer, but it still excels in offering pressure relief.
What is the Avocado Eco Organic Mattress like to sleep on?
Avocado puts the Eco Organic Mattress right in the middle of the firmness spectrum, at a 5, which is softer than the aforementioned Avocado Green. Our expert reviewer Alex still found this very comfortable, however, despite the fact she typically goes for firmer mattresses. Alex described herself as feeling "weightless" and that it required no downtime for her body to acclimate. She summarizes her experience as comfortable, buoyant, and cozy.
Read our full Avocado Eco Organic Mattress review.
The best organic mattress for stomach sleepers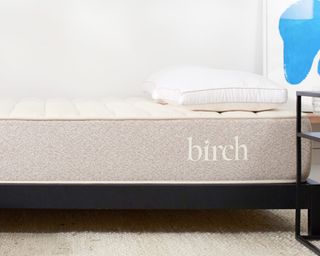 Deciding on the features you want in a mattress can be tough, but there are no compromises to be found when it comes to the Birch Natural mattress by Helix: Besides a lengthy list of environmental certifications, it sleeps cool and uses specific densities to create the right amount of pressure relief for a night of comfortable sleep.
The eco-factor
The Birch Natural mattress has environmental standards and certifications comparable to other latex hybrid mattresses, including GOTS and Greenguard-GOLD certifications. What's different? The ones made from wool, organic, of course. Unlike sustainable sister mattresses, this one has excellent edge support too, thanks in part to the pocket coils at the bottom of the mattress, which are designed to be sturdier around the edge. There's also top-tier motion isolation, because of the wool layer that's designed to retain its shape — you won't be disturbed by the comings and goings of your sleeping partner.
In review
Our reviewer Kaitlin slept on this bed when she was 8 months pregnant and determined that it is on the firmer spectrum of medium, making it ideal for stomach and back sleepers. If you desire to go even softer, a plush pillowtop topper is available as an add-on. It also sleeps cool and eliminates her husband's back pain, making for a winning combination.
Read our full Birch Natural mattress review.
The best organic mattress for all sleepers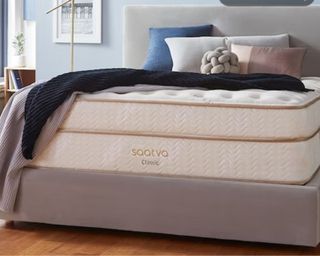 We know that the Saatva Classic Mattress is expensive, but it's totally worth it if you want a luxury mattress and have the cash to splash. You can also personalize it to your sleep position as it comes in three firmness levels and two depths. Most customers find the medium-rated Luxury Firm version to be ideal and when it comes to depth, the deeper option has side handles but will require deep-pocket sheets, BTW. If you want a mattress in a box, then this isn't for you.
The eco-factor
Not only does it come with free white glove shipping which means that it doesn't arrive suctioned and rolled into a box, but it's made from top-quality materials like eco-friendly CertiPUR-US foam, and recycled steel coils. Its cover is organic cotton and the mattress is certified Guardin™ nontoxic. Its flame retardant barrier is also made from natural thistle pulp (rather than chemical sprays).
In review
Our reviewer Jaclyn sleeps on her back and tested the Luxury Firm version of this mattress. As a hybrid mattress, she claims it's better for support and airflow than your standard memory foam pick. She also compared this mattress and its pillow-top layer to a high-end hotel bed and loved its cozy, sink-in factor. Hot sleeper or not, it excels in airflow. And don't get us started on edge support — its dual-reinforced perimeter means this mattress offers the best edge support it can. If you're a seriously light sleeper, then do know that its motion transfer isn't the worst but ultimately, wasn't the best when we tested it. Because you can choose its firmness, we rated it one of the best mattresses for side sleepers, BTW.
Read our full Saatva Classic mattress review.
The best for side sleepers with back pain
A relatively new addition to the organic landscape, the first all-natural mattress from Nolah, the Nolah Natural 11" Mattress, is a hybrid design that gets it just right when it comes to comfort and support, and its use of organic materials.
The eco-factor
The Nolah Natural is hypoallergenic, sleeps cool, and works wonders at curbing back pain, providing great cushion to pressure points with the bouncy Talalay latex. It's this specially produced Talalay latex that's to blame. Made from all-natural, non-toxic ingredients, it's a first for Nolah, which predominantly uses memory foam, making it ideal for memory foam lovers with chemical sensitivities or of course, just want to opt for the eco-friendly option.
In review
The Nolah Natural seems to be best suited toward a side or back sleeper, as the mattress is on the softer side of medium. Our tester Courtney explained that she felt like the mattress perfectly cushions pressure points and that the spinal alignment was spot-on. She also complimented how cool the mattress slept, adding to her comfort at night.
Read our full Nolah Natural 11 mattress review.
The best deep organic mattress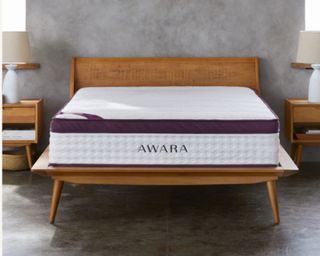 If you're looking for an organic mattress that combines support and a cozy feel, the Awara mattress should sit at the top of your list. Perfect for those wanting a bit more bounce, this one contours the body enough to be comfortable. In other words, you'll feel like you're floating, rather than sinking in.
The eco-factor
To help offset their environmental impact, Awara donates 10 trees for every mattress sold. Fantastic! Those donated trees go to Trees for the Future, which helps restore forests in Kenya, Senegal, Uganda, Guinea, and Tanzania. And if that doesn't get you sleeping soundly at night, its plush top covered in smooth organic cotton and soft 100 percent organic New Zealand wool will.
In review
This is another medium-firm mattress that will suit most sleeping positions, especially if you're willing to give it a few minutes to conform to your body. In fact, this is why our tester Lisa, a combo sleeper got on with it so well. In addition to its thick top layer, the Awara mattress is made with a 9" layer of pocket coils that allow for excellent support and motion isolation — but Lisa did find the bouncy, double-thick layer of latex to increase motion transfer, making it somewhat of a trade-off.
Psst! We know it's been a few years since Lisa gave her verdict on the Awara organic mattress, so we're in the process of updating her review. Check back in a few months for an up-to-date take on what the Awara is like to sleep on.
Read our full Awara Premier Natural Hybrid Mattress review.
Organic mattresses: a comparison
Swipe to scroll horizontally
| | |
| --- | --- |
| Mattress | Our verdict |
| Avocado Green Mattress | Great all-rounder medium-firm latex hybrid. |
| Avocado Eco Mattress | Affordable organic mattress from $799, medium feel. |
| Birch Natural Mattress | A hybrid mattress that's great for stomach sleepers. |
| Saatva Classic Mattress | Hybrid matttress available in three firmness leveles and two depths. |
| Nolah Natural 11" Mattress | For side sleepers with back pain, and it's hypoallergenic. |
| Awara Premier Natural Hybrid Mattress | A deep mattress at 13", which boasts a medium feel. |
What to consider when choosing an organic mattress
It's true, organic mattresses can get expensive. You pay for what you get, as the saying goes. Which makes it even more important to invest in the right one for you. We have a handy 5-step guide on how to choose a mattress, which runs through sleep position, nighttime needs, material, size, and budget, to help you land your best sleep yet.
FAQs
Why choose an organic mattress?
Organic mattresses have benefits for both your health and the environment. They're safer, often more durable, breathable, and more supportive than mattresses made with synthetic materials such as memory foam. Organic mattresses are usually naturally breathable (and comfortable), so you'll sleep better, leading to better health, as well.
Health reasons: Mattresses can often contain hazardous chemicals that are frequently part of the mattress manufacturing process; like chemical flame retardants and PBDEs, formaldehyde, and benzene. Common materials can release harmful odors in the air and cause respiratory issues when off-gassing too.
Organic standards, especially GOTS (Global Organic Textile Standard) and GOLS (Global Organic Latex Standard), strictly prohibit the use of all of these ingredients. These certifications also come with strict guidelines about everything from how materials are grown, to how and where they're manufactured, and even the way they're packaged and shipped, so you can ensure that when you see a GOTS or GOLS seal, you're getting a healthy, safe product.
Environmental reasons: Globally, the mattress industry contributes 6.5M tons of carbon each year. But of course, we all still need a mattress to sleep on. Choosing a mattress from an organic brand helps reduce the impact the mattress industry has on climate change.
As we mentioned in the reviews above, many organic mattress brands are not just committed to creating products that are pure and healthy, but ones that are manufactured sustainably. This includes efforts like:
sourcing natural, renewable materials like latex and cotton
purchasing carbon credits to offset their carbon footprint
donating product returns to keep the product out of landfills
planting trees for every mattress sold, and
using biodegradable materials
Are organic mattresses really worth it?
We've spent a lot of time discussing why you should buy an organic mattress, but what is it really worth going green?
1. Cost
Firstly, going green can be costly, we have to tell you. But while they may cost more upfront, they tend to last longer than those made with synthetic materials, which tend to lose their shape and sag after a few years. There are a few more affordable options coming into play though, so don't think you have to invest all of your savings.
2. False claims
Where the mattress may include organic materials, such as a cotton cover, the rest may not be fully certified organic. Checking that the product is certified by a legitimate independent body, such as any of the certifications above, is useful in ensuring your product is what it claims to be. We've been adamant about only spotlighting fully organic mattresses in our guide to prevent any confusion.
Otherwise, a non-toxic mattress that is made with no harsh or harmful chemicals has a smaller negative impact on the environment than traditional designs, and hypoallergenic materials sound like a no-brainer.
How we test organic mattresses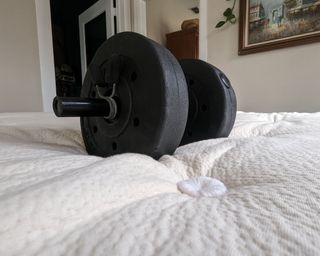 As with all of our mattress reviews, our expert testers sleep on each featured mattress for two to four weeks. All our mattress reviews are based on the real-life experience of using these products at home. The products are given to us free of charge. Often, we can keep our mattress, which gives us the opportunity to return to our reviews for updating, so you can keep up-to-date with how it's fared over a period of time.
For organic mattresses, we take special consideration of materials and any environmental certifications, as well as comparing them for value for money, construction, comfort, and support through a variety of tests. We understand that mattress firmness is subjective, so we also ask each reviewer to be transparent about their sleep stats, and habits, as well as to invite others to try and lie on it, sharing their impressions.
Meet our organic mattress testers:
Jaclyn lives in Georgia and was previously the sleep editor across the homes titles at Future, including Real Homes, where she specialized in a variety of topics ranging from mattresses to bedding. She has also written for Apartment Therapy, MyDomaine, and The Spruce. From this list, she has reviewed the Saatva Classic Mattress.
Jaclyn's sleep stats:
• Mattress review count: 2
• Sleep position: Back
• Insomnia: No
• Sleep problems: Trouble getting out of bed in the morning
• Average sleep time: At least 8 hours
Midwestern freelancer Courtney is a working mom of three who loves nothing more than a good deal. Equal parts entrepreneur and family gal, she believes hard work deserves to be celebrated. She reviewed the Nolah Natural Mattress 11" from this guide.
Courtney's sleep stats:
• Mattress review count: 2
• Sleep position: Side with one knee hiked up, arms up above head
• Insomnia: No trouble falling asleep, but once awake that's it
• Sleep problems: Sweaty Betty and tossing and turning
• Average sleep time: 6–8 hours
Kaitlin used to be the editor-in-chief at Real Homes a few years ago, but now she is one of our freelance reviewers who tests products for us, which includes mattresses. She's also written for Architectural Digest, Martha Stewart Living, Refinery29, Modern Luxury Interiors, Wayfair, The Design Network, and lots more. She graduated from Northeastern University with a degree in journalism and currently lives in Connecticut with her husband, two sons, and black lab. She reviewed the all-natural Birch Mattress for us and loved it.
Kaitlin's sleep stats:
• Mattress review count: 1
Alex is one of Real Homes' expert reviewers. The Dallas-based freelance writer has covered home, design, architecture, and art in publications like Real Homes, Dwell, Architectural Digest, Artsy, Neighborhoods.com, and Culture Trip, among many others. She's a real thorough tester, and from this guide, she has tested the Avocado Green Mattress and the Avocado Eco Mattresss.
Alex's sleep stats:
• Mattress review count: 6
• Sleep position: Flexi (front, back, and side)
• Insomnia: Not usually
• Sleep problems: Difficulty getting a deep rest with someone else in the bed. Can't sleep on a mattress that is too soft
• Average sleep time: 8–9 hours