What's the best organic mattress on the market? A few years ago that might have been a simple question since there were only a handful of options to choose from. Today, though, it seems like a new organic mattress is cropping up every few weeks. This is music to our ears (and the planet), of course, but it also means that narrowing down to find your top choice is harder. And the only list larger than the available options? The reasons we're taking the greener route.
For one, organic mattresses are non-toxic — meaning they're free of harmful chemicals like flame retardants, formaldehyde, and ozone depleters. Organic mattresses are also produced in a more eco-friendly way since organic farming and manufacturing standards are more sustainable.
Many organic mattress brands take things a step further to create products that are vegan, biodegradable, hypoallergenic, free of polyurethane, and even net-zero, aka have a neutral carbon footprint.
As important as finding a safe, responsibly manufactured product is, when it comes to buying the best mattress for you, there's more to the story. Most people spend about a third of their life in bed, so whatever you're sleeping on must be comfortable.
Luckily, these days there are plenty of organic mattresses that fit the bill: they're clean, green, and oh-so-cozy, all at the same time. We did the research and rounded up organic mattresses that are tops for both comfort and manufacturing standards.
Go ahead and meet your match by scrolling through the best organic mattresses below!
The best organic mattresses of 2021
Avocado has set the gold standard when it comes to organic mattresses. In addition to being certified organic, Avocado is the first mattress brand to achieve the new Climate Neutral certification. If you're looking for the most responsibly made mattress you can buy from both a health and environmental standpoint? This organic mattress is it.
Why do we love it?
Avocado takes complete control over its manufacturing process to ensure that every element of its mattress lives up to its high standard. Latex is sourced from Avocado's farm, wool for the mattress cover comes from a herding collective they're part of, and the mattress itself is handmade in the company's Los Angeles factory. Avocado also donates more than 90 percent of mattress returns and 100 percent of the pillow, mattress topper, and mattress protector returns.
As for the mattress itself, it's a high-quality mattress made from Dunlop latex — a product that is entirely natural, energy-efficient to manufacture, and durable. The latex layer sits atop a layer of up to 1,414 individually-tuned steel coils, and the outer edge of the mattress is reinforced with a steel perimeter for excellent edge support. It's also well-rated for temperature regulation (read: it won't give you night sweats).
And if you'd rather try out Avocado's Vegan Mattress, they're extremely similar except it swaps wool for organic cotton, and it is PETA-approved.
How comfortable is it?
This hybrid mattress is rated medium-firm, a comfort level that's ideal for back and stomach sleepers. Side sleepers, especially lighter-weight ones, may find the mattress to be too firm, and some reviewers note that the mattress feels more firm than the medium. If you do prefer a softer mattress, there's an option to add a 2" latex pillow top to make it plusher, but that comes at a cost of $300.
Are there any warranty and sleep trials included?
The Avocado Green mattress comes with a 25-year warranty and a 365-night sleep trial, with no mandatory break-in period.
Real Homes Rated: 5 out of 5 stars | Read on about our experience in our Avocado Green mattress review

The Saatva original hybrid mattress pulled in the top spot on our best mattress guide, so it wasn't surprising that the all-organic Saatva Latex Hybrid mattress scored high honors on our organic mattress guide. All of Saatva's mattresses are produced with some degree of sustainability and include recycled and organic elements, but the Saatva Latex Hybrid is the brand's entirely organic version.
Why do we love it?
For one, it's a hybrid style, which has quickly become one of our favorite mattress types because it pairs the support of a foam-style mattress with the breathability of an innerspring. This mattress, however, isn't made with foam. Instead, the top layer is made from all-natural Talalay Latex, which is known to be softer and more breathable than the Dunlop latex used in several other mattresses on this list. It also offers 10x more pressure relief than Dunlop. The Talalay latex is OEKO-TEX Standard 100-certified, and naturally hypoallergenic and antimicrobial. The cover is GOTS-certified organic cotton, and it includes a wool layer that adds natural flame resistance without the need for a chemical fire retardant.
The mattress also gets bonus points because the innerspring coils are made from recycled steel. Plus, it doesn't come stuffed in a box. White-Glove delivery is on the house.
How comfortable is it?
The Saatva Latex Hybrid is rated medium-firm.
Are there any warranty or sleep trials included?
The mattress comes with a 180-night in-home trial and a 15-year warranty.
Sleep on Latex is another mattress brand that takes its commitment to organic, all-natural, latex seriously because that's all they offer. Whether you want to try out their mattress or opt for their extremely popular latex topper, Sleep on Latex is a market favorite for all-things latex, sourcing their proprietary Pure Green Dunlop latex straight from Sri Lanka before assembling everything in their factory in Illinois.
Why do we love it?
All in all, Sleep on Latex offers a simple mattress design that may just leave you with your best sleep yet. At the base of the mattress is a 6" layer of Pure Green 100% natural latex foam for support. Above it, is a softer, yet still very supportive 2" comfort layer of Pure Green 100% natural latex foam. The natural latex foam contains tiny air chambers that run throughout the foam and allow air to easily circulate throughout the mattress and help you stay cool. A 1-inch layer of wool batting is quilted into the cotton cover for added height and comfort, as well as added breathability.
All the materials meet the strictest product certifications in their class including GOLS (Global Organic Latex Standard), Oeko-Tex Standard 100, and ecoInstitut for the Latex, GOTS-certified cotton, and GOTS-certified New Zealand wool, so you can sleep well knowing your bed is made of only the purest materials.
Also, as far as mattress assembly, once you unfurl it from its vacuum sealed packaging in the box, it's ready to sleep on right away. No off-gassing time (or the smelly odors that come with it).
How comfortable is it?
Sleep on Latex offers both medium and firm options, with the difference being that the medium is the most versatile option and works well for many different body types and sleeping styles. The firmer option is best suited for stomach and back sleepers.
Is there any warranty or sleep trials included?
Sleep on Latex comes with a 10-year warranty and a 100-night sleep trial.
If you're looking for an organic mattress that combines support and a cozy feel, the Awara mattress should sit at the top of your list. It's another latex hybrid but with the addition of a plush Euro Top covered in smooth organic cotton and soft 100% organic New Zealand wool to keep you cool and naturally wick away moisture. It also features 4 inches of thick Dunlop latex, double the thickness of most other mattresses on this list, and a coil support core of individually wrapped 9" coils.
What do we love about it?
This mattress is perfect for people who want a little more bounce. Or to put it another way, this mattress offers enough contouring to be comfortable, but not so much that you feel like you'll sink into the mattress and get stuck; it feels more like you're floating on top of the mattress, instead. We like its excellent temperature regulation, and the thick layer of Dunlop latex boosts its durability.
To help offset their environmental impact, Awara donates 10 trees for every mattress sold. Those donated trees go to Trees for the Future, which helps restore forests in Kenya, Senegal, Uganda, Guinea, and Tanzania.
A few other pluses? The mattress has handles for easy turning, and shipping is fast and free. You should also note that the mattress does use a fire retardant, but it's made from all-natural silica.
How comfortable is it?
In addition to its thick top layer, the Awara mattress is made with a 9" layer of pocket coils that allow for excellent motion isolation — but the bouncy, double-thickness layer of latex increases motion transfer, so it's a bit of a trade-off.
This is another medium-firm mattress that will suit most sleeping positions, especially if you're willing to give it a few minutes to conform to your body. This particular design is recommended for stomach, back, and combo sleepers as side sleepers will prefer something softer.
Are there any warranty or sleep trials included?
The Awara mattress offers a 365-day sleep trial, one of the longest on our list, and a "forever" warranty (definitely the longest on our list).
Real Homes Rated: 4.5 out of 5 stars | Read our full Awara Organic Luxury Hybrid Mattress review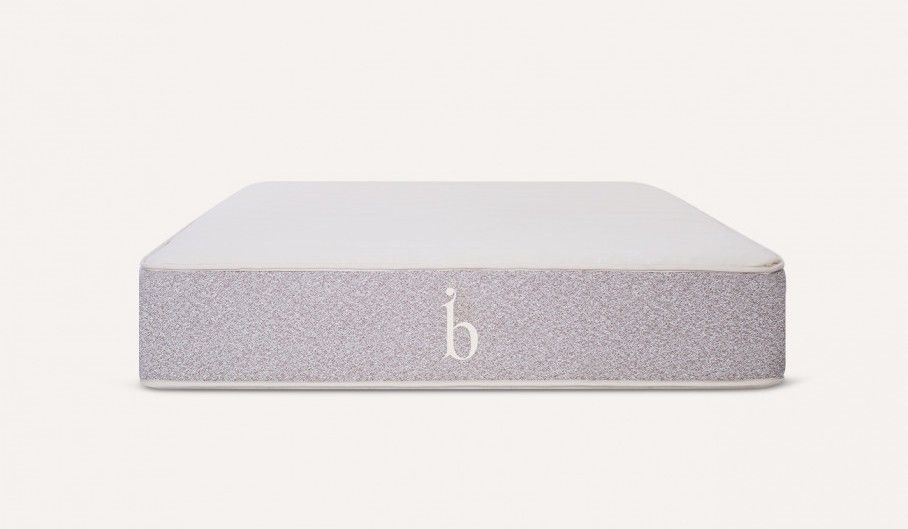 Deciding on the features you want in a mattress can be tough, but there's no compromises to be found when it comes to the birch mattress: it sleeps cool, features a lengthy list of environmental certifications, and uses materials (from nature) specific densities to create the right amount of pressure relief for a comfortable night sleep.
Why do we love it?
The Birch mattress has environmental standards and certifications comparable to other latex hybrid mattresses, including GOTS and Greenguard-GOLD certification, but it's nice to see a version.
It has excellent edge support — thanks in part to the pocket coils at the bottom of the mattress, which are designed to be sturdier around the edge. And perhaps even better, top-tier motion isolation, so you won't be disturbed by the comings and goings of your sleeping partner.
The aforementioned wool comfort layer is also designed to retain its shape and is highly elastic for longer durability. Wool is known to be highly temperature regulating and acts as a natural flame retardant too.
How comfortable is it?
Our editor-in-chief slept on this bed when she was 8 months pregnant, and determined that it is on the more firmer spectrum of medium, making it ideal for stomach and back sleepers. Plus, if you desire to go even softer, a plush pillowtop topper is available as an add-on. It also sleeps cool and eliminated her husband's back pain, making for a winning combination. However, she did note that a wool smell that is not uncommon with organic mattress lingered for a little while after unpackaging.
Are there any warranty or sleep trials included?
A 25-year warranty and a 100-night sleep trial are included.
Real Homes Rated: 4.5 out 5 of stars | Read our editor-in-chief's Birch mattress review to learn more about her full sleep experience.
If you're looking for an organic mattress, but don't want a latex version or prefer the construction of a traditional innerspring mattress, the Naturepedic Chorus Mattress deserves a close look.
Why do we love it?
Naturepedic is another long-time player in the organic mattress industry. They're perhaps most well-known in terms of eco-friendly baby bedding, so if you trust Naturepedic with your kids, you'll love their products for adults. They own their certified organic factory, and they've pioneered several technologies that make their mattress among the best organic options on the market, including the ability to create mattresses that are made without adhesives or glues.
Also: this mattress is cozy. The top layer is made from organic wool, organic cotton, and PLA (a fiber made from non-GMO sugarcane), followed by a layer of micro-coils designed to help relieve pressure. The combination of natural fiberfill and inner coil construction also makes it very breathable — great news for hot sleepers.
The only downside? This mattress is expensive.
How comfortable is it?
This is a middle-of-the-road mattress when it comes to comfort, with a medium firmness rating. There's a pretty good range of variance in that term, so expect this mattress to be supportive, with a touch more of the "sink-in" or "cradled" feeling than the latex mattresses in this buying guide.
Are there any warranty or sleep trials included?
The mattress comes with a 90-night trial and a 10-year warranty.
If you haven't already noticed in this list, wool is a common material found in eco-friendly and organic mattresses for its non-toxic, temperature regulating, and natural flame retardant properties. However, those who don't want any animals involved with the manufacturing of their mattress will want to seek out a vegan mattress that avoids the use of common materials like feathers, wool, and down. Brentwood Home's Crystal Cove hybrid mattress caught our attention for its dual-sided design and vegan-certified construction.
Why do we love it?
Beyond being vegan, some pretty cool sleep technology designed for those who lead active lifestyles is involved. The mattress is flippable, so you can find the right comfort for you, and side handles make it easier to maneuver. For active recovery, sleep on the softer side with two inches of naturally cool activated charcoal-infused plush CERTI-PUR-US memory foam. For a more supportive experience and pressure relief, flip to the gentle-firm side with 2-inches of natural Dunlop latex. Between the two materials are hundreds of individually pocketed coils that provide zoned support and edge control in an eight-inch unit.
In place of wool or any hazardous materials, the flame-retardant barrier is made from natural silica quartz — completely free from chemical flame retardants.
This particular mattress also has a built-in charitable component too. For every Crystal Cove mattress purchased, Brentwood Home builds one complete Relief Bed for charity, which benefits the needs of the homeless, impoverished, shelter residents, and victims of natural disasters.
How comfortable is it?
Crystal Cove gives you the best of both options, with the ability to switch between firmness ratings. The memory foam side is rated to be more medium-soft, while the Dunlop latex rates more medium-firm.
Are there any warranty or sleep trials included?
Brentwood Home offers a lengthy 1-year trial and a 25-year warranty.
If you like the idea of an all-organic mattress with natural latex layers and want the ability to adjust your mattress to find your perfect sleeping surface, try the PlushBeds Botanical Bliss. It's built of multiple layers of GOLS-certified Talalay and Dunlop latex and GOTS-certified organic wool within a GOTS-certified organic cotton cover for the ultimate in support, comfort relief, and breathability.
Why we love it
At purchase, there are multiple ways you can customize this mattress's firmness to suit your ideal sleep environment. The first is choosing between medium and medium-firm firmness options when you order — an unusual option in and of itself.
Now, the truly unique thing about this mattress is that you can open the organic cotton cover and shift the layers around to adjust its firmness at home. Move firmer layers to the top for a springier sleep experience; move softer layers to the top to feel more cushioned and cradled.
For further customization, the mattress is available in 9", 10", and 12" inch depths, with additional support, increasing as you choose thicker options.
It also sleeps unbelievably cool, from the soft, knit cotton cover which offers unrestricted airflow and moisture absorption to the layer of temperature-regulating wool that also provides support too, and of course, the organically produced latex, that doesn't trap heat like memory foam can.
How comfortable is it?
Most people choose the medium option, which offers enough of a "cradled" feeling to make it particularly ideal for side sleepers. Back sleepers, stomach sleepers, and those who prefer more support often choose the medium-firm option. The ability to swap layers means it can be as plush or firm as you need it to be, giving you the opportunity to experiment with your desired comfort.
Are there any warranty or sleep trials included?
The PlushBeds Botanical Bliss mattress comes with a 25-year warranty and a 100-night sleep trial.
Parachute's expansion from bedding into mattress territory had to be marked with something great. The Eco-Comfort Mattress is a wool-centric innerspring design that holds eco-friendly materials in high regard. Those looking for organic options that don't feature latex will enjoy this firm, yet supportive, and extremely breathable mattress.
Why do we love it?
Lots of detail and care went into the creation of The Mattress. It's constructed to be firm in the middle for superior back support, and softer at the head and feet for pressure point relief and spinal alignment. It's made of layers of pure New Zealand wool pocketed steel coils and an organic cotton cover. No latex or memory foam in sight. The layers of wool are naturally hypoallergenic, flame resistant, and temperature regulating. Additionally, while innerspring designs are known for some motion transfer, this particular design isolates motion.
How comfortable is it?
Wool mattresses typically fall on the firmer spectrum with Parachute rating it an 8 out of 10 on the firmness spectrum. The various zones of firmer in the middle and softer in the top and bottom, provide excellent comfort and support for your spine, making it an ideal choice no matter your preferred sleeping position.
Care and upkeep
Wool mattresses are prone to sagging much quicker than those made with foam or latex. It's recommended to rotate the mattress every six months for even wear and tear, though flipping the mattress is not necessary.
Are there any warranty or sleep trials included?
The Mattress comes with a 100-night trial and a 10-year warranty.
What to know about organic mattresses
Why choose an organic mattress?
There are a few big reasons to choose an organic mattress, including your health and the environment.
Health reasons:
If you're researching an organic mattress, you're probably familiar with some of the hazardous chemicals that can be used in their manufacturing process; things like chemical flame retardants and PBDEs, formaldehyde, and benzene, and even common materials that can pose a hazard like polyurethane.
Organic standards, especially GOTS (Global Organic Textile Standard) and GOLS (Global Organic Latex Standard), strictly prohibit the use of all of these ingredients. These certifications also come with strict guidelines about everything from how materials are grown, to how and where they're manufactured, and even the way they're packaged and shipped, so you can ensure that when you see a GOTS or GOLS seal, you're getting a healthy, safe product.
Environmental reasons:
Globally, the mattress industry contributes 6.5M tons of carbon each year. But of course, we all still need a mattress to sleep. Choosing a mattress from an organic brand helps reduce the impact the mattress industry has on climate change.
As we mentioned in the reviews above, many organic mattress brands are not just committed to creating products that are pure and healthy, but ones that are manufactured sustainably. This includes efforts like:
sourcing natural, renewable materials like latex and cotton
purchasing carbon credits to offset their carbon footprint
donating product returns to keep the product out of landfills
planting trees for every mattress sold, and
using biodegradable materials
Top environmental certifications for mattresses and what they mean
Reading through our guide, we've mentioned a handful of environmental certifications that apply to mattresses, and it can really start to feel like a laundry list. Here's what they actually mean:
Global Organic Textile Standard (GOTS): A GOTS organic label is the gold standard when it comes to textiles like cotton and wool, and requires that 95 percent of materials be certified organic and that that the other 5 percent of materials do not contain certain chemicals. Mattresses can also be given the "made with organic materials" label, which means the product contains 70 percent organic natural fibers. For certifications, mattresses must meet various ecological and social criteria, use organic fibers, cover all processing stages, and meet a third-party certification.
Global Organic Latex Standard (GOLS): You'll only find this certification when dealing with latex products— and it means that the product contains at least 95 percent organic latex. To get this certification, companies also have to follow similar standards as above.
CertiPUR-US: This standard applies to all-foam products, especially popular for foam mattresses, and states that the polyurethane foam was made without ozone depleters, flame retardants, mercury, lead, and other heavy metals, formaldehyde, phthalates regulated by the Consumer Product Safety Commission, and is Low VOC (Volatile Organic Compound) emissions for indoor air quality.
GREENGUARD and GREENGUARD Gold: Products with this standard are scientifically proven to meet some of the world's most rigorous third-party chemical emissions standards to reduce indoor air pollution from VOCs and the risk of chemical exposure. GREENGUARD Gold specifically includes health-based criteria for additional chemicals and also requires lower total VOC emissions levels to help ensure that products are acceptable for use in environments like schools and healthcare facilities.
OEKO-TEX Standard 100: This common certification means that the entirety of the product has been tested for harmful substances and that it has been found free of any toxic materials.
eco-INSTITUT: This standard applies to mattresses, bedding, furniture, and floor coverings and maintains that these items fulfill the strictest requirements on pollutants and emissions going far beyond legal standards. It's actually more stringent to qualify than GOTS, and ensures that products are low-pollutant and low-emission, making them safe for those with allergies and children
MADE SAFE: This certification is geared for everyday products and means that a product is made with ingredients not known or suspected to cause human health harm.
Rainforest Alliance: This seal typically refers to agricultural and forestry products that were produced using methods that support the three pillars of sustainability: social, economic, and environmental.
Cradle to Cradle: Cradle to Cradle Certification emphasizes sustainability creating a positive impact. Products are assessed for environmental and social performance across five critical sustainability categories: material health, material reuse, renewable energy and carbon management, water stewardship, and social fairness
USDA Organic: Commonly referring to food, but also to materials that could be found in mattresses like cotton or wool, the USDA Organic symbol can apply to agricultural products grown using organic standards set forth by the U.S. Department of Agriculture (USDA). A product that is certified organic contains 95 percent organic ingredients.
What are the cons to buying an organic mattress?
We've spent a lot of time discussing why you should buy an organic mattress, but are there any limitations to choosing green? Well, mainly, the biggest con that we can think of when considering an organic mattress is that they can be price-prohibitive.
Additionally, if you're keen to try a mattress in-store before you buy, a lot of the major mattress brands that carry organic products, might not have a brick-and-mortar availability to try before you buy. Luckily, they all offer generous trial periods, and most will offer free returns.
Otherwise, a mattress that is made with no harsh or harmful chemicals has a smaller negative impact on the environment than traditional designs, and hypoallergenic materials sound like a no-brainer.
What does a latex hybrid mattress feel like?
Because nearly every mattress on this list features latex, we wanted to speak to the typical qualities of this type of mattress, outside of the environmental benefits.
Generally speaking:
latex generally sleeps much cooler than memory foam mattresses
latex offer more bounce than memory foam
these mattresses are typically rated medium-firm, or at about a 6-7 on a scale of 1-10, with 10 being the most firm.
because of their innerspring base, hybrid mattresses offer good edge support
these mattresses typically don't rate as high as memory foam for preventing motion transfer but rate better than a standard innerspring or coil.
What are the differences between Talalay and Dunlop Latex?
Before this guide, you might have thought that latex is well latex, and never considered the different types. Natural latex is harvested from rubber trees, and one of the perks is that because it's natural, there's minimal off-gassing and no harsh chemicals. However, not all latex is 100% natural. That's where synthetic latex might appear on your radar, but definitely not on this list. Synthetic latex uses a plastic called SBR, or Styrene Butadiene Rubber, which is commonly used as a substitute for natural rubber.
Two common latex varietals used in eco-friendly mattresses are Dunlop and Talalay. They're both the same latex, but their names refer to the manufacturing process that set them apart. The Dunlop process is more straightforward and essentially involves filling a mold with liquid latex before a process called vulcanization takes place. Once the mold settles, it's typically denser on the bottom and lighter at the top. The making of Talalay latex is slightly more complicated as the mold is only partially filled, followed by the additional step of expanding it with air with a vacuum, which creates a uniform density and fill throughout the entire mattress.
Here are the key differences that you may notice between the two.
Dunlop is:
A relatively dense, firm foam that is ideal for support, but less for comfort
Springier
Usually cheaper
Less energy-intensive manufacturing process could make it more eco-friendly
Meanwhile, Talalay Latex offers these core features:
Softer and less dense design
Bouncier
Considered to be more breathable
Typically more expensive
Latex is regarded for being supportive, more durable and cooler than memory foam, and eco-friendly. It is also naturally hypoallergenic, antimicrobial, dust mite resistant and mold resistant. However, those with latex allergies should still steer clear of mattresses constructed with latex.