Mattress shopping is not for the faint of heart. With a thousand options and overwhelming marketing tactics– it's hard to make a decision when it comes to the best mattress. The older you get, the more people recommend a firm mattress to combat aches and pains, but what if you're not ready to give up the plush pillowtop?
Helix Midnight Luxe Mattress At A Glance
Firmness: Medium
Type: Hybrid
Sleep Position: Perfect for all sleepers– side, back, and even stomach
Sizes: Twin, Twin XL, Full, Queen, King, Cal King,
Height: 14-inch
MSRP: $1,199–$2,499
Trial: 100 nights
Warranty: 15 years
Ahem, you don't.
Helix has been making mattresses since 2015 and is incredibly inclusive. There's a mattress for every single body type, and for all sleeping positions – plus size and children's mattresses included. The Midnight Luxe is a truly perfect balance of support and comfort, and the ultimate compromise for couples with different preferences.
Lucky for me (and perhaps you), I had the chance to test this bed out, and it's nothing short of amazing. A bed so soft you sink right in, with complete disappearance of hip and lower back discomfort. Thanks to targeted pressure relief, the Midnight Luxe works particularly well for side sleepers.
Oh, and did I mention there are multiple options for every level of firmness imaginable? You can try their sleep quiz!
Who will the Helix Midnight Luxe suit?
Sleepers of all positions: back, stomach, and side sleepers unite!
Medium-plush lovers: a supportive bed with a pillow top is the ultimate combination
Hot sleepers: Helix added a cooling cover to the Luxe line, which pulls heat away from the body
Those with aches and pains: targeted lumbar support and memory foam contour to the body's curves perfectly
Couples: the Midnight Luxe is the best compromise for couples with different comfort preferences
Apartment dwellers: Helix thoughtfully packages the mattress for ease of delivery and setup (something you should look for if you have lots of stairs or a small space)
Those after a more premium mattress: Helix Luxe models are the top of the line, with all the bells and whistles. If its out of budget, the standard line scales back without cutting corners.
Helix Midnight Luxe construction and design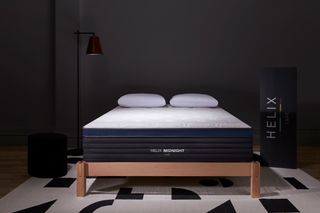 A six-layer construction is behind this heavenly bed. The 8" of zoned lumbar support consists of up to 1,500 tiny coils of varying sizes– softer under the shoulders, and firmer under the hips, and the pillow top is the icing on the cake.
Also included are the cooling cover, gel support layer, and an ergonomic layer of foam. The foam and gel guarantee your body's weight is evenly distributed and cushioned along the bed.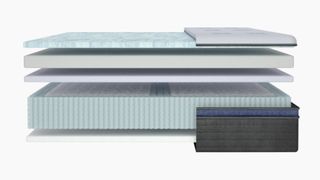 Curious about the safety and quality of materials used? Let's dig deeper.
To preface, yes my kids eat the occasional Happy Meal and a plate full of Doritos. But that doesn't mean I've lost all sense of concern for what they're inhaling (outside of chicken nuggets). Helix uses all CertiPUR-US materials, which I love. Translation: no PBDE flame retardants, formaldehyde, heavy metals, lead, mercury, and minimal impact on air quality.
Setting up the Helix Midnight Luxe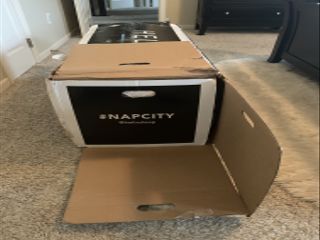 Simple and painless. The box was surprisingly small, and I'm still in awe wondering how they stuffed a king-size mattress inside.
The mattress was packed efficiently, and I was able to open and unpack solo. Lifting the mattress onto my base required two adults, but if I was super motivated I'm confident I could have done it myself.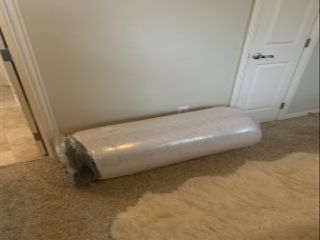 The mattress expanded right away, and even the pillow top was bouncy and plush. It took under five hours for the Midnight Luxe to reach the full 14" depth. Bonus points to Helix for the noted absence of smell. No off-gassing here!
Sleeping on the Helix Midnight Luxe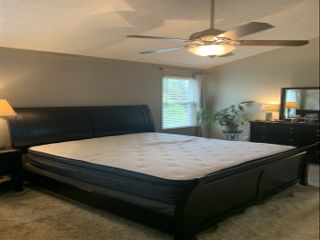 Bedtime is my favorite part of the day, and sleeping on the Midnight Luxe is comfortable, supportive, and pain-free. I haven't had one bad night's sleep since this beauty arrived, and that's nothing short of a miracle!
I stayed cool throughout the night, actually slept through the night, and never felt like I was giving up comfort for the sake of support. The Midnight Luxe is by far the best hybrid mattress I've ever slept on!
Comfort and firmness:
The Midnight Luxe sways on the soft side and is unbelievably comfortable. It contours to the body, yet offers enough support to be considered a medium mattress. Transitioning from an innerspring mattress to a hybrid was a great experience. For those of you who may not know – the Midnight Luxe is a hybrid (a combination of innerspring and memory foam). I've found my body feels equally cradled thanks to the dense foam in the Helix.
Pressure Relief
Helix deserves a gold medal in pressure relief, particularly for a medium-plush bed. My hips feel supported no matter what position I'm sleeping, and my back pain is almost non-existent. Spinal alignment felt (and looked) great, too, so it a good mattress for back pain.
Like I said above, the memory foam is great at cushioning the entire body evenly. It really cradles your shoulders and hips, which relieves stress in the joints. If you're a side sleeper, this should be high on your list of mattress requirements!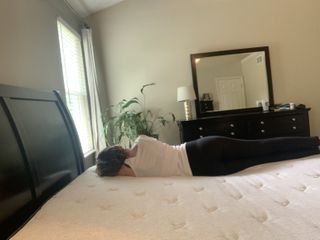 Edge support
Edge support is fantastic here – particularly for a medium mattress. No matter how close I roll toward the side of the bed, there's no sign of sagging. I even plopped a few heavy weights onto the side of the bed, and there wasn't even a dent. Helix, you really pulled through here!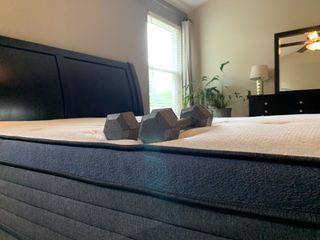 Is it cooling?
Yes! The Midnight Luxe model I have has a TENCEL cover, which is moisture-wicking and super breathable. It keeps me cool through the night, and I no longer feel like I've hit early menopause.
If, however, you're an especially hot sleeper, you can upgrade to the GlacioTex cooling cover. For an additional $199, this cover consists of futuristic fibers with high thermal conductivity. Translation: Helix's patented GlacioTex cover dissipates heat and draws it away from the body. I'm no scientist, but I'd consider this one heck of an invention. Anything that saves the need for an additional cooling mattress pad is good with me.
Motion isolation
Skip the red wine and bouncing on the bed experiment – motion isolation isn't the best (but also not the worst). Rolling over won't wake your partner, but jumping on the bed will.
Helix Midnight Luxe vs Helix Midnight
Helix offers two versions of all of its mattresses, a standard and a Luxe version. We tested the Luxe. The Luxe line is slightly more expensive, but has some upgrades that make it totally worth the splurge. Here's a quick recap:
Swipe to scroll horizontally
| Header Cell - Column 0 | Midnight Luxe | Midnight |
| --- | --- | --- |
| RRP | $1199-$2499 | $799-$1549 |
| Depth | 14" | 12" |
| Layers | 6 | 4 |
| Support | Up to 1,500 individually wrapped 8" steel coils + enhanced lumbar support | Up to 950 individually wrapped 8" steel coils |
| Edge Support | 4-sided Edge Support | 2-sided edge support |
| Pillowtop | Quilted | N/A |
| Cooling Cover | Tencel (or Silky GlacioTex Cooling Cover upgrade) | Breathable knit (or Silky GlacioTex Cooling Cover upgrade) |
| Warranty | 15 years | 10 years |
Ordering and delivery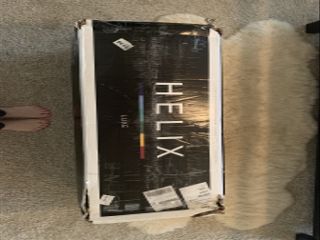 Helix mattresses are available exclusively through Helix, which offers fast, free shipping through FedEx. The box arrives a fraction of the size of other beds (don't ask me how they do it, but it's incredible), making it easy to transport upstairs, etc. If you don't love it, returning is easy – Helix arranges to pick up and provides a full refund as long as you're within your 100-day trial.
Is the Helix Midnight Luxe worth it?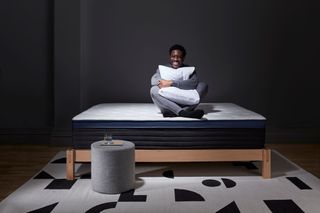 Yes! The mattress is worth every dime, but let's not stop there.
Helix has the best customer support imaginable. If your bed is too soft or too firm after the adjustment period (30 days is recommended), Helix will happily send a mattress topper, free of charge, to make your bed more comfortable for the sleeper!
If the Midnight Luxe isn't up your alley, Helix has over ten alternative mattresses to choose from in their original line, and six from their new Luxe line. An added bonus, Helix is always running special promotions and discounts on their super cozy mattresses.
Where to buy the Helix Midnight Luxe Mattress
About our reviewer and the review
Courtney's sleep stats:
Sleep position: I'm a ninja sleeper, always on my side with one knee hiked up, arms up above my head.
Insomnia: No trouble falling asleep, but once I'm up, I'm up.
Sleep problems: Sweaty-Betty and tossing and turning.
Average sleep time: 6–8 hours.
All our reviews, as in the case of the Helix Midnight Luxe, are based on the real-life experience of using these products at home. Courtney slept on this mattress for four weeks before beginning this review. The products are given to us free of charge and we test them for as long as possible before sending them back to the brand unless we are able to keep them as we are with this mattress.
This means that we can continue to use the product which gives us the opportunity to return to our reviews for updating, so you can keep up-to-date with how it's fared over a period of time.
More mattress reviews