I've tested many mattresses as a reviewer for Real Homes, but I have to say, the Zinus Green Tea Memory Foam Mattress stands out. It was the first memory foam mattress I tested that provided impressive support when I wanted to sleep on my side. My previous experiences with memory foam mattresses for side sleepers differed greatly. I found them to be too soft and break down quite quickly, especially if they were on the cheaper end of the scale. Not ideal considering the fact any budget should be able to get a quality mattress.
That's where the Zinus Green Tea Memory Foam mattress comes in. Though it's praised for being wallet-friendly and available on Amazon, this pick is perhaps best known and loved for its micro-bacterial properties. As its name implies, the mattress is infused with antioxidant-rich green tea and ActivCharcoal microparticles to keep your bed feeling fresh, too. When you spend half of your life in bed, you'll want to choose a mattress that'll steer clear of odors, right? Well, this cheap mattress is great.
In this review, I'll go into detail about why the Zinus Green Tea Memory Foam is one of the best mattresses out there. I'll delve into my first impressions, sleep experience, and how firmness has changed over time to help you decide if this is the memory foam mattress for you. Oh, and of course, I'll answer the question I know you're dying to ask — can you smell the green tea extract?
TLDR: What we thought of the Zinus Green Tea Memory Foam Mattress
The Zinus Green Tea Memory Foam mattress offers a supportive, firm feel and memory foam that contours around your body. The memory foam may not be as responsive as I'd have liked, but it does the work to minimize motion transfer and relieve your pressure points throughout the night. Like many memory foam mattresses, the edge support could be better, but it's something I'm happy to overlook considering this mattress is infused with green tea extract and ActivCharcoal to keep it free of odors and moisture. My favorite part? The price! It's exceptionally affordable.
If you're willing to spend the money, however, we love to point buyers to other memory foam options like the Tuft & Needle Mattress, which does an even better job of balancing pressure relief with a soothing sleep experience. Eco-friendly sleepers could also go for the Avocado Eco Organic mattress (which, I also reviewed). It's a medium-firm organic option that's free of toxins, too.
Testing the Zinus Green Tea Memory Foam Mattress
For the last three years, Alex Temblador has been a Real Homes mattress expert. During her time testing hybrid, memory foam, and organic mattresses, she's gained a wealth of bed-buying knowledge. This has led her to write mattress reviews for other sites, too, putting her mattress reviews to 10 (and counting).
The techy stuff
Firmness: My rating is 8 out of 10 on a firmness scale.
Type: Memory foam
Construction materials: Knitted cover, memory foam, comfort foam, high-density base support foam
Sizes: Twin, full, queen, king, and Cal king
Thickness: 6", 8", 10", or 12"
MSRP: $177 to $644
Unboxing
The 10-inch queen-sized Zinus Green Tea Memory Foam Mattress arrived at my house quickly. According to the website, most mattresses will take just five to 12 business days to reach your door. The mattress was wrapped in plastic and packaged in a cardboard box. I could not find any information on the Zinus website about whether or not the packaging was made of recycled materials. However, I recycled the cardboard box.
It took little effort to carry the box to my guest room. After carefully cutting away the plastic wrapping, I set the mattress on my slatted platform bed and let it unfurl and expand. Although it's known most mattresses can be placed on any kind of bed frame, down to my experience, it seems that memory foam mattresses hold up better over time when they're used on a platform or slatted-base bed frames. When memory foam mattresses are placed on box springs they tend to cave in the center over time.
Zinus says that the mattress could take up to 72 hours for it to reach its full height, but it seemed to expand completely from the time I opened it to the time I went to sleep, which was about six hours. I decided to sleep on the Zinus my first night, especially when I read that jumping, walking, and sleeping on a Zinus mattress can help with decompression.
What is the Zinus Green Tea Memory Foam Mattress like to sleep on?
Firmness:
The first thing I noticed about the mattress was that it was pretty firm. and over time, it seemed to maintain the same level of firmness for the most part. In my opinion, the mattress' firmness rated at about a 7/8 on the firmness scale (I'm inclined to lean toward an eight), at least in the first few months. FYI: Zinus does not offer a firmness rating on its website.
After my first full night of sleep on the mattress, I noticed it responded to my body in a way that other memory foam mattresses do not. In the past, I've described memory foam mattresses as feeling "cloud-like" or softening around your body in a way that's supportive, but still gentle. When I laid on the Zinus Green Tea Memory Foam mattress, the memory foam shaped around the curves and angles of the position I was in. It was almost as if the mattress was molding to my position to offer support. When I moved around, I could feel the imprint of my previous position — small bumps and dips — for a few moments until the memory foam readjusted to my new position.
Although I would have liked the memory foam to respond a little quicker to my movements, I can see why customers like the way this contouring-type of memory foam feels as they sleep. It's akin to being cradled and supported. It was especially nice when I lay on my side. Usually, memory foam mattresses aren't as supportive to side sleepers but this one does a really good job of supporting your hips and shoulders.
Firmness over time:
After a while, the Zinus Green Tea Memory Foam mattress did soften a bit, but only to about a seven on the firmness scale. I've had other people say that they find this mattress to be a five or a six in firmness, but I should add that those people had only ever slept on coil or hybrid mattresses and are more inclined to very firm mattresses.
Pressure relief and support:
The foam in this mattress is described as being pressure-relieving. For the price of this mattress, I think it does a decent job. It's not the best pressure-relieving mattress I've slept on, but definitely better than coil-spring mattresses. I was able to place a 35-pound weight in the middle of the mattress and it sunk about three-fourths of an inch. In my experience testing other mattresses, I've found that most weights sink between half an inch and one inch, so this is fairly standard.
Edge support:
Unfortunately, I found it somewhat lacking when it comes to edge support. If I sit on the edge, it dips down considerably. When I tried putting the 35-pound weight near the edge, I could only do it about three inches from the edge, or else it'd roll off. That said, when I sleep near the edge, I didn't feel like my arms or legs were going to fall off so there is *some* support.
I don't think the edge support of this mattress should deter you from your purchase unless you have some physical difficulty getting in and out of a bed and require a good amount of support to get up. The edge support provided will probably work for most people.
Breathability and cooling:
What I really loved about the Zinus Green Tea Memory Foam Mattress is that it allowed for great airflow and kept me cool throughout the night. Others have slept on the mattress and have provided the same type of feedback, even when there are two people sleeping on the bed.
ActivCharcoal and Green Tea extract are infused into the memory foam to help maintain the freshness of the mattress. I could not smell the green tea extract (sorry!), but I am glad it's there to keep my bed fresh for years to come.

Motion isolation:
I do not share a bed with a partner, so I had to find other ways to test the motion isolation of this Zinus mattress. To do that, I placed an empty wine glass with a stem in the center and moved around the bed, taking stock of how the wine glass behaved to my movements.
I found that if I was moving more than a foot away from the wine glass, it barely moved. Eight inches and closer, the wine glass shook and tottered but never fell. From this, I feel confident in saying that if two people are sleeping on different sides of this bed, they will likely not feel much motion during the night. In fact, I've had two people sleep on the mattress and they verified that they were not awoken by their partner's movements.
Is the Zinus Green Tea Memory Foam Mattress right for you?
Zinus has managed to create a top-quality sleep surface in the Zinus Green Tea Memory Foam Mattress for an affordable price with free shipping! It's one of the best cheap mattresses out there. That alone is enough for me to say yes, go buy it.
However, if you prefer softer, plush mattresses, the Zinus Green Tea Memory Foam Mattress isn't for you. In my opinion, this mattress is a 7/8 out of 10 on the firmness scale, making it a wonderful pick for those who need considerable support, such as if they sleep on their side or stomach. Take it from me, your spine will remain aligned no matter what position you sleep in. Rather than sinking into the memory foam, it contours around your body, cradling you throughout the night. You won't overheat with this mattress either, and it's infused with materials to keep it fresh and free of odor. It's a solid choice for side sleepers, hot sleepers, and everyone in between.
If you've read this review and think, "Okay, I don't love firm mattresses but I'm a big fan of the price," you should still take the leap as you're able to try it out for up to 100 days. If you don't like it, Zinus will give you a full refund.
More mattresses you might like (reviewed by me)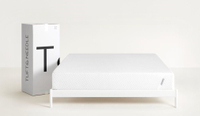 If you want something (similar) that's medium-firm
Type: Memory foam
Sizes: Twin, twin XL, full, queen, king, and Cal king Construction: Open-cell support foam layer, adaptive foam, graphite, ceramic gel
Price: $645–$1,095
RH rating: 4.5 stars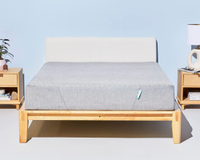 If you want a softer memory foam mattress
Type: Memory foam
Sizes: Twin, twin XL, full, queen, king, Cal king, split king, and split Cal king
Construction: Gel memory foam, transition foam, polyfoam base, and poly-blend top cover.
Price: $299–$599
RH rating: 4.5 stars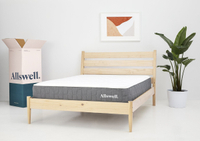 If you want an affordable hybrid mattress
Type: Memory foam and coil hybrid
Sizes: Twin, twin XL, full, queen, king, and Cal king Construction: Three layers of individually-wrapped coils, charcoal, and copper gel-infused memory foam, and a signature quilted top panel
Price: $339–$539
RH rating: 4 stars
About Real Homes reviews
Alex's Sleep Stats
- Sleep position: I usually fall asleep on my stomach, but you could call me a Flexi-sleeper because I do occasionally sleep on my back and side.
- Insomnia: Not usually, though sometimes it can take me an hour to go back to sleep if I have a lot on my mind.
- Sleep problems: I have difficulty getting a deep rest with someone else in the bed. I also can't sleep on a mattress that is too soft.
- Average sleep time: 8–9 hours.
Alex Temblador is one of Real Homes' mattress experts — which is an apt role for someone who needs over 8.5 hours of sleep each night. The Dallas-based freelance writer has covered home, design, architecture, and art in publications like Real Homes, Dwell, Architectural Digest, Artsy, Neighborhoods.com, and Culture Trip, among many others.
She recently bought her first home, a green Sears & Roebuck house that's over 100 years old, sits on half an acre of land, and features a stunning wraparound porch, original hardwood floors, pocket doors, and a butler pantry. In addition to her mattress reviewing duties, Alex loves to try other products for Real Homes buying guides and reviews so that she can continue to expand the richness of her first-time homeowner life. When she's not sitting on her porch with a cup of tea and her laptop, you'll find the Mixed Latinx writer scrounging through estate sales and vintage shops looking for unique objects to bring The Starlight House'to life.
As with all our mattress reviews, the Zinus Green Tea Memory Foam mattress has been tested first-hand in her home, using it just as you would so you know exactly what you are buying. For more details, see how we test mattresses if you're interested. The products are given to us free of charge and we test them for as long as possible before sending them back to the brand unless we are able to keep them, as we are with this mattress. In this case, we can continue to use the product and return to our reviews to update it with how it worked over a period of time.