I've hefted many mattresses up my staircase on behalf of Real Homes (with help from my long-suffering but conveniently strong husband, Nick). The Emma Original was one of the first bed-in-a-box mattresses I tested and, five years later, it remains one of my all-time favorites in this sector. There have been close contenders, but none of the other memory foam mattresses I have tried since, at least in a similar price bracket, quite compete on overall comfort, support, and breathability.
The Emma brand is *rightly* proud of the many awards its Original mattress has received, and although there are now additional Emma mattress options available, the Emma Original continues to be its best-seller. Price is probably a big factor. It's the cheapest and also competitively pitched in the wider bed-in-a-box market. But it's also great value. You get a decent wedge of foam for your money and most sleepers, with the possible exception of those who like a super soft mattress, will find it comfortable and supportive.
In this review, I'll explore why the Emma Original remains one of the best mattresses you can buy. I'll reveal my first impressions, my own sleep experience, as well as Nick's, and how my friends pitched it firmness-wise when invited for a quick doze to help you decide if this is the memory foam mattress for you.
FYI: I remain a pocket-sprung mattress traditionalist on my own bed, but if friends or family ask for memory foam recommendations, the Emma Original is always one of the first that springs to mind. So I'll let you know which pocket-sprung mattress we usually sleep on, when not testing I mean, to give you more options to consider if you're currently thinking about how to choose a mattress.
TLDR: What we thought of the Emma Original Memory Foam Mattress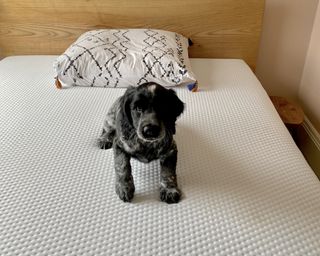 Real Homes voted the Emma Original Memory Foam mattress the best mattress. Why? Simply put, I couldn't find a single decent reason not to love it. It's packed with the very latest memory foam that's breathable and controls body temperature to perfection. It is medium-firm in support, which is the most popular firmness rating across the land, and suits a wide range of body types and sleeping styles. Motion transfer is minimal, and it comes in a box so you'll have no access issues to worry about, even if you live on the sixth floor.
To ensure investing in an Emma Original memory foam mattress is as risk-free as possible, this affordable mattress comes with a 200-night sleep trial, no questions asked and no evil collection charges. It also has a 10-year warranty and free delivery, usually within one to three working days.
Testing the Emma Original Memory Foam Mattress
When she isn't writing interior design features, Linda Clayton is kept busy testing all manner of household and home fitness products, including every type of mattress out there, plus robot vacuums, BBQs, spin bikes, and blenders. She is a professionally trained journalist with more than two decades of experience writing for broadsheet newspapers and glossy magazines.
The techy stuff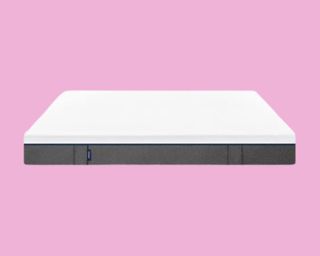 Firmness: Medium-Firm, seven out of 10 on a firmness scale
Type: Memory foam/comfort foam
Construction materials: Breathable, washable synthetic cover and three layers of foam (Airgocell, Halo Memory, and Supreme base foam)
Sizes: Twin, twin XL, full, queen, King, Cal king
Thickness: 10 inches
Price: $699-$1.599
Unboxing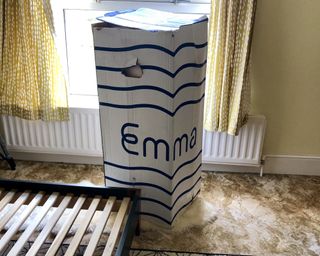 Delivery was super speedy, the Emma Original arrived just two days after ordering, via UPS, complete with the courier's excellent tracking service. Delivery is free Monday through Friday BTW, and you can track your order online.
It arrived in the usual compact box adorned with the familiar Emma branding, which is genius for getting it up the stairs, particularly if you have a turn in your staircase. Once released from its thick plastic bag and unrolled, the Emma Original quickly expands up to its 10-inch height. As our bed is super-king, we ordered the requisite size mattress and the box was fiendishly heavy (80 pounds), but Nick and I managed okay with a couple of rest breaks en route to the bedroom.
The instructions state "only a few hours" to expand, which is a bit vague. Ours was ready to sleep on within two hours. And, it did not smell (yay!). I was preparing my stomach for the chemical whiff that is one of my least favorite aspects of testing memory foam mattresses, but it never showed up. Major brownie points.
What is the Emma Original Memory Foam Mattress like to sleep on?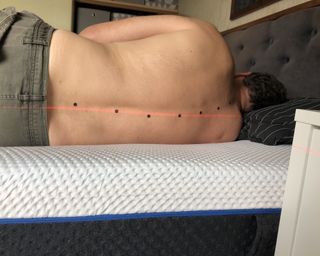 Firmness: One of the main things we noticed was how surprisingly firm the Emma Original is, certainly compared to our pocket sprung but also compared to other squishier memory foam mattresses we have tried. Don't get me wrong, this mattress is nowhere near hard, but I'd rate it more firm than medium. To give a more balanced assessment of the firmness rating, I used coffee and cake to bribe a few local pals (three male, three female, ranging from 140 pounds to 240 pounds) to try it and give me their first impressions on firmness. As anticipated, the majority agreed with Nick and me, and only our heaviest buddy (he's all muscle, honestly) felt it was closer to medium than firm.
To give a very loose guide on how supportive the Emma Original is, we placed sticky spots on Nick's spine, laid him down on the mattress, and then used a laser light to demonstrate how level his spine sits. The ideal sleeping posture requires fairly straight spine alignment, with no pressure on the hips and shoulders. As our photo indicated, Nick's spine barely dips at all in the middle, showing he is well-supported at the hips and shoulders.
It's worth noting that the Emma Original did become a little softer over time. By the third and fourth night, we didn't register the firmness as such a shock to the system but that could also be due to us getting used to it after a lifetime on bouncy pocket-sprung beds. Muscle memory is a funny thing.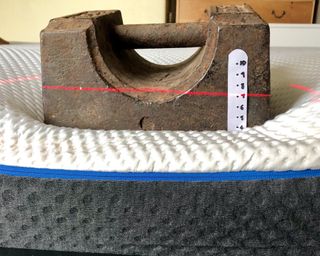 Edge support: To test how even the support is across the full mattress as well as the edges, I employed an old 56-pound weight that was left in the shed when we moved in. On the edge of the mattress, the weight sank by little more than 2.7 inches, and in the middle, it sank a tiny bit more, to 3.1 inches. The similar measurements are a good indication of even support across the full width of the mattress, which means you'll get to enjoy the maximum sleeping space available. Mattresses with unsupportive edges mean you have to sleep closer to the middle to avoid rolling out. Another box ticked for the Emma Original. By the way, 2 to 3 inches is reasonably firm overall, some memory foam mattresses I have tested since have virtually swallowed the weight.
Motion isolation: To judge how well the Emma Original mattress responds to motion transfer, I asked Nick to get in and out of bed, and roll around a few times with exaggerated effort. Despite his best efforts to bounce me right out of the bed (he takes his role a bit too seriously at times), the Emma Original did me proud. I won't lie, there was no denying Nick was in residence, but his movements didn't reverberate enough to disturb me during the night. To be fair, the fact it was a super-king probably helps a lot there; we sleep best when not touching in any way, shape, or form. It was also easy to move around on the Emma Original. No getting wedged in one position or that terrifying feeling like you are sleeping in quicksand.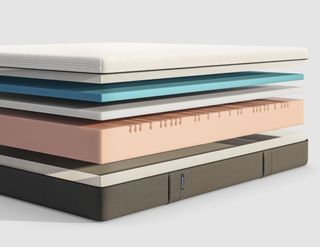 Breathability and cooling: We tested the Emma Original during a fairly muggy few weeks in August, not heat-wave material but still pretty warm and one of the first things I noticed was how cool I slept. With a 4.5 tog summer duvet and the window open, I felt cozy but not overheated. Best of all: no puddles of sweat in my belly button at 3 am. Nick and I both slept through without any heat-related disruptions.
Airflow and temperature control play a huge part in the construction of an Emma Original mattress. Every layer features some cool way to stop you from sweating to death in your sleep, including a layer of open-pore Airgocell foam near the top that allegedly absorbs and then evaporates sweat, essentially wicking it away from you. Sounds a bit gross but it appears to work, so I wasn't complaining.
Is the Emma Original Memory Foam Mattress right for you?
If you are a side sleeper, who prefers firm over soft and tends to sleep hot, the Emma Original could be the mattress of your dreams. It was a very close call as to whether we could be converted to memory foam forever, but Nick voted for the return of our much-loved spring mattress.
The Emma Original price is great. It is designed to suit all body shapes, weights (it's best for 110 pounds to 186 pounds), and sleeping positions. I am struggling to think of anything I didn't like about the Emma Original. Ever practical Nick loved that it has handles, one of the few memory foam mattresses with this simple feature, which meant it was way easier to move around. That being said, it doesn't need to be flipped or turned, so those handles are only really required the first time it's placed in a room or if you move it to another space.
Good to know: Before moving the mattress on, I did the honorable thing and washed the cover in a hot wash cycle. It did take two of us to zip it back on but that's more down to my feebleness and the scale of a super-king than any design flaw. The cover hadn't shrunk and it washed up as good as new.
More mattresses you might like (2 reviewed by me)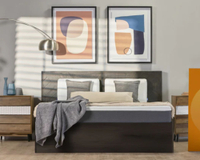 If you want a hybrid *premium* alternative
Type: Hybrid
Sizes: Twin, twin XL, full, queen, king, California king, split king, and split Cal. king
Firmness: Medium firm
Construction: CarbonFlex spring and foam
Price: $999–$1,999
RH rating: 4.5 stars
Read our full Emma Climax Hybrid mattress review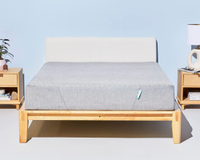 If you want something cheaper
Type: Memory foam
Sizes: Twin, twin XL, full, queen, king, California king, split king, and split California king
Firmness: medium
Construction: Gel memory foam, transition foam, polyfoam base, and poly-blend top cover.
Price: $299–$599
RH rating: 4.5 stars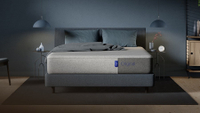 If you want something softer
Type: Memory foam
Sizes: Twin, twin XL, full, queen, king, California king
Firmness: Soft-medium
Construction: 4 layers of open-cell foam and memory foam
Price: $695–$1,495
RH rating: 5 stars
Read our full Casper Original mattress review
About Real Homes reviews
Linda's Sleep Stats
Sleep position: I usually fall asleep on my side, but often roll onto my back (and get pushed to my side again when the snoring starts). Stomach sleeping is a big no from me.
Insomnia: At certain times of the month, insomnia hits for about three nights. I can be awake for three to four hours.
Sleep problems: Night sweats are also bad news as I navigate the giddy fun of peri-menopause, again just for two to three nights a month.
Average sleep time: 7.5–8 hours
In line with our mattress testing methodology, the Emma Original Memory Foam mattress has been tested first-hand in Linda's home, using it just as you would so you know exactly what you're buying. As you may have spotted from the ugly furnishings in the photos, Linda and Nick's bedroom is the last room standing on their decorating schedule. The mattress stayed on their bed for six weeks before being donated to a local charity, after the cover was thoroughly washed, of course. Products for testing purposes are provided free of charge and, in the case of mattresses, returns are not generally required, for hygiene reasons. The brand has not paid for Linda's testing time or wise words.
Linda Clayton is one of Real Homes' longest-standing (laying) mattress experts — yep, she's essentially been paid to sleep since 2017. The Devon, UK-based freelance writer has specialized in interiors since graduating with a post-grad in journalism 20+ years ago (let's not be too specific). She also writes about travel, fitness, and gardening. Titles that regularly publish her words include Homes & Gardens, Livingetc, Woman&Home, Period Living, and of course, Real Homes. You can connect with Linda on Insta @lindaclaytonwrites. In her imaginary spare time, Linda enjoys running, or rather the shower after finishing a good run, baking, and stalking interior designers on Instagram for the specific source of appealing paint colors/rugs/art etc.