Our Casper Hybrid mattress review is the place to land if you're considering this new mattress release from the company that brought you the memory foam mattress that's taken the world by storm. We at Real Homes have been sleeping on a vast range of mattress types – and asking our friends, partners, kids and relatives to do so too – to bring you a true picture of how comfortable each one is for both men and women, teens and tweens, and how much support it provides. We have also conducted some semi-scientific testing so that you can buy your mattress online with confidence. We try to stick to the best mattresses out there (who wants to read a poor review?), and this new Casper Hybrid mattress doesn't disappoint. It's up there with the best.
Casper hybrid mattress at a glance
Firmness: it rates as medium/medium firm.
Sleep position: it suits side, back and front sleepers.
Your weight: it's suitable for people of average and above average weight.
Motion transfer: fidgety partners won't bother you.
How it feels: really supportive but with a giving top layer.
Sizes: single to emperor.
If you're looking to find the best mattress for your needs, you'll find plenty of choice in our guide to the best buys – but don't miss our deep reviews first.
Check our Casper mattress discount page for the latest bargains, too.
Read below as I try the Casper Hybrid mattress. Already convinced? Scroll to buy...
Casper Hybrid mattress specifications
Why you can trust Real Homes Our expert reviewers spend hours testing and comparing products and services so you can choose the best for you. Find out more about how we test.
About our review and our reviewer
Lucy Searle is the editor in chief of Realhomes.com. She has been writing about homes and interiors for nearly 25 years, working for publications such as Real Homes, Homes & Gardens, Country Homes & Interiors, Ideal Home and House Beautiful. Lucy (and her friends and family) spend between five to 10 nights trying out each mattress.
Type: Memory foam/micro pocket springs
Sizes: Single, double and king (each in UK & EU versions), plus small double, small single, super king and emperor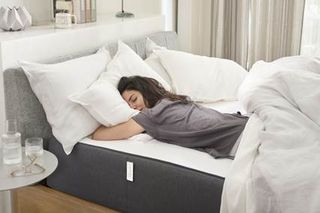 Who will the Casper Hybrid mattress suit?
Medium firmness fans who like memory foam, but with a bit more support;
Sweaty sleepers: breathability makes this mattress a good choice for anyone who suffers in summer or from night sweats;
Side sleepers and back pain sufferers: we can bear witness to the wonders it's performed on our (collective) hip and shoulder pain (lot of side sleepers here);
People who fidget: no more complaints about motion transfer from your partner;
Apartment/flat and small home dwellers: it comes in a box, so it's easy (for two people) to lug up narrow staircases.
What's the Casper Hybrid mattress like to sleep on?
Casper has joined other bed-in-a-box specialists like Simba by joining the hybrid crew. And for good reason. There's a lot more bounce in a hybrid when compared to even a modern all-foam mattress. And being veterans of the Simba Hybrid, we were looking forward to testing a mattress with good breathability and support, too.
So, let's talk support. This mattress has a symmetric construction with five comfort zones and zoned springs. The spring layer beneath the memory foam layer is what provides the targeted support. But don't expect the firmness of a pocket sprung mattress here: if you're looking for that, you need to avoid anything with a memory foam top layer. And if pocket sprung is what you're used to, you'll experience this, initially at least, as more of a medium firm mattress.
And this is where the memory foam layer comes in. It's a meaty 10cm deep and it provides the type of cushioning over the springs that traditional mattresses or even mattress toppers simply don't give. You can feel the support of the springs beneath, but the memory foam layer moulds to your body, whether you're lying on your side or your back or front. The benefit of this? Side sleepers and back pain sufferers won't wake up with achy joints. And, because the memory foam layer is over a spring layer, you get the bounce you don't get with traditional memory foam mattresses, and you don't sink too deeply into it either. Bonus.
So, what did it feel like to sleep on? It got the thumbs up from everyone who tried it – men, women, children and, er, a dog at one point.
The bounce we've just mentioned does mean there's a little motion transfer, but less than you'd feel with a traditional sprung mattress – and a little more than you'd feel with an all-foam memory foam mattress.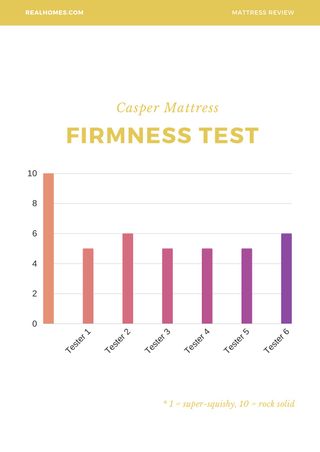 Our firmness testers (two female, two male, one adult-sized teen, one child, ranging from 8 to 14 stone (we're not counting the dog)) gave an average firmness rating between five and six (see graph above), with 10 being really firm and one super soft. So, we were pretty well in agreement that the mattress is of medium firmness.
The weight test (below) showed that our 8kg kettle bell sank to 5cm (10cm is the highest), which proves (if needlessly) that the memory foam top layer of this mattress is indeed welcoming. And when we placed the weight at the edge of the mattress, it sank to just 3cm – which means the edge support, while not noticeably stiff when you're sleeping on the mattress will ensure no sinky sides you're going to roll off of.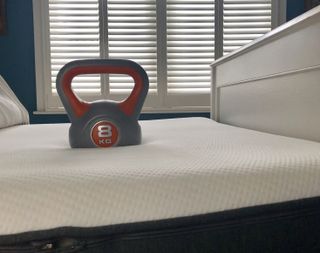 On posture, the mattress is really forgiving. It's particularly suitable for people who sleep on their sides because it will take the width of your shoulders while cushioning the waist and hips. In other words, it'll suit the broad shouldered who wake up with joint pain on their current mattress or those who find their hips go numb on a harder mattress (I fit into both those categories – firm holiday let and hotel mattresses are a nightmare). And because it's not too sinky (that's not a technical term), it's a sure-fire winner for back sleepers, too. I don't sleep on my front – but these sleepers usually prefer a firmer buy, which might make this mattress problematic. That said, the 100 night free trial will answer that question.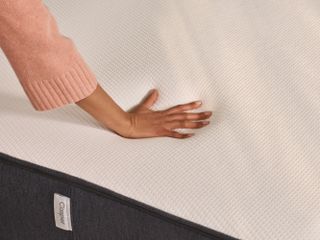 How does the Casper Hybrid rate online?
There are very few trustworthy reviews online as yet for this new to market mattress. However, those we have read give the Casper Hybrid an average rating of 9.5 out of 10 – and we wouldn't quibble with that. We'll update this as more of our trusted colleagues take this mattress on.
What do you get for your money?
The usual 100-day free trial, plus a 10-year guarantee and free delivery, hassle-free returns. Another small – but big – bonus? There are handles to make mattress turning and shifting a breeze.
Is the Casper Hybrid worth it?
Whole-heartedly, yes. As a testing group, our overall preference is for a medium firmness mattress, but there's only one truly fussy sleeper (me) who prefers a more forgiving surface because of back, neck and joint pain (I'm a devoted side sleeper with a history of horse riding accidents and a love of muscle-pulling gym exercises, so need something that welcomes, supports and, if possible fixes me overnight).
That does mean that I get on well with memory foam mattresses. And while the hybrid is a more expensive buy than the original Casper memory foam mattress, in my mind, you get better support and more breathability with this one. And I challenge lovers of both firm or really soft mattresses not to find it really comfortable, too.
Casper Hybrid mattress fillings
Here's the rundown on layers, from top to bottom.
You sleep on a removable (hurray!) mattress cover made of 99 per cent polyester and 1 per cent elastane that's washable at 40°C (although, obviously you'd put a sheet over that). Beneath that lies three layers of foam. First, a breathable comfort foam layer, then a pressure-relieving memory foam layer, then a deep comfort transition layer (for even weight distribution). Beneath all that, springs for zoned support. It's worth noting that there are softer springs under the shoulders, and firmer ones under the hips. Lastly, there's enhanced edge support, which means you won't topple off the mattress on to the floor during a particularly energetic dream (what did you think we were going to say there?!).
How does the Casper Hybrid compare to the Simba Hybrid
We really couldn't discern that much of a difference during our tests, but if you threatened us with a Chinese burn, we'd say the foam layer on the Simba felt minutely softer. Read our Simba Hybrid mattress review for more on this one.
There is a difference in price, though – the Simba's retail price sits at around £150 cheaper than the Casper, so if you're sold on the Casper, you're going to want to look out for one of their competitive deals. You can do this by bookmarking our Casper mattress discount page.
Ordering and delivery
The mattress is made in the UK and is shipped via UPS.
All mattresses come in a 47 x 47 x 108 cm box.
Free standard shipping and free returns in the UK.
More mattress reviews to check out:
Read more: