I like to sleep, truly, I'm a big fan. And I'm not too modest to say that I'm pretty good at it. Well, I always have been until I started waking with back pain on and off over the last 12 months. Maybe this is what happens in your forties, or as I preferred to think, my sprung mattress was on its way out. Anyway, I purchased an Emma mattress topper a few months ago which seemed to fix the problem and rid me of the morning back pain. So when I was approached to review an Emma mattress I jumped at the chance.
Choosing the best mattress for you is a tricky task and you can waste literally hours of your life awkwardly laying on mattresses in department stores, without being able to conclude which is going to give you a dreamy night's sleep. The Emma CliMax Hybrid mattress is a hybrid mattress, which means it's made of foam and springs, and the home trial period allows you to give it a proper try before committing. It's a medium firm mattress, which is the same as the last mattress I bought, so on paper, it should be a good fit.
TLDR: What I thought of the Emma CliMax Hybrid mattress
In the marketing blurb, Emma describes the mattress as having six layers, but since one of these is the cover, I'd argue that there are five. Nevertheless, each different layer plays a unique role in creating a comfortable and supportive mattress. At the bottom, high resiliency extra (HRX) foam is there for durability and to prevent sag. Above this, the 5-zone CarbonFlex springs, topped with three layers of memory foam combine to create a hybrid mattress. The combination of springs and memory foam makes for a firmer and more supportive mattress than foam alone.
If you'd asked me in the first week or two, I would have said it's not worth it for me personally. However, after the mattress softened up and my body adjusted to it, I changed my mind. But with that being said, if you like soft mattresses, I'd steer clear – even after softening up, it's firm deeper down.
At full price, it's as expensive as a good quality sprung mattress, but since it's often reduced as low as half price and you have the security of a 200-night trial, it's risk-free so I'd say it's well worth the money because you know you'll get it back if it doesn't suit.
Testing the Emma CliMax Hybrid mattress
Reviewed by
Reviewed by
I slept on this mattress for over a month alongside my husband, we're both side sleepers. He's prone to getting hot and though it was autumn we were keen to see if the mattress would cause him to overheat. He is also around 100 lb heavier than me, so if a mattress is too soft, I can end up rolling downhill to his side.
It's worth us noting that Helen tested the UK equivalent of this mattress which is termed the Emma Premium mattress. She slept on it for five weeks before writing this review and Emma allowed her to keep it so that she can update this review after six months or a year.
The techy stuff
• Firmness: Medium firm
• Type: Hybrid
• Construction materials: CarbonFlex spring and foam
• Sizes: Twin, Twin XL, Full, Queen, King, Cali King, UK single, UK small double, UK double, UK king, UK super king, EU single, EU double, EU queen
• Depth: 10 inches / 25cm
• RRP: $999-1999 / £799 - £1449
Unboxing
Despite being a hybrid mattress, the Emma CliMax Hybrid is packaged just like all other foam mattresses. It's vacuum sealed in plastic and is delivered in a box. Since I ordered a king-size mattress, the box was a hefty one. It came up to my chest and while it does have two handles to make it more convenient to lift, moving it from the front door upstairs was definitely a two-person task.
As I opened the box, I found a cutting tool, which is designed to safely cut the plastic that surrounds the mattress, without damaging it and was definitely a welcome addition. There's no manual included, instead, a QR code directs you to an online manual with details on unpacking, as well as general maintenance, sleep tips, and more. Love! The big cardboard box easily flattens into the recycling too, while the plastic wrapper can be taken to the carrier bag recycling point at most big supermarkets. I actually kept it to utilize as a dust sheet for some upcoming decorating.
I lifted the mattress onto the bed frame before cutting away the outer layer of plastic. Once this has been removed, the mattress is still vacuum-packed, but I was able to unfold it and position it correctly. Then I ran the cutter along the plastic on all four sides of the mattress. Ps: There's something quite satisfying about watching it suck in air and plump up as well as listening to the intriguing hissing and popping noises.
The manual advises giving the mattress five hours to fully regain its shape, before sleeping on it. I removed it from the box first thing in the morning and gave it the entire day. I also left the windows open for the day and resisted putting on any bedding until the early evening. On first impressions, it appeared sturdy, fits my bed frame well, and doesn't have a horrendous smell, which is a bonus.
What is the Emma CliMax Hybrid mattress like to sleep on?
I'll admit, it wasn't love at first sleep. To begin with, this mattress felt far too firm, verging on hard, and our first few nights on it were restless. We were tossing and turning trying to get comfortable and there seemed to be very little give in it. I was waking up with a sore hip when sleeping on my side and my husband was getting a numb leg, needless to say, we felt like this was entirely the wrong mattress for us.
I'd say it was a week before we adjusted and started to sleep better, but 2- 3 weeks until we were starting to find it comfortable. I think part of it was us adjusting to the mattress, but I also think that the mattress changed during that time, it gradually softened up.
During those uncomfortable first few weeks, I put on the Emma topper we had on our old mattress, just to see if the added softness would help. And it did slightly but the mattress still felt firm and unforgiving underneath, so I only left it on for a few days. Interestingly, a few weeks in, we decided to go back to our old mattress for one night to compare, and we both felt like we were sleeping on a hill, it no longer felt flat enough or supportive enough.
We're now five weeks in and we both agree that we sleep very well on the Emma Premium. Neither of us wakes up through the night in discomfort and it's undeniably softer than it was at the start. The top layer now provides far more pressure relief than it did to begin with. But, with that being said, I still think it's a smidge firmer than we'd like. And though it's comfortable, it lacks that luxurious cloud-like feeling that you get when you sleep in a hotel bed with a top-quality mattress.
To sum up, I'd say it does now feel supported in all the right ways as well as good quality and I can totally see how it'll be ideal for people looking for a firmer option. If you're wondering, we have opted to stick with it over our old mattress, but the jury's still out on whether we'll end up keeping it for the longer term.
Firmness
While I would just about agree that this is a medium-firm mattress, it starts off very firm and you'll need to be patient, it takes a week or two to soften from very firm to medium-firm. And the Emma website doesn't warn you that it will be quite hard at first.
Once it has settled down though, the mattress is supportive without being too hard and the triple-layered foam top provides some welcome cushioning and pressure relief. But, make no mistake, it's still a firm mattress and I would say that it'll be too unforgiving for some. If you like a good amount of bounce and luxurious cushioning, you won't find it here.
Pressure relief and support
I used a 32kg/ 70lb kettlebell to assess the sinkage and firmness. In the middle of the mattress the support is good, the kettlebell sunk about 10cm into the mattress, which isn't bad given how concentrated the weight is on a small area.
At the edge, I had to place the kettlebell almost 8 inches or 20cm back from the very edge before it would stay, any closer and it would slowly start to roll off. But having said that, when you sit on the edge, you sit at least that far back, so this felt fair. Even 8 inches back though, the edge compressed more than in the middle of the bed, with the kettlebell sinking by about 5 inches.
The corner was a different story altogether, I couldn't get the kettlebell to stay in position long enough to take a photo, it just kept rolling off and I must admit, if you sit on the corner you can feel it compressing far more than the sides.
It's also worth noting that I left the kettlebell on the bed in the same spot for about 15 minutes while writing some of this and after I removed it, the mattress was quick to spring back with no permanent dip left behind.
Breathability and cooling
The Emma mattress has a removable, washable cover that Emma claims is temperature-regulating and moisture-wicking. Furthermore, this mattress includes two layers of Emma's Airgocell foam that is designed to enhance breathability and regulate temperature by absorbing and then evaporating sweat.
I tested the mattress in autumn, so I can't tell you what it's like to sleep on in the height of a summer heatwave. But having said that, my husband is prone to overheating at night and he didn't once complain about being too warm. Having heard stories about some memory foam mattresses causing friends to overheat at night, I must admit, I was worried we would find it too hot. But we both thought that in terms of temperature, it wasn't dissimilar to our old sprung mattress. We were cozy on cold nights, but never too hot or sweaty. I should say though that we never have the heating on in our bedroom and always sleep with a window open to keep the room cool at night, so if your bedroom is warm you may have a different experience.
Motion isolation
As a 130lb person, who sleeps alongside someone who weighs around 220lbs, on some mattresses, I really notice when he moves around. On our previous mattress I would usually wake up if he got out of bed, but I noticed several times while sleeping on this mattress that I wouldn't wake up until I heard the bedroom door, which meant he had got out of bed without me being disturbed.
Of course, I still felt movement if he turned over heavily, but it was certainly reduced compared to our old spung mattress. And I noticed that when I was moving the kettlebell around the bed to assess firmness, it would topple over if I knelt very close to it, but I could bounce up and down just 30cm away from it and it would only wobble slightly.
Edge support
Having only owned sprung mattresses in the past, I was concerned that this one wouldn't have enough support for us to sit on the edge and put our socks on, but actually the hybrid construction and medium firm build means the edge doesn't collapse or over-compress when you sit on it. Likewise, sleeping at the edge felt no less supportive than sleeping in the middle. But as demonstrated by the kettlebell, the corners aren't very supportive.
Anything else?
Now, despite what I said above, the cover does have a role to play. It's moisture-wicking and zipped so that it can easily be removed. Happily, it's washable at 100°F, which is a great idea and makes it easier to keep the mattress fresh, something that'll come into its own as the mattress ages.
There are a couple of nice design features, including two big handles on each side, so it can easily be rotated. You'll need to do this monthly for the first six months, so the handles are a welcome addition. On the underside of the cover, it's non-slip to stop it from moving around on your bed base. Though I can't say how well this works as it slotted perfectly into my bed frame with no room to move around.
Would the Emma CliMax Hybrid mattress suit you?
Anyone who has been put off a memory foam mattress for fear that it'll be too soft. This hybrid mattress combines the best of both sprung and foam mattresses to deliver a mattress with more structural integrity than foam alone. This means it's a great option for heavier or larger framed people who may find a foam-only mattress that doesn't offer enough support.
If delivery of a full-size mattress will be problematic, either because you live in a top-floor apartment without a lift because your house has narrow or winding stairs, a mattress in a box is a stress-free solution to getting a new mattress.
The hybrid construction makes it supportive for most sleeping positions, though personally, I think it's better suited to back or front sleepers than side sleepers. And with two layers of what Emma calls Airgocell foam, it's designed to keep you cool by enhancing airflow and moisture wicking. As such it should be more comfortable for those prone to overheating on other memory foam mattresses.
More top mattress picks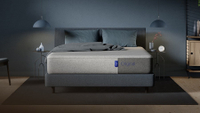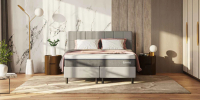 If you want something cheaper | Emma Original mattress
The Emma Original mattress is the other mattress available from Emma. Unlike the Emma Premium, the Emma Original doesn't contain springs, it's purely made of three layers of foam. This makes it a little less sophisticated and as you'd expect, cheaper. It starts at $499 for a Twin XL and goes up to $799 for the Cali King — making it one of the best cheap mattresses you can get.
Read our Emma Original mattress review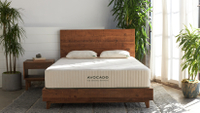 About Real Homes reviews
Helen can usually be found in the kitchen reviewing anything from air fryers to blenders and she's been reviewing household appliances as well as all sorts of other things for around 15 years since she learned her skills at the Good Housekeeping Institute.
Helen slept on this mattress for five weeks in total before writing this review. Here are her sleep stats:
• Sleep position: Side
• Insomnia: None
• Sleep problems: On/off back pain
• Average sleep time: 7-8 hours