Amerisleep AS3 Memory Foam Mattress At A Glance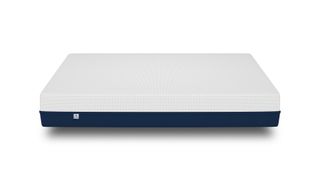 Firmness: Amerisleep rates it as "medium." My rating: 5 or 6 out of 10 on a firmness scale.
Type: Memory foam
Construction materials: Breathable exterior cover and two Bio-Pur memory foam layers on either side of the HIVE technology memory foam layer
Sizes: Twin, Twin XL, Full, Queen, King, Cal King, and Split King
Height: 12-inches
MSRP: $1,149- $2,698
American-made mattress brand Amerisleep offers a wide selection of top-quality mattresses, so how do you choose? Memory foam or hybrid? The medium-firm AS2 or the ultra-plush AS5? These are tough decisions to make, so I'm going to make it a bit easier for you with an in-depth review of the middle of the road, and most popular Amerisleep pick, the medium Amerisleep AS3 Memory Foam mattress.
Read through this review with an open mind because you'll leave with a whole new concept of what a memory foam mattress is and should be. In addition to sharing my experiences with sleeping on the mattress, I'll point out important things that you might not have considered like a warranty and a risk-free return.
Take your time reading through this Amerisleep AS3 Memory Foam mattress review so that you're fully informed before you make your big purchase. If you need further insight, refer to our best mattress guide for our top picks.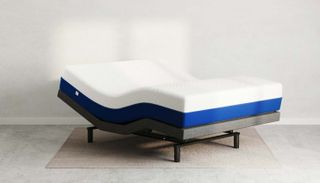 Who will the Amerisleep AS3 memory foam mattress suit?
Sleepers who like a medium firmness: Experience a weightless-like sleep on a mattress that won't let you sink too far in.
Owners with solid or slatted bed frames: Box springs are a no-no for this mattress. Adjustable bed frames and solid or slatted bases are the only way to go.
Those with body aches: The memory foam is designed to relieve pain from your pressure points.
Sleepers who don't want to wake when their partner moves: Continue to sleep soundly when your partner gets in and out of bed in the middle of the night with little to no motion transfer.
Those who typically prefer buying mattresses in-store: With a risk-free, 100-night trial, you'll feel more comfortable making this big purchase online.
WHAT'S INSIDE THE AMERISLEEP AS3 MATTRESS?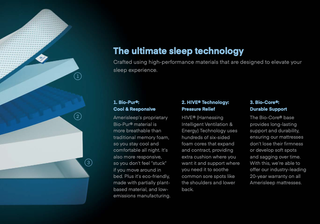 The Amerisleep AS3 Memory Foam mattress is made of a few layers. The exterior layer is a soft and breathable cover. The top and bottom layers of the mattress are Bio-Pur memory foam made from "partially plant-based sources using a zero-emission process." The Bio-Pur memory foam isn't like other memory foam in that it has an advanced-open cell design resulting in a more breathable and responsive mattress. The means that the material will 'bounce back' when you get off the bed and you won't feel like you're falling into the memory foam while moving around the mattress.
Perhaps the most important layer is the HIVE layer, found between the two Bio-Pur layers. It's designed with foam hexagons and broken up into five "comfort zones." Those zones have a little bit of extra cushion depending on what part of your body would come in contact with that zone. So the middle zone – which would support the middle and heaviest part of your body – has more cushion than the zone where your feet would be. The ultimate purpose of the HIVE layer is to keep your body aligned and relieve pain in pressure points.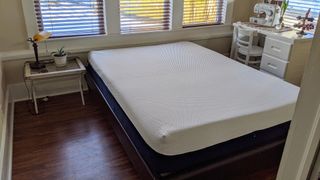 What is the Amerisleep AS3 mattress like to sleep on?
Before the pandemic, I traveled about once or twice a month to destinations around the world, so I've slept on quite a few memory foam mattresses. I found that they were far too soft, I sagged too far into the mattress, and I awoke with backaches. This is why I wasn't exactly enthused when I learned I was going to try the Amerisleep AS3 Memory Foam mattress. I expected sleepless nights and painful mornings readjusting my body. So you can imagine how surprised I was to have an astonishing experience with this mattress.
The mattress arrived in a box that had handles which made it a lot easier to move into my home and to the bedroom. My neighbor happened to be visiting so I asked for her help in pulling the mattress out of the box, though I could have easily done it by myself.
Unfortunately, when I pulled out the mattress, I didn't see an envelope that had fallen to the bottom of the box. The envelope contained a "Welcome Guide" and warranty information, as well as a handy plastic tool to help cut the plastic wrapping that covered the mattress. I didn't discover the envelope until after I had cut away the plastic with scissors. I would have liked to have used the plastic cutter to see how well it worked. Regardless, it's a really innovative detail and I appreciate how Amerisleep had the forethought to think of it.
After cutting away the plastic, the mattress unfolded on my platform bed with slats. Amerisleep suggests that the AS3 Memory Foam mattress be used on adjustable, solid, or slat beds where the slats are less than three-inches apart to maintain the integrity of the mattress. A box spring will apparently accelerate the wear and tear of this particular mattress, but since I don't own one, I didn't have to worry about that.
The 'Welcome Guide' noted that I should wait two hours before putting sheets on the mattress and eight hours for the mattress to fully expand into the corners. I decided to let the mattress expand over one night before I slept on it. The next day, it had fully expanded to its 12 inches of height. Ten-inch-tall mattresses are too short on my platform bed, so I appreciated that this 12-inch mattress contributed to an appropriate height for getting in and out of the bed comfortably.
Without touching the mattress, I could tell that the materials were really great quality. The exterior layer was soft and upon further research, I discovered that up to 15% of the mattress was made with renewable and biodegradable plant-based oil from castor beans and the foam is free of ozone-depleters and VOC emissions. I love the idea that I'm laying on something that's one of the most environmentally-friendly mattresses on the market.
I was extremely surprised when I first laid on the mattress. It didn't give as much as I thought it would. Rather, the mattress softly contoured around my body but retained a good amount of tension. In my opinion, it was about a 5-6 on a 10-point firmness scale. When I moved, I didn't sink in and I felt supported, which is great for someone like me who prefers a firmer bed. I had a friend lie on one side of the mattress and get in and out of the bed so I could see if I felt their movements and the movement was quite minimal. If I had been asleep in the middle of the night, I don't think I would feel someone moving or getting in and out of the bed – and that's coming from a light sleeper such as myself.
Whether I slept on my stomach, side, or back, the mattress gave me enough support. I never woke with any aches or pains which often happens to me when I sleep on softer mattresses. The only drawback to my experience sleeping on this bed was how hot I got at night.
The first time I slept on this mattress, I instantly noticed that it was much warmer than other mattresses I've reviewed. I actually exclaimed, "oooh!" in excitement because it was so warm. I'm one of those people who wear gloves and socks to bed because I have a hard time falling asleep if I'm cold. Glad for the warmth, I snuggled into the mattress and fell right asleep. However, a little past midnight, I awoke because I was extremely hot.
I was quite surprised that this happened to me for a few reasons. For one, I tried out this mattress in my guest bedroom which is located in a part of my house that was converted from a patio. The insulation in that room is pretty non-existent — and it doesn't help that the room has four windows and a door that leads to my front porch where cold air seeps through. It is the coldest room in my entire home. I'm always cold sleeping in that room, so for me to be hot, was abnormal. (Note: I've reviewed three mattresses for Real Homes, and all of them were experienced in this same room. This is the only mattress in which this has occurred for me. The other two mattresses were hybrid mattresses; this is the first memory foam mattress I've reviewed.) I even checked my temperature, and I didn't have a fever. The pajamas I wore were long in terms of sleeves and pants but they weren't very thick.
According to the Amerisleep website, the Bio-Pur memory foam that is in the mattress is supposed to be considerably cooler than regular memory foam. The open-cell design is supposed to wick warm air away, prevent heat buildup, and make it a more comfortable mattress for those who are hot sleepers. I'm not a hot sleeper, so I couldn't understand why I felt so hot.
I tried wearing long pajamas another night but woke up hot again. The only way that I could comfortably sleep on this mattress was in boxers and a tank top or wearing nothing at all (perhaps TMI, but I'm trying to be honest here).
Do I think the Bio-Pur memory foam keeps heat away? Yes, comparatively to other memory foam mattresses. However, it is still a memory foam mattress, and compared to hybrid mattresses, which Amerisleep does offer in the AS3 model, the memory foam is going to create a warmer sleep experience. You could mitigate this by the clothes you wear (or don't wear) at night, purchasing the Amerisleep Tencel sheets which are designed to be more breathable, or using thin bedding (so no comforters).
In terms of tension, I found the Amerisleep mattress to be extremely comfortable and a good combination of soft and firm to ensure a good night's sleep. I'm glad I tried this mattress because I learned that memory foam technology has improved considerably over the last 10 years, resulting in such a product as the AS3 Memory Foam mattress that offers a top-quality sleep experience.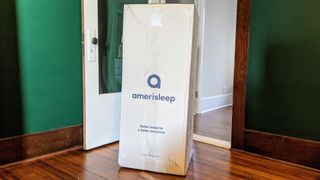 How does the 100-night risk free trial work?
The 100-night, risk-free trial begins as soon as the Amerisleep mattress arrives on your doorstep. If you order an Amerisleep adjustable bed too, the trial won't begin until both items are in your possession.
Unfortunately, you'll have to wait 30 nights in order to receive a free exchange or return. Your body does take some time to get used to a mattress, so Amerisleep wants customers to be patient and wait 30 days to see if their body adjusts to the bed. If you dislike the mattress and want to exchange or return it before the 30 nights, you'll be charged a $99 processing fee.
If you choose to return your mattress, Amerisleep will coordinate with you to donate the mattress to a local charity or organization.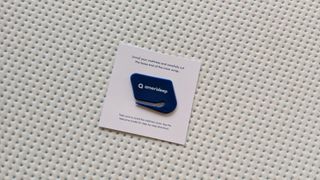 Ordering, delivery, and warranty
Ordering a mattress through the Amerisleep website is simple. After you enter your email address, you'll input your address and payment details. No matter the mattress you choose, shipping is free through FedEx. However, Amerisleep does not ship to those who live in Alaska and Hawaii (or outside of the U.S.). The only way to order and receive a mattress to such destinations is for the customer to coordinate with a freight forwarder.
According to the website, shipping can take 5-7 business days, though when I put my address in, Amerisleep informed me that it could take 7-13 business days. I was also notified on the order page that shipping delays are occurring due to the pandemic.
As for the warranty, Amerisleep provides a 20-year limited warranty. The first 10 years are a full replacement warranty, so if the mattress has structural or manufacturer defects like cracks in the foam or loose seams in the cover, you'll receive a repair or replacement. Amerisleep will also cover all the shipping fees and costs. If any of this occurs during the second 10 years, Amerisleep will only cover 50 percent of the replacement cost, and you'll have to pay for shipping.
When it comes to the warranty covering the memory foam, this is where things get a little tricky. If the mattress has a visible indentation in the middle (not near the edges) that is three-quarters of an inch deep, you could qualify for a replacement under the warranty.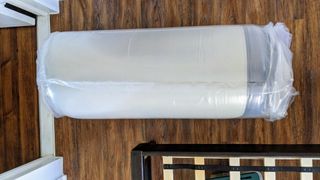 How does the Amerisleep AS3 Mattress rate online?
I was not surprised to learn that the Amerisleep AS3 Memory Foam mattress has a 4.8-star rating (out of 5 stars) on their website. The rating is a result of 6,655 reviews by customers.
Many reviewers noted how the mattress helped with the pain they had in their spine, back, and legs. I did read a few reviews that mentioned how the mattress firmness has held up between 2-4 years after purchase.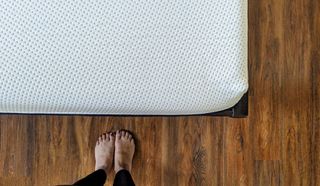 Is the Amerisleep AS3 Mattress worth it?
My answer is a resounding yes. I found the AS3 Memory Foam mattress to be incredibly comfortable. Amerisleep has taken considerable effort to create a luxurious sleep experience on this American-made mattress. Might you get a little warm sleeping on this mattress? Sure, but there are so many ways to minimize that effect so that it isn't an issue.
In my opinion, a great mattress is one in which treats your body kindly while you sleep and doesn't cause any pains or aches once you've awakened. The Amerisleep AS3 Memory Foam mattress goes a step further and takes away your pain which makes it a winner in my book.
ABOUT THIS REVIEW AND THE REVIEWER
Alex's Sleep Stats
- Sleep position: I usually fall asleep on my stomach, but you could call me a Flexi-sleeper because I do occasionally sleep on my back and side.
- Insomnia: not usually, though sometimes it can take me an hour to go back to sleep if I have a lot on my mind
- Sleep problems: I have difficulty getting a deep rest with someone else in the bed. I also can't sleep on a mattress that is too soft.
- Average sleep time: 8-9 hours
Alex Temblador is one of Real Homes' mattress experts — which is a good role for someone who needs over 8.5-hours of sleep each night. The Dallas-based freelance writer has covered home, design, architecture, and art in publications like Real Homes, Dwell, Architectural Digest, Artsy, Neighborhoods.com, Culture Trip, among many others. She recently bought her first home, a green Sears & Roebuck house that's over 100 years old, sits on half an acre of land and features a stunning wraparound porch, original hardwood floors, pocket doors, and a butler pantry. In addition to her mattress reviewing duties, Alex loves to try other products for Real Homes buying guides and reviews so that she can continue to expand the richness of her first-time homeowner life. When she's not sitting on her porch with a cup of tea and her laptop, you'll find the Mixed Latinx writer scrounging through estate sales and vintage shops looking for unique objects to bring 'The Starlight House' to life.
As with all our reviews, the Amerisleep AS3 mattress has been tested first-hand in our home, using it just as you would so you know exactly what you are buying. The products are given to us free of charge and we test them for as long as possible before sending them back to the brand unless we are able to keep it as we are with this mattress. This means that we can continue to use the product which gives us the opportunity to return to our reviews for updating, so you can keep up-to-date with how it's fared over a period of time.
MORE MATTRESS REVIEWS
MORE ON MATTRESSES