The idea of shopping for a mattress truly makes me cringe. I struggle with the prices and choosing the perfect mattress that will support my husband and me comfortably for as many years as possible. The opportunity to avoid the shopping hassle and excessive costs with Siena, the sister brand of the popular Nectar mattress, sounded too good to be true. As much as I wanted it to be possible, I was skeptical. How could a mattress that I've never even tried arrive at my door and make me happy? Especially if it arrives in a box? And considering it's a fairly cheap mattress, I was even more worried. But, since it was backed by a 180-night trial with free shipping and returns and a 10-year warranty, I felt secure making the leap.
After sleeping on the Siena Memory Foam Mattress for over three weeks, I have learned quite a bit about mattresses, what my body really needs, and even what makes my husband sleep better.
Keep reading for all the details about the Siena Memory Foam Mattress to see if this low-price option makes the cut for our best mattress guide and for you.
About our reviewer and the review
One of my favorite places in the world to be is in my cozy bed. As a back and side sleeper with occasional back pain, married to a stomach sleeper with occasional back pain, finding the perfect mattress has always felt complicated. After over three weeks on the Siena Memory Foam Mattress, I am happily sleeping soundly every night and waking up pain-free.
As with all our reviews, the Siena Memory Foam Mattress has been tested first-hand in my home, so you know you are getting honest input from someone who has used the product. My husband and I slept on this mattress for over three weeks before I wrote this review. The products are given free of charge and we test them for as long as possible before sending them back to the brand unless we can keep them, as we are with this mattress. This means that we can continue to use the product, which allows us to return to our reviews for updating, so you can keep up-to-date with how it's fared over a period of time.
Siena memory foam mattress specs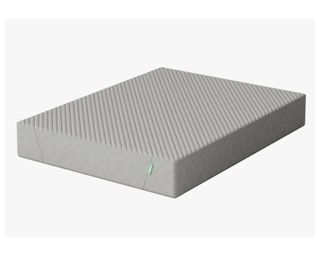 Firmness: Medium-firm
Type: Memory foam
Sleep Position: Perfect for all sleepers — side, back, and even stomach
Materials: Gel memory foam, transition foam, polyfoam base, and poly-blend top cover.
Sizes: Twin, Twin XL, Full, Queen, King, Cal King, Split King, and Split Cal King
Height: 10"
MSRP: $299–$599
Trial: 180 nights
Warranty: 10 years
Siena Memory Foam Mattress construction and design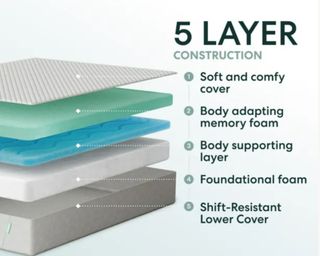 The Siena Memory Foam Mattress may be less expensive than its competitors and one of the cheapest mattresses on the market, but it doesn't sacrifice quality. Five thoughtfully constructed layers ensure comfort and support that helps you sleep well all night.
The soft, quilted cover lies flat and helps keep you cool as you sleep. Next, the 2.5 inches of gel-infused, polyurethane memory foam responds and adapts to your body, cushioning you and relieving painful pressure points. The 2-inch polyfoam layer provides support while giving the mattress breathability. The foundation, a 5.5-inch base layer, is a denser version of polyurethane foam, giving the structure and longevity you need in a mattress. Finally, the bottom cover helps the mattress stay in place, preventing shifting and sagging.
Who will the Siena Memory Foam Mattress suit?
Sleepers of all positions: Siena supports back, side, and stomach sleepers, or any combination of sleep positions.
Those looking for a medium-firm mattress: The sweet spot for comfort and support.
Those on a budget: With a price range of $299 (twin) to $599 (king & California king), Siena offers value without the high price tag.
Those looking for minimal motion transfer: The lack of springs combined with the motion-reducing foam provides a stable, bounce-free sleep if you sleep with a partner.
Those who want to sleep cool: The construction of the mattress wicks away body heat and helps the mattress breathe.
Setting up the Siena Memory Foam Mattress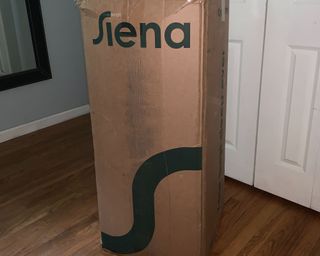 As a first-time bed-in-a-box purchaser, I was unsure what to expect. Would I be able to lift the box? How hard would it be to setup? And would it really result in a quality mattress I could sleep well on?
I was pleasantly surprised at how simple and accessible the process felt when my box arrived. At 85 pounds for the king size, it was a bit heavy to get in the house on my own, but I was able to shimmy it in the door until my family was home to give me a hand.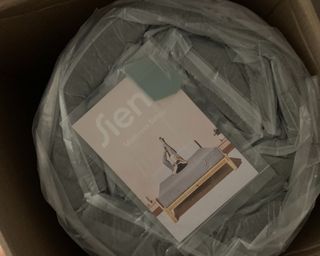 Once we got it into my room, I opened the box and was happy to find simple setup instructions right on top. With a simple note from the Siena team and five steps to follow, I was confident we could do this in just a few minutes. We started with unboxing, using the tips the brand recommended.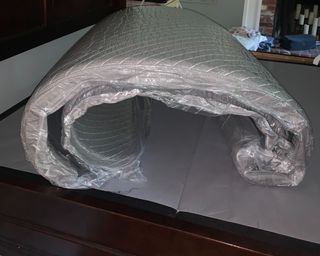 Then, we removed the plastic cover so the mattress could expand. Step three explained that it takes 24 hours to fully expand but advises that you can sleep on the mattress after just 3–5 hours. I had set mine up in the late morning and it felt perfect by bedtime.
I also loved the little note for step three to "Go make yourself a hot chocolate" while you wait. It may not have anything to do with the mattress itself, but working with a company that cares about personal connection goes a long way.
Steps four and five are all about getting good sleep and recycling the packaging. I was pleased to find that all the packaging was fully recyclable in my area.
The process was simple, faster than I expected, and a lot easier than shopping for a mattress in a store.
Sleeping on the Siena Memory Foam Mattress
This is where I have mixed feelings. Not because the mattress is uncomfortable, but because it is different than a traditional innerspring mattress. I initially missed the squishy coziness of my former mattress, but the deeper, more restful sleep I've had with Siena is worth it.
The website likens sleeping on Siena to sleeping "like an exhausted bear in winter" and it's the perfect way to describe it. Even if I do wake in the middle of the night to use the bathroom, I come right back and fall asleep right away.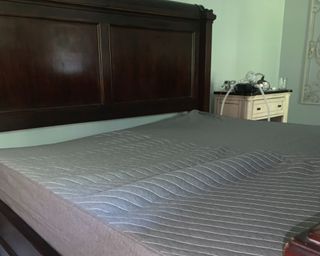 Comfort and firmness
My last mattress was an innerspring mattress with a plush pillowtop. This made it feel very soft to lay on. I don't find the Siena comfortable in a soft, squishy sense when you first sit or lie on it. I expected memory foam to be squishy, however, the mattress felt very firm in comparison to my old one.
What it lacks in that initial coziness, it makes up for when I go to sleep. From day one, my husband and I both felt that we fell asleep quickly and slept more soundly than we had on our previous mattress. Neither of us woke up feeling sore or in any pain.
Pressure relief
The firmness of Siena feels very supportive from the moment you sit on it. The mattress feels solid and substantial without being hard and heavy. This was a welcome feeling for my back, which sometimes gets sore by the end of the day.
That support combined with the responsiveness of the foam helps keep your spine aligned as you sleep without putting added pressure on common points like your shoulder and hip. When everything is aligned and supported, you get better sleep.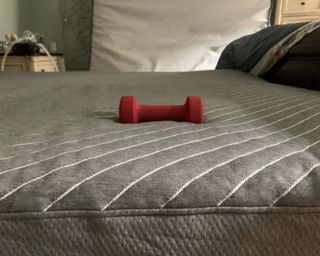 Edge support
This is one area that could use some improvement. Because I sit on my bed on a daily basis, I noticed the softness of the edges. It almost makes me feel like I'm going to slide off the bed. The structure is different than my old mattress, and I find it more comfortable to sit fully on the bed instead of hanging my feet off the edge like I used to.
Is it cooling?
The design of the foam layers, including the cooling ripples in the middle foam layer, allows for breathability within the mattress. This, combined with the breathable cover helps keep me cool and prevents overheating in the middle of the night.
Motion isolation
There's nothing like falling asleep only to be woken when my husband rolls over. Since we have slept on the Siena mattress, this has not happened one single time. It's almost like you're sleeping alone.
Ordering and delivery
The Siena website is easy to navigate and guides you through ordering, with the option of a live chat specialist to help. Shipping is free and the order arrives within three days. I was able to track my order and had no issues at all.
You can also order extras like different kinds of bases, covers, sheets, and pillows, which is convenient if you need more than just the mattress.
Things to note:
The box is heavy and you may need help getting it inside and setting up the mattress.
Remove your old mattress and have it completely out of the way before you open the new mattress
Siena trial and warranty
The trial period and warranty made me feel much more comfortable with my purchase. Siena knows what people are looking for when shopping online for a mattress, and it delivers on its promises:
Free shipping and returns: This made ordering feel less risky, especially for a big purchase.
180-night trial: You can sleep on the mattress for a full 180 nights to decide if it's right for you.
Easy returns: If Siena isn't right for you and you decide to return, there is a simple three-step process of emailing or calling, Siena helping find a donation center, and receiving a refund.
10-year warranty: Siena will replace or repair your mattress for 10 years (and sometimes longer). Ten years is longer than the life of the average mattress. Knowing that Siena backs their products for a full 10 years made me confident in my decision.
How does Siena rate online?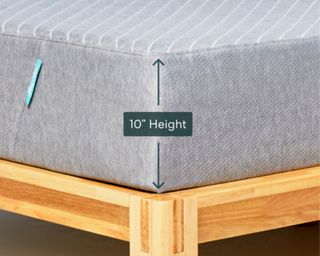 On the Siena website, the mattress has 435 reviews, 328 of which are five stars. There are only 20 reviews that are three or fewer stars, and in many of those cases, Siena replied with help to make the customer happy.
Some customers reported the mattress being too hard or too soft. This seemed like a subjective issue that is based on personal preference. Even reviews commenting on comfort issues had responses from customer service.
The remaining reviews all shared positive experiences of increased comfort and affordability. Other common comments included great sleep, minimal motion transfer, gentleness on pressure points, and lack of odor.
How does the Siena compare to the Nectar?
As the sister company to Nectar, Siena has a lot in common with the popular mattress brand. We've also reviewed the Nectar memory foam mattress. They both offer medium firm support, good for a variety of sleep positions.
I think of Siena as the economic version of Nectar. It has the same basic concepts without some of the more expensive features. Nectar, for example, may be better suited to heavier-weight sleepers because it offers more support and will hold up better over time. Nectar also has different technology that allows for increased breathability and cooling.
What Siena offers, however, is affordability. The basic memory foam mattress from Nectar ranges in price from $399 to $1,138 while Siena is much cheaper ranging from $299 to $599.
Is the Siena Memory Foam Mattress worth it?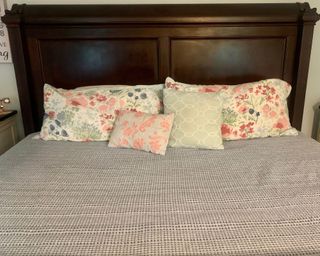 As with anything, you should know what you are buying. Is Siena a top-tier luxury mattress? No. But you're not paying top-tier luxury mattress prices. Siena provides a solid-quality mattress to your door at a very reasonable price among the best cheap mattresses.
I can honestly say, I would not hesitate to purchase another Siena mattress. Given the price point, I feel comfortable with what I am getting and the ease of the shopping process. Did this mattress transform my life? Maybe not. But does it help me sleep well without spending a fortune? Absolutely.
More mattress reviews