Best mattress for back pain: Quick Menu
We take back pain very seriously at Real Homes. We might be young, but most of our team has suffered from it at some point in their lives. While the cure to everyone's back pain might not be replacing their mattress, for most people it can definitely help. You might not know it right now, but you're probably sleeping on the wrong mattress for your sleep position. So, let us introduce you to the best mattresses for back pain.
From tossing and turning at night to waking up sore, there's no need to put up with sleeping on a bad mattress — or the wrong one. And if yours is old, the fact it's causing you pain is a sign it needs to be replaced. A good mattress for back pain sufferers needs to offer three things: support, comfort, and the right firmness. By that, we mean that stomach sleepers should go for something firm, side sleepers something soft, and back sleepers can play it safe with something in the middle. The most important thing is that your spine is kept aligned at all times while you sleep, so unnecessary pressure isn't piling up on your body.
A bunch of these mattresses we've listed below are convenient mattresses in a box, but our top pick overall, doesn't come in a box. It's a hybrid Saatva that comes in three firmness levels, so it can be totally tailored to the way you sleep. Read more about it below, or keep scrolling further down the page for six more mattresses we've tested, all of which are also great for back pain.
This is the best mattress for back pain
Why you can trust Real Homes Our expert reviewers spend hours testing and comparing products and services so you can choose the best for you. Find out more about how we test.
Best mattress for back pain in 2023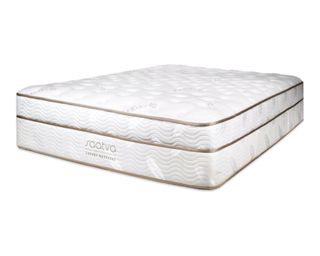 We know that the Saatva Classic Mattress is expensive, but it's totally worth it if you're waking up every morning with a sore back. It's a classic for a reason, and it's even chiropractor recommended. Our reviewer Jaclyn sleeps on her back and tested the Luxury Firm version of this mattress. As a hybrid mattress, she claims it's better for support and airflow than your standard memory foam pick.
Buy this mattress if:
You've got a (fairly) large budget to spend. You can completely tailor it to your sleep position thanks to the fact it comes in three firmness levels and two depths. If you sleep on your stomach, go for the firmest level. If you snooze on your back go for the medium option, and opt for the softest pick if you're a side sleeper. Jaclyn compared this mattress and its pillow-top layer to a high-end hotel bed and loved its cozy, sink-in factor. If you need extra support, spinal alignment, or pressure point elimination (which we're assuming that you do) its innerspring layer helps hugely. Hot sleeper or not, it excels in airflow. And don't get us started on edge support — its dual-reinforced perimeter means this mattress offers the best edge support it can.
Avoid this mattress if:
You're on a budget as it starts at $1,095 for a twin size. If you're a seriously light sleeper, then do know that its motion transfer isn't the worst but ultimately wasn't the best when we tested it. If you want a mattress in a box, then this isn't for you as it doesn't come rolled or packaged.
Why it's good for back pain
Combining the best features of innerspring with cushioning foam layers results in superior spinal alignment. The individually wrapped coils have a responsive dual-coil design made of recycled carbon steel that's tempered three times for extended durability because we all know a sagging mattress can wreak havoc on your back. In fact, the coils are even stronger in the center to keep you aligned. The Classic also has reinforced lumbar support in the center third of the mattress (it's called Lumbar Zone Active Spinal Wire). This fancy feature is built into the foam and helps maintain spinal alignment, elevate hips, and relieve pressure.
Good to know
Speaking of delivery, not only does it come with free white glove shipping, but it's made from top-quality materials like eco-friendly CertiPUR-US foam, organic cotton, and recycled steel coils (which explains its price point). Oh, and you get a 365-night trial and a forever warranty. FYI: Most customers find the medium-rated Luxury Firm version to be ideal. You can also choose from two depths, including 11.5 inches and 14.5 inches — the latter has side handles and requires deep-pocket sheets, BTW.
Though expensive, you can usually save a little when you buy direct from Saatva.
Read our 4.5-star rated Saatva Classic mattress review for more.
---
More mattresses for back pain
What to consider when choosing a mattress if you get back pain
What's it made of?
Hybrids, memory foam, and latex mattresses offer the most support if you suffer from back pain.
How firm is it?
Here, you'll really need to consider your sleep position as it will influence the level of firmness you should be buying. Side sleepers and lightweight sleepers will typically want a soft bed; back and combination sleepers and midweight sleepers will benefit the most for a medium, and stomach and heavyweight sleepers function best with a firmer design.
Does it come with a sleep trial?
These are incredibly useful if your new mattress turns out to do the opposite of what you expected. We recommend giving it at least 30 days before you make up your mind; it can take that long for your body to adjust!
Does it come with any extra features?
Support is the number one priority for back pain, besties! After that, consider any bonuses you'd like to see in your mattress, such as cooling properties, edge support, organic materials, or motion isolation.
How we test mattresses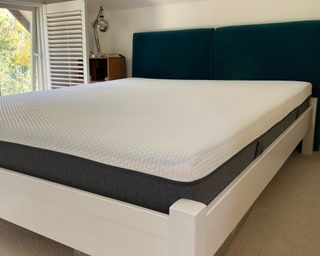 We've tested more than 20 mattresses at Real Homes, with lots more currently in review. We try to keep up with the latest releases while thinking about each mattress' price, warranty information, and trial period in order to ensure our best mattress picks are all competitively compared. Once we've chosen the mattresses we want to review, we will fit this mattress with the perfect reviewer based on its material and sleep position. These mattresses are often given to us free of charge to review, and so that we can update our reviews after sleeping on them for six months, a year, and longer. All of our mattresses have been reviewed for a minimum of two weeks, but four weeks is now our standard for newer reviews.
Each ranked mattress on this best list has been personally reviewed by members of our team, who take into account value for the money, construction, comfort, and support, with various tests in place to consider factors like edge support, motion transfer, and spinal alignment. Now, we understand that mattress firmness is subjective, so we also ask each reviewer to be transparent about their sleep habits, as well as invite others to sleep on it and share their impressions. Where we can, we've had these mattresses tested by people who actually suffer from back pain.
We have an entire page dedicated to our mattress review process if you want to know more, otherwise, you can meet our mattress reviewers just below.
Meet our mattress reviewers:
Jaclyn lives in Georgia and was previously the sleep editor across the homes titles at Future, including Real Homes, where she specialized in a variety of topics ranging from mattresses to bedding. She has also written for Apartment Therapy, MyDomaine, and The Spruce. From this list, she has reviewed the Saatva Classic Mattress.
Jaclyn's sleep stats:
• Mattress review count: 2
• Sleep position: Back
• Insomnia: No
• Sleep problems: Trouble getting out of bed in the morning
• Average sleep time: At least 8 hours
Alex is one of Real Homes' expert reviewers. The Dallas-based freelance writer has covered home, design, architecture, and art in publications like Real Homes, Dwell, Architectural Digest, Artsy, Neighborhoods.com, and Culture Trip, among many others. She's a real thorough tester, and from this guide, she has tested the Allswell Mattress.
Alex's sleep stats:
• Mattress review count: 6
• Sleep position: Flexi (front, back, and side)
• Insomnia: Not usually
• Sleep problems: Difficulty getting a deep rest with someone else in the bed. Can't sleep on a mattress that is too soft
• Average sleep time: 8–9 hours
Midwestern freelancer Courtney is a working mom of three who loves nothing more than a good deal. Equal parts entrepreneur and family gal, she believes hard work deserves to be celebrated. She reviewed the Helix Midnight Luxe and the Nolah Natural Mattress 11" from this guide.
Courtney's sleep stats:
• Mattress review count: 2
• Sleep position: Side with one knee hiked up, arms up above head
• Insomnia: No trouble falling asleep, but once awake that's it
• Sleep problems: Sweaty Betty and tossing and turning
• Average sleep time: 6–8 hours
Linda is our freelance sleep expert and has been reviewing mattresses for Real Homes since 2018. Based in the UK, she reviewed the Nectar Original Mattress for us.
Linda's sleep stats:
• Mattress count: 24
• Sleep position: Falls sleep on side, rolls onto back.
• Insomnia: At certain times of the month, insomnia hits for about three nights. I can be awake for three to four hours.
• Sleep problems: Night sweats are also bad news as I navigate the giddy fun of peri-menopause, again just for two to three nights a month.
• Average sleep time: 7.5–8 hours
Kaitlin used to be the editor-in-chief at Real Homes a few years ago, but now she is one of our freelance reviewers who tests products for us, which includes mattresses. She's also written for Architectural Digest, Martha Stewart Living, Refinery29, Modern Luxury Interiors, Wayfair, The Design Network, and lots more. She graduated from Northeastern University with a degree in journalism and currently lives in Connecticut with her husband, two sons, and black lab. She reviewed the all-natural Birch Mattress for us and loved it.
Kaitlin's sleep stats:
• Mattress review count: 1
Helen can usually be found in the kitchen reviewing anything from air fryers to mattresses and blenders. She's been reviewing household appliances as well as all sorts of other things for around 15 years since she learned her skills at the Good Housekeeping Institute. So far, Helen has only tested the Emma CliMax mattress for us, but there's more to come.
Helen's sleep stats:
• Mattress review count: 1
• Sleep position: Side
• Insomnia: None
• Sleep problems: On/off back pain
• Average sleep time: 7-8 hours