Looking for garden screening ideas? There are all sorts of ways you can create a private space outdoors – from planting trees to climbers. But if you're in a hurry, you'll love some of these ideas, too: they provide instant privacy around your patio, deck or even balcony. 
For more garden ideas and advice, go straight to our hub page. And if you're looking for more ways to create privacy in your garden, don't miss our feature.
1. Go for bamboo – sustainable garden screen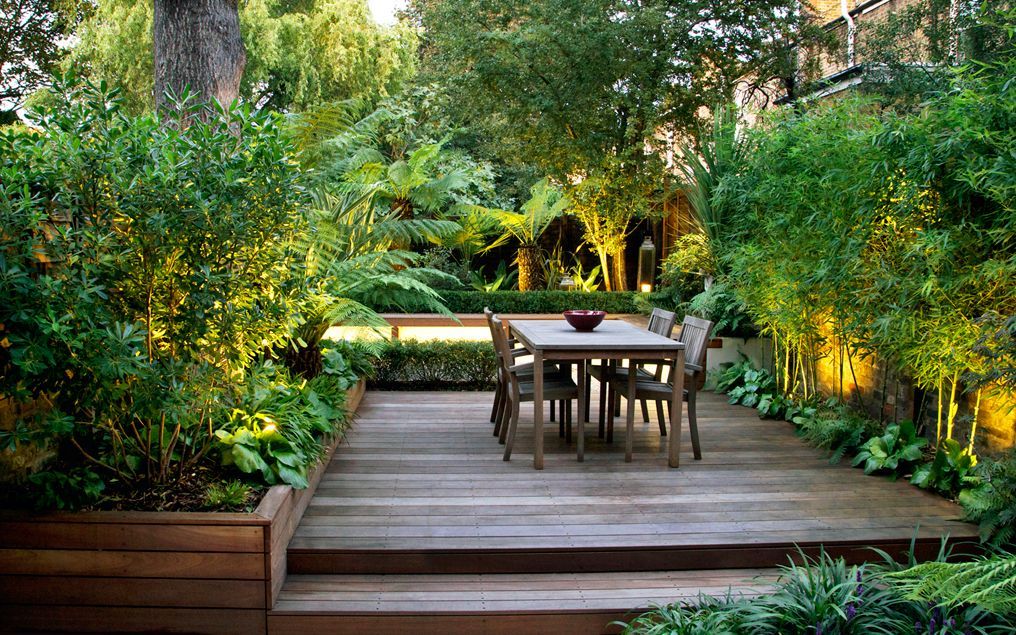 Bamboo grows really fast and makes for wonderful garden screening. It's a brilliantly sustainable material and our top pick for fast screening. However, if you can't afford large plants and need to start off with smaller specimens that will grow to the right height to give you privacy over the next couple of years, bamboo cane screening, like that above from Thompson & Morgan (below) is a great place to start. It will withstand the worst of the British weather, for many years to come, too. A bamboo slat fence likes this costs just £16.99 for a 4m x 1m length; other sizes are available. 
Don't just use it for privacy screening: It can be used to create attractive boundaries and hide unsightly walls, fences and bins as well as adding privacy for hot tubs and spas. You can use it to create separate areas in your garden and add classic natural beauty. It is very easy to install, simply unroll and attach it to the area that needs covering. 
2. Extend your view with see-through garden screening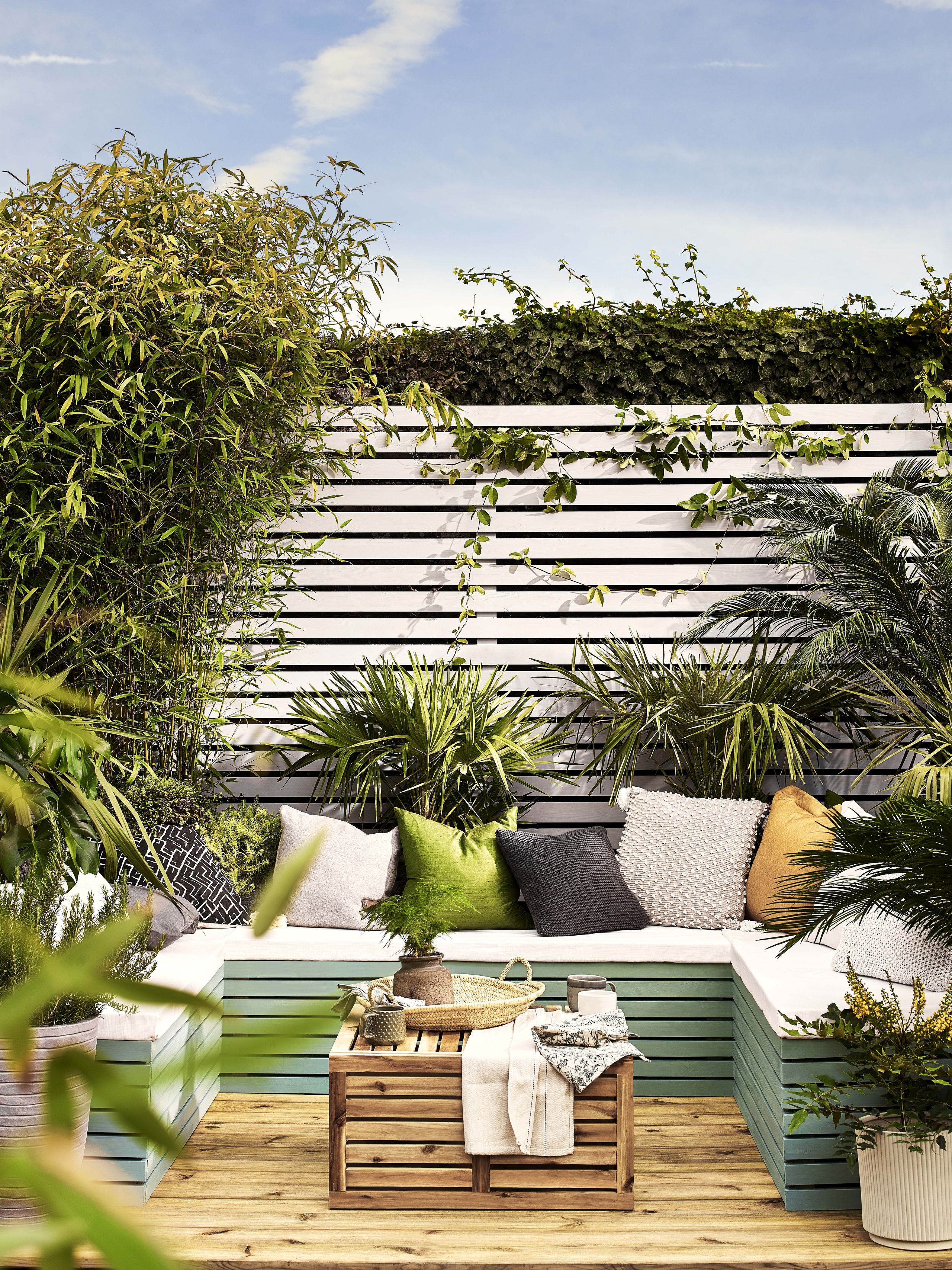 An easy way to create screening that isn't a solid fence is to put up a see-through screen, such as a slatted panel, which shows off the view beyond your garden or patio. Why do this? If your garden is small and the view beyond is quite green, it gives you what's called a 'borrowed view' – a classic garden design trick to make your space feel bigger.
3. Use fake greenery to create a verdant garden screen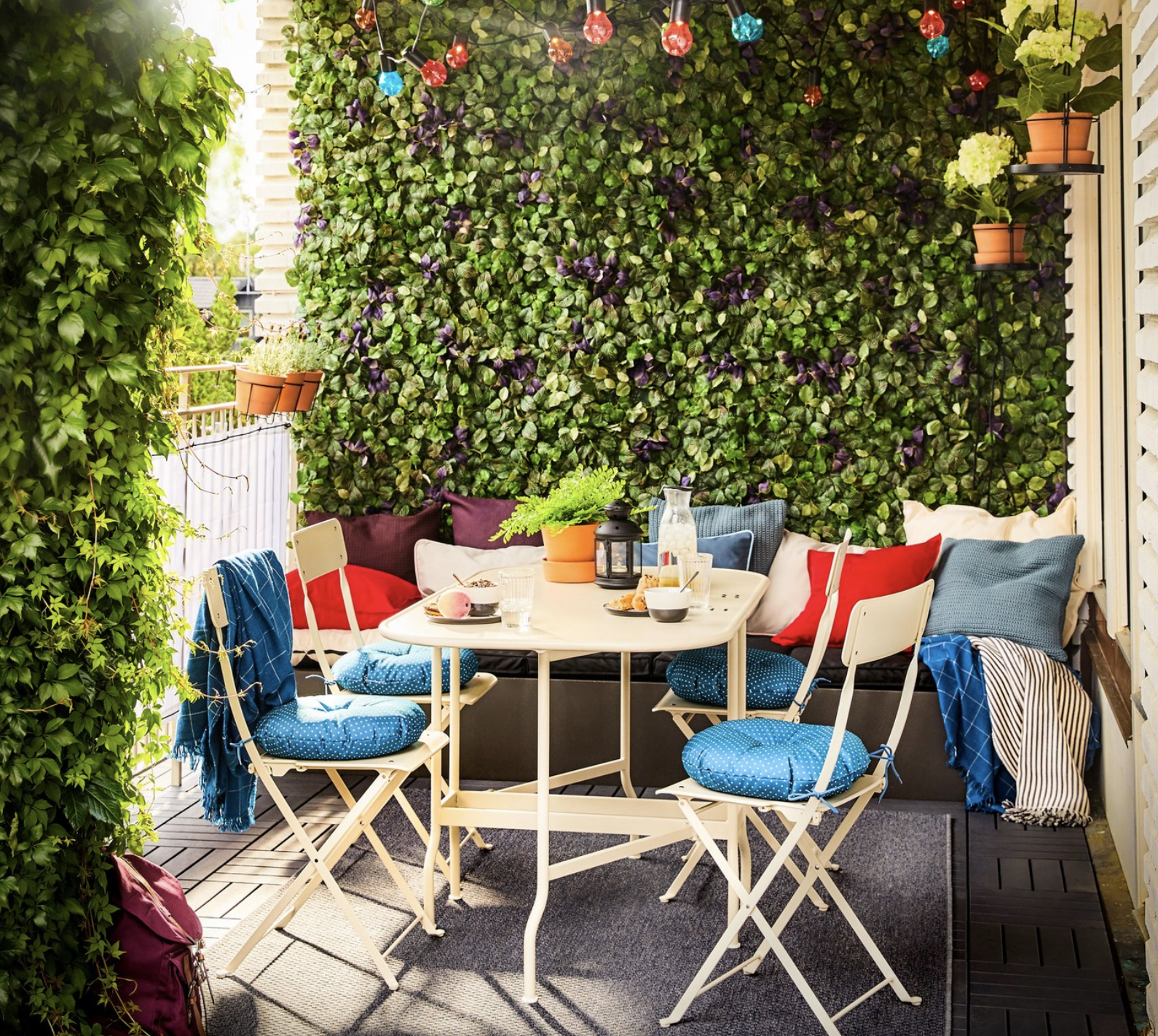 Now this is a clever idea. If the screening you've already got is an ugly wall or fence and you need a quick, green fix, particularly in a space that doesn't get much sunlight, or that has a solid surface with little room for large pots, artificial plant panels are the way to go. Better still, you can weave real plants through them as climbers in narrow pots to create a more natural look. Fejka artificial panels, 26cm x 26cm, £3 each, Ikea. 
4. Use composite garden screens as a durable fence
Looking for durable, weather-proof garden screen ideas? These are great. They're see-through, so don't block light or views, so can be used to divide a large garden or simply provide privacy around a patio that's overlooked. Above, this composite fence is by Screen With Envy; 6ft x 3ft panels cost from £85. Below, this Neva composite fencing is by B&Q.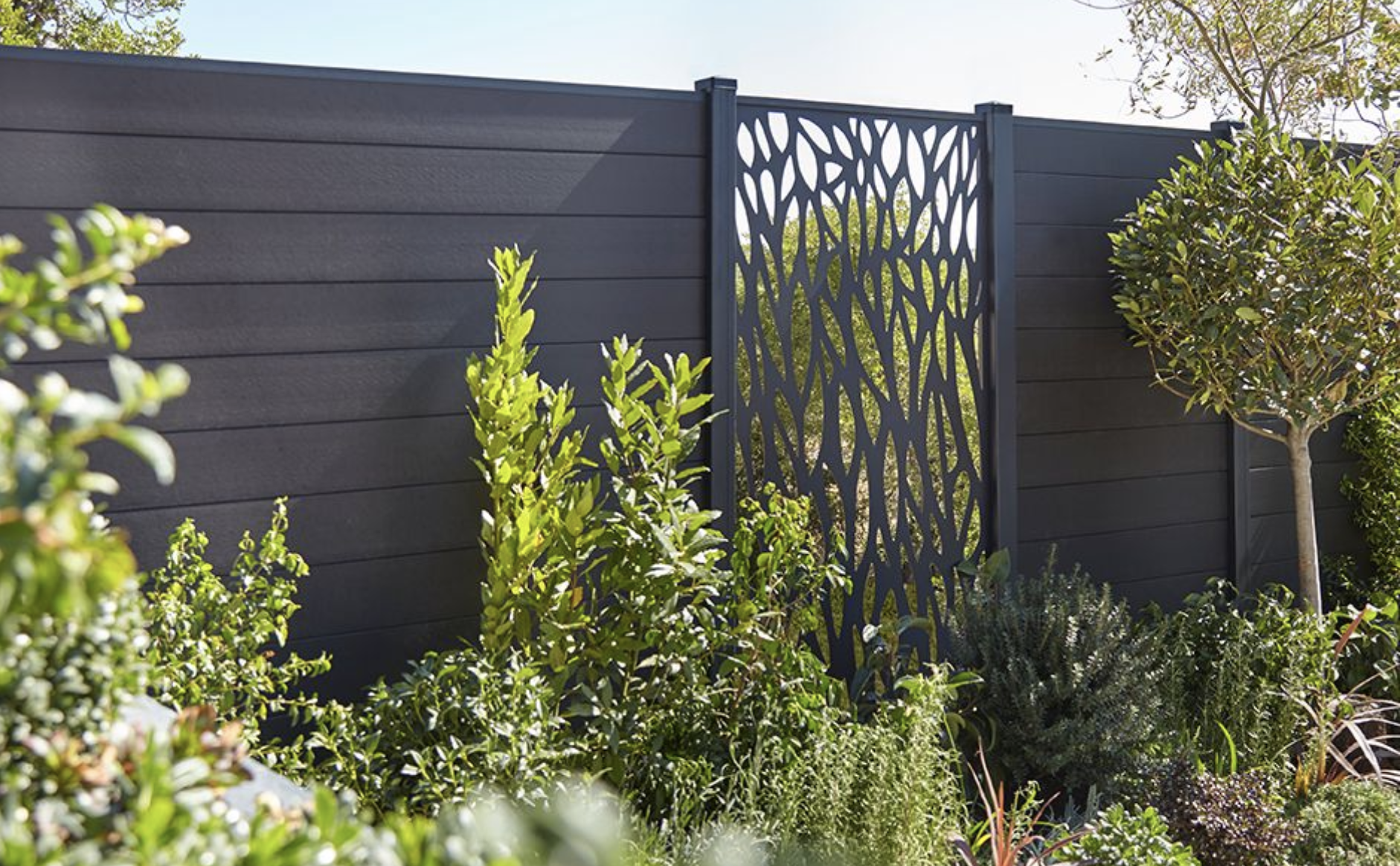 5. Build a pergola to screen from upstairs neighbours
A pergola, whether with a roof, covered in climbers or simply painted a pretty colour, will provide privacy for anyone sitting below it from anyone looking down from above – perfect if your garden is overlooked by upstairs neighbours. The good news? Pergolas can be DIY constructed and there's a pergola kit at B&Q that costs just £60. Take a look at our guide to how to build a pergola to find out more.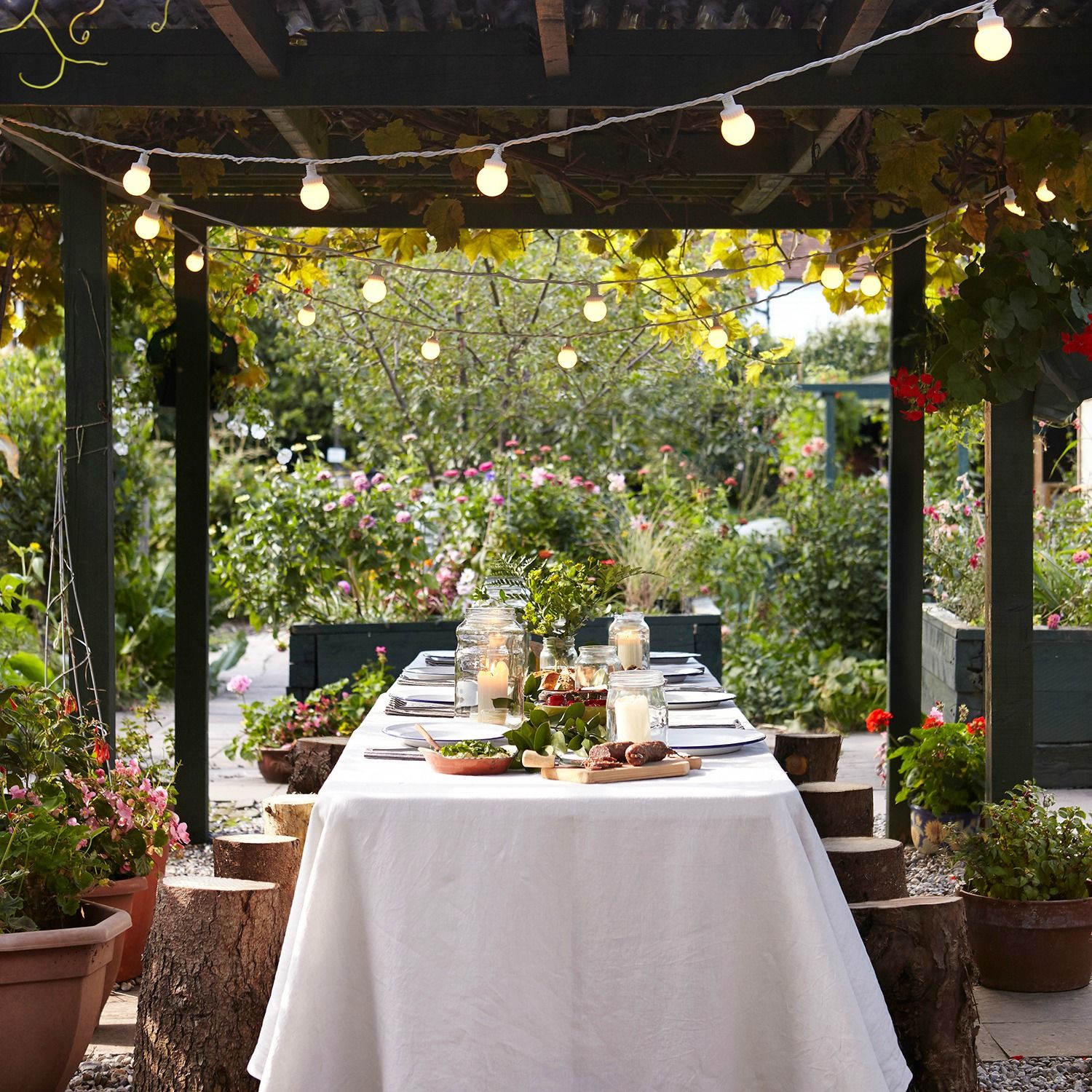 6. Make the garden screening idea the focus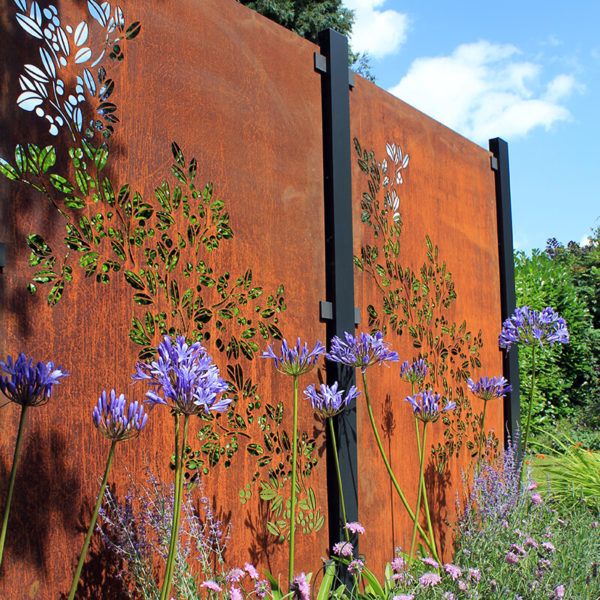 Love, love, love this garden screening idea. It does the job of screening, creates beautiful colour and texture and makes a great backdrop to show off your planting. Other finishes are available but we think this rusty look is tops. Drift Decorative Screening Fence Panel In Corten Steel, around £373, Primrose.
7. Use a garden screen you can move to suit your needs
This outdoor privacy screen has to be the easiest, quickest of ideas. Move it to suit your needs and even to shade you from the sun, it's weather-proof but would look good indoors too. Win win. SLÄTTÖ privacy screen, outdoor, black, brown stained, 211cm x 170cm, £75, Ikea.