If you're thinking about restoring or remodeling your house, home renovation costs are one of the biggest considerations. Taking an old or dated home back to its former glory is not a job for the fiscally faint-of-heart, and if you're hoping to live in the house for years to come and make it a beautiful, functional home for your family, you'll need to take the time to restore it properly. Even making changes to a home built in the last few decades could pose financial hurdles for the uninitiated.
So how can you update your space without bankrupting yourself in the process?
To help you allocate funds without blowing your budget, here's a handy guide to budgeting for renovation costs, and a breakdown for completing the most common projects.
And when you're set with your home renovation budget, check out our step by step guide to renovating a house.
Renovation budget basics
1. Renovation costs go beyond labor and materials
When putting together your renovation budget, don't forget to factor in hidden or additional fees outside of standard labor and materials. Things such as design work, obtaining permits, securing financing or conducting surveys will all add to the bottom line.
It's also a good idea to look into your current insurance policy to see if your renovation will be covered under your existing plan. Regular homeowners insurance will not always cover a large-scale renovation project – especially if the property will be left vacant for some time. If this is the case look for insurance that covers empty buildings, or even site insurance. Once your renovation is done, you may also need to up your homeowners insurance policy if the renovation has significantly altered the value of your home.
2. Pad your budget, especially for older homes
It always a good idea to pad your budget by at least 10 to 15 percent when renovating, especially if you live in an older home that may have hidden issues.
Bob Ernst, owner of Boston-based FBN Construction, points out, "Older homes have systems and infrastructure that often don't meet current codes, efficiency expectations and/or need to be remediated in terms of lead paint or pipes, asbestos, etc. These are costs that most people aren't excited about, but are nonetheless required in many cases." Oftentimes, these issues won't be known until work on the house is started, so the costs to fix them likely won't be factored into the original quote from your contractor or builder.
Ernst adds that, in addition to hidden problems with dated or dangerous materials, that the imperfection of older homes can also increase budget and timelines. "Working with older plaster, and uneven or out-of-level surfaces makes some details harder to produce in a timely way," he says.
3. Get multiple quotes
One of the best ways to make sure you're getting a fair price on materials and labor costs for your renovation is to get quotes from multiple service providers. That way, you'll get a true idea of the going rate for your job.
While it can be tempting to choose the design firm, plumber or contractor who comes in with the lowest bid, this cost-saving strategy can backfire if the project is poorly managed or work isn't done properly. It's important to make sure you're balancing the constraints of your budget with quality work, and that a low price isn't an indication of a lack of experience or expertise.
The best way to make sure you've got trustworthy tradespeople? Research their background beforehand. Find out about their professional certifications, credentials, and local association memberships through organizations like the National Association of the Remodeling Industry, the National Association of Home Builders, or the National Kitchen and Bath Association. It's also a good idea read reviews on sites like Houzz or Facebook, and always be sure to ask for (and check!) references. Paying a little bit more up front for quality, reliable contractors is always worthwhile.
Cost breakdown for common remodeling projects
Permitting costs
One of the first costs you'll incur in your renovation is the cost to pull permits for your project, which is done through your local building department. This will need to be done before you start any work. Once your renovation is complete, you'll need an inspection to ensure the work is done to local codes, and to obtain a certificate of occupancy.
According to The National Association of the Remodeling Industry, "Although building codes vary from state to state, a permit is generally required for remodeling projects that involve changes to the building's existing footprint, electrical system or plumbing. Adding new windows to existing walls usually requires a permit. You are likely to need a permit for any project that goes beyond a simple repair or aesthetic upgrade such as:
adding supporting walls or taking down load-bearing walls,
an in-ground concrete pool or a porch/deck,
replacing the roof,
backyard shed or
concrete sidewalks, driveways and slabs"
Permits are often calculated based on the price of materials and labor, and/or the size of the property, and vary from city to city. In Norwalk, Conn., for example, the cost for residential building permits is $13 per every $1,000 spent on labor and materials (with a minimum of $75), plus a $25 Certificate of Occupancy fee. In Issaquah, Wash., costs are also dependent on the cost of the project. A permit for a $20,000 bathroom remodel would cost $365. For a $5,000 project, expect permit fees of $126.85. Because permits are pulled before a job can start, costs are calculated based on proposed budgets.
While it can be expensive to the proper obtain permits, doing work without a permit is illegal, and can be far more costly that the original permit fees. The City of Chicago, for example, charges $5,000 per day for any remodeling work found to be done that exceeds the scope of the permit pulled.
How much does it cost to add an addition?
Adding an extension to a home will add much needed space and could increase the value of your home. However, the cost to build an addition will vary greatly depending on the size and scope of the project. According to Thumbtack.com, the average cost for a home addition is around $25,000, with the low end costing $10,000, and the high end coming in at $80,000. If you opt for luxury finishes, include a designer or architect in your project, are building a two-story addition, and/or need to purchase new furnishings for the addition, however, costs can far exceed $80,000.
How much does it cost to create an open floorplan?
One of the most popular alterations to an old home is to open up the downstairs living space to create an open floor plan.
Again, the exact cost of removing walls will depend on your home, and things like:
Whether or not the wall is load bearing
If there's plumbing and electricity in the wall
Whether or not you'll need to repair or refinish floors where the wall once stood.
If your home is one or two stories.
Whether or not the wall is load bearing will make the biggest impact on your budget. For non-load bearing walls, expect costs to range from $400-$1,500 to take out a wall. To remove a load-bearing wall and install a support beam, costs range from $3,000 - $10,000+. Prices tend to be on the higher side of that range for two-story homes.
The cost of repairing and replacing windows
Windows are very important to the overall character of a property, as well as to the energy efficiency of your home. If they leak cold air in the winter, or water during a heavy rain, it may be time to give them an upgrade.
If the windows are damaged beyond repair, and are currently single-glazed, this could be a good opportunity to upgrade them to double-glazed units and improve the efficiency of your home. Alternatively, secondary glazing can be added to single-glazed windows to help reduce heat loss and sound transfer.
If you do decide to replace the windows, try and match the style and materials to the character of your home. Wood windows are most common for historic homes, but are also more costly than vinyl versions.
Whether or not you choose full window replacements (which include the window frame), or pocket replacements, which use the existing frame, will also impact your budget. If you window frames and casement are in good condition, you might be able to get away with doing pocket replacements. However, if your window frames are rotted or worn, a full replacement window will be a better choice.
If you want to bring more light into the home you might consider adding bi-fold or sliding doors. These are a popular choice on kitchen extensions and will really change how you use the space due to better linking to the garden.
Pricing the job:
Repairing wooden windows (patching up paint and repairing rot) can be done on a DIY basis for under $150
For replacing original wood windows, budget from $800 per unit including install
Installing vinyl windows will cost from $200+
Replacing a French door will cost about $500, plus installation
Ways to save money
Only replace windows if necessary and salvage and repair original windows.
Treat rotting wood early on then use wood hardener and filler to rebuild window frames.
Approach local carpentry companies for quotes. If you hire them for other jobs around your home you might be able to negotiate a better deal.
How much does insulating a house cost?
Insulating your home will not only make it feel warmer, but reduce your heat loss and prevent wasted energy. Fortunately most methods of insulation are not too costly and can usually be done on a DIY basis meaning you quickly save on your heating bills without too much expenditure.
Start with the attic where an estimated quarter of a home's heat is lost. You should also insulate floors to stop heat loss to the ground or between upper and lower levels. Walls can be insulated externally and internally – external insulation can be more costly (and usually requires planning permission), but internal insulation will use footprint and can impact on the appearance of rooms.
Don't forget to draft proof windows and external doors, and insulate hot water tanks too.
Pricing the job:
Insulating an attic costs range from $.50 - $1/ sq. ft. to lay insulation between boards, to closer to $1 - $1.25/ sq.ft. for blown-in insulation.
The cost of installing a new kitchen
Kitchens used to be hidden-away work spaces, but today they're the heart of the home. Not only do they need to offer ample counter space and cabinet storage, they must also be stylish space we want to be in. Often, they're part of an open-plan kitchen and living space, so the kitchen's decor must work harmoniously with dining and relaxing areas as well.
Careful pre-planning is key to achieving a kitchen that fulfills all your expectations, at a cost you've budgeted for. Start by consulting in great detail with your kitchen designer, architect and builder.
Pricing the job:
At the lower end of the kitchen cost scale, expect to pay $6,000 - $15,000 to re-face your kitchen cabinets.
To replace cabinets, expect anywhere from $12,000 - $30,000
On top of this, you'll need to add countertops. For quartz, you'll pay $50-$90/sq.ft., for granite, $40-$100/sq.ft., and for solid surface, $30-$70/sq.ft.
Appliances, fixtures, and hardware can vary from $2,000, to more than $30,000 depending on the brands you choose.
Ways to save money
If your budget is tight, keep the kitchen's layout and design simple, or maintain your existing layout.
Painted kitchen cabinets can create dramatic change at a good value. Check out our guide to painting the kitchen cabinets yourself.
If you have to prioritize, invest in high-quality countertops and faucets.
High-fashion kitchens can look great, but may date quickly, so go for a classic look.
The cost of renovating a bathroom
Undetaking a bathroom remodel is a great way to boost your home's value and improve its functionality. Like the kitchen, the cost will depend largely on materials and whether or not you change or keep the existing layout.
Using the existing layout, and replacing the vanity, floor tile, bathtub, shower, and toilet yourself can be done for as little as $1,500. However, if you hire out the job, decide to move plumbing, or opt for premium finishes like marble tile or a steam shower, you're looking at closer to $25,000-$50,000.
Pricing the job:
Architects' drawings or designer plans, $250–$700
Tile, $50–$1,000
Free-standing bathtub, $500–$3,000
Double vanity, $500-$1,800
Fully tiled walk-in shower, from $5,000
Labor, $1,000-2,000
Ways to save money
Demo the old space yourself.
Watch a YouTube video on tiling, then DIY new floor tile.
Keep the existing floorplan.
Choose budget tile like subway tile or penny tile.
How much do finishes cost?
Smaller remodels like painting a room, swapping cabinet hardware or light fixtures, and refinishing flooring can be effective ways to spruce up your space without spending thousands.
Paint is the most cost-effective way to transform a room, especially if you paint your home yourself. Paint starts at around $25 per gallon at big box hardware stores.Wallpaper is more expensive, at anywhere from $20-$100 per double roll, but it can create an instant statement that ties together the space and sets the tone for the furnishings and decor.
Flooring costs will vary widely from real hardwood and stone being the most expensive to laminates and vinyls coming in most affordably. Wherever possible, salvage and repair original floors, especially desirable hardwoods.
Don't forget that all the finishing touches add up too. Lighting (and light switches), trims and skirting boards, door handles and ironmongery and window dressings are all essential.
To paint each room, budget at least $400 for a painter and materials
For wallpaper installation, expect to pay $300-$400 per wall
Budget at least $500 for basic light fixtures for a three-bedroom home
Watch the Real Homes Show for more home improvement advice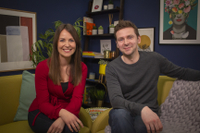 More on renovating: