Good towel storage may not seem like a room-changing addition to your bathroom, but we promise it's essential if you the space to feel tidy and clutter-free. Especially if you're someone who owns lots of luxury bath towels and is forever battling with where to store them.
If you have just rearranged your bathroom or made some changes, you will be doing everything you can to keep the new space looking clean, serene, and clutter-free, and there are plenty of bathroom organization ideas to help you do that. Because what's the point of investing in super plush and incredibly soft towels if you are just going to hide them away?
But let's face it, nothing is more annoying than going to use the bathroom and finding it strewn with smelly, soggy towels. From freestanding stands to wall-mounted rails, baskets, and boxes, there's a whole heap of creative ways to display your towels.
1. Go vertical with a rustic towel ladder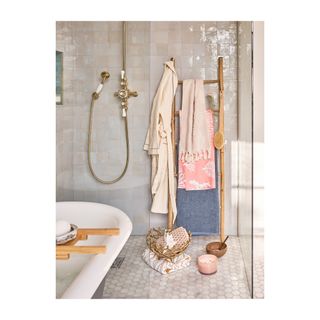 If you're dealing with a small bathroom, the only way is up with vertical storage! We love ladder towel storage options — both compact and portable, they give you flexibility in terms of what you want to store on the different tiers. You could even display hanging houseplants on the top rung for a Jungalow-inspired flourish. Choose a wooden design to make it feel more like a spa.
2. Label those linens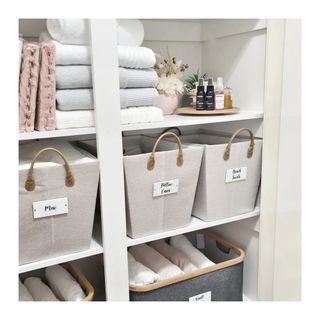 If you're lucky enough to have a built-in linen closet or have just enough space to squeeze a freestanding model into your nook, make the most of a sleepy Sunday to get on top of your towel organization. It's not as daunting as it sounds, we promise! Take a page out of @prettynmodernstyle's style book and separate linens into categories to then be folded and stored neatly in dedicated baskets with labels for ease. Phew! You'll finally be able to open the doors without fearing an avalanche.
3. Get your bathroom shelfie on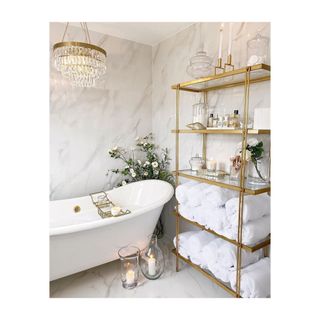 If your apartment bathroom doesn't feature any integrated storage, freestanding bathroom shelving frees up vital floor space and provides a chance to bring some personality into a bland, tiled space.
But don't fall into the trap of cramming the shelves full of hotel shampoos and face masks you never use. Be brutal and have a realistic clutter detox. Use lower shelves to nest neatly folded or rolled towels and style top tiers with fave skincare products.
4. Pile your favorite designs on a stool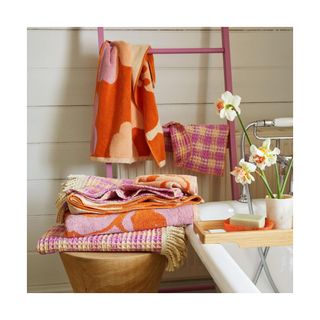 Did you ever understand why your grandma only ever used her "best plates" for special occasions? Sorry gram, but we think it's worth showing off your favorite pieces. With this in mind, take your rebel spirit into the bathroom and make a point out of piling your best towels on a cute little stool. They'll provide a colorful energy burst but are still within reach for drying off. After all, joy comes from using the beautiful things in life.
5. Add luxe details with cute towel hooks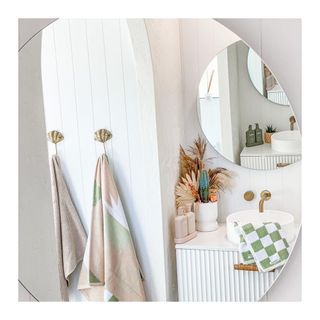 Towel hooks and rings are especially useful for storing hand and face towels. Simply drape and shape tonal designs to let your linens dry between uses.
There are plenty of inconspicuous chrome options out there, but we like a playful metallic design for a chic powder room that's full of unexpected finishes.
6. Branch out with a towel tree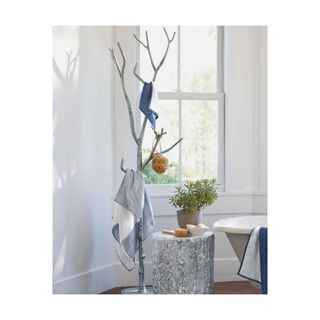 If you're looking to transform a boring bathroom into a more restorative one, say howdy to this amazing Recycled Metal Branch Coat Tree from Viva Terra. More tree than a rack, we think it would bring a nice touch to your shower space. At 6 feet tall with ample branches for anything you may need to hang, you'll delight in its wonderful design.
7. Roll in a bathroom cart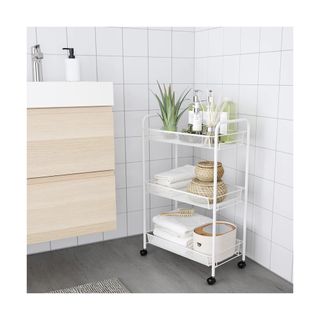 Add instant, transportable storage into your small bathroom with a bathroom cart — that's towel storage squared away for you. Choose a compact design that can be nestled beside the sink when not in use to really max out your space. If you've got a thing for DIY, try making your own trolley.
8. Present towels in woven baskets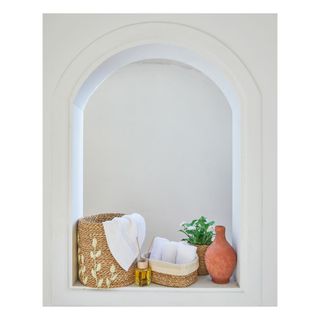 For a simple but super cute towel storage solution, look no further than the humble storage basket. They can do no wrong when it comes to providing effortless nesting potential for all bathroom essentials. They also give a dose of texture, tactility, and handcrafted authenticity to any scheme. If you're lacking floor space, tack baskets onto walls with adhesive hooks and fill them with your fluffiest towels.
9. Turn dead space into a towel nook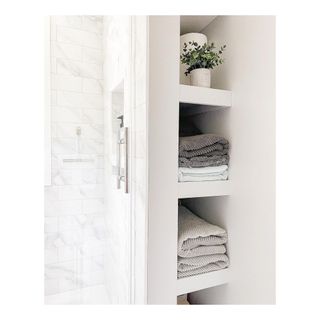 Are you planning a bathroom remodel? Be inspired by @acornhillhome's clever example and be sure to get the most use out of every inch of your precious space.
"When we built the bathroom we had a small space next to the tub that was left over so we decided to add in some built-in shelves," they explain. "In a small house, every ounce of storage makes a difference!"
10. Keep things simple with a peg rail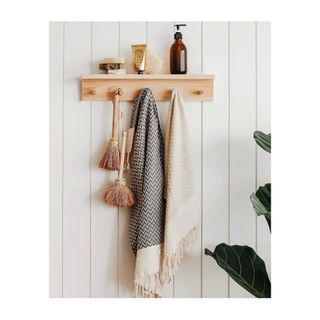 Pinch this towel storage idea and display your relaxed, boho linens on a peg rail. Choose a raw wood design for a laid-back look or switch up the design by painting it in a bright color for some extra contrast.
11. Install a shower caddy shelf with a railing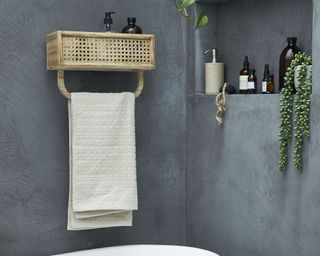 If your bathroom is petite, you'll want your fixtures to work that little bit harder for you. Try a combo design that features a 2-in-1 shelf and hanging rail. And even better, you won't have to do that awkward naked scramble for a towel to dry yourself off since it's right in front of you.
12. Double up with towel racks
In a snug bathroom, it's always worth choosing a versatile piece of furniture that does two jobs at once. A handy towel ladder chair like the RÅGRUND bamboo chair with towel rack from IKEA (shown above) gives you a spot to hang towels and do a pedi.
13. Present towel rolls in wire mesh baskets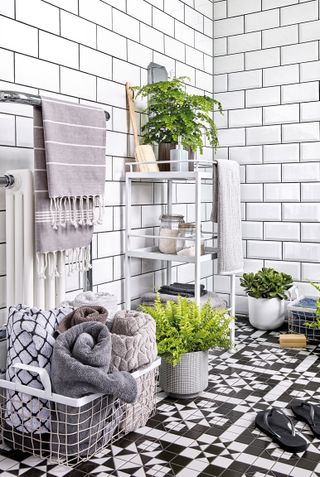 The biggest challenge with storing towels is keeping them dry and fresh. Avoid solid, synthetic storage bins that won't let your towels breathe, and opt for wire mesh options instead.
14. Use wire wall racks for fluffy towel stacks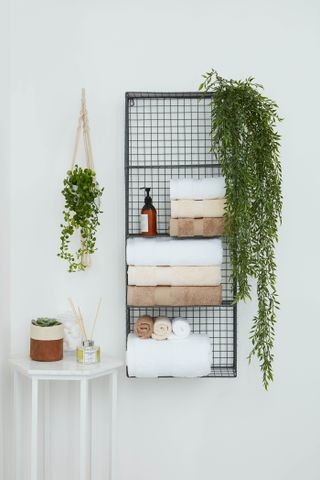 We love the industrial look of a wire rack, but mostly you see them used in kitchens or as hallway storage. But guess what? They look great in a bathroom, too. Roll or fold your spare towels into the cubbies and add some decorative items if it feels bare. Think plants, candles, and toiletries that come in brown bottles.
Up next: how to wash your towels and the best ways to keep them fluffy