Looking for ways to cut the cost of a new bathroom? Well, you are in the right place! Whether you are after tips on sticking to a strict budget or DIY ideas that could save when updating your bathroom, we've got you covered...
For more bathroom ideas on our hub page.
1. Consider your priorities
When it comes to cutting the costs of a new bathroom, the first step is to establish what's a priority, and what isn't. Take time to consider how you use your current bathroom on a daily basis, taking note of what works, and what could work better.
If you only enjoy a soak in the bath once in a blue moon, carefully consider whether you need one at all. Or, if you usually have showers but love to unwind in the bath at the weekend, could combining the two with a spacious shower-bath – or wet room – save on the cost of a separate shower? Find out how to create a wet room in our guide.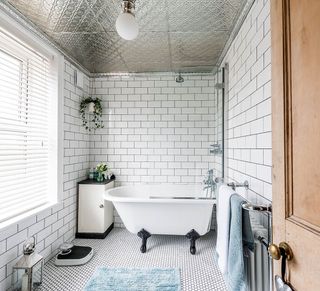 2. Plan your bathroom first
Attention to detail when planning your space means you'll get it right first time, which can save you money correcting mistakes later. Make use of free online planning tools, or work with a company that offers a free design service.
3D plans are a great way to see whether your choice of products will fit. Talk to your plumber or fitter before you buy, too, as they'll be able to tell you if what you want is suited to your space.
3. Be economical with expensive materials
Tiles are a great example of how you can be economical with bathroom materials by creating focal points in specific places. 'Tile some feature areas and leave the rest painted,' says experienced renovator Jason Orme. 'Focus on the splash zones around the bath, shower and behind the basin to maximise impact.'
Use our guide to choosing bathroom tiles to find the best for your space and, if your bathroom is tiny, find out how to choose the right sized tiles to make a small bathroom feel bigger.
4. Mix and match to cut the cost of a new bathroom
Shop around for the best deals, putting your suite together from different suppliers and clearance sections. 'Stay with white ceramic and you can mix and match pieces from multiple sources,' says self builder and renovator Michael Holmes.
Consider what you use the most, and spend the most money on that. You're likely to use basin taps a lot more than bath taps (use our guide to choosing bathroom taps for more buying info), and bathroom flooring will need to take more wear and tear than wall tiles. So spend where it counts for a bathroom that will last.
5. Go faux to cut back on spend
It can be hard to tell the difference between natural materials like stone and wood, and their imitation counterparts.
Opting for porcelain or ceramic tiles that look like stone, marble or wood will offer you the same aesthetic as the real thing but massively cut the cost of a new bathroom. Effect tiles are also lower maintenance as they don't need sealing to protect them from water damage.
Browse our guide to how to choose ceramic and porcelain floor tiles for more advice and inspiration.
6. Use tile stickers to cut the cost of a new bathroom
Patterned tiles are bang on trend at the moment, but they can get expensive, especially if you want to cover larger surfaces like the floors or walls. But that doesn't mean you can't fake the look with tile stickers. There are some really convincing ones available from Esty and Dunelm, and they come in a load of stylish designs too.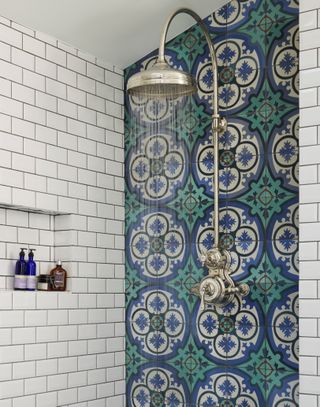 7. Don't reconfigure your bathroom layout (unless you have to)
To cut the cost of a new bathroom, don't reposition anything that doesn't really need to be moved as it will add to plumbing costs.
Moving the toilet would involve relocating both the toilet drain/vent and waste water systems, and also supplying water to its new spot. This can prove to be very costly.
Find more tips in our guide to bathroom plumbing. You might also find our tips for solving common plumbing problems in a bathroom a useful read.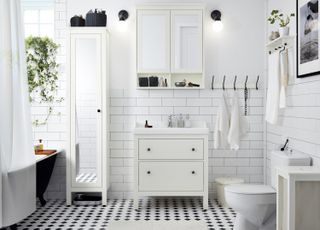 8. Use technology to reduce water consumption
Once you're in, there are lots of specially designed taps available that can reduce water usage by half compared to regular taps, saving on your water bills. And fitting a flow restrictor to your shower will limit the amount of water you use without compromising its performance.
A shower flow regulator – we'd recommend this Chrome Water Saver from Universal – limits the fall of water, per minute, reducing both your water use and – perhaps more attractively – your bills. Other water-saving gadgets include the Hippo Water Saver, which is popped into the toilet cistern to reduce the amount of water used in a flush by up to three litres.
If you like this idea, you'll find plenty more, just like it, in our guide to how to reduce home energy costs.
9. Use paint to transform the look (and feel) of your space
A fresh coat of paint is one of the easiest (and most affordable) ways to update a bathroom, and can dramatically transform the look and feel of your space. If you're looking to design a scheme that will stand the test of time, it's recommended to opt for a timeless shade – white and grey are particularly popular.
That said, the ease with which you can paint (and repaint) a room may tempt interiors addicts to experiment with paint trends. Sound intriguing? You'll find plenty of inspiration in our bathroom paint ideas design guide. In terms of finding the right paint formula for your bathroom, we'd recommend having a read of our buying guide to the best bathroom paints.
10. Or use wallpaper for a similar effect
Just like paint, using wallpaper in your bathroom is a great way to quickly update a bathroom. Wallpaper in a bathroom though? Yes, we know what you are thinking, not the most practical choice – but it can work if you just follow a few steps. First, don't go putting up wallpaper in a bathroom that isn't very well ventilated and only wallpaper areas that won't come into direct contact with water.
You can use pretty much any wallpaper but to be safe look out for vinyl wallpapers that have been specifically designed for bathrooms (B&Q have a whole section just for bathroom wallpaper). Take your time applying the wallpaper and make sure you use extra strong wallpaper adhesive and if you want even more protection you can go over the top of your wallpaper with a clear varnish.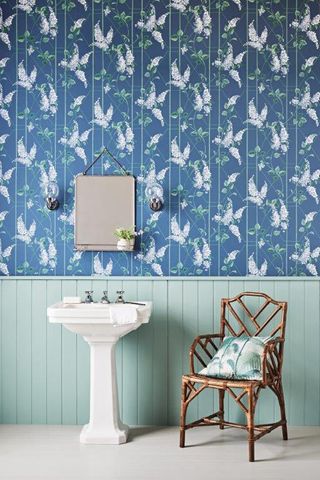 11. Use visual tricks to up the luxe factor
If you want to give the appearance of a larger space, without having to knock walls down, use carefully considered visual tricks to give the illusion of more space. Choosing the right size tiles is one way to do this. 'Large-format wall tiles in neutral shades can make the room look larger and more luxurious,' says Sian O'Neill, of Topps Tiles.
'Using the same tiles on the walls as you do on the floor can also create a seamless look. A well-placed wall-to-wall mirror can give the illusion of more space,' adds Michael Holmes. 'But avoid having it somewhere where you need tap and socket holes cut out, to keep costs down.'
Find more tips and tricks in our guide to how to choose the best wall tiles.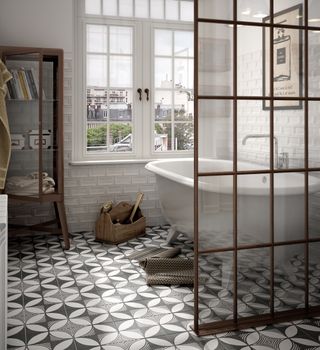 12. Simplify the scheme with easy-fix sanitaryware
'Bathroom products have trended towards hiding as much of the plumbing behind walls as possible, and sleeking up the overall scheme by sinking shower trays into the floor structure, for example, which has implications for waste positions,' says Jason Orme.
'All this can create extra work for your installer – making the project expensive. More mainstream products will require little additional structural work.'
13. Light up the room to enhance space (cheaply)
'Bright bathroom lighting can make a room feel spacious and fresh,' says Michael Holmes. 'You can switch a single central ceiling pendant for a multi-lamp fitting without having to alter the wiring. But make sure fittings are IP rated so they are safe to use in wet areas.'
Check out suppliers' clearance areas to see if they have any one-off lights that would suit your scheme for a fraction of the normal price.
For more tips on how to choose bathroom lighting, browse our specialist guide.
14. Save money by DIY-ing your bathroom transformation
A great way to cut the cost of a new bathroom is to get creative and revamp your space with some DIY projects. A really easy and cheap idea is to upscale your bath panel – it will inject some colour and pattern into your space and won't cost more than £100 at most.
Keen to get on? Just head over to our step-by-step guide to how to how to DIY a bath panel.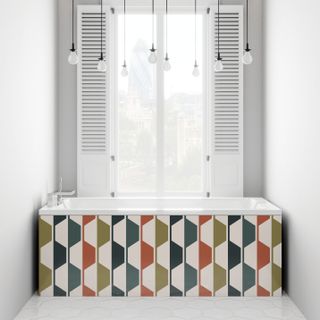 15. Or create your own bespoke pieces
Opting for unique or bespoke pieces can be a great way of adding character to a bathroom without spending a fortune. If you're an experienced DIY-er, consider customising pieces you have already got. We love the idea of turning a cabinet into a washstand and it's much more straightforward than you might think – simply cut out a hole where the basin should be (most come with a template) and then cut an opening in the back for the plumbing.
If you are on the hunt for a vanity unit, we have lots of inspiration in our ideas gallery.
More bathroom expertise: