Cluttered wardrobe causing anxiety? Or, are your clothes looking a little worse for wear? You might be making one of these clothing storage mistakes. But don't worry, because we're here to help your 'mess stress'.
It seems that even when we're trying to unwind, constant reminders to reorganize our clothes are everywhere. From Marie Kondo's Netflix series to closet organizers popping up on the shopping channel, we just can't get away from garment guidance!
The term 'mess stress' has been coined to explain the overwhelming feeling of becoming stressed by clutter, with scientific studies showing the negative effects an untidy wardrobe can have on our well-being. If you're flapping in the morning trying to find something to wear for work – this could be a tell-tale sign that you need some help. Think of the added time a messy closet could be adding to your day.
Also, there is an added inconvenience of storing your clothes incorrectly. It can actually damage certain items meaning they lose their fit and don't look their best.
We spoke to the bedroom and organization experts on how to banish clothing clutter, so you can identify items, put together outfits with ease, and avoid wardrobe storage mistakes at all costs.
Find out how to organize a closet like pro by learning what not to do, and alternative ways to go about your current (potentially chaotic) routine.
1. You're not putting away your seasonal clothes
Wherever you live in the world, no weather report is 100 percent reliable, so it can be tempting to leave a few shorter skirts and camisoles in your wardrobe, praying in hope of an Indian Summer in the middle of winter.
But, keeping these items at the forefront of your wardrobe can make it feel messy and will take up prime real estate for those much-needed jumpers, cardigans and woolly items that'll keep you warm.
If you want to know how to declutter your wardrobe in an instant, start off by splitting your garments into weather-appropriate wears. Your seasonal items might have to take a back seat to make your current clobber shine.
Nic Shacklock, head of marketing and brand development, online-bedrooms.co.uk says: 'Unless you have an exceptionally large wardrobe, you shouldn't be keeping all of your clothes out all of the time.'
'As summer approaches, it's worth packing up your winter clothes into a suitcase and storing them away and swapping them out later in the year.'
But if you MUST have your hot weather attire at arm's length (just in case), invest in a stylish suitcase under the bed as a clothing storage idea or an ottoman as a bedroom storage idea. You can keep them nearby for weather changes, but they won't be dominating the closet.
Or, if the only thing collecting under your bed is dust, max out your sleep space with additional clothing storage.
Shacklock adds: 'The space under a bed is often wasted, so if you can, try to choose a bed with storage underneath it. This could be an ottoman storage bed or just one with drawers underneath.'
'If your bed stands on four legs, consider buying some clothes storage boxes and putting them under the bed too. You can buy ones specifically for underneath the bed so that they complement the rest of the room.'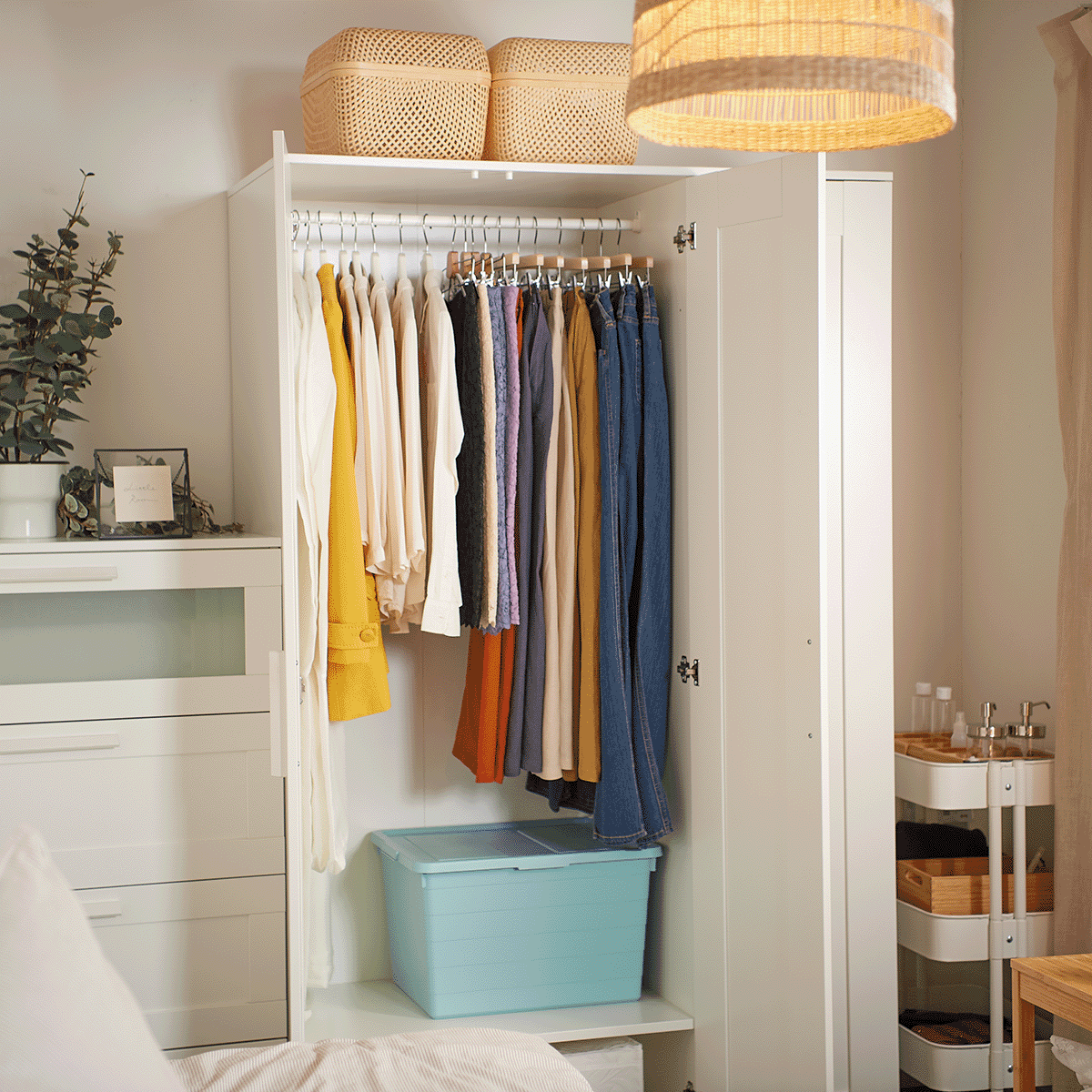 2. You're hanging everything
Contrary to what you might think, one of the big no-nos when it comes to cleaning up your (clothing) act is using hangers to display and store every single item you own.
Sometimes, a good fold is far superior to using metal, wooden or plastic clothes hangers to collate your heavier wearables. Unfortunately, chunky knits and delicate designs are most likely to snag and tear if treated this way. Hanging knitwear also stretches is, leading to misshapen necklines.
Shacklock believes this isn't an efficient way to store clothes. He says: 'One of the most space-taking items of clothing tend to be jumpers and hoodies. Instead of folding and laying them flat on top of one another, line them up like how you would organize a filing cabinet!'
'Ideally you should have shelves as well as hanging space. To maximize the space you have you should be folding thick clothes such as jumpers and jeans to save space.'
Bedroom shelf ideas, for example, don't have to be a boring piece of MDF on your wall. By planning your ideas for shelving out properly, you can create an organized space for clothes akin to your favorite boutique retail store.
You can then arrange folded items side by side, using shelf dividers like these from Amazon, or arrange them vertically in baskets so that you can see what you have when you take the basket down.
To help further contribute to the fold vs. hang debate, Lizzie Grant, founder of Declutter on Demand says: 'Whether your clothes should be folded or hung will be dictated in part by what kind of storage you have in your bedroom.'
'However, where possible, delicate materials that are prone to wrinkling should be hung. For example, clothing made from silk, cashmere and lace.'
3. You're underestimating the versatility of drawers
As well as wardrobes and clothes racks, drawers are so underrated when it organizing a bedroom, and a finer ways to audit clothes than your current 'floordrobe' situ.
The advantage of drawers is that you can sort by clothing type, color and can even assign space to different members of the family as a shared bedroom idea.
'Bulky items like sweaters and jeans might work better folded in an armoire, and you might have enough drawers to allocate one for each of your underwear, socks, and tights, for example,' says Grant.
'Drawer dividers are the best organizing tool for your bedroom. They are an essential storage product if you have bedroom drawers. This equipment will help you maintain your structure and keep you from straying when in a rush to put away the washing!'
And Becky Martin, interior design leader, IKEA UK & Ireland advises: 'Drawer storage works well to store T-shirts, socks, underwear, and whatever else you don't want to hang on the rail. To keep your drawers tidy and things organized you can add small boxes as a partition.'
While Marie Kondo, founder of the KonMari method suggests that: 'Anything soft and pliable should be folded. You can practice with everything from clothing to linens. When these soft items invite you to fold them, accept their invitation so you can stay tidy.'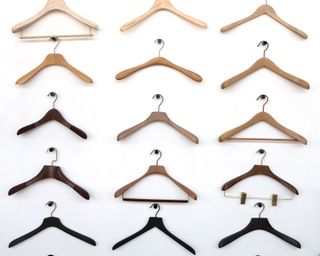 4. You're using the wrong type of hanger
Ever wondered why your set of hangers look a little different? From clamps to rubber grips, trouser bars and more, each device present different specifications or features to 'fit' the garment it's grabbing.
But not all hangers are created equally. Which means not all can bear the weight of heavier items like coats and jackets. Unfortunately this can cause lightweight flimsy hangers (like those you get for free in main street stores) to break.
And what about warped knitted items, with lopsided shoulders? Again, if your hanger isn't fit for purpose, it can cause lasting damage to your luxury items like cozy cashmeres and much-loved Mulberry silks – though as mentioned before, some of these items are best folded instead.
Shacklock explains: 'It may come as a surprise but you could be using the wrong hangers for your clothes. If the item of clothing is too heavy for the hanger, it could ruin the shape of your clothes.'
'That's why it's important to buy strong sturdy coat hangers for jackets and coats and to fold hoodies and jumpers.'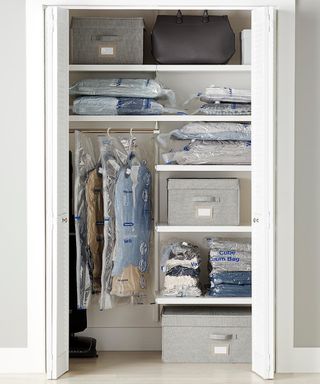 5. Using vacuum bags incorrectly
Ahhh the humble vacuum bag. The perfect vessel cram in as many clothes into your suitcase on vacation – and you don't need to have the best vacuum on the other side to let the air out.
At home, you may think you're being savvy by vacuum packing clothes you don't wear often, but this can actually ruin the shape of your garments leading to wonky wears.
In particular, vacuum packing leather and wool items can caused damage to the animal-derived fibers causing them to kink, crease and crack. So before you pack away your cowgirl boots and fringed jackets, think carefully about sucking the life out of them with this compressing storage accessory.
6. You're not make use of your whole wardrobe
Are you making the most of every closet organization idea? By asking this, we're not saying you max out your credit cards to cram your wardrobe with new-season finds – quite the opposite!
If you're finding that you can only see slithers of fabric hung up high – look to the 'lower ground' of your wardrobe, where you'll find loads of space. Your wardrobe 'floor' is the perfect place for those aforementioned knits and other pieces of attire that can't be displayed on a clothes rail.
'Many people tend to ignore the bottom half of their wardrobe and it slowly becomes a space to dump clothes when you're in a rush,' says Shacklock.
'Try to utilize this space as much as possible, perhaps you can build drawers here and use it as a place to store folded clothes. Or if you're after something simpler, put in a couple of shelves.'
If you do want knitted items at eye-level, why not consider closet organization that is suspended from your wardrobe 'ceiling'. If you can't add a shelf, try an affordable hanging closet organizer like these from Amazon.
Also, if you've got an awkward recess that's not serving style, make this dead space worthwhile by fitting in a made-to-measure built in wardrobe.
'Alcoves can feel like a clunky and awkward space but don't let it go to waste. They are the perfect spot for a fitted wardrobe or cabinets and even shelving.' says Shacklock.
By going bespoke, you can design your wardrobe from scratch to customize it to your clothing needs. Alternatively, look into modular furniture with features you'll use regularly.
Antanas Budvytis, managing director at Instrument Furniture says: 'Having a wardrobe that can cleverly contain all your belongings is by far the ideal solution to give your bedroom a facelift.'
'If your rental comes unfurnished and you want a one-off solution that solves all your storage problems for the foreseeable future, you could invest in a snazzy wardrobe with all the fancy compartments, like pull-out trouser rail, glass top drawers with perspex separators and spacious built-in drawer units for all your bits and bobs.'
7. You don't have a system
Is your attire all over the space? If so, it's time to be ruthless and exercise some discipline when sorting through clothes and shoes. If you're still trying to fit into the same dress you wore ten years ago, it may be time to let it go. The same goes for items you've said you're going to repair numerous times.
New purchases may boost your mood momentarily, but if you forget to return or exchange items out of the store policy period, you may be left with lots of clothes you don't wear with the tags still on. So be sure to read that receipt to do your due diligence.
8. You don't clear out your wardrobe
Keeping a tidy closet can be challenging if you're trying to pack more and more clothing into the same-sized space, so you are a serial hoarder, consider gifting clothing to charity or selling items individually or in a bulk lot on eBay.
Lisa Pantling, membership director of the Association of Professional Declutterers and Organisers (APDO) says: 'A good sort out once every six months will be just what we need to keep everything 'current' and uncluttered.'
'But for others, it is more of a process than an event, and it will be a case of working through the clutter at a slow, steady and manageable pace.'
While Shacklock has a slightly more laid-back approach, allowing double the time to decide on what you do and don't want. He explains: 'Many people won't remember the last time they cleared out their wardrobe so it's no wonder they're struggling for space.'
'The general rule of thumb is if you haven't worn it within the last year, you're not likely to wear it again so either sell it online or donate it to your local charity shop. Once you've sorted all those items you no longer want or need, give them away. Whatever you do, don't delve back into the bag and start retrieving things.'
Ultimately, surrounding yourself with only the best items will improve your state of mind and make you a happier person.
As Kondo puts it: 'By learning to choose what possessions spark joy, people can be more mindful of their overall happiness.'
9. Forgetting to factor in footwear
A pair of shoes can make or break an outfit, so once your clothing storage mistakes have been rectified, it's time to fix your footwear situ with some shoe storage ideas. Same principles apply as above, so have a look at the best shoe racks and apply the same practice to your pumps and sneakers, so you don't find yourself tripping over trainers in the hallway.
If you have the luxury of a walk in closet idea, make your shoes stand out with LED strip lighting so you're not scrambling about in the dark finding odd heels, sandals and flats.
10. Not using 'dead' wall space
'When it comes to smaller spaces, people often don't utilize all the space they already have,' says Angela Nicholson, vice president of digital marketing, California Closets.
'Wall space, corners and more should be taken advantage of to install closet accessories such as cabinetry, shelving, multiple hanging racks and more to store all of your items. This way, no item will be left on the floor, period.'
11. Not keeping tabs of what you own
If you often buy twice or forget what you own, you are wasting so much space. With technology moving faster than ever before, you might be wondering if there's a robot that can organize this for you. Tough luck, there isn't one (yet), but there is a new way to audit your wardrobe digitally.
With apps like SaveYourWardrobe and Whering, you can see what items you have to hand already, which'll save you from buying the same items and help you to extend the lifecycle of your items by offering repair and alteration services.
Digitization that'll save you money and is super sustainable too? Yes please.
You can even scan your shopping receipts to add your newest purchase to the application. So if you've always wanted a digital closet like Cher from Clueless, you can now turn your dreams into a reality.